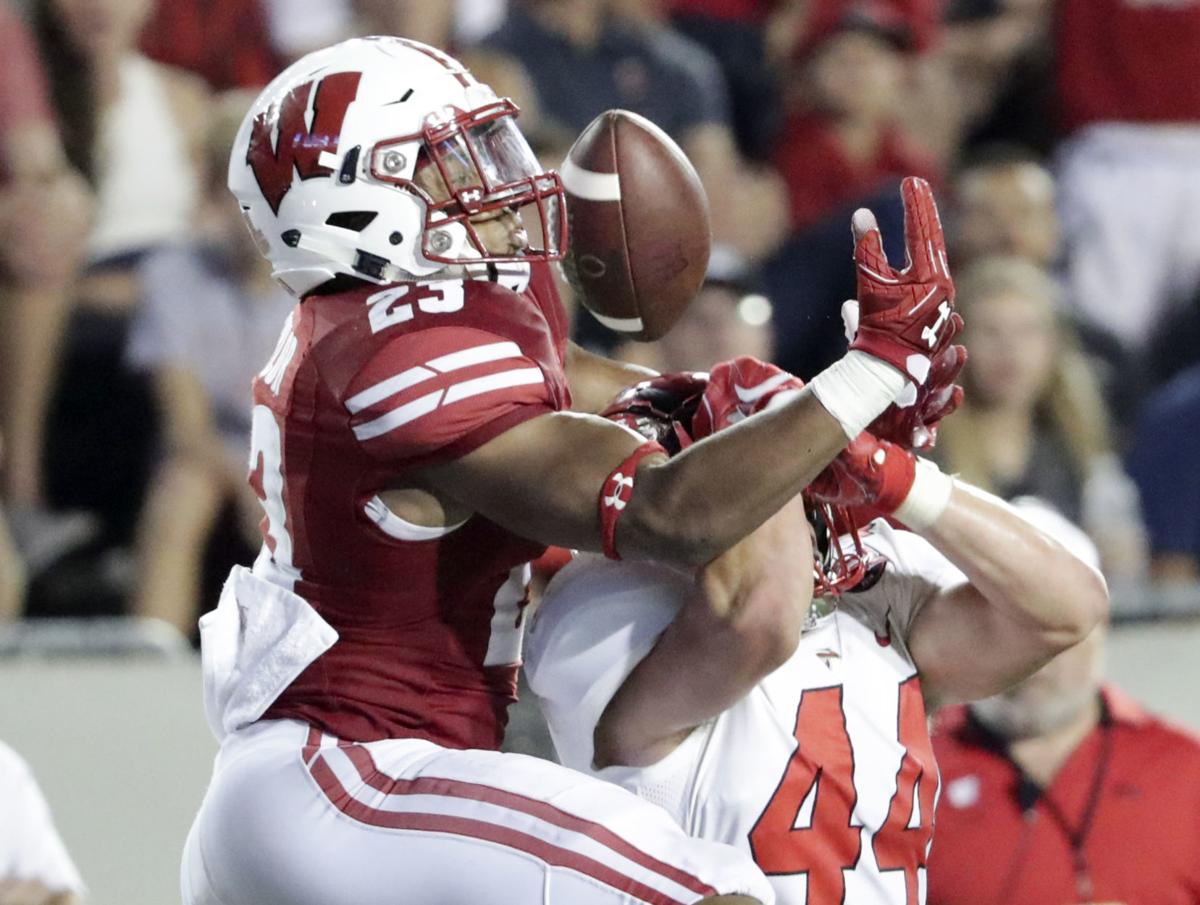 John Settle had a quip ready when a reporter asked him where his star player has made his biggest strides as a receiver.
"That he can catch the ball," Settle said.
Yes, junior tailback Jonathan Taylor appears much more confident and fluid catching passes. For everything Taylor has done as a runner during his first two seasons on campus — accumulating 4,171 yards and 29 touchdowns — he's only registered 16 catches in 27 career games.
That total should go up — perhaps significantly — this season if Taylor's production during training camp is any indication.
"When he started out, he'd fight the ball," said Settle, UW's running backs coach. "I think he knew that he wasn't a good receiver. It was the one weakness in his game. Now he understands and works it every day.
"When we were in the spring, he worked it. In the summer, he worked it, and now you see him making some unbelievable catches."
Taylor had a nice one during a scrimmage Monday morning, hauling in a 25-yard touchdown pass from Jack Coan on a wheel route.
"I don't think he would have made that catch last year," Settle said. "You can see the extra work paying off."
Settle was just as happy Taylor had gotten a good release out of the backfield and ran a precise route. While working on the physical aspect of catching the ball is one part of Taylor's evolution as a receiver, another key part is learning the mechanics of running routes.
Taylor said having a better grasp of the playbook — and knowing exactly where he's supposed to be on passing plays — has helped him feel more confident as a receiver.
"A lot of the times, it's really assignment, knowing what you're supposed to do," he said. "When you don't really know your assignment all the time, you're hesitant, you're not able to play fast. When you're able to play fast, go out there and cut it loose, you're a lot more natural and it comes easily."
Taylor got to know Saquon Barkley at the 2017 Doak Walker Award ceremony. Barkley rushed for 1,271 yards and 18 touchdowns and caught 54 passes during his junior season at Penn State, then was selected No. 2 overall in the NFL draft the following spring.
If he remains healthy, it's likely Taylor will have a chance to bypass his senior season at UW and enter the 2020 NFL draft. His stock would only rise if he can become a threat in the passing game.
"I think he understands that he can just be a runner, but if he's a runner and a receiver, then that gives him an opportunity to earn a lot more money," Settle said of Taylor, who had eight catches for 95 yards as a freshman and eight for 60 yards last season.
"I think he just wants to be a complete player. That's the way he works. He wants to be great at everything, every aspect of the game. That's kind of what he is and I thinks that's why he pushes himself so hard."
For UW, having Taylor as a dual-threat would give opposing defensive coordinators headaches. The Badgers have tinkered with Taylor and fellow tailback Garrett Groshek on the field at the same time, a scary thought if either one could be used as a ball carrier or pass catcher.
"If (Taylor) can do that for us, offensively it puts us in a whole new world," Settle said. "You're talking about the defenses having to defend the whole field. If he can put that part of his game together, that gives us an opportunity to keep him on the field all three downs and he's not necessarily taking a pounding. We're able to get him out of the backfield, get him out in space and do some things.
"Looking at him, JT with the ball in his hands in space is a dangerous things for defenses."
Jim Polzin is a reporter for the Wisconsin State Journal in Madison.