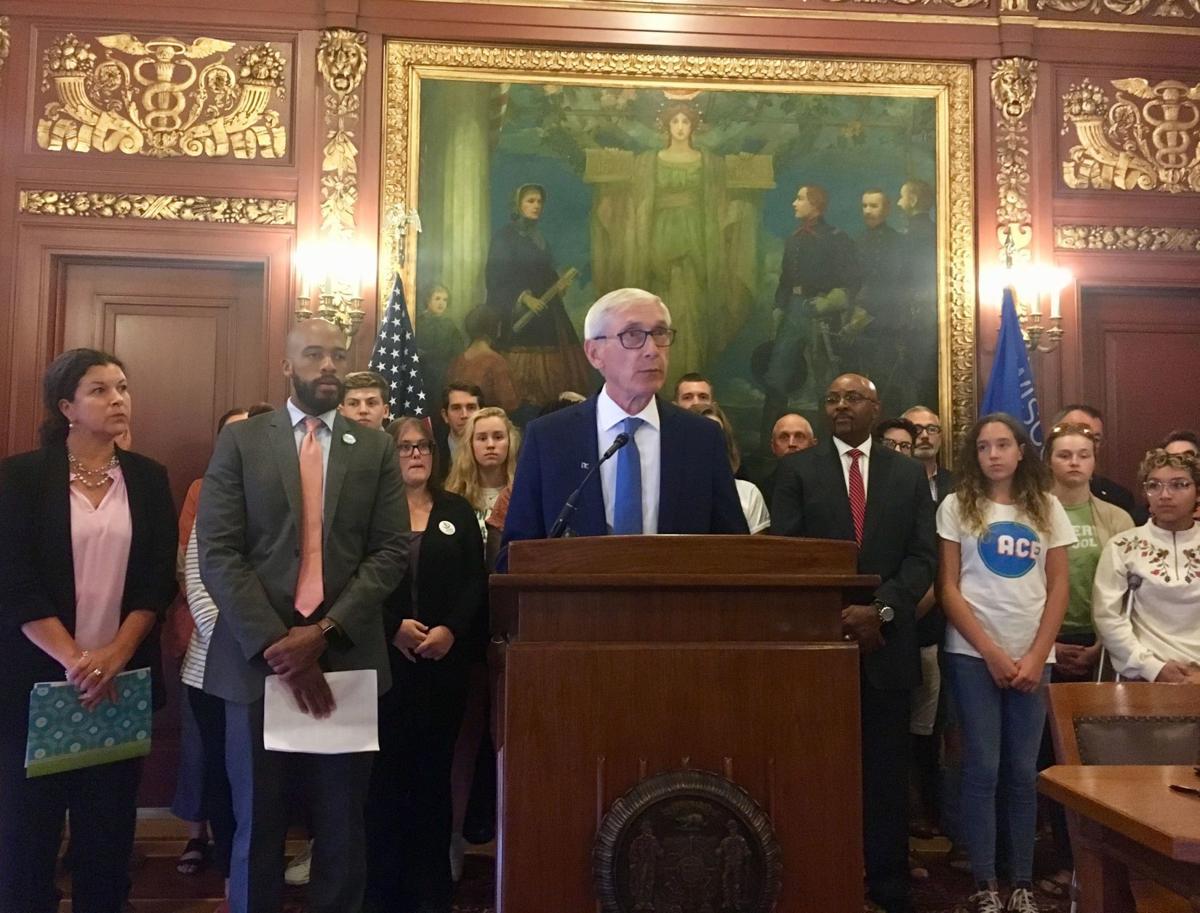 MADISON — Gov. Tony Evers is creating a new state government office with the goal of pushing the state to become 100% carbon-free in the next three decades.
The goal to have all electricity consumed in Wisconsin meet clean energy benchmarks by 2050 is one the first-term governor included in his budget request earlier this spring. The proposal also sought to creates an Office of Sustainability and Clean Energy.
But legislative Republicans removed the language from the two-year spending plan in May, leading Evers in a Capitol news conference Friday to sign an executive order directing the Department of Administration to form the office and enact the carbon-free standard.
"The bottom line is this: economic development and protecting our environment are not mutual exclusion," he said. "They should work in tandem."
Evers' original budget proposal sought to staff the office with six full-time positions, including personnel from the Public Service Commission's State Energy Program. But Evers Friday said it's unclear how many positions the new unit would have, adding that staff would be reallocated from DOA and his office.
"This should've been a priority for the entire Legislature, but it wasn't and so we're making it a priority," he said.
Evers said there wouldn't be any sanctions for utilities that fail to meet the goals, noting the action is an executive order and "not a mandate." He said the state would seek to meet the standard by working with utilities and nonprofits to set intermediary benchmarks.
Public Service Commission Chair Rebecca Cameron Valcq acknowledged that utilities' renewable energy investments could lead to rate increases for customers, something she said the state has to "continue to be deliberate about" as coal power plants are retired.
"Everything that is going to be occurring between now and 2050 will have a customer impact and we are aware of that and we are ready and willing to find all sorts of different solutions," she said.
In addition to the carbon-free goal, the new office is tasked with coordinating with other agencies to develop a clean energy plan to mitigate global warming-related issues, promote clean energy workforce training, create new energy efficiency, sustainability and renewable energy standards for state buildings, encourage research and innovation in those areas and ensure Wisconsin fulfills carbon reduction goals in the Paris Climate Accord.