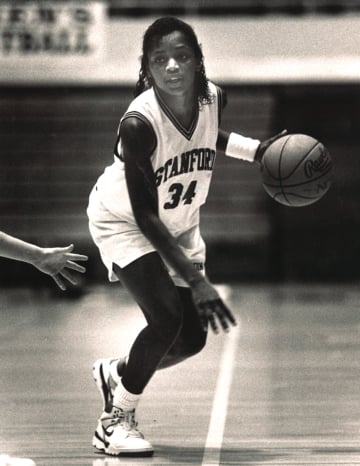 Even at an early age, it was apparent Sonja Henning was a special athlete.
Blessed with exceptional physical skills and armed with a relentless work ethic, Henning possessed unlimited potential.
"I saw Sonja for the first time when they had basketball tryouts at Gilmore," said Barb Chambers, then an assistant coach at Horlick High School under Mary Fowlkes. "After seeing her play, Mary and I looked at each other and I said, 'Did you see that skinny, little girl with the big feet? She's going to be pretty good.' That was the understatement of understatements."
Two years later, Henning was a freshman starting for the Horlick varsity. She made such an immediate impression her teammates voted her team captain.
It was the start of an amazing career. Henning not only led the Rebels to the WIAA Division 1 state championship game as a senior but also was chosen Miss Wisconsin Basketball and Converse National Player of the Year.
Henning had college recruiters drooling, but she said her mindset wasn't to play basketball for an athletic scholarship.
"I enjoy sports in general," said Henning, who earned 12 varsity letters at Horlick, participating in tennis, volleyball and track. "But basketball was my favorite sport. I just picked up a basketball for the pure joy."
Henning brought a considerable amount of enjoyment to the Stanford University women's basketball program after she signed a national letter of intent to play for the Cardinal.
With her exquisite playmaking abilities and scoring prowess, the 5-foot-7 Henning spearheaded Stanford's 88-81 victory over Auburn in the 1990 NCAA championship game, played before a crowd of 20,023 at Thompson-Boling Arena in Knoxville, Tenn. Henning scored a game-high 21 points.
Henning completed her stellar collegiate career by being selected the Pac-10 Conference Player of the Year and Kodak All-American her senior season.
Henning went on to play two years with San Jose in the American Basketball League before being selected in the second round of the WNBA draft by Houston. She helped the Comets win the WNBA championship that same season.
Henning's achievements off the court were equally impressive.
At Horlick, Henning was a National Honor Society student. She majored in economics at Stanford, one of the most rigorous academic schools in the nation. At Duke University Law School, Henning obtained a Juris Doctor.
Henning practiced law, specializing in labor and employment laws. She also served on the Portland (Ore.) School Board for four years. She currently works for Nike as its Senior Director Business Affairs, North America Sports Marketing.
"I had a ton of great adults in my life early on, whether it was my elementary teachers or high school counselors or teachers, who, for whatever reason, took a special interest in me," Henning said. "Some of those people had no clue about athletics.
"But they were constantly encouraging and pushing me to reach my potential. When I got a B, they said I could get an A. Or, when I got an A-, they would say I could get a solid A. I was fortunate to be in an encouraging and caring community."
Added Chambers: "From day one when I met her, Sonja had a vision. She said, 'I want to be an attorney.' That was in seventh grade.
"She's one of a kind. Racine's been lucky to have her."