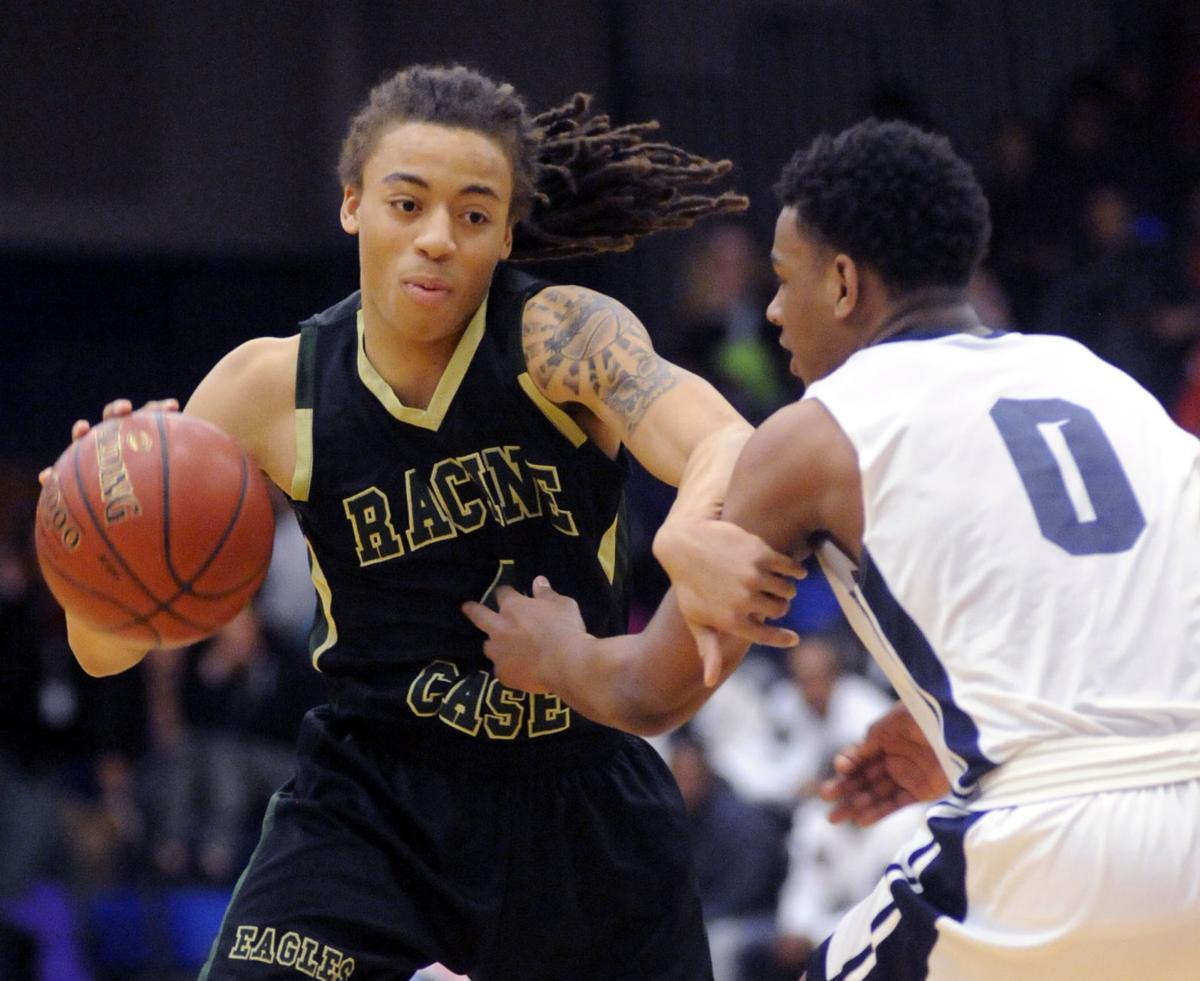 Koreem Ozier and Jordan Gallagher, two of the most high profile high school athletes in Racine County this school year, are downsizing for the time being.
Their ultimate intent is bigger and better things after they get their academics in order at faraway destinations next season.
Ozier, a second-team Associated Press All-State guard who became Case's all-time leading scorer last season, is headed to National Top Sports Institute in Scotland, Pa., a tiny community about 50 miles north of Harrisburg. He will play there for one year under highly regarded prep coach Chris Chaney before deciding on his future.
Gallagher, a Horlick senior who became the first county offensive lineman to earn first-team AP All-State honors last fall since former Park standout and Green Bay Packers offensive tackle Kevin Barry in 1996, announced in February he will play for Garden City Community College in Garden City, Kansas. He also hopes to move on to a four-year program after one year at Garden City.
Both said they come from challenging family situations with fathers who have served prison time. Both are still developing young adults. And both are already trying to make a difference in an arena other than sports.
"I know that he's got a great mindset as well as me," Gallagher said of Ozier. "Koreem is speaking to kids and I give him tons of props. I went to Mitchell (Middle School) one day and spoke out to kids. I like to tell them my story. And I see Koreem as a motivational basketball player — as someone who had no hope but then made hope for himself."
Said Ozier, "Talking with kids is real high on my list because kids need someone positive to look up to. They need role models, so I really take time in informing the kids."
Ozier developed from a player who occasionally had attitude troubles in his first years at Case into a team-first player. He averaged 30.4 points, 6.6 rebounds, 4.3 assists and 2.2 steals a game as a senior. And he matured to such an extent that Horlick coach Jason Treutelaar said Ozier "is the nicest and most respectful player I have ever coached against."
After scoring a 17 on his ACT test, Ozier did not academically qualify for a four-year-college. But he intends to get established at NTSI under Chaney.
"I want to take a year on the court and in the classroom to better myself and sign up for a four-year university," Ozier said.
Ozier will have the opportunity to focus at NTSI, an 184-acre campus in a secluded area. There is an opportunity to learn. And there is an opportunity to succeed in basketball under Chaney, who at his various coaching stops has coached 18 players who went on to the NBA.
You have free articles remaining.
Among Chaney's former players is former Park All-State guard Josh Cameron, who played for him at Princeton Day Prep School in Princeton, N.J.
"We haven't seen him (Ozier) live yet, but I heard a lot of good things about him," Chaney said. "I know he's an under-the-radar type of player. I had Josh Cameron, who went on to play for Coastal Carolina and they played in a couple of NCAA tournaments.
"I think Koreem is going to be a really good player and I think it's a situation where he will be able to get seen by a lot more people, get that exposure and get that every-day work ethic."
Gallagher, who received recruiting letters from Big Ten programs including Illinois, Purdue, Iowa and Minnesota, said he also scored a 17 on his ACT. On the remote campus of Garden City, Gallagher will also have the chance to focus on his academics and athletics.
He claims he got a good head start on that during his time at Horlick.
"I kind of realized that I should pay attention in the classroom and ask questions," Gallagher said. "That's the main part of it. A lot of people are afraid to ask questions. I started to ask questions, stay after school and get extra work in. That changed me."
Gallagher was a work-in-progress even as a senior. He was suspended for one game last season for an incident last summer. But Nicole Ramczyk, a math and special education teacher at Horlick, said she has seen steady improvement from Gallagher as a student.
"I just kept it real with him," Ramczyk said. "When he was getting frustrated or didn't want to do anything, I kept reminding him that there's more than sports — that he was a student first.
"I think it finally clicked with him that he has to keep his academics going and keep his attitude in check. And lo and behold, he did that."
What does Ramczyk see now?
"He was involved in cheerleading, he joined a positive impact class where he was a leader and just a lot of other things," she said. "I saw him in the hall talking to the underclassmen and when he saw them acting up, he said, 'Come on guys, stop being a fool.' "
It appears that the best is yet to come for Ozier and Gallagher.
Peter Jackel is a reporter for The Journal Times. You can reach Peter by calling 262-631-1703 or by emailing him at peter.jackel@lee.net