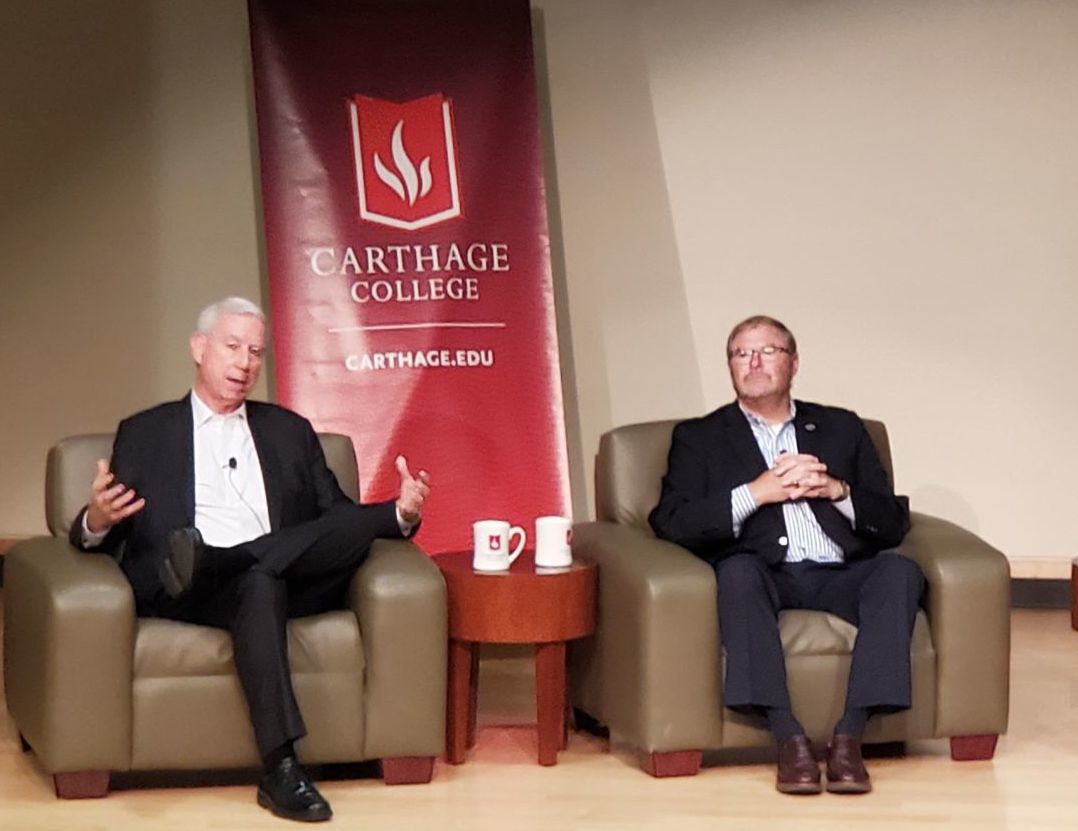 KENOHSA — They work largely behind the scenes, but their decisions play out in two Midwest regions before scores of fans each season.
Carthage College on Monday hosted the heads of two nearby prominent hockey teams in a wide-ranging discussion about the sport, the business side of it and the role fans play.
John McDonough, president and CEO of the Chicago Blackhawks shared his insight, as did Craig Leipold, owner of the Minnesota Wild.
Greg Barron, assistant professor of management and marketing at Carthage, led the discussion, which was the first installment of a new series, "Spotlight on Sports."
During the hourlong talk, Barron asked the hockey executives a number of questions pertaining to life on and off the ice arena, including how they handle stress, the best part of the job and what advice they have for youth interested in working in a professional sports environment.
Managing stress in a stressful profession
McDonough, who joined the Blackhawks in 2007 and has been credited with playing a pivotal role in turning the team around in the dozen years since, said stress comes with the territory, though it is one he said he has learned to manage.
"Sleep is a critical component. Exercise is really, really critical," said McDonough, who added he refrains from looking at social media during or after a Blackhawks game.
Since purchasing the Wild in 2008, Leipold said the team has gone through different seasons and varying degrees of highs and lows, which he said he strives to keep in perspective.
"There's an up and down, there's a life cycle to a sports franchise," Leipold said. "I think it's important to have good friends who don't weigh in. It's important to not read the blogs and all the message boards."
Winning isn't everything
As one might expect, the executives said winning has been one of the most satisfying aspects of their work, though neither said it was the be-all, end-all in finding fulfillment in their leadership positions.
For all the Blackhawks' successes in recent years, McDonough said he still views the team as an underdog that continues to work to earn fans' respect and support from one season to the next.
"That's the challenge of building something unique, something different," said McDonough, who has been credited with helping the Blackhawks earn Stanley Cup titles in 2010, 2013 and 2015. "That logo means something to a lot of people."
Leipold, whose resume in the NHL stretches back to 1997 when he was the owner of the Nashville Predators expansion team, said fan support within and beyond the walls of the arena is an important aspect of the overall experience.
"I love this job; I love the players," Leipold said. "Winning is the most incredible feeling. It's a lot of fun doing things for our community."
Pursuing the dream
When asked what advice they would have for students interested in a career in professional sports, McDonough and Leipold pointed to many of the tips that could be applied to most careers, including networking.
"Pursue what stirs your blood," McDonough said. "Take personal inventory, and give yourself some time to think. I would encourage everyone to give themselves a period of time to follow those dreams. That big dream might come true."
Added Leipold, "It starts with your education. Keep getting to where you want to go — that's how most of us have done it."
Barron said Carthage is planning a number of upcoming talks this school year under the "Spotlight on Sports" banner, including one in February with Milwaukee Bucks President Peter Feigin.
Be the first to know
Get local news delivered to your inbox!