WAUKESHA — St. Catherine's saw a 1-3-1 zone defense for the first time this season Thursday night. It sure caused problems for the Angels.
Meanwhile, Delafield St. John's Northwestern Military Academy saw Tyrese Hunter for the first time this season. And did he ever cause problems for the Lancers.
With Hunter taking matters into his own hands when things were at their most tense, St. Catherine's defeated St. John's 67-53 in a WIAA Division 3 sectional semifinal at Waukesha South.
But the Angels (25-0) will be going no further. It was announced late Thursday night by the Wisconsin Interscholastic Athletic Association that all remaining winter tournament events will be cancelled because of concerns over the the spread of COVID-19.
"I want the student-athletes and their coaches to know that your school leaders, the WIAA Executive Staff, our committees and the Board of Control have done everything imaginable to try to provide and preserve these opportunities for you," Executive Director Dave Anderson said in a statement. "However, we want and need to be responsible in helping the global and state efforts to stem the tide and spread of this virus."
Earlier Thursday, the WIAA was informed that the Kohl Center in Madison would not be available for the state boys tournament, scheduled for March 19-21.
The Angels (25-0) had been trying for their first state tournament berth since 2011. They would have played Kettle Moraine Lutheran (22-3) Saturday at Mequon Homestead for the sectional championship. Lutheran advanced with an 80-77 victory over Brown Deer.
And the Angels would have been a favorite to win the program's first state championship since 2010.
"I can't see any team beating them," St. John's coach Duane Mlachnik said shortly after Thursday's game. "They're so well-rounded, they're well-coached, they're tough to guard at all five positions and they have two or three guys coming off the bench who can contribute.
"They make it very, very, very difficult to defend."
Because of restrictions imposed by WIAA earlier Thursday, each sectional team in the state was limited to 88 tickets for fans. According to St. Catherine's principal Mike Arendt, tickets were distributed to the families of players.
But the Waukesha South fieldhouse was still bursting with energy as two talented teams went at each other. And when St. John's (19-6) pulled into a 42-42 tie with 9:53 to play — the Lancers had trailed the entire game to that point — things got real interesting.
But then it became Tyrese Time.
The 6-foot-1 junior, considered by some to be the most talented guard in the state, finished with 20 points on 9-for-15 shooting, five rebounds, four steals and two assists. And he was never more vital than when the Angels needed him the most.
After Elijah Lambert made a jumper to give the Angels a 44-42 lead, Hunter made a 3-pointer. St. John's pulled to within 47-44 on a basket by Brandin Podziemski, who scored 24 points, but then Hunter whipped a pass inside to Jameer Barker (more on him later), who was fouled and made two free throws.
But Hunter's finest moment came with 5:51 left, when he stole the ball and broke downcourt for a thunderous dunk to give the Angels a 54-47 lead. St. John's never threatened again.
"You've got to do what you do best," Hunter said. "That was my time to shine, just show what I can do, get my team involved and get the 'W.' "
Mlachnik could only admire the impact Hunter had afterward.
"He's very smooth and very competitive," he said. "This sounds really weird, but you don't even really know he's out there because he's not doing anything the wrong way. He does everything the right way and he's fun to watch. He's so darn quick, he's unbelievable."
Mlachnik's strategy for slowing down Hunter was putting in that 1-3-1 zone, which the Angels had not seen this season. To a large extent, it worked, especially toward the end of the first half when the Lancers pulled to within 27-22 at halftime.
"We hadn't gone against a 1-3-1 and they're excellent at it," St. Catherine's coach Nick Bennett said. "We came out early and made some shots and that was a good and a bad thing. It was good because we got a lead (21-8 with 8:34 left in the first half) but it was bad because we settled a little bit to end the first half.
"We were shooting ourselves in the foot a little bit by settling for jumpers and that let them get back into it. In the second half, we did a real good job of playing high-low, we did a good job of swinging the floor and punching some gaps and driving down the middle. And defensively, we finally sat down and kept them out of the paint and got hands in shooters' faces."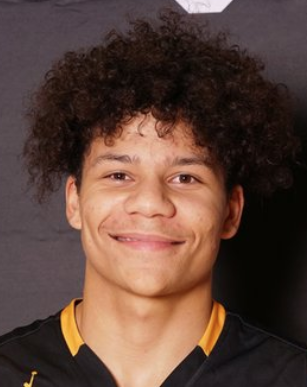 There was also Barker, a 6-2 junior guard who played what Bennett considered to be perhaps his finest game. Barker, who averages 14.3 points, scored a team-high 24 points and added five rebounds and three assists.
"Offensively, he was very good, but he was big because he sat down and guarded tonight," Bennett said. "That's sometimes been his bugaboo. He can irk me at times, but, tonight, he sat down and guarded and he was very active in the gaps and he kept penetrators in front of him.
"When he guards like that, he really shows me that he can play at the next level."
Said Barker: "We were practicing for this zone all week, we saw that we had to get to the middle every play and that's what we just did. And my teammates found me open."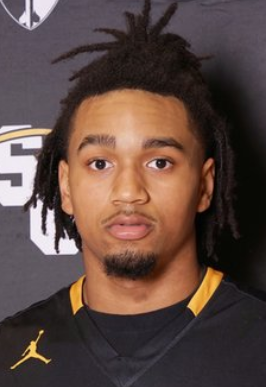 There were other key contributors for the Angels. Defensive specialist Elijah Lambert, a 6-2 forward, had eight points, six rebounds, two steals and two assists. Elijah Sabala, a 6-1 forward, had five points, five rebounds and three steals. Kamari McGee, a 6-0 guard, went just 1 for 9 from the floor, but had six assists and three steals to go with his three points.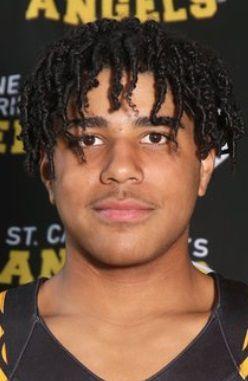 And then there was the 6-4 Tyler, who played extensively in the second half, went 3 for 3 from the floor and finished with seven points and five rebounds.
"Marcel's effort on defensive, rebounding and finishing was absolutely fantastic," Bennett said. "I know it wasn't his highest scoring night, but that's the best I've ever seen Marcel play. He absolutely gave us a big lift."
Unfortunately for the Angels, they will now be putting away their uniforms for the season instead of playing for another state championship.
Get in the game with our Prep Sports Newsletter
Sent weekly directly to your inbox!