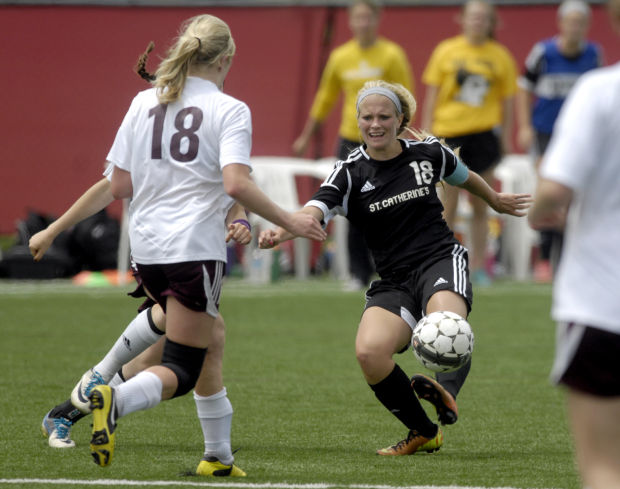 MILWAUKEE — The way the defense was playing for the St. Catherine's High School girls soccer team Thursday, the chances for advancement at the WIAA State Tournament were looking pretty good for the Angels.
New Holstein, however, found a way to end the Angels' best season in school history.
St. Catherine's scored early in the second half of its Division 4 state semifinal match and kept the Huskies at bay defensively, but New Holstein broke through with two unanswered goals to beat the Angels 2-1 at Uihlein Soccer Park.
The Angels, who finished the regular season ranked No. 1 among Division 4 teams in the Wisconsin Soccer Coaches Association poll and entered the state tournament with a 22-match unbeaten streak, finished 21-2-2.
New Holstein (18-3-3), which has a 17-match unbeaten streak, advances to play Wisconsin Rapids Assumption Saturday in the first-ever Division 4 championship match. Assumption beat Lake Country Lutheran 5-4 in a shootout after the teams played to a 0-0 tie through two overtimes.
The game-winning goal came on a scramble in front of the net in the 76th minute. The Angels tried to clear the ball, but mishit it and redirected the ball back toward the center of the box. A couple New Holstein players came to the ball, as did St. Catherine's sophomore goalkeeper Maddie Shea, and Huskies senior midfielder Karli Fannin poked the ball in at 75:35 to break a 1-1 tie.
"It was just a transition situation where they cracked the ball inside their box," Angels coach Ben Lake said. "We had a missed clearance on the outside part of the field. It was unfortunate and they had someone there to make that game winner."
After a scoreless first half, St. Catherine's got on the board at 46:54. Senior forward Keri Berkowitz sent a perfect corner kick to the far post, where senior defender Jenna Zimmerman used all of her 5-foot-10 frame to rise above a couple of Huskies defenders and head the ball in.
"I noticed nobody was really marking me," Zimmerman said. "It was coming right at my head and I knew it was going in right after it hit my head."
You have free articles remaining.
About 10 minutes after the Angels' goal, New Holstein picked up its pace and began to dominate possession. Huskies coach Nate Laabs said a simple switch in their ball movement, and attitude, made the difference.
"We calmed down and started doing what we do best," Laabs said. "We get into kicking it forward all the time, but when we started going side to side, the game opened up immediately."
The Huskies tied the match at 65:01 when senior forward Laiken Meyer sent a pass to senior midfielder Danielle Brenner at the top of the box and Brenner floated a shot just over the outstretched arms of Shea and just under the crossbar.
St. Catherine's had three shots on goal and one of them nearly resulted in a goal. In the 28th minute, senior midfielder Sabrina Stulo hit a long shot that hit the crossbar and landed just out of the reach of senior forward Devon Polk. Junior midfielder Vanessa Ramage's follow-up attempt was wide right.
"If that goes in, it's a 1-0 game and the momentum could have changed there," Lake said.
As a whole, the Angels were extremely pleased with their season.
"One of our goals was to get here to state," Stulo said. "We really wanted to come out winning it, but we put in so much effort and so many long hours of practice and it paid off, because we got here.
"I'm so proud of my team."
New Holstein 2, St. Catherine's 1 — St. Catherine's goal/assist: Jenna Zimmerman (Keri Berkowitz).