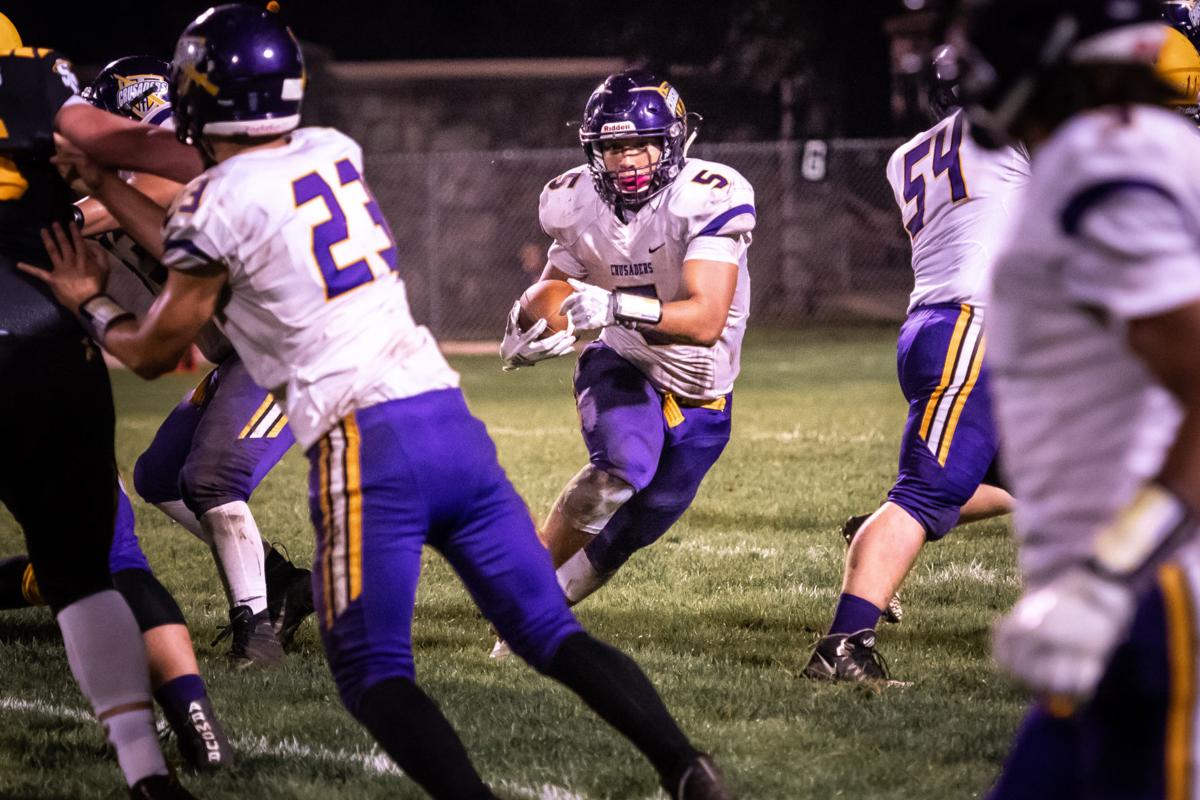 When Scott Smith was reminded of his opponent's illustrious tradition this week, he put the challenge that awaits in perspective.
"Even though they've done it in the past, they've got to do it this year," the Racine Lutheran High School football coach said. "And we do, too.
"It's 0-0 when you come to this game."
That game is Lutheran's WIAA Division 6 semifinal against Lancaster Friday night at Elkhorn. The winner of this game advances to the state championship game Nov. 15 in Madison. If Lutheran wins, it will be its first trip to Camp Randall Stadium. If Lancaster wins, it will be its 12th.
Lutheran's season ended last season with a 28-0 loss to Fond du Lac Mary's Springs in the third round of the playoffs. Springs went on to win its seventh state championship, all under coach Bob Hyland.
The situation is similar this season in terms of tradition-rich opponents. Lancaster has made 11 trips to the state tournament under coach John Hoch since 1993 and has won seven state championships. If there's a silver lining for Lutheran, it's that this program isn't quite what it has been during the last five years, although that's relative.
Since winning their most recent state championship in 2014, the Flying Arrows have gone 30-14. From 2011-14, they were 41-4.
Nevertheless, Smith realizes the caliber of team Lancaster remains.
"They run the triple option," he said. "They want to run power football, they want to shoot their fullback up there every play, whether he has the ball or not. If he doesn't, the quarterback is going to keep it or pitch it.
"We have to play assignment football. It's not going to be easy because they're a good football team and they come from a tough conference (the Southwest Conference). Each kid has to do his assignment. Otherwise, we're going to give up some big gains."
The Flying Arrows' go-to player on offense is Corey Hahn, a 5-foot-11, 180-pound junior fullback who has rushed for 1,269 yards and 12 touchdowns on 196 carries. Hayden Knapp is a dual threat at quarterback, rushing for 922 yards and 11 touchdowns and passing for 699 yards and eight TDs.
But that's not all. Dawson Bowen, a 5-10, 180-pound running back, has rushed for 822 yards and averages 6.8 yards per attempt — which is better than either Hahn (6.5) or Knapp (6.0).
"Most times when you have a team like this, you have a big, bruising fullback," Smith said. "(Hahn) isn't a big, bruising fullback. He's more of a quicker kid and he hits the 'A' gap or the 'B' gap so fast. It's hard to react that fast."
That offense was on display the only other time a Racine County team encountered Lancaster.
That was Nov. 9, 2013, when St. Catherine's, which was then in Division 5, made the 185-mile trip to Lancaster for a third-round game. Lancaster only had 165 yards of offense that day (compared to 94 for St. Catherine's), but it was remarkably efficient.
Quarterback Nate Tranel threw a 14-yard touchdown pass in the second quarter and then had touchdown runs of 28 yards in the third quarter and 14 in the fourth. Take away those two scoring runs and Tranel and St. Catherine's held him to 26 yards on 16 attempts.
St. Catherine's, which had rushed for 469 yards on 54 carries its previous game — a 49-14 second-round victory over Westfield Area — was held to 87 yards on 40 attempts by Lancaster.
Smith has several defenses he may use Friday night.
"It just depends on what we, as coaches, feel we need to stop first and then we'll go with that defense," he said.
Lutheran will go after Lancaster with 5-9, 200-pound junior running back Tyler Tenner, who has taken his game to another level in the postseason. In three playoff games, Tenner has rushed for 635 on 66 carries and has scored 10 touchdowns.
He is coming off a career-best 310 yards on 31 carries in a 41-21 third-round victory over previously unbeaten Cambridge.
"Someone from wissports tweeted out after the game that Tyler was the best running back he's seen all year," Smith said. "He does not come down with one hit. It takes multiple guys to bring him down.
"Sometimes I think, 'Man, how did he get out of there and break all those tackles?' He just keeps his feet going and he's a load to bring down."
A seasoned offensive line of tackles Alex Schulz and Sully Stanke, guards David Voss and Seth Hultman, and center Tim Nelson has been opening holes for Tenner.