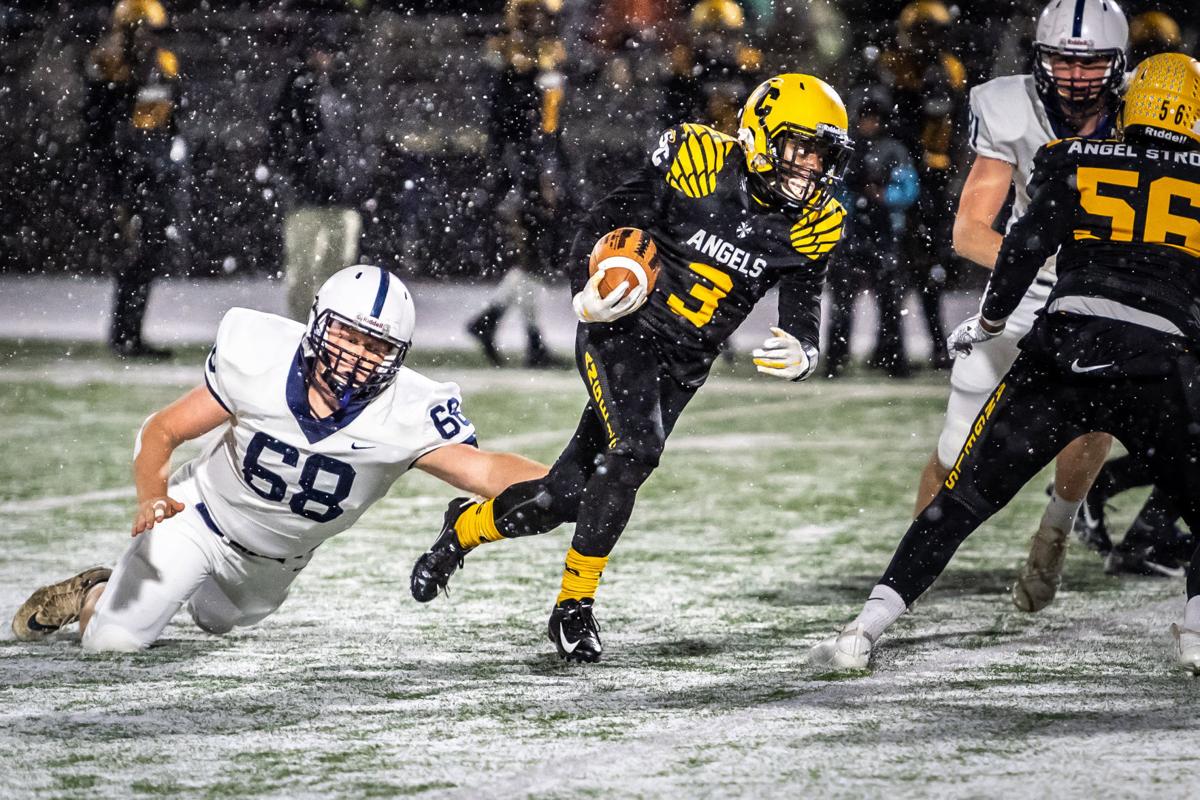 It was only Nov. 9, but it felt just like Christmas Friday night at Waukesha North High School.
Snow was falling and unseasonably cold temperatures plunged to 20 degrees. But bundled fans were ecstatic minutes after the St. Catherine's High School football team rallied to defeat Lake Mills Lakeside Lutheran 30-28 in a WIAA Division 4 semifinal.
The Angels are heading to the state tournament and that has never happened in the illustrious history of this program.
As shivering fans made their way to their cars, someone asked, "Does anyone know how Racine Lutheran did?" Told that the Crusaders won their Division 6 semifinal, that fan exclaimed, "Hey, we have two teams going to state!"
This is as good as it gets in a city that some feel has become more of a basketball town. Two county teams, both of which play in the Metro Classic Conference, are going to be playing for state championships Thursday at Camp Randall Stadium.
That's never happened before, either.
"Football is a very popular sport in Racine, I think," St. Catherine's coach Dan Miller said. "It always has been. We had huge participation in our youth programs in the community. To have two teams playing for a state championship is going to be something, I think, that is extremely special."
Racine Lutheran coach Scott Smith, who took over the program in 1995, is going to his first state championship game at the age of 58. The Crusaders took that step Friday night with a 55-28 victory over traditional state power Lancaster at Elkhorn.
Smith, too, is feeling the buzz that has been circulating in Racine since Friday night.
"Especially coming out of the same conference," Smith said. "I wonder how many times in the state playoffs you've had two teams from the same conference? It just shows that we have some good athletes in this city and some good football players that want to win.
"You know what? It's just good for the whole city."
You have free articles remaining.
There were plenty of elite athletes Smith spoke of on display Friday night.
For Lutheran, it was running back Tyler Tenner, who exceeded 300 yards rushing for the second straight game, possibly a first in county history. In four playoff games, Tenner has rushed for a remarkable 937 yards on 116 carries — an average of 8.1 yards per attempt — and has scored 14 touchdowns.
"He's special," Smith said. "With everyone keying on him, he's still able to do it. We don't throw the ball that often, so it comes down to our running attack.
"For him to do that against the caliber of teams we're playing ... we knocked off three conference champs in a row to get there (the semifinals Friday night)."
About 33 miles to the north Friday night, someone else was producing a memorable performance for St. Catherine's and it wasn't all-everything quarterback Da'Shaun Brown.
With Lakeside Lutheran keying on Brown, junior running back Isaiah Dodd's number was called a career-high 37 times. The 5-foot-6, 150-pound Dodd, who will be starting at point guard for the Angels' basketball team within a matter of weeks, responded with 221 yards and three touchdowns.
"Offensively, we knew what they were trying to do as far as stopping Brown, our offensive line was really handling them upfront and Dodd was running really well."
As snow fell, Dodd kept fearlessly hammering away at a large Lakeside Lutheran defense.
"He ran like a soldier," Miller said. His second, third and fourth effort was on display last night. He showed just how tough for his size he is and how extremely hard he is to bring down.
"He takes the hit and he just keeps moving. For a guy his size, he played like a 6-foot, 200-pound tailback last night.
With St. Catherine's and Lutheran making their first trips to Madison, six of the nine county teams will have played in the state championship game. The others are Horlick, Park, Catholic Central and Waterford.
Waterford was the most recent to make the trip, playing in the Division 2 championship game in 2011.
However, Lutheran did make one appearance in the Class B championship game of the now defunct Wisconsin Independent Schools Athletic Association. The Crusaders lost to Prairie du Chien Martin Luther 21-0 Nov. 3, 1979 at Horlick Field.