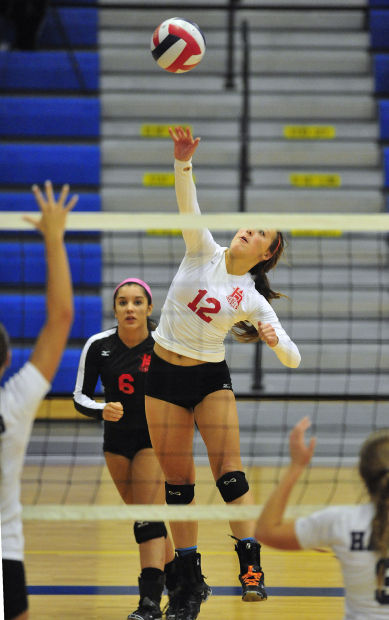 Isabel Saber and Lauren Dziak are hoping to go out with a flourish this year.
The two seniors will make their last appearances in Waterford High School leotards Saturday at the WIAA State Gymnastics Championships at Wisconsin Rapids Lincoln High School.
Saber qualified for state for the third straight year in Division 2, the second in a row on uneven bars, and Dziak is making her first individual appearance since qualifying on balance beam and in all-around as a freshman.
Individual competition begins at 11:15 a.m. Saturday.
Saber, who was 24th on the bars last year, has been performing well, but the scores haven't reflected that. She was third at the Whitefish Bay Sectional with an 8.35 and her high for the season has been 8.6. Last year, 8.6 would have won her a medal.
"She has a nice routine," Wolverines coach Carrie Rydzewski said. "She's medaled on bars most of the season, but bars scores have been low in general.
"At the sectional, we performed the best we have all season, but I'm not sure why scores were so low."
Rydzewski is hoping her routine is good enough for a medal Saturday.
"She's generally in the mid-8s and she has been doing so well all season.
Dziak qualified on the vault with an 8.9 at the sectional and Rydzewski believes she could have a top-10 finish if she hits her vault Saturday.
"She's won several meets on vault," Rydzewski said. "Her season high is 9.2 and if she nails it (Saturday), she could at least get a top 10."
All the girls can do, Rydzewski said, is do what they've done all season and hope for the best.
"They have performed well all season," Rydzewski said. "We can't add any new skills or bump up the difficulty.
"I expect a good finish for them and I want them to enjoy their last time at state."
Weiss headed to Cumberlands
Sydney Weiss will be continuing her volleyball career down Kentucky way.
The senior defensive specialist/libero from Horlick has signed a letter of intent to play for the University of the Cumberlands, an NAIA program in Williamsburg, Ky.
She is expected to get some playing time, according to Patriots coach Kathryn Hart.
"Sydney will bring a lot of depth to our defense," Hart said in a press release. "We are looking forward to having her as a part of our team."
Weiss earned second-team All-Southeast Conference and All-Racine County honors last fall and has been the Rebels' volleyball athlete of the year and team MVP the last two years. She has more than 1,000 digs over the past two seasons.
Racky new VB coach at Catholic Central
Bailey Racky, the fitness and wellness teacher and assistant athletic director at Catholic Central, will add another duty to her resume.
Racky will coach the Lady Toppers' volleyball program beginning this fall. She replaces Mae Mae Oberhofer, who resigned in December.
Racky has plenty of volleyball experience, coaching in the Wisconsin Juniors Volleyball Club and at Wilmot as an assistant coach.
Bowlers ready to roll at state
The west end of Racine County will carry the flag for District 3A of the Wisconsin High School Bowling Club this weekend at the WHSBC State Championships at Dale's Weston Lanes in Schofield.
The Wolverines boys and girls teams both qualified, as did Union Grove's boys team, and four individuals from west of I-94 will compete in singles.
Competing in boys singles will be Zach Chernouski of Burlington, Zak Ksobiech of Waterford, Zachary Sullivan of Horlick, Andrew Mertins of Park and Chase Thompson of Walden III. Girls' singles qualifiers were Emily Nurmi of Union Grove and Tatum Ruffalo of Waterford.
Action begins Friday night and continues all day Saturday. The singles and team finals are Sunday.
Ice Force wraps up season
The Greendale Ice Force, a 10-school co-op team that includes nine players from Racine County, finished its season Feb. 18 with a 1-0 loss to Milwaukee Marquette in a WIAA regional final. The Ice Force were 13-13 overall and 1-6-0 in the Classic Eight Conference.
The Ice Force opened tournament play with an 8-2 regional semifinal victory over Milton Feb. 16. Senior forward Jake Schappel had a hat trick for the Ice Force and senior goalie Owen Lemke had 20 saves and an assist. Both are from Waterford.
During the regular season, Schappel led the team with 26 goals, second on the team and 10th in the Classic Eight, and Lemke led the team with a .929 save percentage, fourth in the Classic Eight.
The other county members of the Ice Force are freshmen Graham Lemke (forward) and Bryce Ney (defense) of Waterford, and juniors Dalton Phillips (defense) and Angel Schneider (forward), sophomores Jared Verwey (defense) and Alex Goder (forward/defense), and freshman Drake Phillips (forward) of Union Grove.