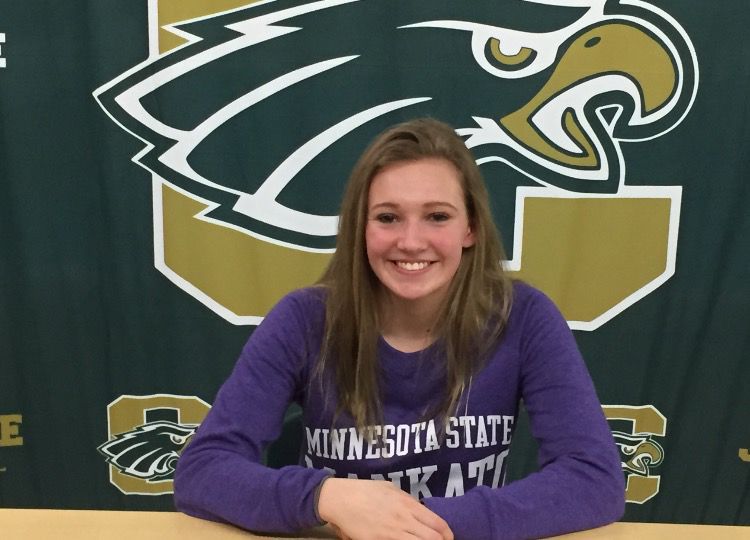 The long process of recruiting is finally over for Emelia Selky.
The Case High School senior swimmer signed her letter of intent Wednesday to swim for Minnesota State Mankato, an NCAA Division II school in Mankato, Minn.
Selky said the process of deciding on a college to further her swimming career was long, but ultimately ended with the right choice.
"I was looking at a lot of schools," said Selky, who also had Division I Illinois-Chicago and Division II Findlay and Indiana (Pa.) high on her list. "I took a long time to make my decision.
"I was thinking about how I would do academically and athletically, and I thought I would thrive most at Mankato."
One of the things that sold her on Mankato were the athletic facilities.
"They have an awesome athletic building," Selky said. "Everything's new and updated, and there's a really nice weight room and pool."
Another draw, she said, is that it's close enough (about six hours away) for her to come home now and then.
Selky said she will be able to compete right away. Her specialty is distance freestyle and that's where she said the most need is with the Mavericks' program.
Selky, who is in Case's International Baccalaureate (IB) program, plans on studying psychology, a subject she discovered and enjoyed during her junior year.
"It felt like a good fit for me," she said.
Also making it official Wednesday was Waterford senior Taitum Beck, who signed her national letter of intent to play golf at Division I Weber State University in Ogden, Utah. Beck had made a verbal commitment in February.
Chambers chooses St. Thomas
Eric Chambers will be taking his game north beginning this fall.
The senior Union Grove golfer has verbally committed to attend and play golf for the University of St. Thomas, an NCAA Division III school in St. Paul, Minn.
Chambers, whose father Tom has been a regular in local golf tournaments for many years, talked to several coaches over the last year, but when he visited the St. Thomas campus, he was hooked.
"It's a great campus and the school itself seems incredible," Chambers said. "And their golf program is good."
Chambers wanted to get away, but also wanted to stay close to home. It's about a five-hour drive from Union Grove to the Twin Cities.
"It's perfect," said Chambers, who plans to study business.
The Tommies have had a good run of success. They finished fifth in the Division III National Championships in 2015-16, 12th in 2014-15 and qualified for nationals in 2012-13. In the fall of 2015, St. Thomas was ranked No. 1 by GolfStat and No. 3 by Golfweek Preview, according to the St. Thomas website.
Making a racquet(ball)
Chandler Spiewak is in just his second year of playing tennis for Burlington.
But he's a veteran of a sport not offered in high school.
The senior is an exceptional racquetball player — so good, in fact, that he won the 16-and-under Red Bracket at last year's USA Racquetball Junior Olympic Championships in Fridley, Minn.
He was the 30th and last seed in the tournament, but got himself known quickly. After losing to overall third seed Dane Elkins of Los Angeles 15-3, 15-10, Spiewak fell one level to the Red Bracket — and didn't lose again.
He beat Nicolas Walsh of Northfield, N.J. 15-2, 15-6 and Michael Pratt of Frisco, Texas, 15-3, 15-6 his first two matches, then advanced to the Red final by beating Carson Marshall of Jackson, Tenn., 15-3, 14-15, 11-9.
In the title match, against Vardaan Tandon of Edison, N.J., Spiewak lost the first game 15-2 and was kind of shellshocked. He turned to his father, Brant, who is also his coach, and after a long conversation, Chandler went out revived and renewed.
He routed Tandon 15-1 in the second game, then got out to a big lead in the last game, winning 11-5 to win the Red Bracket.
"After the first game, I was pretty shaken," Spiewak said. "I came off the court and had a conversation for a minute and a half. He said 'you have this.'
"In the last game, I came out of the gate pretty fast with the momentum I had from the second game."
Spiewak, who turns 18 on June 3, is ranked 16th in Wisconsin in the latest USA Racquetball 18-and-under rankings and is planning a return trip to nationals this summer.
Spiewak is a busy guy. In addition to school and tennis, he plays bass for his band, Orange Crush, and is in the EMT program at Burlington. He plans to become a doctor and will do his pre-med work at UW-Parkside.
Lady (Toppers) Luck
Call it kismet, call it luck. Whatever you call it, the Catholic Central softball team has it.
The Lady Toppers are off to a 2-0 start, with victories over Kenosha St. Joseph and Racine Lutheran, and head coach Bill Greskiw must be leading a charmed life. There are five freshmen on the varsity, three of whom are starters and have made instant contributions.
Interestingly, those three freshmen — shortstop Christina Paleka, catcher Anne Fabiani and third baseman Izzy Phillips — just happen to play positions where three standout players graduated.
In addition, sophomore Miriam Ward takes over in center field for another graduate, Bridgette Wright.
"The strange thing is we lost our catcher (All-Racine County second team player Katie Kubiak) and got a freshman catcher," Greskiw said. "We lost our shortstop (Kacie Snyder) and got a freshman shortstop. We needed a third baseman and we got a freshman third baseman.
"We're fortunate those kids just happened to be there. There's a lot of luck in softball, and the kids are really playing well coming out of the blocks."
Paleka, the leadoff hitter who is also a good pitcher, is off to an impressive start at the plate, going 7 for 8 with a double, two triples and an RBI. Fabiani is 4 for 8 with three doubles and two RBIs, and Phillips is 3 for 7 with a double and four RBIs.
"The freshmen have been on fire in our last two games," Greskiw said. "Izzy always seems to hit with two outs and runners on base."
Add in junior pitcher Sydney Robson, who has given up just one earned run in her first two games and has struck out 21 batters, and you have a team that is both young and dangerous.