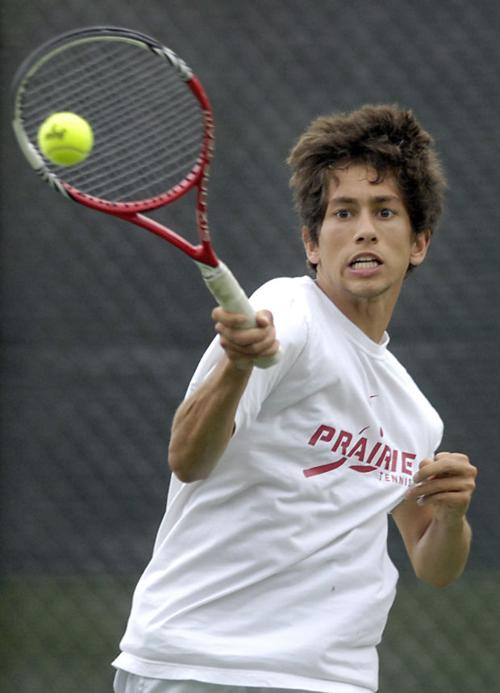 It might take awhile for it all to sink in for Zane Navratil, but one thing is for sure: The Prairie School senior made history Saturday.
Navratil did what no other Division 2 boys tennis player has done before, winning his third straight singles title at the WIAA State Individual Boys Tennis Championships in Madison.
The top-seeded Navratil completed his three-peat with a 6-1, 6-4 victory over freshman Kai Sane of University School of Milwaukee in the Division 2 championship match to finish a perfect 31-0 season.
Navratil is the first player to win three straight Division 2 singles championships since the tournament was split into two divisions in 1995, and is just the eighth player in any division to win at least three titles.
Navratil's teammate, freshman Juan Perez, may have begun his own legacy as he prepares to succeed Navratil as the Hawks' No. 1 player. Perez took third place, beating junior Jack Dykema of West De Pere 7-5, 6-4 in the third-place match to finish with a 30-1 record.
The Prairie doubles team of juniors Ian Foster and Fordy Leipold lost 6-0, 6-3 to sophomore Zach Janssen and Charlie Parish of Green Bay Notre Dame (29-3) in their first consolation match to end their season at 17-12.
The day belonged to Navratil, who gave Prairie its fourth Division 2 singles title in five years; James Stark won the title in 2010.
"I'm lucky I was playing my best tennis on the last day," said Navratil, who did not lose a set during his three-year championship reign. "I'm proud to do it for Prairie. I'm proud to represent my school that way."
Prairie pride was on display to begin the day as Navratil and Perez squared off in the semifinals. Navratil won 6-3, 6-4 in the match that took an hour and 25 minutes, but Perez didn't make it easy, leading both sets for a time before Navratil pulled away.
"He was attacking really well with his backhand," Navratil said. "He was just playing smart tennis and making some good shots. He was stepping into the ball and coming to the net. I just hit my shots deeper so he couldn't attack. If I left it short, he hit some pretty good shots."
Perez said he just tried to play his best.
"I did my best, but I couldn't hold up with Zane," Perez said. "He played well. I tried to attack as much as possible and took advantage of the shots I could, but in the end Zane won."
You have free articles remaining.
Prairie coach Harold Swanson didn't even watch the match, instead watching the other semifinal between Sane and Dykema.
"We decided we couldn't coach them because we couldn't divide our time," Swanson said of he and assistant coach Tim Ellis. "We just let the kids play."
The title match was the fourth meeting between Navratil and Sane (22-7) this season and turned out to be the largest margin of victory for Navratil. Swanson said Navratil played the best tennis of his life in the first set of the match.
"He was hitting the ball beautifully and really pressured Sane," Swanson said. "That set the tone for the match."
Navratil led the second set 5-2, but Sane won the next two games to get within 5-4. Navratil served for the match and remained aggressive.
"What was impressive was that he won the game instead of trying to wait for (Sane) to make an error," Swanson said. "He served very well."
Navratil didn't remember the final game, but did remember his celebration.
"I was in a zone," Navratil said. "Somebody said he hit a backhand wide. I gave a fist pump — it was exciting."
The scouting report Perez got from Swanson was helpful, since Perez and Dykema (32-4) had never played each other before. Both games went back and forth and Perez won the last two games of both sets. Perez capped the victory by hitting a backhand to pull Dykema out of the court and set himself up for an easy winner.
"All the points were critical," Perez said. "Both of us played well."
Swanson said Perez took control of the match in the second set.
"He played smarter and was keeping the ball in play better," Swanson said.
Navratil is off to play at UW-Whitewater, so how does Perez feel about following in Navratil's footsteps and potentially keeping the Prairie title run going?
"I always take it one step at a time," Perez said. "I don't want to get ahead of myself. (Winning a title) could be a long-term goal, but I like to take it easy and focus in the moment."