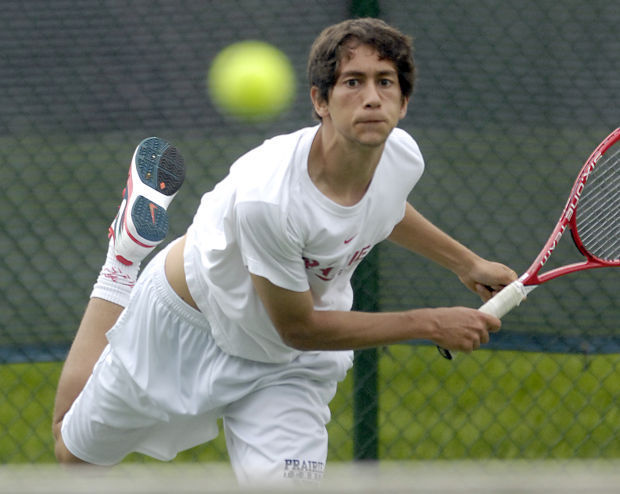 Nobody did it better this season than Zane Navratil.
The Prairie School senior took on all comers, from Racine County and around the state, and beat them all, topping off an undefeated season with his third straight WIAA Division 2 state singles title.
"That was not the goal," Navratil said of his 31-0 season. "My goal was to play well and win a state championship. Being undefeated was a bonus."
Because of that, Navratil was again the obvious — and unanimous — choice of the county's eight boys tennis coaches as the All-County Player of the Year, making it three straight.
And here's the scary part — his coach said he will he only get better.
"I think he will improve a great deal more," longtime Prairie coach Harold Swanson said. "He plays his best when the pressure is the greatest, which makes him a very good player."
Navratil has proven that time and time again, beginning in his sophomore year when he went into the WIAA State Individual Tournament as the fourth seed, only to run the table and win the title.
As a junior, he continued what he started with a dominant run to the championship. This year, as the top seed, he claimed his third straight title, becoming the first Division 2 player with three straight titles and the eighth state player overall to win at least three straight.
In his three-year title run at the state tournament, he didn't lose a set and went to a tiebreaker just once, in the title match as a sophomore. In each of his first two title runs, he beat players at state he had lost to during the regular season.
You have free articles remaining.
"That's something I've always been able to do," Navratil said. "Starting my sophomore year, I lost to people, people I ended up beating at state. My junior year, I lost to the No. 1 seed (Tyler Lewis of Kohler) during the season and beat him in the state tournament.
"At the state tournament, I'm able to maintain focus there really well."
He focused pretty well during the regular season, too. He lost just three sets all season — two to Sane, in a dual meet and at the sectionals, and one to St. Catherine's sophomore Patrick Anderson in the title match at the Racine County Invitational.
This year, Navratil faced one opponent at state that was all too familiar — his freshman teammate, Juan Perez — in the semifinals. Navratil won that match 6-3, 6-4, but it was unlike any other high school match Navratil played in.
"We knew each other inside and out, because we practiced together for a few months," Navratil said. "The way I looked at it, it's the individual state tournament and even though we're on the same team, we're individuals trying to go for a state tournament title.
"I tried to look at it as just another match against just another player, even though it is a guy I practice with every day."
Navratil now looks ahead as he prepares to play for NCAA Division III UW-Whitewater beginning this fall. He didn't feel his game was quite good enough for Division I and he wanted a chance to play for a national title.
"Whitewater is a really, really good fit," Navratil said. "Division I college tennis players are the best from around the world and it's pretty tough."
Navratil plans to study accounting.
As for his Prairie career, it played out better than he expected.
"I couldn't have asked for any better in how it turned out," Navratil said. "I was not expecting to win my sophomore year and luckily I played well at the right time of year. I'm glad I could represent my school by winning a couple state championships."