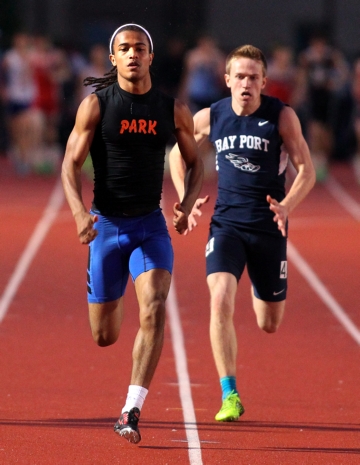 It was well worth the wait for the Park High School boys track team and Union Grove's Cassy Goodrich.
Behind Jeremy Steward, who won the 200-meter dash, was fourth in the 100 and competed on relays that were first and second, Park finished fourth in the Division 1 team standings of the WIAA State Track & Field Championships at La Crosse with 37 points — one point behind West Bend West. It was Park's best finish since it was second in 2007, Glenn Schultz's second year as the program's coach.
The event at Veterans Memorial Stadium concluded long after darkness set in following a 5 1/2-hour delay because of storms in the La Crosse area.
Kimberly won the Division 1 boys team title with 57 points, while Wisconsin Lutheran was second with 47.
"It wasn't a perfect day for us, but it was a very good day, Schultz said. "And even if we did have a perfect day, the best we were going to do was third with what we had up here."
And Goodrich concluded her high school career in spectacular fashion, winning the Division 1 400 meters for her first gold medal and placing third in the 100 and 200. The Marquette University recruit broke the school records she had already set in all three events, and doubled her career medal count to six.
Goodrich was personally responsible for Union Grove tying with West Bend West for seventh place in the Division 1 girls standings with 22 points. The Catholic Central girls, behind its second-place 4x400 relay, tied for 10th in Division 3.
"To have three PRs at the state meet is phenomenal," Union Grove coach Joe Busalacchi said. "I knew she was going to do well. She bounced back — she was a little off in the 100 (qualifying) Friday. She was disappointed. But we had a conversation and said with finals, you get a complete re-set."
Jeremy Steward led an outstanding team effort by the Panthers with his spectacular day, which started with some disappointment.
Even though he was the top qualifier in the 100, Steward finished fourth (10.96) while twin brother Justin Steward was eighth (11.23). But while Jeremy conceded he was disappointed, he channeled that disappointment into results the rest of the way.
"I still knew I had to prepare for my races," Jeremy Steward said.
He rebounded to join Justin Steward, Vance Witherspoon and Demell Smith on two powerhouse relays. The highlight was the 4x100 relay, which won in 42:07. The Panthers, seeded No. 1 in the event, didn't fulfill their goal of setting a state record, but it was their first championship at the state meet since 2007, when the 4x100 relay also won.
"I didn't have bad thoughts because I knew we still ran hard and still took first," Jeremy Steward said.
Prior to that race, those same four finished second in the 4x200 (1:28.04) behind Muskego (1:27.41).
And then Jeremy Steward came through with a spectacular encore, earning another 10 points for Park by winning the 200. With a time of 21.67, he finished comfortably ahead of Parker Witt (21.93) of Appleton North.
Not bad for someone who didn't even qualify for the event as a sophomore in 2013.
"It felt great," Jeremy Steward said. "I knew I would do good, but it felt good to win and see all the hard work pay off. My teammates really pushed me to do good and it happened."
An inspirational story for the Panthers was Matt Fix, who overcame knee surgery last August to earn a medal by placing sixth in the 300 intermediate hurdles (40.30) in his final high school event.
"If anyone in this program deserved to medal, it was Matt," Schultz said. "All the kids were jumping up and down for him, so that was very good."
For Goodrich, the weight was lifted off her shoulders at about 6:55 p.m. Saturday.
With one last chance to win a Division 1 championship in her signature 400, the senior did just that. Despite the wet conditions, which included puddles on the track, Goodrich ran a personal-best time of 55.35 seconds to win the event after placing second the previous two years.
Goodrich finished a healthy margin ahead of runner-up Angel Malone (56.96) of Milwaukee Riverside. It was the highlight of a memorable high school swan song for the record-breaking sprinter.
She started her day by placing third in the 100 (12.21) after struggling out of the blocks during her qualifying race Friday (12.63). It was all the more impressive considering the 100 is, relatively speaking, her weakest event — she was 13th at state as a freshman and eighth the last two seasons.
Reflecting on her disappointing performance in the preliminaries Friday, Goodrich looked back on it as a blessing in disguise.
You have free articles remaining.
"Actually, I didn't even think I made finals," Goodrich said. "When I found out I did make it, I came out today and thought, 'We have things to make up.' It was definitely a confidence booster to know my body was ready to do what I was going to ask of it."
And that was plenty. She pushed herself so hard in winning the 400 in 55.35 — her previous PR was 56.05 — that she needed the nearly two hours she got to recover before the 100 came up.
"I have a habit of staying in the blocks too long, but I remembered to sprint out this time," Goodrich said. "I didn't expect that time drop. I really hurt after the 400 because I really needed to take all I had and put it out there.
"The whole time, I had it in my mind, 'They're going to catch me, they're going to catch me.' It all came together for me."
And then Goodrich concluded her high school career by winning her sixth state medal, placing third in the 200 (24.87). Goodrich finished three one-hundredths of a second ahead of senior Bennisha Nunn of Case (24.90).
Goodrich finished her career with three state medals in the 400, two in the 200 and one in the 100..
"To look up and see my coach just smiling — I'm getting emotional now — that was just as good as the medal," Goodrich said.
Goodrich was so dominant that she overshadowed an outstanding effort by another county sprinter. Nunn won two individual medals by placing fourth in the 200 (24.90) and fifth in the 100 (12.28). She also anchored a 4x200 relay also featuring Zamiria Cosey, Kiara Riser and Daryian Shuford that was sixth (1:42.82).
The highest finishes beyond the Park boys, Goodrich and Nunn by county qualifiers were by the Catholic Central girls 4x400 relay and Burlington freshman Leah Joslyn in the 100 wheelchair race.
Catholic Central's relay of Cassie Reesman, Alexis Reesman, Kathleen Straube and Shelby Frederick finished second in 4:05.36. Wild Rose won 4:04.88.
And Joslyn finished in 37.39 seconds. Andi Minster of Franklin won in 34.78.
Here are other performances by county athletes Saturday:
- The Prairie girls 4x200 relay of Enyo Amet, Carlen Baran, Miera Smith and Maria Campos was fourth (1:48.44). Catholic Central's 4x200 relay of Monica Litman, Kelly Aldrich, Frederick and Brianna Martin was sixth (1:49.29).
- Courtney Thompson of Prairie was fifth in the 200 (22.99).
- Kelly Thomas of St. Catherine's was sixth in the shot put (51-0.75).
- The Catholic Central girls 4x100 relay of Litman, Aldrich, Frederick and Martin was sixth (51.99). Prairie (Baran, Smith, Campos, Amet) was ninth (52.88).
- Andrew Smith of St. Catherine's was eighth in the Division 2 high jump (6-2).
- Amet just missed earning an individual medal, finishing seventh in the 100 (12.94).
- St. Catherine's 4x200 relay of Jersey Eickhorst, Terryon Bumpus, Titonaro Bumpus and Connor Naeve was ninth (1:32.53).
- The Catholic Central boys 4x100 relay (Zach Frederick, Cole Kresken, Jake LaForest, Gavin Foote) was 10th (45.73).
- Jamias James of Park was 10th in the 300 hurdles (50.65).
- Chase Wember of Racine Lutheran was 11th in the Division 3 shot put (46-2).
- Amanda Johnson of Park was 14th in the 1,600 (5:08.20).
- Mileesha Hamilton of Case was 18th in the shot put (35-1).
- Horlick's 4x400 relay of Brandon Finley, Cameron Tresider, Sam Marusic and Yahir Hernandez was seventh in 3:25.52.
CORRECTION: A change was made in the runners on the St. Catherine's boys' 4x200 relay for the final that was not reflected in the official results. The relay names have been corrected above.