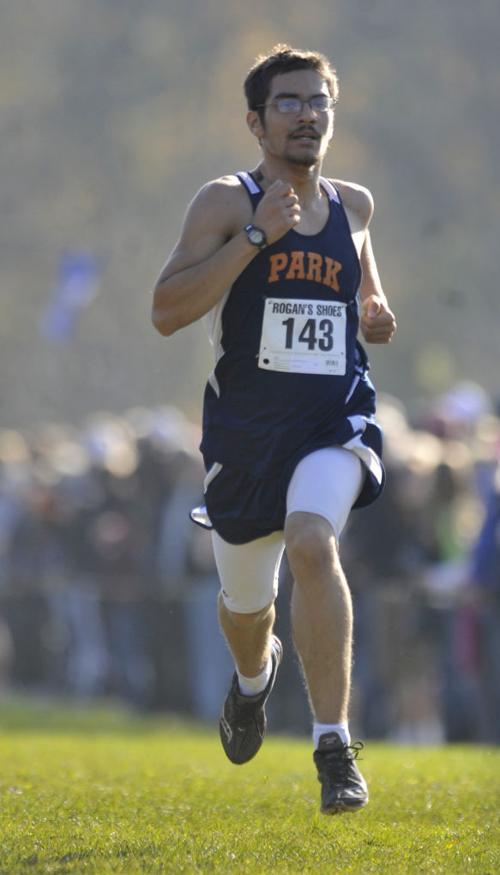 Let's just say Myles Brown doesn't like to sit still.
In everything he does, the Park High School senior seemingly likes to be on the move. Take school, for example.
"I'm cooped up in school all day, so when I get out of my classes, I walk through the hallways real fast," Brown said.
It shouldn't be surprising then that Brown's favorite activity is running. A day seldom goes by when Brown isn't pounding the pavement, running mile after mile.
Brown did an inordinate amount of running this summer. He made a daily pilgrimage to Petrifying Springs Park in Somers and ran with Luke Guillien, his friend and cross country rival from Case High School.
"It's always nice to train with someone at your level; it makes it easier and it's good to have someone push you and make you better," Brown said.
Brown definitely got better as he clearly showed during this cross country season. Brown became the dominant runner on the local prep scene and was recognized for his stellar season by being chosen the 2014 All-Racine County Runner of the Year.
Tom Scheller, who guided St. Catherine's to the WIAA Division 3 state meet, was unanimously voted the County Coach of the Year. The voting was done by the county's nine county boys' coaches.
Brown, who was an All-County first-team selection last year as a junior, felt he was going to have a season to remember right from the start. That's when Brown won the Racine County Invitational at SCORe in Caledonia.
The 5-foot-6, 125-pound Brown was timed in 17:30.7 over the 5,000-meter race, finishing just ahead of Guillien, who was clocked in 17:31.4.
You have free articles remaining.
"That was pretty awesome," Brown said. "It was the first meet and all the good county runners were there. I knew I was the best in the county for that meet, but I also knew that there was more competition out there. And I knew there were going to be runners who would be getting better.
"So I had to keep training, keep working hard to be as good or better than them."
Brown's focus paid off. He was a top-10 finisher in all but one meet this season. He went on to place eighth at the WIAA Division 1 Kenosha Sectional and then finished 93rd at the state meet in Wisconsin Rapids.
While Brown was a devoted runner, he didn't neglect his studies. He has a weighted grade point average of 3.9 while taking all advanced classes, including calculus and Spanish 5. Next semester Brown plans to take advanced classes in economics and physics. He is considering attending Wisconsin, UW-Milwaukee or UW-Parkside.
Asked if he planned on running in college, Brown didn't hesitate in responding, "Oh, yes. I love running."
While Brown loves to run, Scheller loves to coach.
Scheller just finished his 41st season as the Angels head coach.
"It's a labor of love," said Scheller, who became the Angels head coach when he was 23. "Nobody does this for so long unless they really like it."
Scheller especially liked this season. While having only seven runners on his roster, he tapped each one's potential. The result was a banner year for the Angels, who finished second in the Metro Classic Conference and second at the WIAA Division 3 Kenosha St. Joseph Sectional.
The Angels had 87 points, just four behind first-place Brookfield Academy. It marked the first time a St. Catherine's boys team qualified for the state meet since the WIAA-WISAA merger in the 2000-2001 school year.
Junior Josh Gregory and sophomore Nick Ignasiak led the way, finishing eighth and 13th, respectively. Junior Ryan Busey was 19th, freshman Santiago Espinoza was 23rd and senior Jerod Alderson was 24th.
"It was the first time in a number of years that the kids rallied around each other and found strength as a group," Scheller said. "Every one of those kids had to run well and they did."