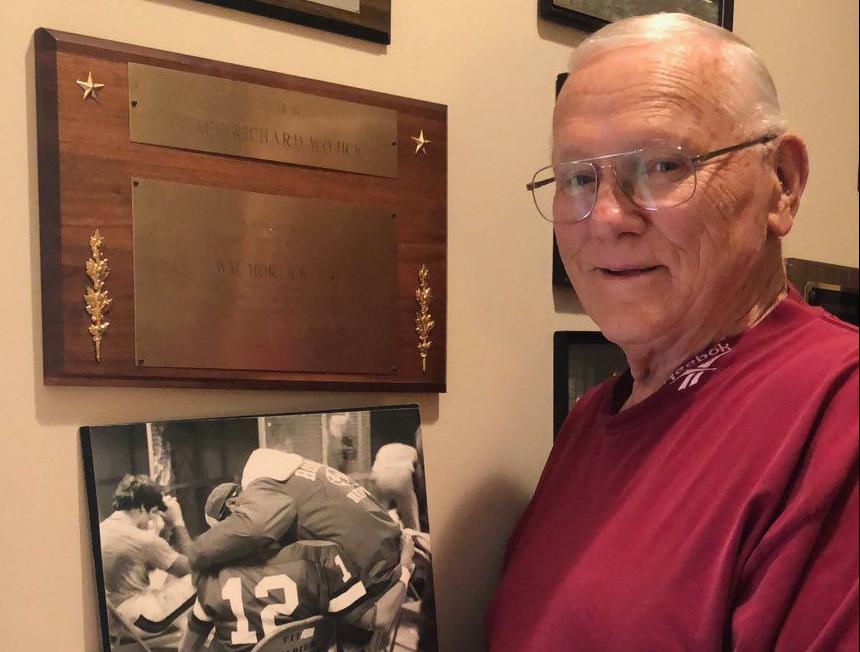 Situated on the side of a North Carolina mountain in the small town of Etowah is a house in which an 81-year-old former Racine man has lived since 2006.
His name is Dick Wojick and he passed through Racine from 1972-77 with the intensity of a comet. Just 33 years old when he arrived in town, he was a drill sergeant-tough coach who transformed a winless Horlick program in 1971 to within a touchdown of becoming the first public schools state championship football team in Wisconsin's history five years later.
Blessed with a Vince Lombardi-like feel for being able to push just the right emotional buttons with each of his players, Wojick demanded total commitment from anyone involved in Horlick's program. He was tough and it was hardly unusual for him to scream at his players, but they responded to his discipline. Wojick built a program that won 18 straight games over the 1975 and '76 seasons and came agonizingly close to making state history in his final game as the Rebels' coach.
He reluctantly left Racine in the spring of 1977 and went on to Lyons Township in Illinois, where he was inducted into the Illinois High School Football Coaches Association Hall of Fame in 1999. That was the year before he retired from coaching.
Wojick has endured some personal struggles in recent years. His wife, Gay, died in August 2015, days after the Wojicks' 54th wedding anniversary. The following year, he underwent chemotherapy after an 11-centimeter tumor was found on his stomach.
But this grandfather of four girls and one boy continues to work out regularly in his home and frequently socializes with a lady friend he met after his wife died.
And going on 44 years after he coached his last game at Horlick, Wojick has not been forgotten by the players he used to push to their limit.
"He was a fabulous coach and motivator," said Pat Sura, a senior defensive end on Wojick's last Horlick team who is now a doctor in Hudson. "He inspired a group of teenagers back in 1975 and '76 to work hard and he supported and encouraged each of us to be the very best we could be. He earned our respect and we believed in him and our goal of being the best in the state of Wisconsin.
"I and the Rebel team were willing to sacrifice time and energy and push ourselves to our limits to follow coach and his staff and to work as a team to win. Unfortunately we fell short in the championship game and that still hurts, but he helped us to mature and become men. Many have done wonderful things for their communities and families."
'The Program'
In the March 26, 1972, Journal Times sports section, there was story with the headline, "Horlick coach wears no-nonsense label." The story was an account of how the youthful-looking Wojick had radiated intensity while making one of his first visits to Horlick with his wife after accepting the job.
Wojick, a native of Cook County, Ill., who had been an assistant the previous five seasons at Evanston Township High School, had described for a Journal Times reporter during that visit "The Program." It was an all-encompassing team-building concept he has learned during his coaching career that he planned to implement at Horlick.
Wojick guaranteed results and when the reporter suggested that he was perhaps an idealist who was on Cloud Nine, the coach's temper flashed for the first time in his new position.
"I didn't spend the past five years watching 'The Program' work, learning what makes it tick and working with it to come to Horlick and not see it work," Wojick bristled. "I know it works, that it will work at Horlick. I know this for a fact!"
In Wojick's first season as coach in 1972, the Rebels followed up that 0-8-1 season — the first time the program had gone winless since 1932 — by going 6-3 and winning the South Shore Conference championship.
Indeed, "The Program" worked.
"I wanted year-round contact with the athletes," Wojick said 48 years later. "'The Program' was based on the belief that they dedicate themselves to my program and I dedicate myself to them and their families.
"Prior to the season, I bring in families and talk to them about what's happening and, after the season, I don't blow the whistle and say, 'I'll see you next fall.' My hardest work starts after the season. I meet with each senior and interview them and meet with their parents. And then I'd work with the college counselors and try to get as many kids as I could football or academic scholarships."
Wojick closely monitored the grades of his players and didn't hesitate to sit anyone who wasn't performing in the classroom. And any kid who wanted to play for Wojick was expected to make a year-round commitment to lifting weights before classes early each morning.
"If I got a note from a teacher that he was not getting a good grade, he had to go see her or him and then when he was done, come to practice," Wojick said. "Of course, he'd miss some practice and, of course, he'd stay afterwards and I'd run his rear end off! But there was a lot more than football."
Rise of a state power
Horlick slightly regressed during the 1973 and '74 seasons with successive records of 5-4 and 4-5, but the Rebels were almost never out of a game. The point differential in those nine losses was 159-91. And the Rebels lost five of those games by a total of eight points.
The most decisive loss Horlick suffered during those two seasons was 21-7 to Madison Memorial on Oct. 26, 1973.
But then things started to change. The Rebels opened the 1975 season with a 13-6 nonconference loss to state power Milwaukee Marquette at Horlick Field. Horlick held Marquette to 69 rushing yards on 31 carries and intercepted two passes.
"If Marquette is the No. 1 team in the state, they have to rank us No. 2," Wojick said after that game.
That turned out to be close to the truth. Horlick ran the table that season behind such stalwarts as senior offensive linemen Ron Barry and Eric Simpson, senior defensive back Andrew Hardville and Sura, a junior defensive end.
The Rebels had arrived. As Wojick looks back, that success started with the support of principal Wally Stenavich and athletic director Owen Evans, who had preceded Wojick as Horlick's coach.
"Everything was in place," Wojick said. "The faculty at the high school was 100% behind my program. I couldn't have done it without them. Without the faculty and Wally and Owen, this program wouldn't have worked. I was the one who instituted it, but I can't make it work. They had to and they did. By that time, everyone knew that it would be a success and they knew we could beat anyone."
A season to remember
Even though the Rebels graduated 13 starters from that 8-1 team from 1975, Wojick wasted no time setting the narrative when practice convened during the Bicentennial summer of 1976. A sign in bold red lettering running the width of Horlick's dressing room that summer read, "Welcome to the home of the Rebel Machine — state ranked — undefeated conference champions."
The first state championship football game sanctioned by the Wisconsin Interscholastic Athletic Association was scheduled to cap that 1976 season and Horlick had every intention of being there.
And the Rebels embraced that challenge behind such players as quarterbacks Roy Wittke and Don Heinkel, offensive tackles Kevin Dhennin and Randy Larson, center Steve Irvine, tight end Ross Panyk, guards Kevin Monahan and Jim Chars, split end Angus McNeely, defensibe tackles Greg Miskinis and Sura and spiritual leader Tony Azarian, an undersized nose guard.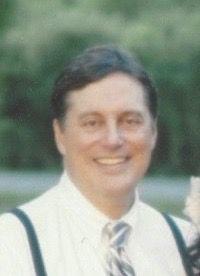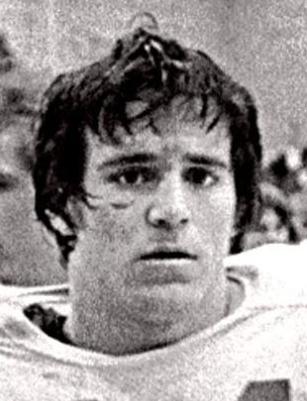 They opened the season with a 38-0 victory over Tremper. Other victories during the regular season included 51-0 over Gary West, 67-0 over Milwaukee Washington, 34-6 over Park and 31-0 over Kenosha Bradford.
The only close call came Sept. 10, when Horlick edged Madison Memorial 21-20 in overtime. Heinkel came on in relief of Wittke late in the game and threw a 3-yard touchdown pass to Panyk to force overtime and then scored on a 1-yard plunge in OT.
Memorial matched Horlick's overtime touchdown, but John Stathas shanked the extra-point kick and the Rebels escaped with the victory.
There would be no touching the Rebels for the rest of that regular season and they carried that momentum into the playoffs, which featured just four teams in the state tournament that season. They opened the postseason Nov. 5 with a 23-6 semifinal victory over South Milwaukee before a crowd estimated at 6,000 at Horlick Field.
That set up a showdown with Antigo, also 10-0, at UW-Oshkosh's Titan Stadium Nov. 12 in that historic first state championship game. And it couldn't have been much closer.
Although Antigo piled up 194 yards to 86 for Horlick (on 34 plays), the only score of the game came with 6:31 left in the first quarter when Randy Zoern ran 10 yards for a touchdown. That play was set after Antigo recovered Azarian's fumble deep in Horlick's territory.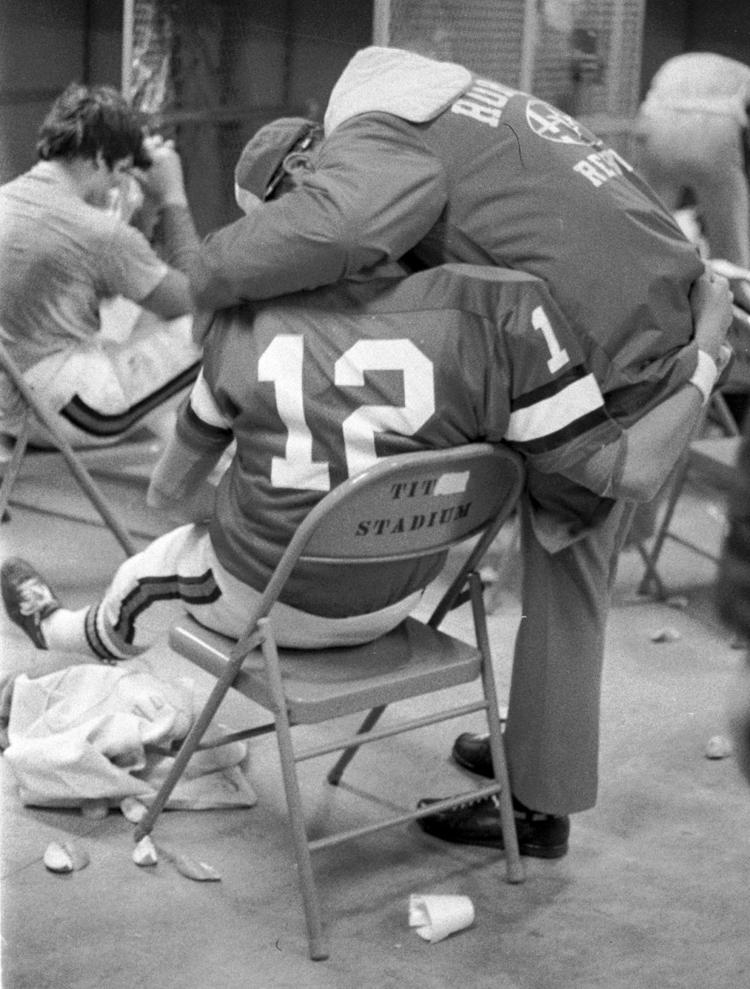 Antigo was still leading 6-0 with six minutes to play when Sura forced quarterback Dan Throrpe to fumble and Miskinis recovered. The gave Horlick possession at Antigo's 41-yard line, setting up a potential storybook finish — especially with elite kicker Steve Schonert available to kick the game-winning extra point.
But it was not to be. With 5:15 to play, Azarian was stopped on a fourth-and-one play and Antigo was able to hang on for the victory.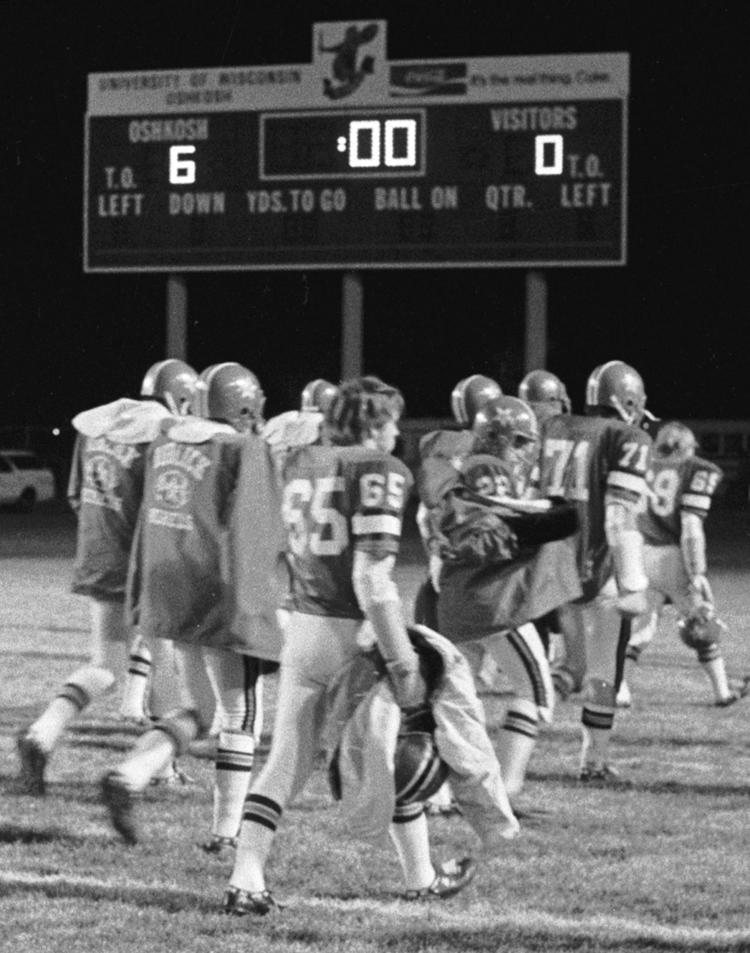 Looking back on the loss nearly 48 years later, Wojick is bothered by two memories. First, he wishes he would have taken the team to Oshkosh immediately before the game instead of the day before.
"I think it was a mistake," Wojick said. "I think the bus should have rode into the damn parking lot an hour before the game and then (he would have said), 'All right, let's go beat these suckers.' Because that's what they were used to."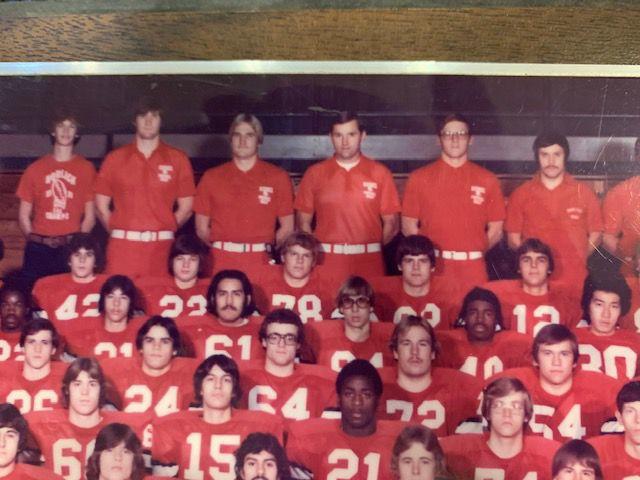 Wojick is also bothered that his team was situated on the side of Titan Stadium where there were no fans. And the Rebels had fed off intense fan support all season.
"We depended on our fans," Wojick said. "Horlick fans were unbelievable. They followed us all the way to Gary, Indiana and Green Bay, all over. So now we walk out there, it's 13 above zero, it's a dead night and they put us on the other side of the field.
"There was no one in the stands. Zero. Because they took the big stands on the other side of the field and split it. One side was Horlick and the other was Antigo. And Antigo had their bench over there! We couldn't hear the crowd.
"It was freezing, it was quiet and there was no enthusiasm from the crowd. Nothing."
The end
The dominant headline in the Journal Times sports section on Feb. 23, 1977 read, "Three strikes and Wojick's out." The Unified School District was in the midst of its third teachers strike since Wojick arrived in Racine and, especially with three young sons to support, he had seen enough.
From a conference room at Harris Metals, where Wojick had been working since the teacher's strike started, he announced he had accepted a job to take over the football program at Lyons Township.
A large contingent of starters was returning to the 1977 team and Wojick had every intention of making another run at a state championship. But that strike changed everything.
Looking back on it now, Wojick said he might have finished his coaching career at Horlick if not for that strike.
"Probably," he said. "I loved it there. I wasn't looking to move. My wife and I were happy. I would have liked to raise my boys there. I was not out looking. My wish was to have my kids play for me at Horlick. We lived in the Case district, but my wife and I were talking that when that time came, we would just move to the Horlick district."
Wojick would go on to lead Lyons Township to five conference championships and was a three-time Coach of the Year in the conference. But to this day, Horlick still means a great deal to him.
"I have two highlights to my coaching career," he said. "And the No. 1 highlight is Horlick."
Get in the game with our Prep Sports Newsletter
Sent weekly directly to your inbox!