RACINE — In the final of 12 annual meetings between these two Racine County rivals, a couple of story lines emerged.
First, Keenan Carter, senior quarterback of the St. Catherine's High School football team, could have a season that's off the charts. He's well on his way.
And second, a Catholic Central team that has just 24 players has the makings of an inspiring story with how they're performing
St. Catherine's ended up winning this Metro Classic Conference game at Horlick Field 41-0 with Carter running and passing for a combined 221 yards and five touchdowns. But until Catholic Central started wearing down in the second half, this team more than held its own.
It was quite a departure from last season, when St. Catherine's rolled up nearly 500 yards in a 61-7 victory at Burlington.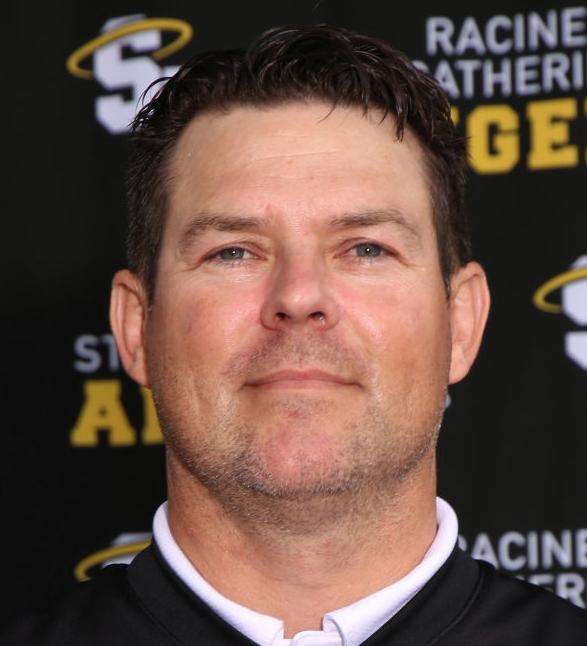 "They showed great fight, a great attitude," St. Catherine's coach Dan Miller said of Catholic Central. "They competed. Every one of them fought tooth and nail and that's what you're going to get from a Tom Aldrich team. You're going to get that fight for four quarters."
It's just that there was a little too much of Carter on this night.
The replacement for graduated first-team All-State quarterback Da'Shaun Brown completed seven of 12 passes for 136 yards, with three touchdowns and an interception. He added 85 rushing yards and two more scores.
And Carter did this despite injuring the middle finger on his right hand in practice Thursday and playing the game with it taped.
Through three games, Carter has passed for 468 yards and nine touchdowns and rushed for 221 yards and four TDs.
"He's a real nice athlete," Aldrich said. "He's got a nice arm and he's got a quick release. He's one of those kids who can make other kids miss. If you get him in space, it's hard to defend and kids get caught up in other things instead of focusing on what they need to. He's got a burst to get away."
Still, it appeared that Catholic Central was going to make this interesting in the first half because this team kept holding the defending WIAA Division 4 state champions in check. Take the first series, when the Angels drove to the Hilltoppers' 11, but saw the drive end when Carter was intercepted by Neal McCourt.
The Angels (3-0) were held scoreless until 1:11 left in the first quarter, when Carter scrambled and found Aundre Hale for a 31-yard touchdown pass. But the only other score Catholic Central (1-2) allowed in the first half came on an 8-yard run by Isaiah Dodd, who finished with 112 yards on 15 carries.
You have free articles remaining.
You're out of free articles
Sign in or create a FREE account to keep reading.
Catholic Central had a chance to pull to within 12-7 at halftime, but were stopped at the Angels' 1-yard line as time expired.
Through three games, the Hilltoppers have a 10-9 loss, a 35-14 victory and a commendable performance Thursday to show for their season.
"I really don't think the score indicates how well we played and how much respect I have for our team," Catholic Central defensive end Chas Miles said. "We had seven guys going both ways and we had young guys we're counting on playing.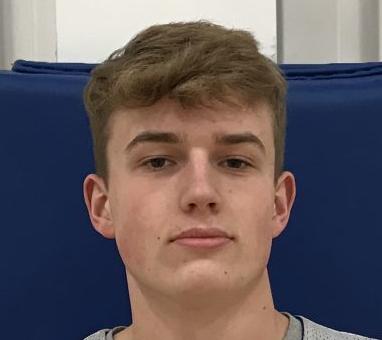 "Our execution lacked in a few moments, but our heart and our effort and our heads were always in the right place. We truly went into this game believing we could win."
But as Aldrich said, "In the second half, we started to fatigue a little and, as the fatigue set in, we made some mental mistakes as well as physical mistakes. You can't do that against good football teams."
And then it became the Carter show. In order he:
Ran 11 yards for a touchdown and added a two-point conversion.
Threw a 14-yard TD pass to Jameer Barker and ran for another conversion.
Threw a 17-yard TD pass to Barker.
Ran for a 10-yard touchdown.
"I hurt my finger and I really couldn't throw the ball, but I did what I could," Carter said.
Carter added that it was all the more difficult against an inspired Catholic Central.
"They know how to tackle," he said.
With conference realignment coming after this season, this is the last matchup between these two teams, barring a nonconference game down the road. St. Catherine's won eight of 12 games between the two.
During this rivalry, St. Catherine's and Catholic Central combined to win three state championships.
Catholic Central @ St. Cath's_FB-11.jpg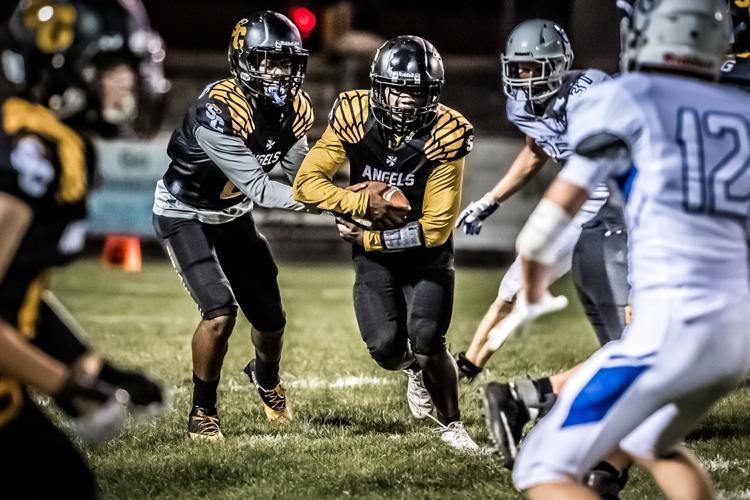 Catholic Central @ St. Cath's_FB-1.jpg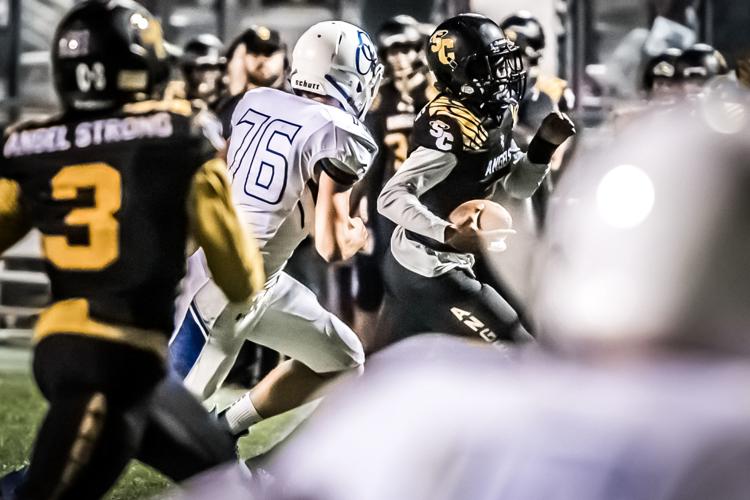 Catholic Central @ St. Cath's_FB-2.jpg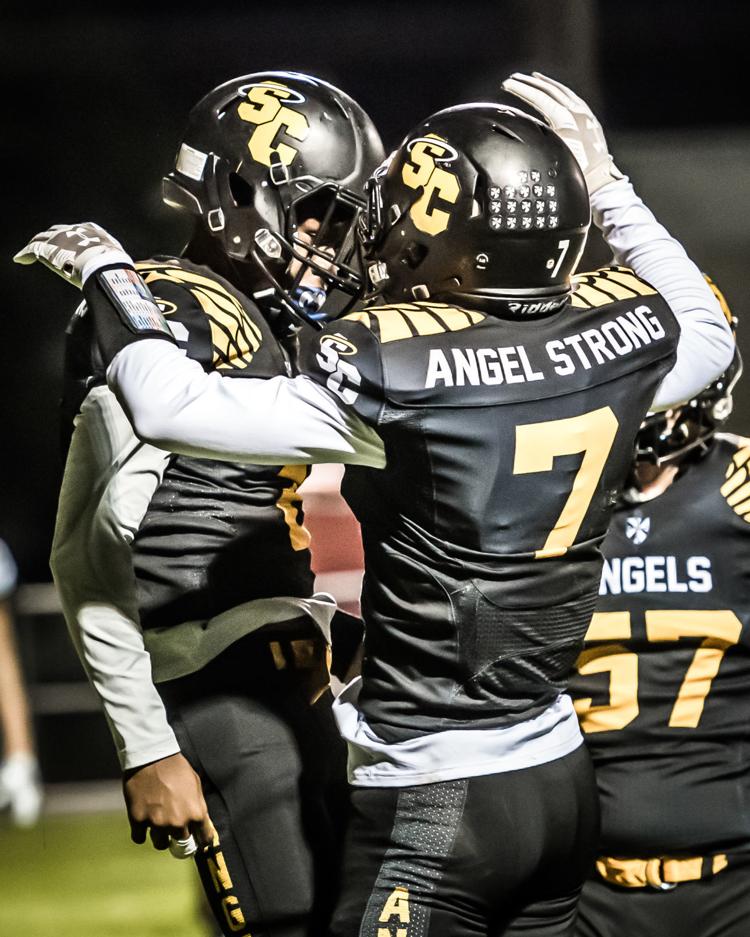 Catholic Central @ St. Cath's_FB-3.jpg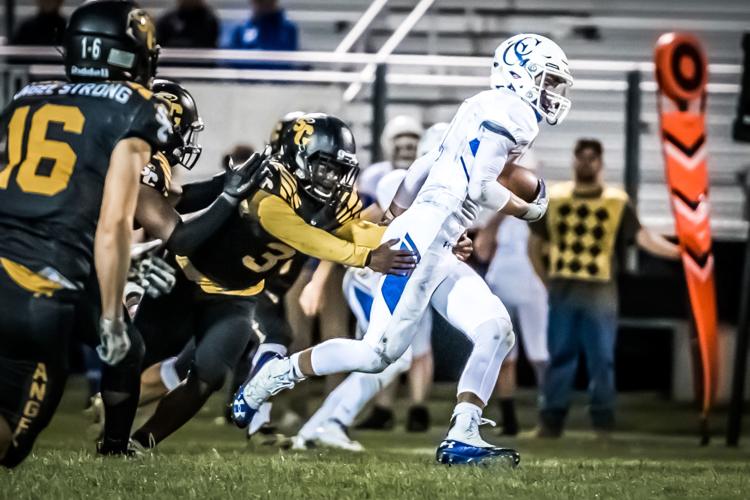 Catholic Central @ St. Cath's_FB-4.jpg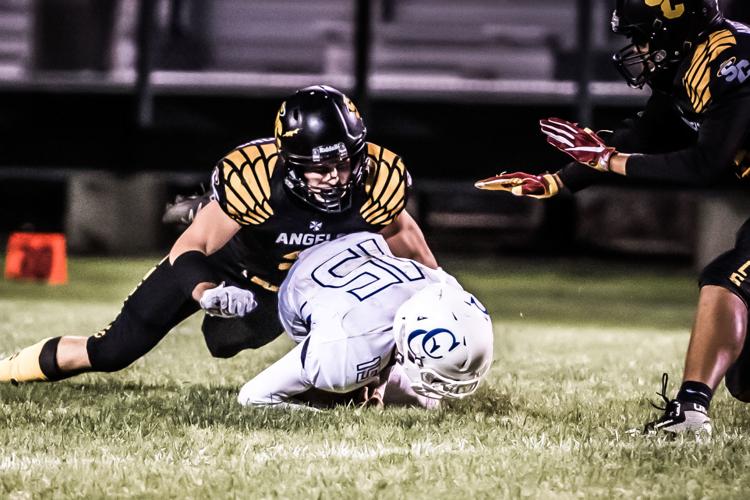 Catholic Central @ St. Cath's_FB-5.jpg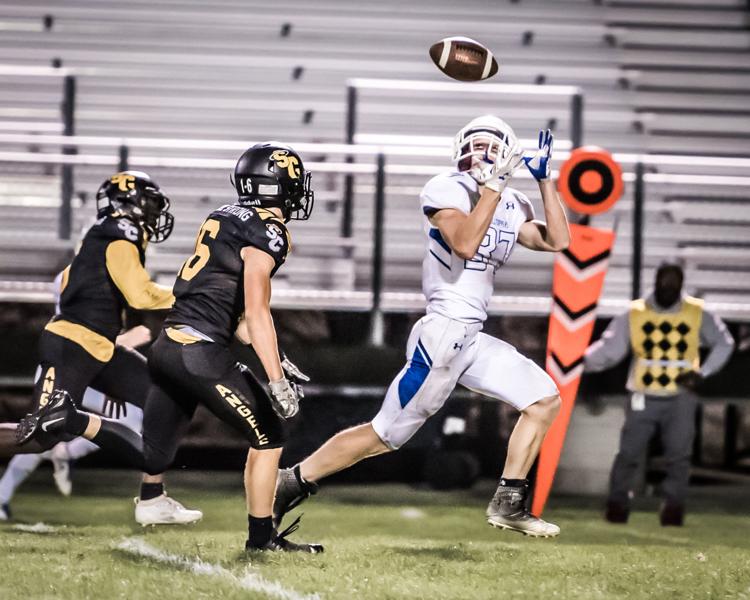 Catholic Central @ St. Cath's_FB-6.jpg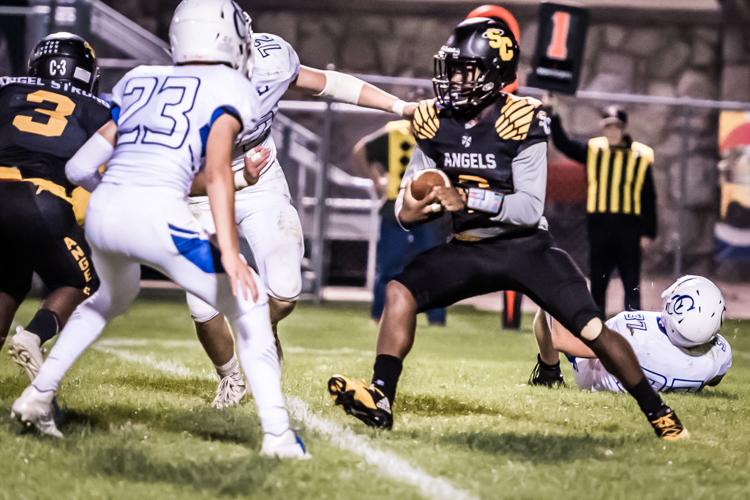 Catholic Central @ St. Cath's_FB-7.jpg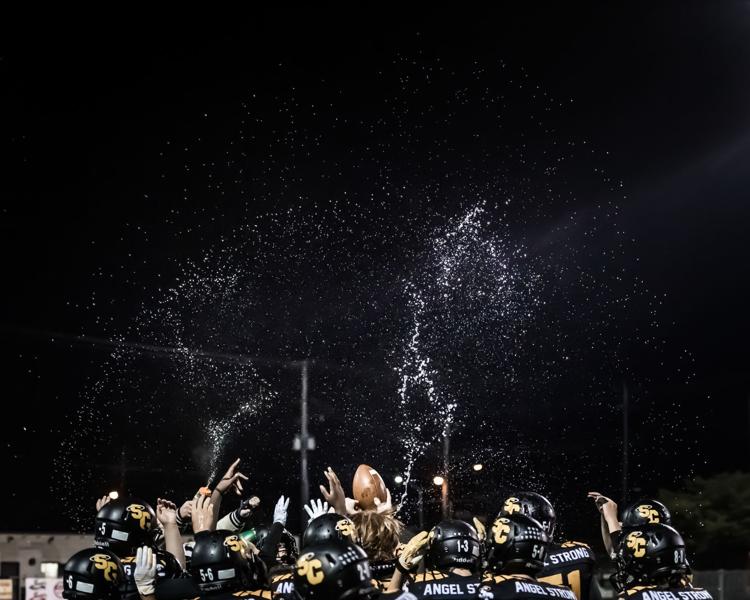 Catholic Central @ St. Cath's_FB-8.jpg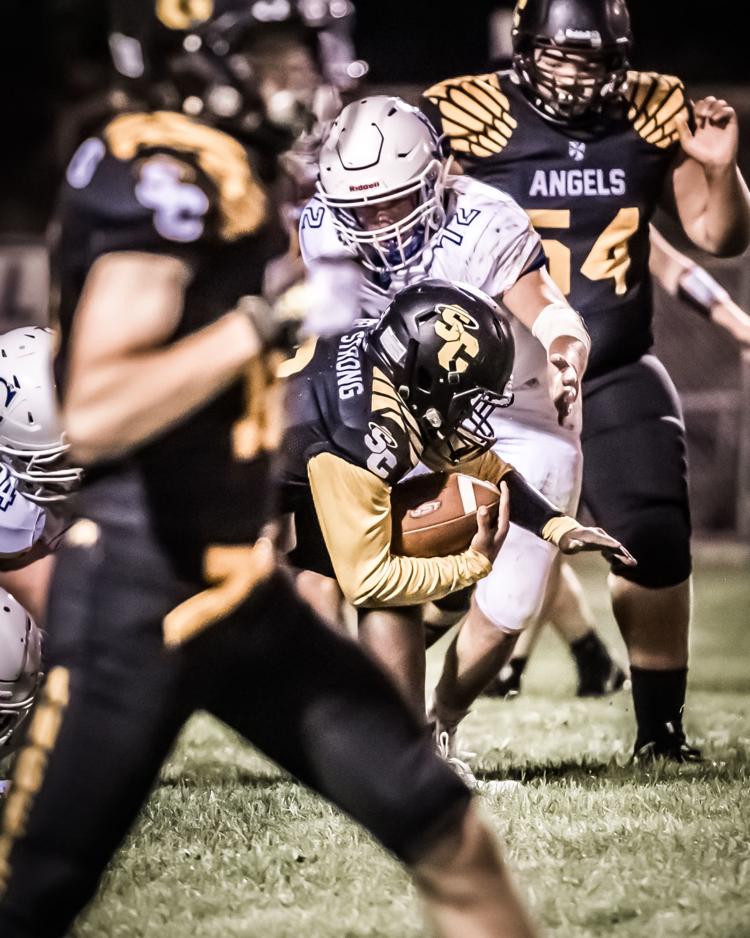 Catholic Central @ St. Cath's_FB-9.jpg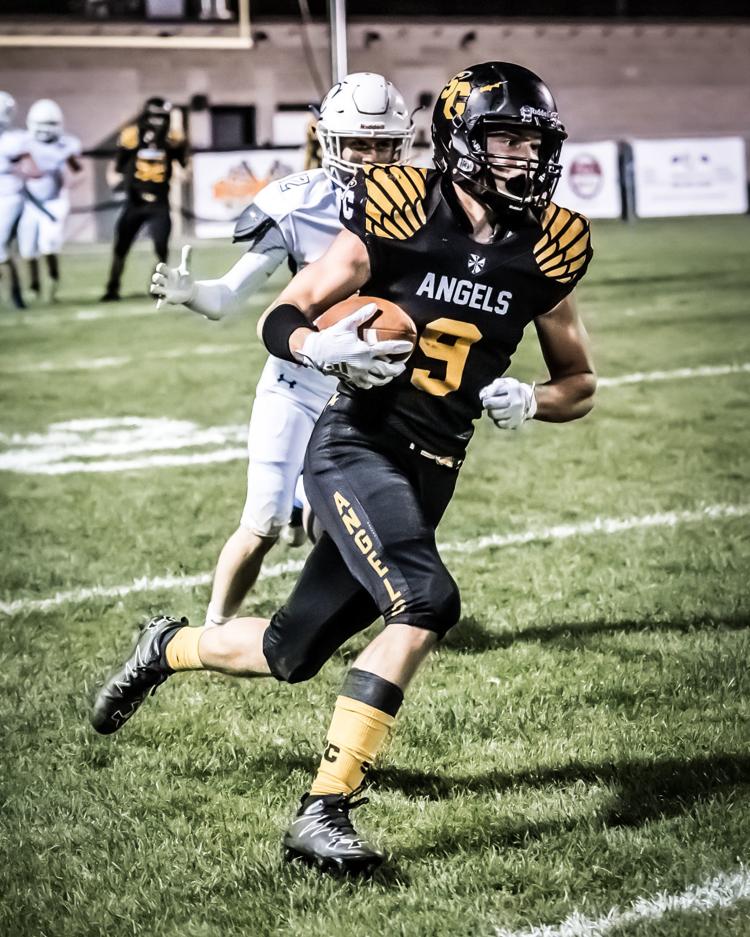 Catholic Central @ St. Cath's_FB-12.jpg