RACINE — This was the situation Saturday night:
The Lake Mills High School basketball team was on an emotional high 24 hours after Adam Moen made a 35-foot shot at the buzzer to topple defending WIAA Division 3 state championship Greendale Martin Luther. What's more, the L-Cats had won eight straight games going into Saturday night. And two of their three games during the regular season were by a total of just six points.
St. Catherine's wasted no time rendering all of the above meaningless in short order.
Tyrese Hunter scored 20 of his 26 points in the first half and Elijah Lambert spearheaded a brilliant defensive effort to lead the Angels to a 73-44 victory over Lake Mills in a Division 3 regional championship at the John F. McGuire Gymnasium.
Next up for St. Catherine's (24-0), ranked first in the state in Division 3, is Delafield St. John's Military Academy in a sectional semifinal Thursday night at Waukesha South. St. John's (19-5) advanced with an 81-72 victory over East Troy Saturday night.
The Angels have won 23 straight games on its home court since losing to East Troy 59-55 March 3, 2018 in a regional championship. The last time they were undefeated going into a sectional tournament was 2006, when they went on to win the second of three straight state championships under former coach Bob Letsch.
"At the high school level, it doesn't get much better than that," Lake Mills coach Steve Hicklin said of St. Catherine's. "Just the way they defend and do it together, I think, is really special.
"And, obviously, they've got offensively talented guys. So they've got it on both ends and that's a tough combination to contend with. You've got to kind of hope for an off night and we didn't get one of those from them, that's for sure."
As has been the case for St. Catherine's all season, it started with Hunter, an electrifying 6-foot-1 guard who was offered a scholarship from Marquette University in the last week. Hunter went 10 for 18 from the floor, including 5 for 9 from 3-point range, and had five rebounds, two assists and two steals to go with his 26 points.
"He's the most complete guard in the state, in my opinion, no matter what level we're talking about," Hicklin said. "Usually in a scouting report, we can find something to exploit on a player. With him, there's nothing.
"He plays both ends, he dribbles, passes and shoots and he's athletic. All that stuff."
While Hunter has received most of the accolades, Lambert has been a force in the shadows. The 6-foot-2 defensive specialist held Charlie Bender, the L-Cats' leading scorer, to four points — more than 11 fewer than his season average.
Lambert also scored 16 points on a 5-for-11 shooting and grabbed a team-high eight rebounds.
"He's the best defensive player in the state," St. Catherine's coach Nick Bennett said. "I don't like to say those things, but I mean it. He's earned the right to get those types of comments and accolades.
"Every night, he has to guard 6-9 guys, he has to guard point guards, he has to guard shooters, he has to guard slashing wings and he does a fantastic job. That Charlie Bender is a heck of a player and he really did a good job of neutralizing him and making him earn earn his looks.
"Elijah Lambert's effort on both sides of the ball tonight was really key for us."
The defensive intensity Lambert inspires has been a huge factor for the Angels all season.
"The guys really lock in on defense and defense translates to offense," Hunter said. "So that's where everything starts. Everybody things offense, offense, but our main key is to lock in on defense. We barely talk about offense. We're a motion-based team."
When asked about Lambert, Hunter said, "He takes pride in defense. When we have practice, he lets us know, 'I'm here,' so he brings that to practice every day and you can see what the results are."
Lambert certainly did Saturday night, when he stayed with Bender the entire game. One night after Bender scored 18 points in the L-Cats' 68-65 victory over Martin Luther, he had all he could do to get an open shot.
"I work on it every day, every practice and tell myself I can guard anyone in the state or in the country," Lambert said. "I put it in my head to keep (Bender) in front of me. I know he's a good driver and I had to move my feet and stay focused."
But the real showstopper was Hunter. He was at his best once again, especially in the first half, when we was swishing 3-pointers, whipping one-arm passes and bringing the ball upcourt with a supreme athleticism.
"This is the right time to show that I'm a capable player stepping up in the big moment, so that's what I've got to do," Hunter said. "If I've got to have zero points and 20 assists, I'll do that to get the 'W.'
Undefeated And Driving For State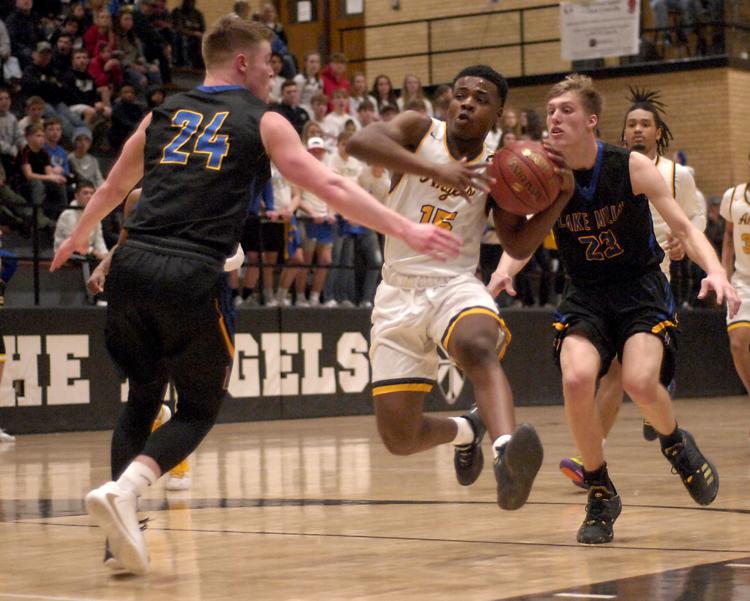 03072020-JT-WIAA_BBBALL_LM_ST_CATS-GSP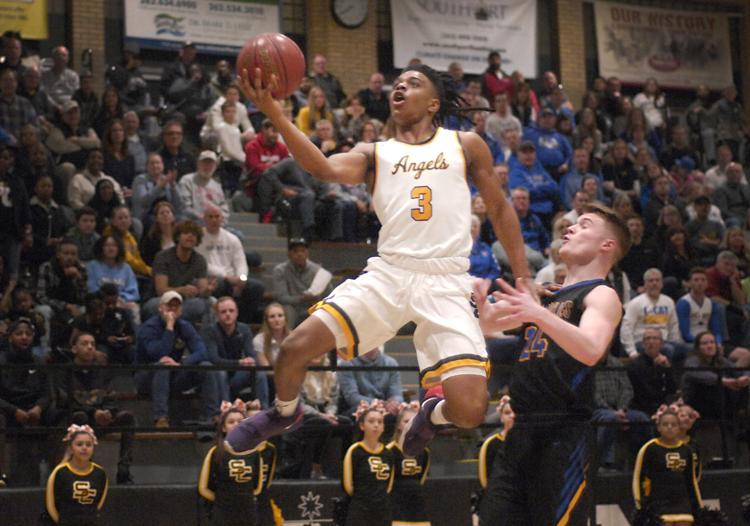 03072020-JT-WIAA_BBBALL_LM_ST_CATS-GSP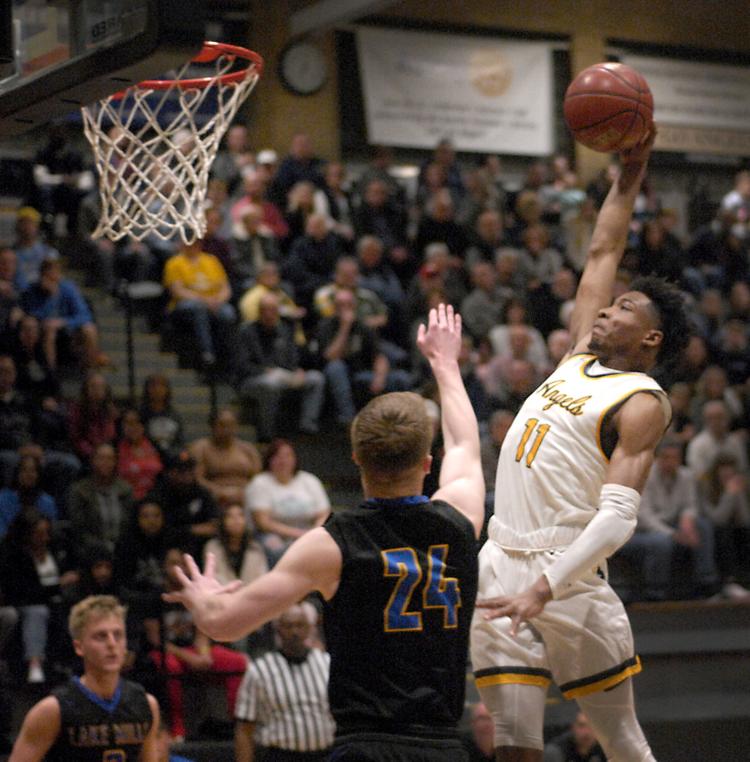 03072020-JT-WIAA_BBBALL_LM_ST_CATS-GSP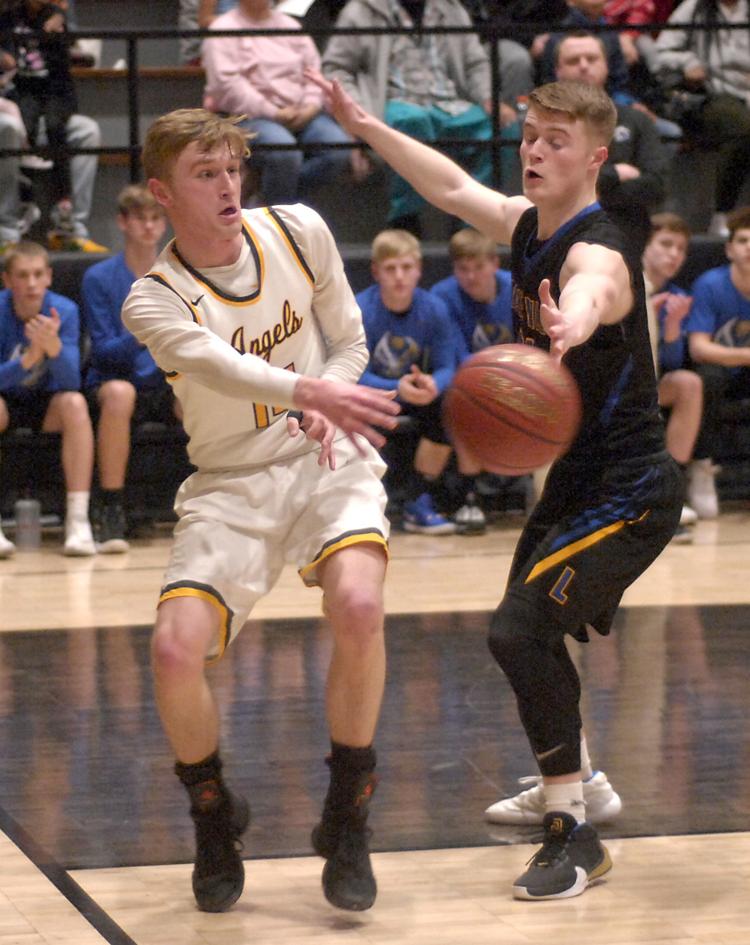 03072020-JT-WIAA_BBBALL_LM_ST_CATS-GSP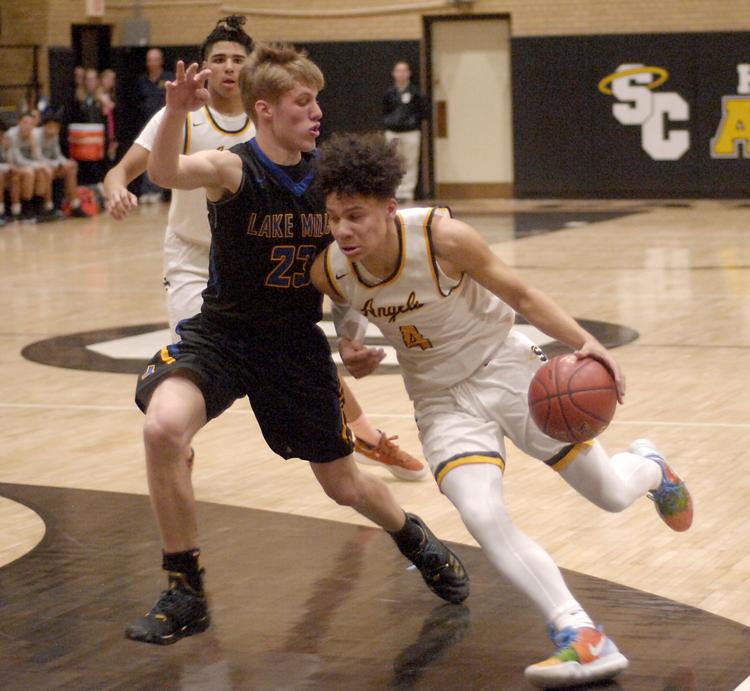 03072020-JT-WIAA_BBBALL_LM_ST_CATS-GSP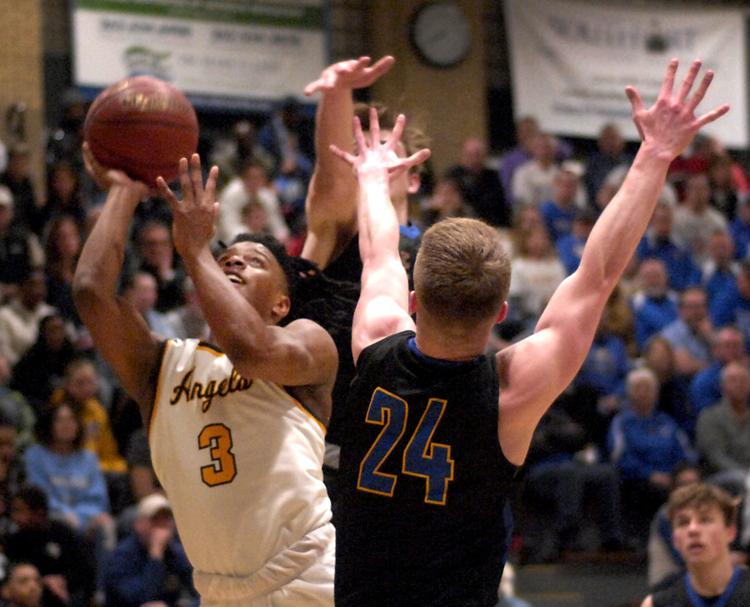 03072020-JT-WIAA_BBBALL_LM_ST_CATS-GSP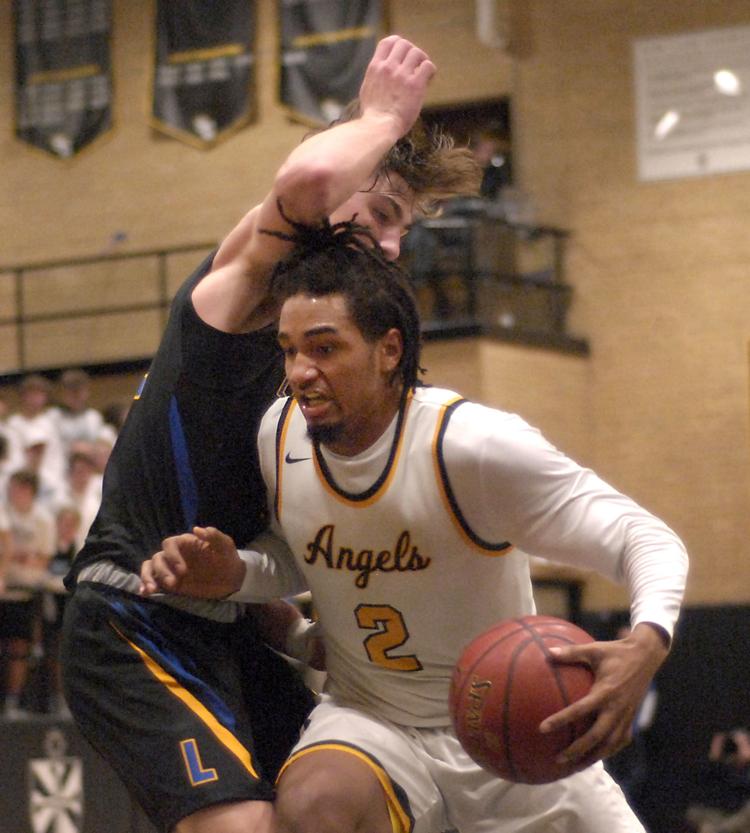 03072020-JT-WIAA_BBBALL_LM_ST_CATS-GSP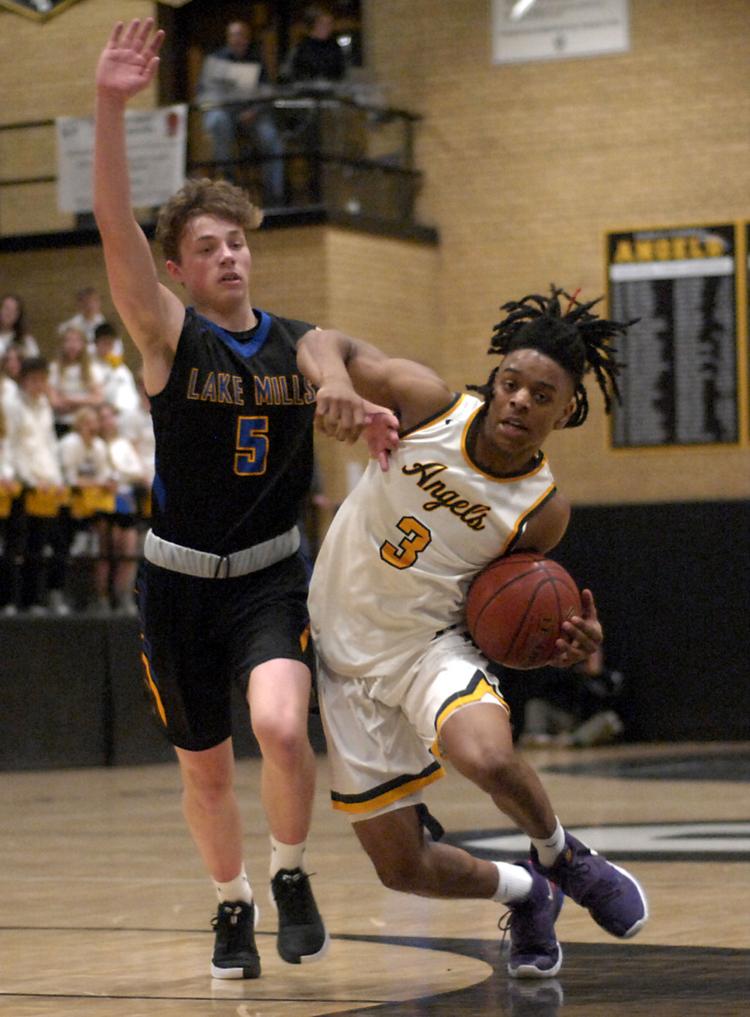 03072020-JT-WIAA_BBBALL_LM_ST_CATS-GSP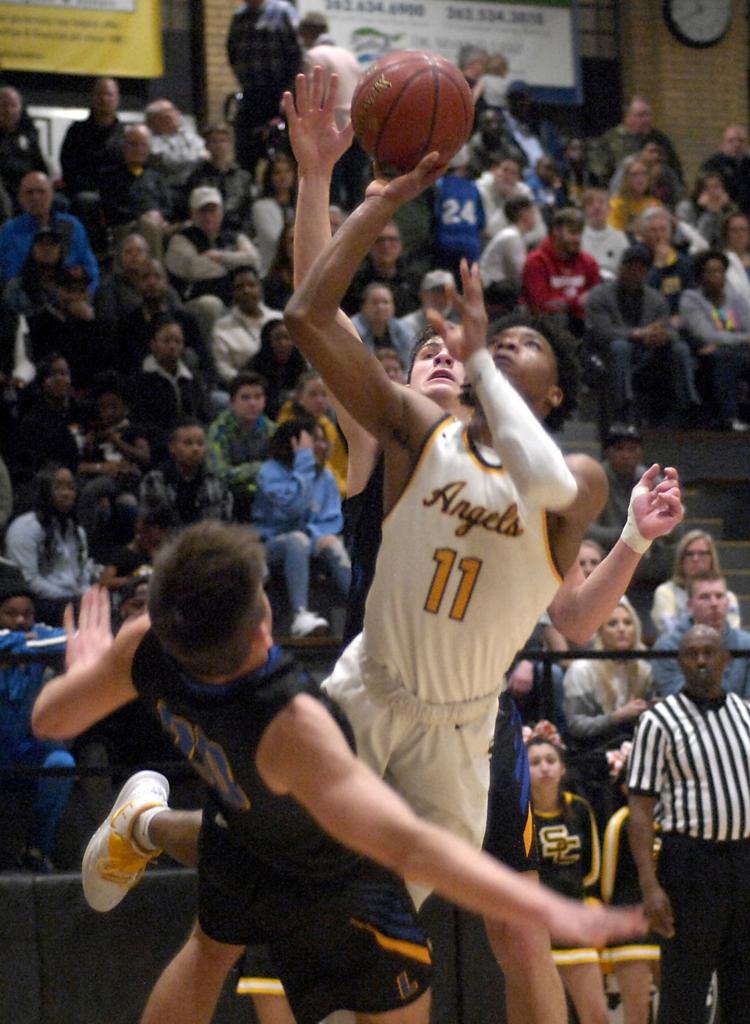 There were several other superlative performances for the Angels, who jumped out to a 36-12 lead.
Kamari McGee, Hunter's junior backcourt mate, contributed seven points,, seven rebounds, six assists and four steals. Jameer Barker had 10 points, three rebounds and three assists. And big Marcel Tyler came off the bench to add six points and five rebounds.
The Angels are within two victories of their first state tournament berth since 2011. But it's not going to be an easy journey considering how Bennett feels about Delafield St. John's in Thursday's sectional semifinal.
"They've got a lefty shooter (Brandin Podziemski) who averages 26 a game, their point guard, Gerald Gittens, is strong, quick and tough and they're very good," he said. "They present challenges. They play 1-3-1 zone, they're athletic, they move well, they're very dangerous on the offensive end, so we'll have our hands full with them."
Lake Mills finished with a 21-4 record.
Get in the game with our Prep Sports Newsletter
Sent weekly directly to your inbox!