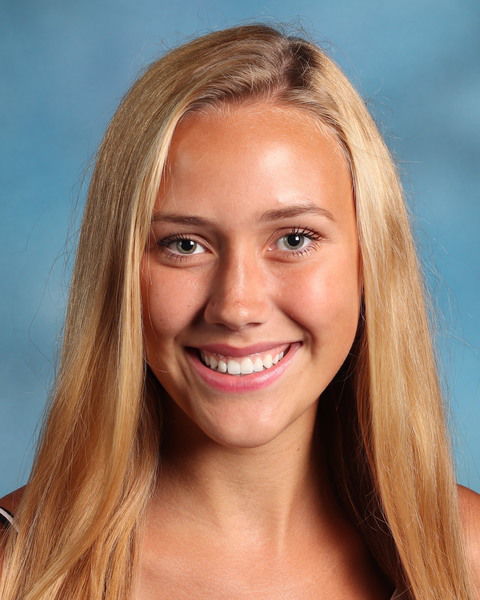 There will be a new look to girls high school tennis in Racine County this season.
That phenom named Bojana Pozder, who went 39-0 as a Case freshman and became the first girl from Racine County to win a WIAA state championship has moved on. Pozder has decided to play in national tournaments instead of high school.
But there will still be plenty of talent throughout the county. As is usually the case, the epicenter is Prairie, where the No. 1 doubles team of Sarah Gesner and Hailey Stoltenberg were second at the Division 2 state tournament last season.
Stoltenberg has graduated and Gesner is moving to No. 1 singles. But coach Nich Schafer is expecting another strong season even after a slow start.
"With the late start of the season this year, we had to revamp our schedule as we lost three of our tournaments due to school starting," Schafer said. "The girls are working hard to get back into their practice and match routine. They played pretty well at the county tourney, placing third."
Joining Gesner as first-team All-County players are Prairie junior Gabriela Davis, St. Catherine's sophomore Kate Smith and Union Grove senior Kayla Maurer.
Here are previews on the eight county programs:
Southeast Conference
COACH: Kaleena Vasil, fourth year.
LAST SEASON: 5-2 overall in SEC.
RETURNING LETTERWINNERS: Seniors — Destiny Klinkhammer, Raylee Nelson, Savanna Bertzyk, Jordan Petrick, Maddie Vogt. Juniors — Hailey Shaw, Tijana Nedeljkovic. Sophomores — Alaina Jaeck, Elizabeth Wieties, Aalaiya Jacklin.
WHAT TO LOOK FOR: Vasil will look to senior Destiny Klinkmanner and sophomore Alaina Jaeck to lead the Eagles. "They look to build off strong showings last season and have put a lot of hard work in during the off season to keep the momentum going," she said.
Joining the varsity varsity are freshmen Javavi Munagavalasa and Inaara McCray.
"Case is looking strong with a mix of old and new," Vasil said.
HEAD COACH: Brent K. Oglesby, first season.
RETURNING LETTERWINNERS: Seniors — Jenelle Schelle, Tabitha Babington, Elena Eckblad, Hannah Nisler. Juniors — Adrianna Avila, Stacy Chester, Ana Morales. Sophomore — Ava Mathew.
OUTLOOK: Horlick has strong front-line talent with Schelle at No. 1 singles and Babington at No. 2. Oglesby is also encouraged by the addition of four players, increasing the roster size to 18.
"Jenelle Schelle and Tabitha Babington are holding their own this season," Oglesby said. "Our remaining players have been showing significant improvements and dedication to the sport. Every match played has shown exceptional growth."
COACH: Pam Dwyer, ninth year.
LAST SEASON: 0-7 overall.
RETURNING LETTERWINNERS: Seniors — Erica Robinson, Adele Senzig. Juniors — Alexandria Gillespie, Elizabeth King, Annaylce McGee, Emma Schiesl, Sophomore — Claudia Dieck.
WHAT TO LOOK FOR: The Panthers have a new look with newcomer Rachel Parrot and four freshman: Madhura Sathyanarayanan at No. 1 singles, Erena Dobrowski, Emily Getman, Marsiya Hyde, Ysabel Martinez.
"We're looking forward to having a solid team with new and experienced players," Dwyer said.
Southern Lakes Conference
LAST SEASON: 5-2 in SLC, 11-10 overall, fourth in SLC Tournament, third in Racine County Invitational.
You have free articles remaining.
RETURNING LETTERWINNERS: Senior — Megan Way, Trinity Northrop. Junior — Emily Rauch.
WHAT TO LOOK FOR: Dolatowski has revamped her lineup after the graduation of all but one doubles player, plus No. 1 singles player May Jagodzinski, a first-team All-County player. At doubles, Way has been switched from No. 3 to No. 1. At singles, Rauch is moving from No. 3 to No. 1 and Northrop from No. 4 to No. 2.
"Those moves pose challenges but the girls are working hard to become comfortable in their new positions," Dolatowski said. "We may lack varsity experience, but it is a great group of girls working hard and improving daily."
COACH: Mike Brannen, 14th season
LAST YEAR: 2-5 in SLC , 5-14 overall
RETURNING LETTERWINNERS: Seniors — Kayla Maurer, Kaitlyn Krause, Brooke Weis, Kelsey Kemper. Juniors — Cami Good, Jillian Reiter. Sophomores — Brenna Lekschas, Sam Chizek.
WHAT TO LOOK FOR: With four seniors, Brannen expects to be much improved on a revamped team.
Good is moving from No. 3 doubles to No. 1 singles. Abby Wilks is moving from No. 1 singles at junior varsity to No. 2 singles.
"She took lessons all winter and really improved her game," Brannen said of Wilks. Other changes involve Maurer, who went to state with the graduated Chloe Woods at No. 1 doubles, pairing with new partner Krause. And Weis has a new partner at No. 2 doubles with Kelsey Kemper, who was at No. 3 doubles least season.
"Kayla and Kaitlyn are playing strong at No. 1 doubles," Brannen said. "Kelsey and Brooke having the experience to play very well at No. 2 doubles. Cami, Jillian, and Brenna are shoring up the singles with a newcomer, Abby Wilks. Sam Chizek and Kyra Hagen complete a deep lineup at No. 3 doubles."
COACH: Sharon Webb, second year (10th year coaching tennis at Waterford).
LAST YEAR: 6-15 overall; 1-7 SLC.
RETURNING LETTERWINNERS: Seniors — Whitney Beaston, Taylor Novak, Claire Bleimehl, Hannah Yoder. Sophomore — Katelyn Allen.
WHAT TO LOOK FOR: Beaston and Novak head the singles lineup at No. 1 and No. 2, respectively. There is also strong depth with newcomers Annie Benavides, Delaney Peterson and Isabel Wallen, all seniors, junior Chloe McClure, sophomore Ella Schamber and freshman Elena Leshok.
"I think Waterford has a good chance of placing in the middle of the conference this year," Webb said. "With lots of new faces and many returning letterwinners, we have a rebuilding year for sure. Positions are not set and movement with this team is for sure until we find a groove that works."
Metro Classic Conference
COACH: Nich Schafer, 20th season; assistant coach Abby Jaramillo, fourth season.
LAST SEASON: 9-5 overall, 6-0 MCC, co-Champions of MCC, second at at WIAA Division 2 Prairie Subsectional. Sarah Gesner and Hailey Stoltenberg were second at state tournament.
RETURNING LETTERWINNERS: Seniors — Sarah Gesner, Regan Kocourek, Andrea Palmen, Nancy Wang, Annabel Yan, Chaman Nagra. Juniors — Gabriela Davis, Tori Walker. Sophomore — Molly Cookman and Nareh Vartanian.
WHAT TO LOOK FOR: Prairie graduated three players, and have a similar team to last year's squad, including freshman Jaclyn Palmen.
The Hawks have a strong one-two punch with Gesner, a senior captain, stepping into the No. 1 singles role and Davis moving into the No. 2 singles spot.
"Sarah had two successful years in doubles, taking second at state last year and Gabi had a great year winning her first round at state in the singles draw," Schafer said. "Andrea Palmen and Molly Cookman are heading to the doubles lineup and are committed to learning how to meld their successful singles into a possible doubles run at state."
St. Catherine's-Racine Lutheran
COACH: Dave Mooney, fifth year; assistant coach Kirsten Habeck.
RETURNING LETTERWINNERS: Seniors — Anne Howard, AnneMarie Letsch, Briana Habeck, Emily Poisl, Katie Liapis. Juniors — Cecilia Alvarez, Kate Smith, Naturel Sanchez. Sophomores — Kirsten Habeck.
WHAT TO LOOK FOR: Kate Smith has gotten off to an 11-2 start at No. 1 singles. The No. 1 doubles team of Letsch and Howard, won the Kohler Tournament. Freshmen Gabriella Orth and Maggie Fischer are expected to help.
"This year's team is very fortified," Mooney said. "Their bond is very strong and brings each other up with nothing but kind, encouraging words and actions."