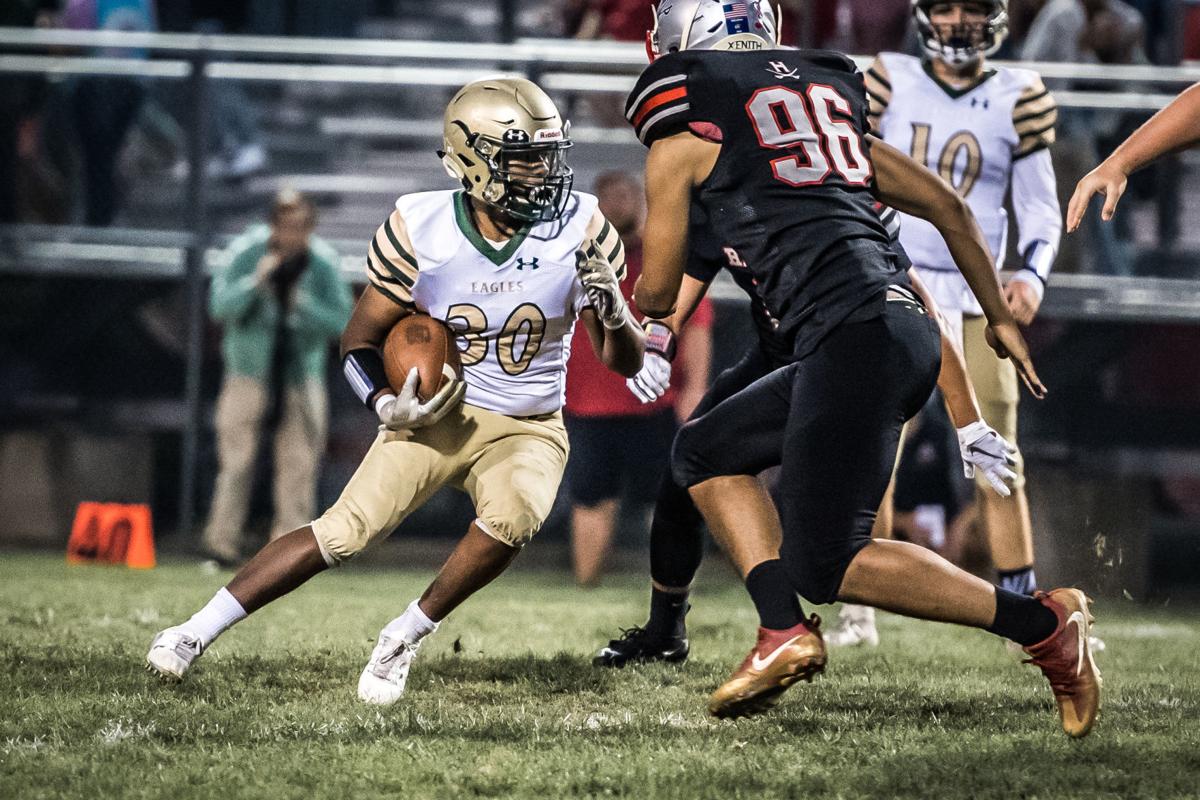 The unofficial "city championship" is on the line.
Far more importantly, so are the respective playoff fortunes of two Racine County programs.
The winner of Friday night's high school football showdown between Park and Case at Horlick Field will be the class of Racine from a public schools perspective this season since both have already defeated Horlick.
The larger order of business is staying alive for the playoffs. Both teams must win their final two regular-season games to qualify for the postseason — Park for the first time since 2009 and Case for the first time since 1997.
If Park wins, it can qualify with a victory over Bradford (1-6, 1-4 Southeast Conference) at Kenosha Oct. 18. Case has a more daunting challenge. If it defeats Park, it will need to follow that up with a victory over Kenosha Indian Trail (5-2, 4-1 SEC) at Hammes Field Oct. 18 to qualify.
Both coaches — Park's Danny Hernandez and Case's Bryan Shredl — have plenty to be concerned about.
Hernandez must find a way to contain running back Myles Guyton, who emerged into a standout as a senior, while also keeping tabs on quarterback Ben Brawner.
Shredl's challenge will be defending Park quarterback Ricky Canady, who has had a breakout senior season with a combined 1,522 combined running and passing yards. He has rushed for 12 touchdowns and passed for six.
Horlick coach Brian Fletcher sees the game coming down to a simple battle.
"It's Park's athleticism against Case's power," Fletcher said. "Case has got a big, physical offensive line and they've got some real solid linebackers. And Park's got tremendous team speed. So I think it's going to be power versus speed."
Fletcher has an addendum: Case will have to deal with defensive end Raishein Thomas, who has 13 sacks and 15 tackles for loss, while Park will have its hands full with linebacker Chris Fish.
"When we played Case, this Fish kid, we had no answer for him," Fletcher said. "We couldn't do anything with him. He was just such a force. And when we played Park, it was the same thing with Raishein Thomas.
"I thought he was a good player as a junior, but I didn't necessarily see Division I material in him. The way he's played this year, I can see exactly why he's got a scholarship (to Northern Illinois)."
Super showdown, Part 2
Two weeks after Racine Lutheran and St. Catherine's played their overtime thriller at Horlick Field, two other county teams are meeting in a much anticipated showdown. Burlington hosts Waterford Friday night at Don Dalton Stadium in a matchup of teams that have a combined 13-1 record.
Burlington, coming off a 35-34 heartbreaker to Wilmot, must win to have a shot at the Southern Lakes Conference championship. That will be a challenge since Waterford, ranked seventh among large schools in the AP state poll, is having one of its finest seasons under coach Adam Bakken.
Waterford has scored almost as many points as Burlington — the Wolverines have 278 to the Demons' 283 — but Waterford has allowed just 56 points compared to 195 for Burlington.
But while Waterford features the devastating running attack of Tanner Keller and Dominic Miller (a combined 1,884 yards and 27 touchdowns), Burlington has been picking up big chunks of yards on the ground, as well.
In fact, Burlington's rushing game has been so successful that Burlington coach Steve Tenhagen, whose forte is the passing game, has been moving away from that in recent weeks. Dalton Damon, a second-team All-County quarterback as a junior, has attempted just 18 passes the last two games.
Burlington junior Zach Wallace, the third-leading rusher in the county with 1,136 yards, leads the county in average yards per rush (13.6). Damon has added 682 yards and averages 8.6 yards per carry.
"Percentage-wise, they're not quite as pass heavy as they have been," Bakken said. "Their running back is very good. He's got good size, he's quick, he's tough and he runs downhill. He's got good speed. It's the same thing with the quarterback.
"But I still think they have the ability to be 50-50 run-pass. They have a tall receiver (Dylan Runkel) who was an offensive tackle last year that they like throwing to. They put up a lot of points and they present a lot of problems."
Said Tenhagen: "Our offensive line is playing well, and our quarterback and running back are running well. We're creating big plays with the run game and, obviously, we're need to continue that this week."
Burlington will be trying to start reversing a trend Friday night. Waterford has won 10 of 11 games against Burlington — including a playoff contest — since the two teams were re-aligned back into the SLC in 2009.
A real feel good story
During the 2017 season, Catholic Central was forced to forfeit its final three games when heavy injuries took a toll on the program's already low numbers. Two years later, the Hilltoppers can clinch a playoff berth with a victory over Kenosha St. Joseph Friday night at Bradford High School.
That's no easy undertaking considering St. Joseph's only two losses have been to Metro Classic Conference powers Racine Lutheran and Greendale Martin Luther.
You have free articles remaining.
But despite only having 24 players this season, Catholic Central has more than held its own after going 4-23 from 2016-18. Behind the leadership of seniors Brandon Pum, David Doerflinger, Nick Aldrich, Chas Miles, Bennett Robson, Danny Martinez and Matt McDonald, the Hilltoppers have a chance at their first winning season and playoff berth since 2015.
And that's been quite fulfilling for Tom Aldrich, the dean of county football coaches. On the 10th anniversary season of when he led the Hilltoppers to a second straight WIAA Division 7 state championship and was named the AP Coach of the Year in Wisconsin, Aldrich has been thrilled by the progress he's seen.
"It's been a lot of fun," said Aldrich, who turns 60 in November. "These kids have worked hard. They know what they're up against and they're not letting all the potential negatives get in the way.
"I think they're just focusing on what they can do and keeping as positive of a spin on it as they can. It's been very rewarding from that standpoint because it is a game, it's supposed to be fun and to see the kids having fun playing it, it makes you glad to be a part of it."
Where did he come from?
Prior to Horlick's 43-26 loss to Indian Trail last Friday, senior running back Davion Powell never had a varsity carry. And then all he did was rush for 147 yards on 11 carries to go along with two touchdowns of 80 and 6 yards.
Powell, who was not available for Horlick's first three games for reasons coach Brian Fletcher declined to disclose, had been playing at linebacker prior to Friday. But when Powell was given a chance on offense, he produced in a big way.
"He was in our program for four years," Fletcher said. "He went through some personal struggles and came back this year. I am probably most proud of him than anyone on the team this year. He did everything he could do in terms of being the best practice player, putting forth all the effort and being at practice on time.
"He just did all the little things right to show he had learned from his mistakes."
What a journey
At the beginning of this season, Burlington coach Steve Tenhagen was concerned with building a new offensive line that featured just one returning starter (center Luke Walesa). His solution at weak-side tackle turned out to be senior Dawson Weis, who was a quarterback as a freshman, didn't play at all as a sophomore and saw some action at defensive back and linebacker as a junior.
What a find the 6-foot-3, 200-pound Weis has been.
"We were just really thin at our offensive line at the beginning of the year," Tenhagen said. "We had a ton of question marks not knowing who was going to play where.
"He's just done a great job embracing it. Now it's getting to the point where it's fun. He's getting out on the edge when we're pulling him and he's really doing a nice job where he's piled up a number of pancake blocks in recent weeks. He's really leading the way in our power game."
Thursday night showdown
Defending WIAA Division 4 champion St. Catherine's faces a huge test Thursday night when it faces Martin Luther in a Metro Classic Conference game at Greendale.
Martin Luther, which has gone 16-3 the last three seasons, strongly tested St. Catherine's twice in 2018 before losing 27-21 during the regular season and 48-35 in a state quarterfinal. Furthermore, Martin Luther features one of the best quarterbacks in the area in junior Brady Hoppert, who has completed 100 of 150 passes for 1,490 yards, with 20 touchdowns and three interceptions.
"Both teams have high-powered offenses," Catholic Central coach Tom Aldrich said. "Martin Luther has a phenomenal passing attack and St. Catherine's has some outstanding athletes who can hurt you — both running and passing.
"It's going to be a fun high school game to watch. I think the team that gets more stops or creates more turnovers is going to end up winning. You've got a couple of real good ball clubs there."
This week's honors
TEAM: Union Grove received a bad break when defensive lineman Mickey Rewolinski, one of its best players, was lost for the season after one play in the opener. But the Broncos are trying to pull off a salvage job after losing five of their first six games, defeating Lake Geneva Badger 31-27 in overtime. It was Union Grove's first victory over Badger since 2009.
Nick Williams, a junior who is playing varsity football for the first time, scored the winning touchdown. Nash Wolf passed for 166 yards and a touchdown and ran for two TDs. And Tommy Hempel caught six passes for 176 yards.
OFFENSE: While Burlington suffered its first loss of the season against Wilmot, what a game Zach Wallace had. The junior rushed for 215 yards and touchdowns of 73 and 76 yards on just 12 carries. That's an average of almost 18 yards per rushing attempt.
DEFENSE: Two Catholic Central players stepped up in a big way in the Hilltoppers' 34-28 victory over Whitefish Bay Dominican. Middle linebacker Chas Miles had 12 solo tackles, six of which were for loss, and four assists. And cornerback Dave Doerflinger intercepted three passes and had two solo tackles.
SPECIAL TEAMS: Lamaj Muhammad picked a great time to make his first field goal of the season. The junior's 37-yard kick in the first quarter of Case's 16-13 victory over Kenosha Bradford proved to be the difference.
In Photos: St. Catherine's wins WIAA Division 4 state football championship