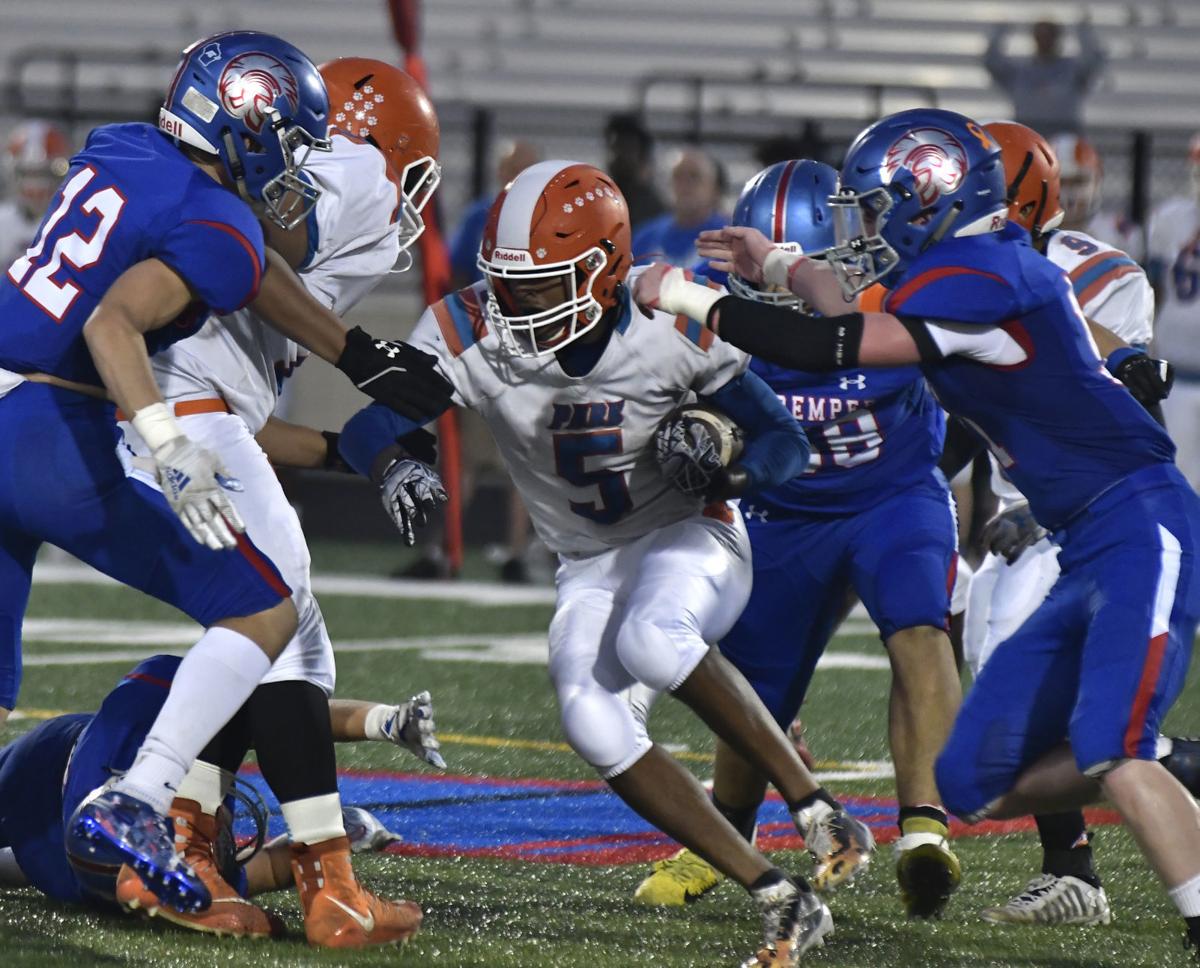 RACINE — The bite is coming back to the Panthers after some lean years.
The Park High School football team, which entered this season with a seven-year stretch of 5-59, are within two victories of qualifying for its first playoff berth since 2009.
They will have a tough assignment Friday, when they travel to Oak Creek for a Southeast Conference showdown.
But there's a difference here. Oak Creek coach Joel Paar also knows that his team will be in for a tough assignment.
And concern is not something Park had been able to instill in many opponents during its lean years.
"I'm watching film of them right now," said Paar, a 1986 St. Catherine's graduate, when reached Wednesday morning. "They're pretty friggin' good!"
The Panthers took another step in their comeback last Friday night, when they held off Horlick 12-0 for their first victory over their ancient city rivals since 2011.
Defensive end Rashein Thomas, who will enroll at Northern Illinois in January, helped set the tone with three sacks and four tackles for loss. On the offensive side, quarterback Ricky Canady has been the focal point, running and passing for a combined 1,208 yards and 11 touchdowns in his breakout senior season.
"First things first, it's about athletes," Paar said. "Canady makes a lot of things happen running and throwing the ball. They can score from anywhere on the field.
"Defensively, Raishein Thomas physically has great ability. He can shut down an entire side of the field with his speed and his length."
Those are the two cornerstones. But Park coach Danny Hernandez claims there's a great deal of quality after Canady and Thomas.
"We've got lower numbers, but I think what we learned as a staff is numbers are good, but they're sort of irrelevant," he said. "You need quality. We played a couple games with a 33-man roster against teams like Indian Trail, which has the highest enrollment in the state, Franklin, which has a 60-man roster, and played those teams toe to toe.
"For me to say numbers are a priority would really be a lie. It's about building quality. That's what we've been able to do with this senior class is build about 16 to 17 football players. We're doing our best to platoon. Numbers don't scare me anymore."
The Panthers could even withstand a loss to Oak Creek and still remain in contention for a playoff berth with victories against Case and Kenosha Bradford. But Hernandez, who is in his second season as Park's coach, isn't about to look that far ahead.
"Over the two years, we've really bought into this day-by-day deal and never looking ahead — not looking at our calendar and circling wins or anything like that. We just go out and give it our best effort every day.
You have free articles remaining.
"It's really given us a framework to compete, where we're not worried about wins, we're not worried about losses, we're just worried our opportunities and living play by play.
"That mindset has kind of freed us from this losing mentality that was a part of this program for some years."
Crunch time
Going into the final third of the regular season, Burlington, Waterford and Racine Lutheran are the Racine County teams that have already clinched playoff berths.
St. Catherine's would clinch Thursday night with a victory over Somers Shoreland Lutheran at Horlick Field.
Case and Horlick must run the table to qualify and both will travel challenging roads. Case closes with Kenosha Bradford (1-5, 1-3 SEC), Park (3-3, 2-2) and Indian Trail (4-2, 3-1). Horlick will face Indian Trail, Franklin (5-1, 4-0 SEC) and Kenosha Tremper (2-4, 1-3).
Meanwhile, Burlington and Waterford are headed on what would be the second collision course between unbeaten teams in the county, following last Saturday's classic showdown between St. Catherine's and Racine Lutheran.
Waterford, ranked eighth among large enrollment teams in this week's Associated Press state poll, will be favored against Delavan-Darien (2-4, 1-3 Southern Lakes Conference) Friday night at Waterford. Burlington faces a more formidable challenge Friday when it hosts Wilmot (5-1, 3-1 SLC) at Don Dalton Stadium.
If both teams win, they will be undefeated when Burlington hosts Waterford Oct. 11.
Burlington will be trying to reverse a trend in a rivalry that was reborn when both programs were reunited in the SLC in 2009. In the 11 games between Burlington and Waterford since then, which includes a playoff matchup in 2017, Waterford has won 10 times.
This week's honors
TEAM: Racine Lutheran has not won a conference championship since the Metro Classic Conference was formed in 2008. The Crusaders earned themselves the inside track for that title after a thrilling 30-22 overtime victory over St. Catherine's last season in a matchup of undefeated teams.
Camdin Jansen came off the bench to throw a touchdown pass to Tyler Tenner in overtime and then intercept a pass in the end zone that clinched the victory. And the defense was stout, hehind a sack each from linemen David Voss, Nathan Zawicki and Michael Jacobsen. Linebacker Noah Schoff had two sacks and five tackles and Isaiah Folsom, another linebacker, had seven tackles in his first varsity start.
OFFENSE: Maybe he's been running in the shadow of Racine Lutheran's Tyler Tenner this season, but Waterford senior running back Tanner Keller has been almost as impressive. Despite only playing one half in a game shortened by lightning last Friday, Keller rushed for 145 yards and three touchdowns in the Wolverines' 42-0 victory over Elkhorn.
DEFENSE: While Ricky Canady was managing a sloppy field as Park's quarterback last Friday, he was also doing a pretty fair job on defense. As a safety, Canady had 10 tackles, three assists, an interception and a forced fumble in a 12-0 victory over Horlick.
SPECIAL TEAMS: Park got off to a strong start on its way to the program's first victory over Horlick since 2011, thanks to Terry Gamble. The senior took the opening kickoff and returned it 85 yards for a touchdown. It was Gamble's first kickoff return for a touchdown in high school.