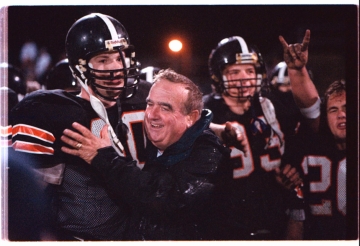 More than 30 years of emotions from his love affair with a quiet little community gain intensity as he approaches the city limits of Burlington's for another visit.
Slowing his Ford Explorer after the 155-mile drive from his retirement home in Wautoma, Don Dalton passes the old two-story house on 132 West Highland Avenue. That's where he raised son Dean and daughters Tricia and Amy with his late first wife, Judy.
Just a couple blocks to the northeast in a peaceful neighborhood is the former Burlington High School (now Karcher Middle School), where Dalton used to walk to work every morning. It was at the school's Dinty Moore Field where Dalton heightened the intensity of Friday Night Lights for 27 autumns with his annual football power.
But what will matter the most to Dalton in the coming years is an area that was an undeveloped parcel of land during his years as Burlington's coach.
A mile or so to the east of his old digs is the football field at the new Burlington High School. That field will be named "Don Dalton Stadium" when the Demons open their season against Case Aug. 22. Dalton never coached a game there — he had been retired as Burlington's football coach for five years when the new facility opened in 2000 — but that won't matter.
What matters is Dalton's name will be permanently preserved in Burlington's heritage — right where it belongs.
Hans Block, a 1976 Burlington graduate who played for Dalton and coached the program from 2003 through last season, headed an effort to make this happen. It became a reality June 9, when the Burlington Area School District Board Of Education passed a measure allowing the stadium to be named in Dalton's honor.
"It's exciting to honor someone who has meant so much to the Burlington community," said Peter Smet, Superintendent of the Burlington Area School District. "From the presentation that was given, he touched a lot of kids and parents in a positive way."
When Dalton appears for the ceremony, expect to hear a voice that is a little more feeble as he approaches his 73rd birthday. Expect him to move a little more tentatively since his hands and feet are numb from chemotherapy treatments he received after being diagnosed with cancer in July 2011.
And expect the man to be overcome with emotion as he tries to mentally wrap his arms around an honor that is built to last.
"I'm so honored it's unbelievable," Dalton said. "I can't even express it. It's a wonderful tribute."
But even with a 202-57-1 career record and 21 Southern Lakes Conference championships in 27 seasons, Dalton the man will always tower over Dalton the coach. For he is man who gradually evolved from a hardened coach with little interest in anything beyond his program to a truly compassionate father figure who emotionally connected with student-athletes.
"I had tunnel vision," he said. "I thought the only thing important on this earth was football."
The vast goodness Dalton exudes today started to reveal itself beginning with a knock one morning on his office door after he had replaced the retired Glenn Braunschweig as Burlington's athletic director.
"I went out to this cross country invitational to pay the timer we had hired," Dalton said. "Afterward, I shook some hands and congratulated some kids. That Monday morning, a kid came to my office and said, 'Coach we really appreciate what you did for us.'
"That young man really opened my eyes that there was more to high school than just football. That's when I became real involved."
It continues to this day in Wautoma. He's already put 15,000 miles on the Explorer his second wife, Barbara, gave him for Christmas last year driving to high schools as a representative for the Healy Company, which sells helmet decals and other supplies for football programs.
He's heavily involved in several charitable causes, most notably Habitat for Humanity. And he keeps pushing, even as he gradually weakens during the week as the medication he takes every Sunday morning loses its punch.
But just as Dalton once demanded the most out of his players, he's demanding the most out of his life.
Yes, there is so much more to life than winning football games.
"I'm still here, I'm still fighting it and I'm bound and determined that I'm going to beat it," Dalton said of his cancer. "I'm not waiting for life to come to me. I'm going to live life to the fullest."
Peter Jackel is a reporter for The Journal Times. You can reach Peter at (262) 631-1703 or by email at peter.jackel@lee.net