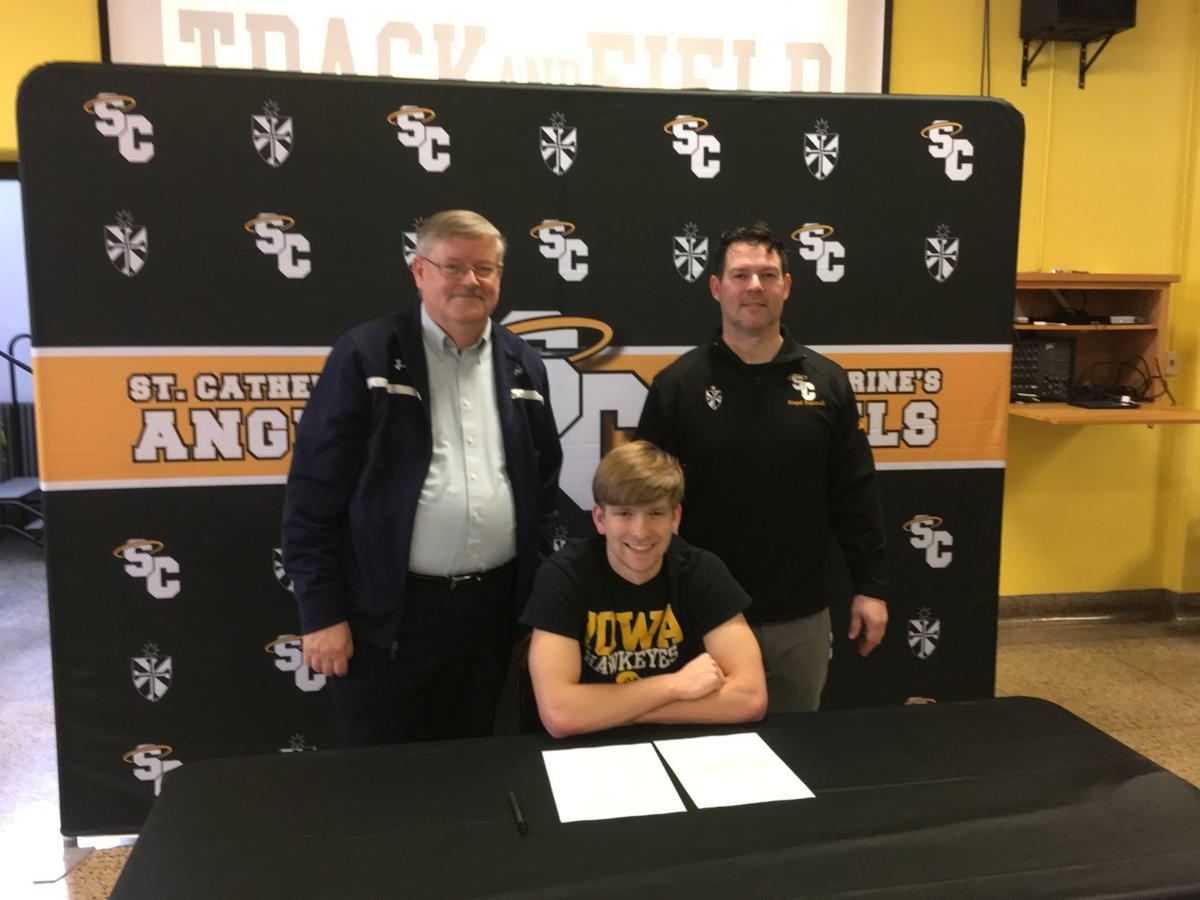 RACINE — It was a time of celebration and sadness for Evan Schuster on Thursday morning.
The celebration came when the five-time state medalist in track and field signed a national letter of intent with the University of Iowa before his fellow students in the St. Catherine's High School cafeteria. Schuster is receiving a partial scholarship.
But minutes after the ceremony, St. Catherine's principal Mike Arendt shared some disappointing news with the students. Because of COVID-19, the novel coronoavirus, the Wisconsin Interscholastic Athletic Association is drastically limiting attendance to its remaining winter tournament events.
Because of that, Arendt said, students would be receiving refunds for the tickets they purchased for Thursday night's Division 3 sectional semifinal boys basketball game between St. Catherine's and Delafield St. John's Northwestern Military Academy at Waukesha South.
Each team is being limited to 88 tickets, two supervisors and a limit of 22 team personnel. Schuster was among those who purchased a ticket for the game.
"My aunt was supposed to come to this, but she didn't because of the coronavirus," Schuster said. "So, yeah, it does put a damper on my day. But I just want everyone to stay safe and hope it doesn't get out of control."
But Thursday was also a day Schuster, the two-time All-Racine County Athlete of the Year in boys track, savored. The Division 2 state champion in the 200- and 400-meter races will be competing in the Big Ten Conference next season and a young man who embraces challenges can't wait for more.
"it's huge, really" he said. "Ever since I was a little kid, I've always dreamed of going to a big college. Not only am I going to Iowa, I'm going to be running and that's really a dream come true.
"I really found a love for the sport back in middle school and I found out that that I possibly do have a future in this sport."
Tom Scheller, St. Catherine's track coach since 1978, feels this is the ultimate reward for an athlete who has consistently paid the price.
"You don't get these kids all the time," Scheller said. "He has a certain amount of God-given ability, but he distinguished himself by going above and beyond.
"He's listened since he first got here to any coach, he believes that what you're telling him to do is going to help him and he works harder than pretty much anyone that I ever had. To see him have the payoff here is pretty cool."
Schuster also considered opportunities from Minnesota, Marquette, Colorado State, Army and UW-La Crosse. He made visits to Minnesota, Colorado State and Army.
"A, because they had my major (sports management) and, B, because they had such a dominant force in the 400-meter group," Schuster said. "Their whole team is extremely dominant in the 400. There's not one bad person on the team.
"Also, I looked at their records and they'll take people in who do run 48s or 49s (seconds) and they'll make them way better. By the end of their freshman season, they'll be running a 46. So seeing them help athletes get two seconds off their 400 time and make them better, that's what I really like about them. I feel they could do that for me.
"I just want to see how far I can go athletically in the 400, the 200 and the long jump. I want to see what is the best I can truly do."
With one season of high school track remaining, Schuster has already put together quite a resume.
As a sophomore in 2018, he was the third in the 400 and fifth in the 200. Last year, he won the 400 and 200 and was fourth in the long jump. His time of 48.82 seconds in the 400 was the fastest in the finals of any of the three divisions.
"My goals are to repeat or maybe even do better than what I did last year," he said. "I want to repeat in the 200 and the 400 and have personal-record times. And for the long jump, I want to do better than what I placed last year."
Get in the game with our Prep Sports Newsletter
Sent weekly directly to your inbox!