RACINE — As a starter on the St. Catherine's High School football team that won the WIAA Division 4 championship last November, Azarien Stephens is well-versed in what it takes to succeed.
So, what about this basketball team you're playing for these days, Azarien?
"Well, I think we're capable of going to state," the senior guard said.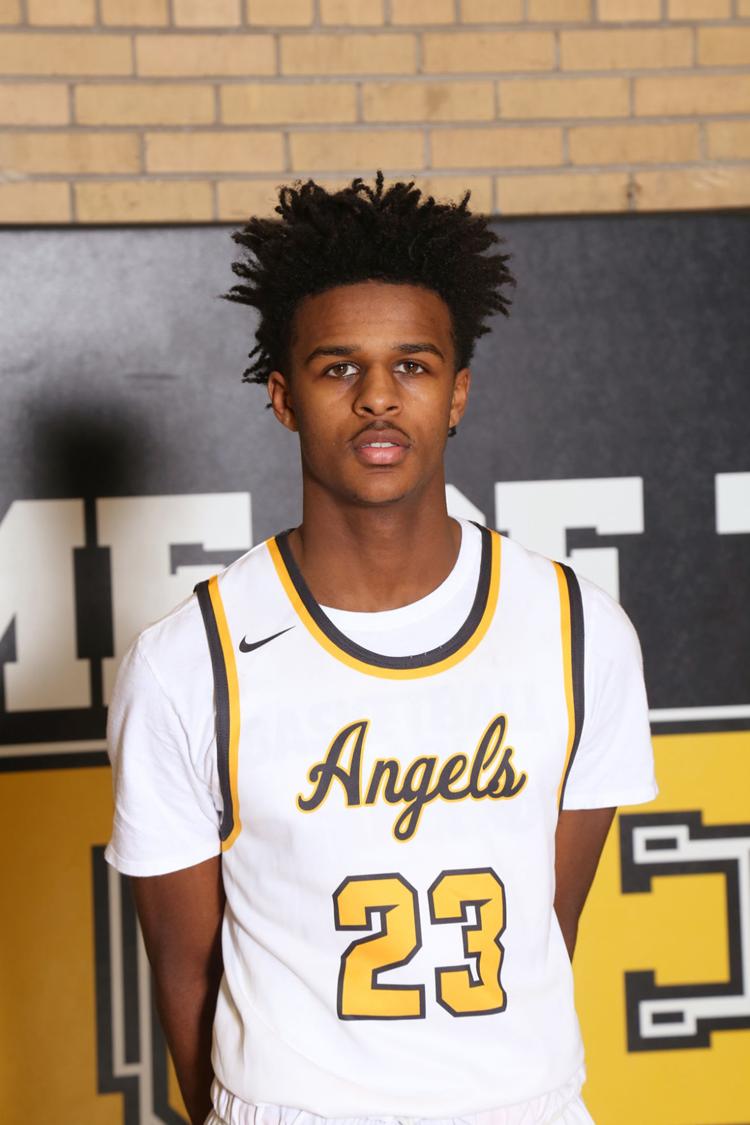 The Angels fortified that notion all the more Tuesday night, defeating Horlick 82-61 in a nonconference game in the John R. Belden Fieldhouse. Kamari McGee scored 23 points, Tyrese Hunter 18 and Stephens 15 to lead St. Catherine's.
The victory allowed St. Catherine's (10-3), ranked fifth among Division 3 schools in this week's Associated Press state poll, to gain a 5-4 edge in a yearly series against Horlick that started in 2011.
Horlick (4-9) was led by Marquise Milton, who scored 31 points — seven more than his season average.
St. Catherine's used a 19-7 run to close out the first half and take a 41-33 halftime lead. The Angels remained in control throughout the second half to win their second straight against Horlick.
But for most of the first half, it appeared that Horlick might just might put itself in position for its second big upset of the season after defeating Case Dec. 18. Milton was a force throughout that first half with 15 points, but he had some help.
Horlick connected on five 3-pointers in the first half, two of which were by Jaydin McNeal. Maurice Ward, Milton and Stephon Chapman each added one.
"The disappointing thing is we let their shooters get loose in the first half," St. Catherine's coach Nick Bennett said. "We let them make a bunch of 3s early."
As for Milton, he was all over the place after a slow start.
"Milton's a good ballplayer," Bennett said. "He's one of those guys you have to try to control and make him earn his looks. Other than about two or three, I thought we did that for the most part. But, yeah, he's good."
What served St. Catherine's so well was its depth. Beyond McGee and Stephens, Elijah Lambert and Jermaine Tomlin added eight each and Quinn Cafferty five.
"They were able to work the ball fairly effectively and get into some gaps against our zone," Horlick coach Jason Treutelaar said. "In the last six minutes of the first half, I mentioned to our coaches that I just didn't want to see them get on a run.
"Unfortunately, we had a couple turnovers and missed a few shots and they converted. It was kind of the worst-case scenario for us to go down by eight after playing fairly well in the first half. We wanted to make this a last-10-minutes type of game and take it in segments."
But St. Catherine's defense made that difficult for Horlick to pull off in the second half.
Bennett started McGee on Milton before switching to Jameer Barker late in the first half. Barker held Milton in check for much of the second half before Milton went on a scoring flurry toward the end of the game.
"He moves very well laterally," Treutelaar said of Barker. "He takes away some of the driving lanes. He was harassing (Milton) away from the ball, so it made it difficult for him to get the ball. He worked exceptionally hard to be able to do that."
Considering two of the Angels' three losses have been by three and two points and they defeated Metro Classic Conference power Whitefish Bay Dominican 75-62 last Saturday, they could make a run at their first state tournament since 2011.
Stephens, a starting receiver on St. Catherine's football team, certainly feels it.
"We all know how to play each other because we were playing with each other since we were young," Stephens said. "And that's how the football team was."
Treutelaar is also a believer.
"I know they had that tough loss against Martin Luther at their place and that's standing in front of them for the potential run in the state tournament," he said. "But they've got the depth, they've got the athleticism and I think the discipline to be able to get up there.
"When you can play defense the way they do, you can count on that game in and game out.. We all know the offense can go away, but the defense has to be a constant. And for them, it sure seems like it."