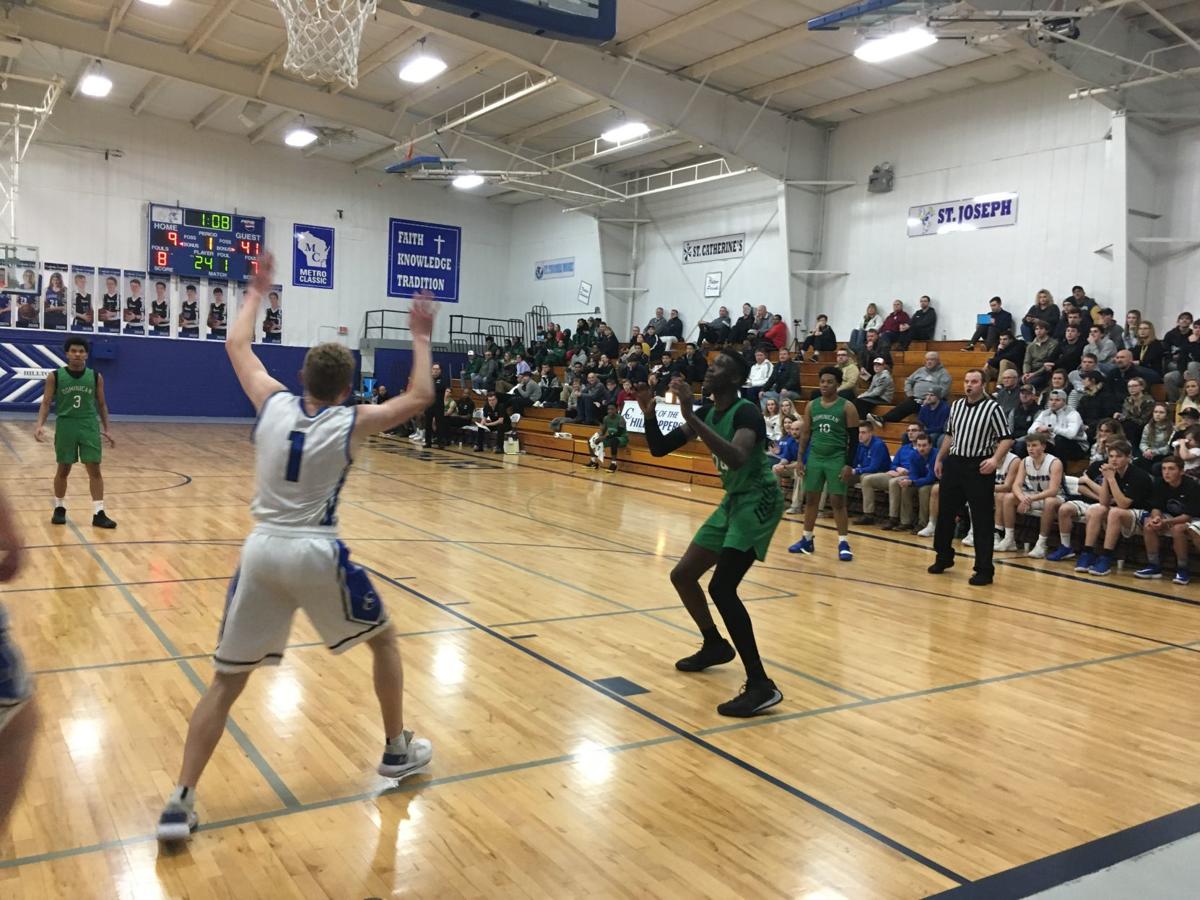 BURLINGTON — Standing outside his team's dressing room at Catholic Central High School Friday night, Jim Gosz had something to say.
His Whitefish Bay Dominican boys basketball team had just defeated Catholic Central 68-26 in a Metro Classic Conference game. Led by 6-foot-8 Alex Antetokounmpo, brother of the reigning NBA most valuable player and Milwaukee Buck Giannis Antetokounmpo, the Knights dominated physically in this game, but Gosz saw something in Catholic Central.
And he wasn't just stretching for some obligatory nice thing to say about the Hilltoppers.
"This is a team that is going to compete for the Division 5 state championship," said Gosz, who led Milwaukee Rufus King to four WIAA Division 1 titles before taking over Dominican's program. "And our guys were prepared for them. This was a buzzsaw game coming in here. I scouted them twice."
Standing outside the Catholic Central locker room were teammates Bennett Wright, Bennett Robson and Chas Miles and they weren't exactly thrilled to be talking after a game like this. But they had something to say as well.
Even though they were coming off a humbling performance against a team that is ranked fourth in Division 3 in the Associated Press state poll, their eyes remain on the prize. And that's playing in the state tournament at the Kohl Center in Madison this March.
That goal is realistic. The Hilltoppers (8-2, 3-2 MCC), ranked eighth in Division 5, have lost only to St. Catherine's and Dominican, programs with a combined 18-0 record. They're a senior-dominated team and their coach, Kyle Scott, led the Hilltoppers to the Division 5 championship game just four years ago.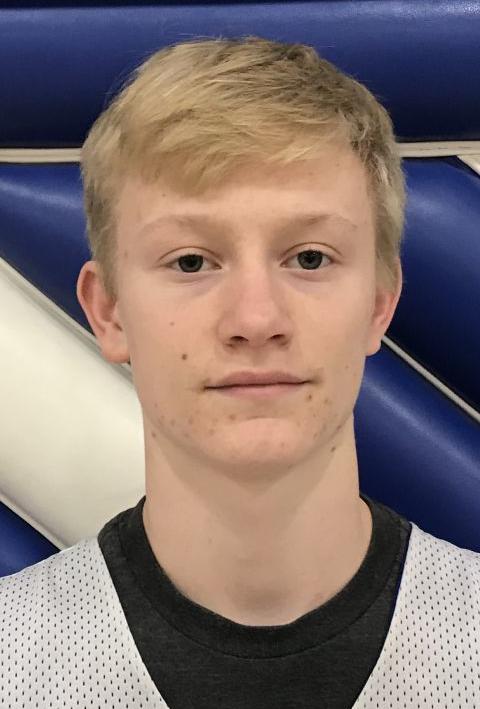 So, sure this loss hurts. Then again, teams don't improve by cleaning up on weak competition.
"We just have to stay humble and hungry because we got off to a hot start (to the season), but it doesn't mean anything," Wright said. "We've got a lot of basketball left to play and it's just about getting better every single day."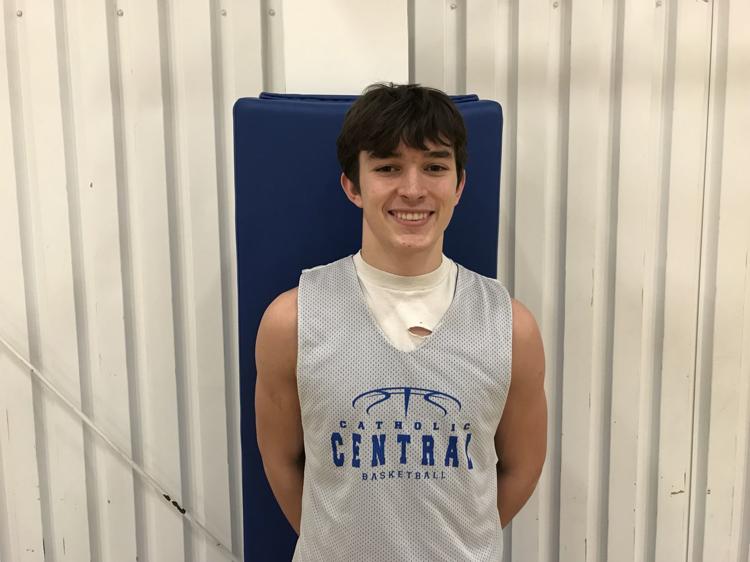 You have free articles remaining.
When asked if such a lopsided loss erodes the Hilltoppers' confidence, Robson said, "It rattles us for the moment it happens, but after that, we have to build off it. We have to get better. And down the road, we know the D-5 competition is not going to be as good as a Dominican or St. Cat's. So we'll stay confident and we'll keep going."
Perhaps the best testament to where the Hilltoppers are right now is this: Scott fully expected his team to win Friday night. He did not prepare his players to simply hang in there against Dominican's imposing lineup.
"We approached this to win and we fully believe we can beat a team like Dominican," Scott said. "Now they have great talent and they're even better coached. We have great respect for coach Gosz, but we came in here thinking we could win."
On another night, they could have at least pushed Dominican (9-0, 5-0 MCC) a lot harder. But Dominican went 27 for 44 from the floor, including 8 for 14 from 3-point range.
Antetokounmpo was 7 for 10 from the floor and finished with 18 points and seven rebounds. He also thrilled the crowd with a couple of dunks. Also leading the way was Delone Austin, who scored 15 points on 6 for 10 shooting.
Catholic Central, meanwhile, did not at all appear comfortable in its own house. The Hilltoppers went 10 for 50 from the floor, including 1 for 17 from 3-point range.
Brandon Pum and Wright each led the way with seven points, but they combined to go 6 for 25 from the floor.
"We didn't hit any shots," said Scott, whose team fell into an early 22-2 hole. "But make no mistake — that's because coach Gosz had a good game plan for us. He scouted us and he put his guys in the right position.
"So I don't want to say it was just us missing shots. It was their defense."
So a rough one is out of the way and Catholic Central still has road games coming up against St. Catherine's and Dominican in February.
Just don't be surprised is the Hilltoppers are in the thick of things come March.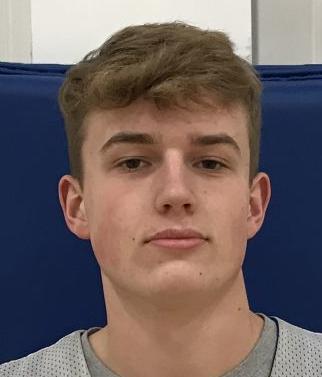 "It's tough," Miles said. "But I haven't seen too many teams go through a season without having a game of this caliber. But we're an 8-2 basketball team, I know we're good, we're really deep on the bench and I think we have a lot of guys who came make timely shots and play hard on the court."