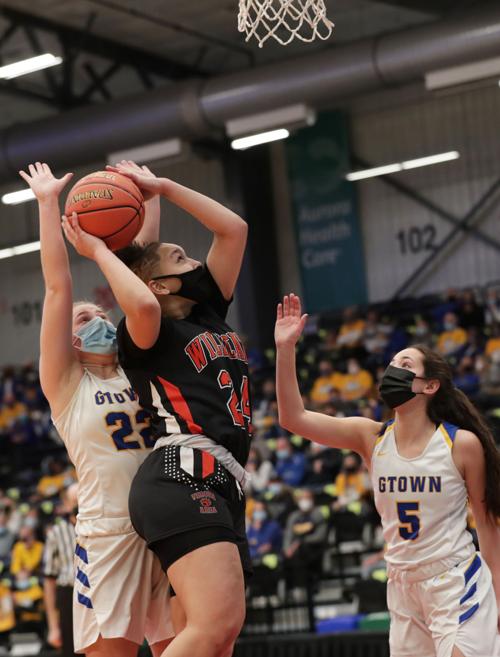 OSHKOSH — Suffice to say it wasn't the start the Verona faithful had hoped for.
Making its first state tournament appearance since winning a title in 2016, the Verona girls basketball team fell off a cliff in the first seven minutes of its 76-57 loss to top-seeded Germantown in a WIAA Division 1 semifinal game on Saturday at Menominee Nation Arena.
Germantown's Jaelyn Acker made two 3-pointers over the Verona zone defense in the first minute. Over the first seven minutes, Verona missed six shots, had six turnovers and committed three fouls and one technical foul. And when Germantown's K.K. Arnold hit another 3-pointer at the 13-minute, 10-second mark, Germantown held a 20-0 lead.
"A little buzzkill," Verona freshman Taylor Stremlow said.
The fourth-seeded and unranked Wildcats (8-5) outscored the top-seeded and second-ranked Warhawks (28-1) the rest of the way, but the damage had been done.
"If I could draw up a start, that's not the one I envisioned," Verona coach Angie Murphy said. "They jumped on us right away. … We struggled a little bit with their pressure early on and turned it over. We settled down a little bit, but we're not going to beat a team like Germantown unless we're firing on all cylinders, and they did a good job keeping us to, like, one cylinder at the time.
"Almost the car broke down, but then we got it started again."
Murphy was highly impressed with Germantown, which handily beat top-ranked Kimberly and third-ranked Beaver Dam in sectional play. It was the one-two punch of Arnold and Acker that did the most damage. Acker was 7-for-14 from 3-point range and scored a game-high 28 points. Arnold — the No. 5-ranked sophomore in the country, according to espnW — scored 19 points and couldn't be stopped in the lane.
Verona didn't have a chance to practice together until January and had only played 12 games, all on the road, coming into the state tournament. The Wildcats didn't have their first game until Jan. 21, so just making it to state was a major accomplishment and a bonus for Murphy.
"Even to be here is a celebration," Murphy said. "I'm not disappointed at all. I've got some sad girls in that locker room and this girl here (Stremlow), because they love winning. But you could tell me we could come to state in a year like this and get our butts kicked by 20, sign me up, because I would be there in a second.
"This is the least upset I've ever been with a loss. Like I'm almost happy, because this is something so special that we didn't think we were even going to get."
After Verona started hitting some shots in the opening half, it went toe-to-toe with Germantown. Reagan Briggs had four straight points to pull the Wildcats within 21, but the Warhawks closed out the first half up 41-19. Verona shot 22.7% (5-for-22) from the field in the first 18 minutes.
The Wildcats started the second half 7-for-14 from the field, but Germantown was equally as good as its lead ballooned to 70-39 with 7:02 remaining.
"I can definitely say as a player it's really frustrating, because you try to get a stop, you work your butt off and then you can go and get a bucket and you're excited and got the energy — and they come down and match your shot or score a (3-pointer) over your two," Stremlow said.
But Verona was able to close the game on an 18-6 run, hitting six of eight shots during one stretch.
Stremlow scored a team-high 18 points and Lyric Burns added 10 for Verona. Briggs and Paige Lambe each had eight points.
The Wildcats shot 38.1% (21-for-55) from the field for the game and were just 23.1% (3-for-13) on 3-pointers.
Verona is a young team with four underclassmen — three sophomores and Stremlow — in the starting lineup. All nine players who got into the state semifinal game have at least one year of eligibility remaining.
"I want them to get a taste of what this is like, because obviously, we have one junior that played, we have another back from injury and our babies are all back," Murphy said. "So, they're going to be a year older. If we get the opportunity to get here again, this isn't going to be as, 'Whoa.' It's going to make them hungry."