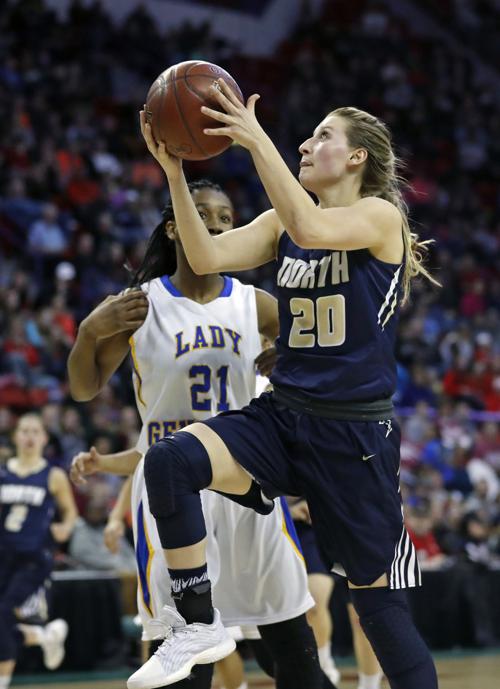 Let's hope the WIAA's black eye has fully healed from last winter's April Gehl fiasco.
Because the organization that administers Wisconsin high school sports has gone ahead and punched itself in the nose all over again — not just on Twitter this time, but on phone-cam video.
Live from Ashwaubenon, it's Saturday night:
Minutes earlier, Appleton North had defeated De Pere, 49-34, to wrap up a 28-0 season with the Division 1 state championship, the first WIAA girls basketball title ever won by an Appleton school.
Nic Levy, the father of North junior starting guard Sydney Levy, came to the side of the court with his phone camera rolling, ready to catch what he later said was a postgame ritual: Sydney's 3-year-old brother, Jaylen, rushing to Sydney for a great big hug.
First, you see Sydney, wearing the championship medal around her neck, walking toward her father and little brother. Then you see little Jaylen pop onto the screen, literally jumping for joy as he reaches out for his hug. And Sydney begins to lean forward, reaching out her arms to grab him...
But then, boom! WIAA assistant director Deb Hauser then swoops in from stage left. She points for Sydney to turn around and rejoin her teammates headed for the locker room. She motions to Jaylen to get off the court — and he turns around and does so, with a look of pure heartbreak in his eyes. Hauser then turns toward Sydney and says something, likely explaining that the area must be cleared immediately, and the player walks away.
Nic Levy wrote the following on top of his video post:
"@wiaawistate didn't let Jaylen give his sister, Syd, a hug after winning the STATE! He gets excited to hug her after EVERY game. He cried (heartbreak emoji)."
Well, it didn't take long for the court of public opinion to lower the hammer on Hauser and the WIAA in the wake of Hug-Gate.
One poster identified as Jarred Zak wrote in two Tweets that what Hauser did was "horrible, and also clearly has no heart. Feel for the little guy and big sister … It's a once in a lifetime moment. A picture of that hug would last forever."
Another poster, identified as Oliver K. Burrows III, wrote: "This picture is worth 1000 tears. Thank you for sharing the agony of defeat, lest we forget."
"Is anyone that follows Wisconsin high school athletics surprised by this," wrote a poster identified as "steveg."
"So I'm from Canada, isn't this the same agency that banned harmless chants?" wrote a poster identified as Brian Dickey.
Blast from the past
Not exactly, but Mr. Dickey is not all that far off. The WIAA indeed is the organization that became a national laughingstock for a brief period a little more than a year ago.
That's when a Hilbert High School basketball player named April Gehl posted a screenshot clip from the WIAA's Sportsmanship Guidelines and added a three-word commentary. The first word was "Eat," the third word was "WIAA," and the middle word, well, it was rated PG-13.
As the story goes, the WIAA reported Gehl's post to Hilbert administrators, who suspended Gehl for five games.
That prompted a closer look at the WIAA's sportsmanship guidelines, which indeed did appear to encourage game managers to prevent fans from shouting anything that could be seen as derogatory, up to and including "Air Ball!" after — well, after air balls.
The WIAA was a tad slow and stuffy in its attempt to step over that mess. As a result, Stephen Colbert led his late-night TV crowd through a series of cheers that he imagined might be deemed acceptable by the WIAA — such as replacing "Fun-Da-Mentals!" with "Fondue-Cheese-Melt!" News outlets across the nation and even in England carried variously incredulous recaps of the situation.
This time, the WIAA was quicker to respond. A press release came from the organization early Monday morning:
"The Wisconsin Interscholastic Athletic Association acknowledges that the short video clip that was released on social media Sunday may be seen by the casual observer as insensitive.
"In the celebratory situations following a State championship, it is not possible for the WIAA to know the individual traditions and rituals of all the schools, teams, families and players involved. For the safety of all involved, we keep spectators off the playing surface.
"As an organization that runs large events on a regular basis, our focus is always on the safety and 'what if' situations that can evolve quickly and cause potential harm to innocent bystanders. When the WIAA staff receives advanced requests regarding special family situations or needs, we do our best to accommodate if and when possible.
"The WIAA has reached out to the family to express its regrets for any distress they may have experienced."
You have free articles remaining.
Nic Levy posted again on Twitter Monday afternoon, saying that "at this time, our family has received no contact from the WIAA."
Others also affected
Nic Levy also wrote, in the same post:
"Jaylen was just one of the family members that was prevented from sharing in this celebration. Family members of our players traveled from as far as Michigan, Minnesota, Illinois and even California to be at this momentous game, and no arrangements were made to allow players to join their families.
"Players were forced onto the bus through the back door, families were asked to leave the building via the front and contact was prohibited. Many family members returned to their hometowns without the opportunity to hug and congratulate their players. It is our sincere hope that some positives will come out of this and WIAA will arrange appropriate receptions for waiting loved ones."
Appleton North athletic director Kevin Herrling told USA Today Network Wisconsin on Monday that Hauser and WIAA executive director Dave Anderson contacted him on Sunday and Monday with text messages he described as apologetic while explaining the WIAA's position.
USA Today Network Wisconsin reported that local media requests to interview Sydney Levy on Monday were denied, though an email was sent to Appleton-area media on her behalf. It read, in part:
"Obviously, it was disappointing that I didn't get to hug my brother, but just because the video was of us and the fact that he was a 3-year-old little boy, doesn't mean we're the only ones affected. I had teammates who had family travel from all over who didn't get to celebrate with them, so that was disappointing. But I think what is most important is that we won and we made school history, and I think the attention should stay focused on that."
Why did it happen?
Only a few reasons come to mind that would have the WIAA so fiercely take steps to keep family members off the floor after the last game of the 15-game tournament. One would be an agreement with the Resch Center that non-team personnel would be kept off the court, period. Another would be strict insurance parameters. A third would be the need for Resch Center and TV personnel to immediately "strike the set" and clear all of their equipment off the floor at the end of the tournament. After all, they're paid by the hour.
Again, though, the WIAA is left looking bad because it has placed its own rules ahead of the desires of the families … who provide the players … who make up the teams … who build the sport … that gives the WIAA all of its power.
I've seen enough families filling the hallway to the press room after state tournament games that I know the families often are able to find a way to get together with their young athletes. You'd think this would be especially true at the end of the tournament — no more games to set up for, no more deadlines to meet — but that obviously was not the case.
But then, after looking at the video, it seems obvious that all Sydney Levy needed to do was turn around, take a couple of steps and then veer left, dashing off the court and around the baseline and sideline to get her hug. The ol' give-and-go. Why didn't she?
Well, she had to be aware of what happened to April Gehl last year when she colored outside the lines — and as a potential college prospect (already verbally committed to UW-Milwaukee) with another year left to play, maybe Sydney didn't want to get on the bad side of the WIAA and risk scaring off the Panthers and others. Even though it left her little brother crying.
Procedure for family time needed
It seems painfully obvious that the very next thing the Resch Center (and the Kohl Center, and every other WIAA state tournament host site) needs to set up a friends-and-family reception area. Two of them, one for each team.
Given a chance, families figure it out on their own – it only takes one trip around the perimeter of UW-La Crosse's track and field stadium to figure that out – but in this case, it appears players were sent out of the building in one direction and families the other.
So the WIAA appears to have been lax in terms of recognizing that families come first, before their rules and their broadcasts and their interviews and their official photographs that can be purchased at a later date.
We can't have a free-for-all on the court afterward. I covered the Madison Memorial boys game at Sun Prairie on Saturday, and the court held about 200 people, milling around, almost 45 minutes after the game. That would happen times 10 or even 20 at the state tournament.
So while Deb Hauser was right to keep the court from becoming a mob scene — remember, fans certainly have been injured during post-game court-storming incidents — she was simply caught on video doing it in the worst possible situation in terms of politics and optics.
The WIAA has the postgame procedure down pat. First, as a TV interview is conducted with the winners, the medal and trophy presentation (complete with photos) takes place for the losing players, followed by a trip to the media room for a news conference. In the meantime, the winning team receives its medals, trophies and photos before heading to the media room.
Well, that procedure now must be extended: As the selected players and coach leave for interviews, the others should be ushered into one of two reception areas, where family members and friends — who received special passes ahead of time — will be admitted for a 30-minute gathering. Those busy with the press conference would head over after it finished. Players could then leave at any time for the locker room or the bus. All would be expected to clear the building one hour after the end of the day's final game.
That's a starting point, anyway. I remember such a reception room after a state volleyball final at the Resch several years ago — I was able to pull away players from their groups for a quick quote and then leave them to resume their fun. It was a little chaotic, but it worked.
After the April Gehl incident, perhaps it's time for the WIAA to review every rule and guideline and procedure to make sure it meets the following standard: Does this put the student-athletes first? After that, their families? Then their friends and classmates? And, last — not least, but last — the WIAA?
It's true, families can be unreasonable with their requests for access at state events, thinking they can go anywhere and be anywhere, as if it was their local high school gym. I've seen it happen many times. However, the Levy case was not one of those situations and somehow, it should have been accommodated.
It would have been plenty for Deb Hauser to say "fine, go get your hug, but just not on the actual court. And quick, or else everyone will line up for all the players and we'll be here for an hour." Because, yes, we know that could have happened.
But now, because of one little rule and one little video, the entire list of guidelines will have to be reviewed. And changed.