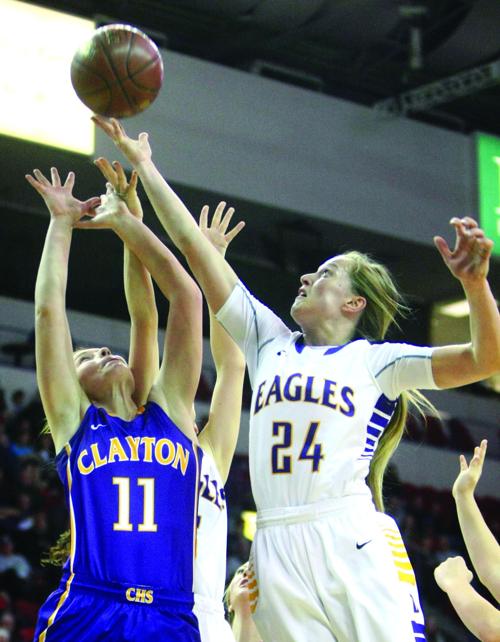 Hannah Whitish helped to lead the Barneveld girls basketball team to new heights with dominating, all-around guard play.
In her four years, the Eagles made four appearances in the WIAA Division 5 state championship game.
Barneveld won titles in 2014 and 2015 and earned runner-up honors in 2013 and last month — playing against Wisconsin Rapids Assumption each time.
As a result, the 5-foot-9 Whitish — a point guard who averaged 24.2 points, 5.2 rebounds, 3.9 assists and 4.3 steals per game this season and scored more than 2,000 career points — has been named The Associated Press girls player of the year in Wisconsin.
She was joined on the All-State first team by two area honorees: 6-2 junior post Estella Moschkau of Madison Edgewood (who averaged 19.2 points, 6.8 rebounds and 3.9 blocks per game) and Myriama Smith-Traore, a 6-2 junior post from Whitewater (17.4 ppg, 15.1 rpg).
Grace Mueller, Verona's 6-2 senior center (16 ppg, 6.4 rpg), made the second team.
Kylie Moe of Brodhead was a third-team pick, and 6-0 Portage senior post Caitlyn Hibner and 6-2 Verona wing Alex Luehring (13.3 ppg, 3.2 rpg, 4.7 apg) made the fourth team.
Angie Murphy, of Division 1 state champion Verona, was named coach of the year after guiding the Wildcats to the school's first title.
Whitish — a University of Nebraska recruit — and her fellow seniors will leave behind a record of success that will be difficult to match.
The school lost just four games during Whitish's career — all to rival Assumption.
"God gave her great athletic ability," Barneveld coach Doug Pickarts said. "What Hannah also has is a great work ethic."
For Whitish, winning the first state title in her sophomore season set a new standard.
You have free articles remaining.
"After that gold ball, it's an expectation," Whitish said.
She still works out 90 minutes each day, even if her prep career is over. Lately, the schedule calls for 45 minutes of cone work and shooting drills, followed by 45 minutes of lifting and running.
"It's pretty weird every day I'm in the gym, when I'm shooting around (knowing) there's never going to be that Barneveld community-packed gym anymore," Whitish said.
Lately, it's more about getting ready for college basketball with Whitish headed to Nebraska to play for the Cornhuskers in the fall.
But first there was some rest and relaxation with the family for a vacation in Florida this week during spring break.
The hard-working Whitish never seemed to take a breather during the season, though Pickarts said his star player also always aimed to get teammates involved, too.
Whitish hit nearly 50 percent from 3-point range and worked hard on defense.
"Truly a great kid. I think she's even a better person than she is a basketball player," Pickarts said. "In her career ... four state championship games. That's remarkable what this kid has done."
Murphy had a memorable playing career when she was in high school at Middleton (as Angie Halbleib), and in college at Kansas.
But she said Verona's victory in the title game was even more exhilarating.
"A feeling like none other," Murphy said. "My best sports memory in my life."
And that's saying something: In 1993, Halbleib was named a first-team All-State pick, finishing her prep playing career by leading Middleton to its first state tournament trip.
Area honorable mention picks were Stoughton senior Hannah Hobson and junior Marissa Robson; Monona Grove senior Autumn Ogden and freshman McKenna Warnock; Fall River senior Kelly Tramburg; Mineral Point senior Jessica Schultz; Wisconsin Dells senior Jaden Ward; Janesville Craig senior Delaney Schoenenberger; Middleton junior Bria Lemirande and Marshall senior Kiana Canon.