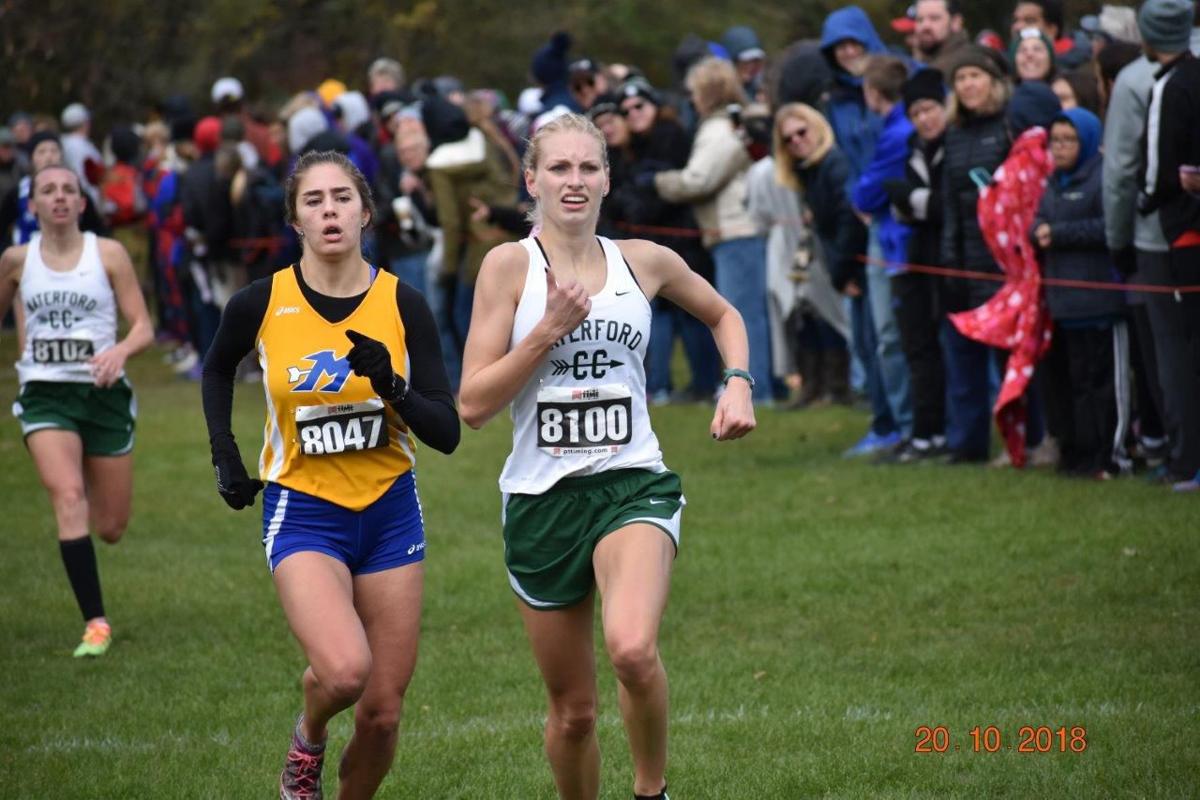 Jayda Obluck might have settled for being second best.
The junior for the Waterford High School girls cross country team was exceptional as a sophomore in 2017. But she wasn't quite at a level with teammate Kelsey Radobicky, who was named the All-County Athlete of the Year as a freshman.
But Obluck wasn't going to settle for being second. And on the afternoon of Oct. 20, she made her statement.
Obluck came through with one of her finest performances, finishing fourth at the WIAA Division 1 Mukwonago Sectional — two places ahead of Radobicky. Both girls qualified for the state tournament, with Obluck finishing 43rd and Radobicky 51st.
Based on her late-season performance, Obluck edged Radobicky for the honor of being the top runner in the county.
"This season was definitely a reflection of the hard work that I put in over the summer," Obluck said. "I did not necessarily increase my overall mileage drastically. However, I made sure that each mile was of higher quality.
"I came into the season with much more confidence because I knew that I had set myself up with a solid foundation that I could build upon throughout the season.
"Mentally, I was much more focused, as well, after realizing running was my true passion."
She also had the ultimate friendly rival. With Radobicky as her teammate, Obluck knew she would have to give her best every day during the season. And as she made that commitment, she kept improving.
"I enjoy training with Kelsey since we both motivate each other to be the best that we can be," Obluck said. "I know that although we can be competitive on the course, we are a strong team together.
"Our friendship has grown these past few months as we have been working toward a common goal. At the state meet, it was comforting being alongside a teammate."
For Waterford coach Nate Schreiber, who was once a runner at Mukwonago High School, it was gratifying to see.
Obluck had the desire to be more than she was last year. And then she went out an earned it.
"She's not afraid to run in front, she's not afraid to run with the very best and she just showed me that she has no fear," Schreiber said. "Her progression over the last two years has been tremendous. She could have taken the backseat to Kelsey this year, especially after the year Kelsey had, but she challenged herself for the No. 1 spot."
With one season remaining at Waterford, Obluck wants to raise her personal bar yet again.
"The first of my goals for next year is to go sub 19 minutes," she said. "Second, I plan to return to the state meet ready to improve upon my time and to make a greater statement. I hope to finish off my high school career with my best performances yet.
"And last, but certainly not least, I hope to have my whole Waterford girls team be state bound. I believe that with a strong summer of training, we will be a force to be reckoned with."
After leading his team to the Southern Lakes Conference championship and coaching two girls to the state meet, Schreiber has been named the county's coach of the year.
"The kids had steady improvement with literally every single race," Schreiber said. "The majority of the kids, out of the 75 we had, got better with every race, pretty much leading all the way up to the conference.
"At the conference meet, it was just wet and muddy and slick. Nobody really ran their best times there, but the progression throughout the season and the fact we were injury free, it made it a gratifying year."
Get in the game with our Prep Sports Newsletter
Sent weekly directly to your inbox!