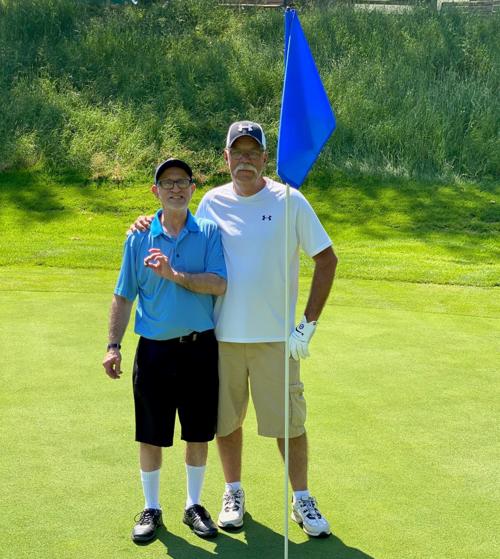 Almost as if it was accentuating the moment for posterity, an eagle passed overhead at H.F. Johnson Park just after Jimmy Smetana's shot rolled into the cup during the late morning of July 4.
The 62-year-old Smetana, whose mother, Edna, once competed in a triathlon at the age of 72, has long excelled in Special Olympics. The medals and honors that crowd his Racine apartment offer ample proof of the competitor Smetana is.
But while golfing with longtime friend Jay Jensen and Jensen's son, Justin, the morning of July 4, Smetana achieved a personal milestone. Using a No. 3 Fairway Hybrid for the par-3 177-yard 18th hole at Johnson Park, Smetana cleared a body of water on the course with this shot and scored his first hole-in-one.
"Jimmy made the shot and it hit the green on the left-hand side and was rolling toward the pin," Jay Jensen said. "Me and my son were saying, 'That's going to go in! That's going to go in!'
"Jimmy was more worried about finding his tee because he doesn't like losing tees. He turned around just in time to see it go in and we were jumping and celebrating."
And then Jensen looked up.
"There was an eagle flying by maybe 50 feet up right over the top of the water," he said. "He was flying right over us. I've seen them up north and by the Mississippi River, but I've never seen one in Racine County.
"It had a white head and a white tail. There was no mistaking it. We could see him looking at us, he was that close."
For Smetana, who Jensen said, "is like an uncle to my kids," that magical moment took a little while to register.
"I don't think he grasped the whole concept of it right away," Jensen said. "Earlier on No. 14, he chipped one in from about 60 yards. While he was walking up there, he said, 'What? No putt?' Like he was upset he didn't get to putt on that hole! It was kind of hilarious that he was upset that he didn't get to putt."
When it occurred to Smetana that he also wouldn't be putting on the 18th hole, he began to celebrate with the others. And now he is a celebrity of sort among his friends.
It was last Saturday when Jensen attended a memorial service for his father-in-law, Phil Knepper, at Pritchard Park. Smetana joined him and was greeted with congratulations for his feat.
"They were saying, 'There's Mr. Hole-In-One,' " Jensen said. "When they mentioned that, he got a big smile on his face."
Those who have known Jimmy over the years say that no one deserves to smile more than he does. After all, this is someone who has been bringing smiles to the faces of so many others for most of his life.
"He's so much fun to be around," said Jim Kruse, another longtime friend. "He just makes people feel very good about knowing him. "He's joy to have around. He makes us all thankful for what we have in life and he makes us happy about many things.
"He's just special in so many ways. He brings out the best in people and he just has a way about him that's very endearing."
Be the first to know
Get local news delivered to your inbox!