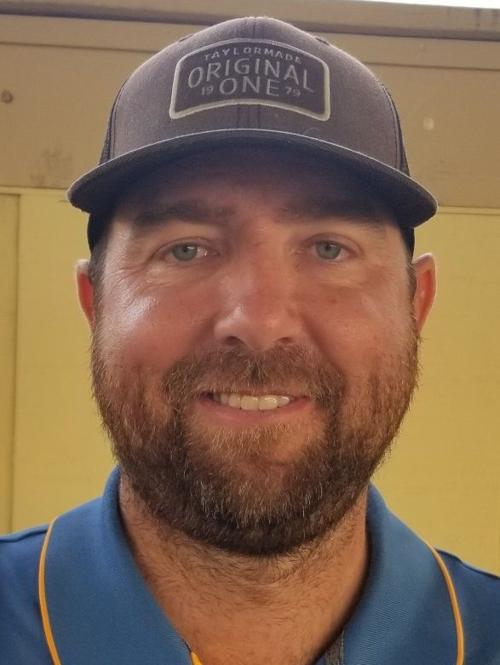 YORKVILLE — The casual observer of golf would probably not have guessed that Saturday was Ricky Kuiper's sixth straight day of tournament golf.
That same casual observer also probably could not have predicted what the 23-year-old pulled off in the second round of the Racine County Men's Open at Ives Grove Golf Links.
Kuiper set a course and County Open record with a 9-under-par 63, featuring birdies on half of his holes, and is tied for the top spot in the tournament with nine-time champion Bendt Bendtsen III.
Bendtsen, 34, was no slouch either Saturday, shooting a 5-under 67, but saw Kuiper, the 2017 champion, pull even at 11-under 133.
Bendtsen and Kuiper, who also played together Saturday, will be joined by 2004 champion Mike Masik in the final group Sunday, which is scheduled to tee off at 12:18 p.m. on the first hole of the Red course. Masik shot a 4-under 68 to move into third place at 141.
Kuiper has been remarkably consistent in the County Open since his first appearance in 2012 at age 15. He has played in the final County Open pairing in each of the last four tournaments and six of the last seven, missing only in 2016. He played in the penultimate group in 2012.
Kuiper, who played four rounds Monday through Thursday at Milwaukee Country Club in River Hills in the WSGA State Amateur Championship, started the day four shots behind Bendtsen. He opened his second round in the County Open with a birdie on the first hole of the White course, a 530-yard par-5, then had three straight pars before turning on the afterburners. 
He had three straight birdies on White holes 5, 6 and 7, then after a par on 8, he added three more birdies on White 9 and Blue 1 and 2. After a scrambling par out of the rough on Blue 3, he added a birdie on Blue 4, then had four straight pars before finishing with a birdie on Blue 9.
Kuiper shot 31 on the White course and 32 on Blue. His longest birdie putt was a 20-footer on White 7.
"He hit long straight drives, hit his irons close and made his putts," Bendtsen said. Even when he missed, he almost made his chip shots.
"It was a flawless round. When a guy plays like that, you just have to tip your cap."
Kuiper said he felt everything was working in his game.
"I was driving it really well and leaving myself a lot of good chances," Kuiper said. "I hit a lot of shots within 10 feet and converted five or six of them for birdies.
"I knew (a low score) was getable --- there's quite a few birdie holes out there. I just tried to go out and not make any mistakes."
His only error was a drive into the fescue on Blue 3, a 385-yard par-4 hole, but, in a microcosm of his round, he chopped his ball out and hit it close enough to save par.
Kuiper nearly finished with a 62, but just missed a 12-foot eagle putt on Blue 9.
Even with his record score, he knows a battle with Bendtsen will take all of his abilities.
"Bendt played a good round too and even with a course record, I'm tied for the lead," Kuiper said. "It will take some good golf to keep up with him. I hope to be able to do it."
Bendtsen, meanwhile, had birdies on all four par-5s, a common accomplishment for him, to match Kuiper, and had back-to-back birdies on the par-4 Blue 4 and par-3 Blue 5 holes. His only glitch was a bogey on Blue 8 after a bad bounce into a bunker.
"I was solid," Bendtsen said. "I hit 16 or 17 greens (in regulation), but I didn't hit it closer than 20 or 25 feet. It wasn't anything spectacular.
"When a guy plays (like Kuiper did), I have to play my own game and grind it out. With a guy that hot, that's just the way it is."
Sunday's final round will almost be like match play considering their eight-shot lead, but Bendtsen said neither nor Kuiper can get complacent.
"You can't get too involved with that," he said. "If someone else shoots a 67 or 68, they could be tied. You can't watch everybody, so you have to play the course and do it one shot at a time."
One thing that helped both players was almost constant conversation between them and playing partner Matt Ellis, who shot a 5-over 77 and fell back into a tie for sixth at 146.
"We talked the entire time and had a lot of good laughs," Bendtsen said. "That kept it pretty loose."
Masik started even hotter than Kuiper or Bendtsen, making birdies on five of the first six holes, finishing with 4-under 32 on the front nine. He birdied Blue 10, bogeyed Blue 11 and parred out for his 68. He started the day seven behind Bendtsen and actually lost ground despite his stellar round.
Ellis, 35, the former general manager and head pro at Riverside Golf Club in Janesville, had a second round pretty much the opposite of his first-round 69. He had six bogeys and one birdie, on White 5, but virtually nothing went right. He lipped out several putts and generally struggled.
"I think I had as many bad bounces as I could have," said Ellis, who like Bendtsen is going through the process of regaining his amateur status. "I didn't make a putt over four feet and just didn't play well. It happens in golf sometimes.
"But it will be fun for those guys (Sunday). I enjoy playing with the guys in Racine and I'm happy to play in this event."
Andy Podolak, the director of instruction at Range Time at Ives Grove, had one of the best turnarounds in the second round, shooting a 4-under 68, 11 shots better than his first-round 79, and he's tied for ninth at 147.
Geoff LaFleur (143) and Meadowbrook head pro Jason Samuelian (145) each shot a 2-under 70 and they round out the top five.
The biggest reversal from the first round was by Chris Huebner, who shot an even-par 72 Saturday after a first-round 87.
In flight play, Michael Jones leads the First Flight by five shots over Jeffrey Willis after a 73, Ryan Derler has a one-shot lead in the Second Flight over Al Jaeger with a 79 and Jeff Broshot has a one shot lead in the Third Flight over Jesse Thielman with an 85.
Be the first to know
Get local news delivered to your inbox!