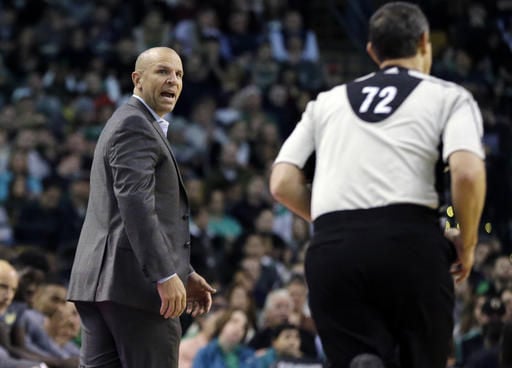 Now that the Milwaukee Bucks' season is mercifully coming to an end, let the speculation begin.
The Bucks, unequivocally one of the NBA's most underachieving teams, figure to make sweeping offseason changes, revamping their overrated roster, their underachieving coaching staff and unproductive front office. Did we miss anyone?
Two of the more significant changes could involve Bucks general manager John Hammond and Bucks head coach Jason Kidd. A year ago, there was considerable chatter Hammond would move on, only to see him receive a one-year extension. But several NBA sources contend Hammond will soon be relocating to another zip code — either being fired or leaving on his own volition.
Talk among some league officials is Hammond will end up in perhaps a similar position with New Orleans. The Pelicans figure to be doing some serious housecleaning themselves and hire Louisiana native, former Detroit Pistons "Bad Boy'' and Hammond confidante Joe Dumars as the president of basketball operations.
As for Kidd, ever since his arrival in Milwaukee two summers ago, there have been whispers his coaching tenure wouldn't be long and that it would only be a matter of time before he moved into the front office.
But I'm told Kidd, who was brought to Milwaukee by one of the team's tri-majority owners and close friend, Marc Lasry, hasn't endeared himself to the rest of the Bucks' ownership group. Some think Kidd's arrogant, some think his heart isn't into coaching and are miffed he took off a portion of the season for hip surgery when he could have done it in the offseason. Some, most importantly, question his coaching acumen and his player personal decision-making.
Kidd is still feeling the sting of his ill-fate trade at the 2015 trading deadline when, with the Bucks seven games above .500 and well on their way to the playoffs, he jettisoned Brandon Knight, the Bucks' best player and well-respected team leader, to Phoenix. The Bucks were never the same. They ended last season seven games under .500. This season, with thankfully just two games to play, they are a whopping 15 games under .500.
I've also been told by people close to the Bucks' situation that Kidd, once the golden boy of the organization, is now on shaky ground. His future with the franchise is clearly cloudy, especially from a coaching standpoint when some highly-regarded and vastly more experienced coaches than Kidd are available. Can you say Tom Thibodeau?
Toss in the fact the Bucks will again be shopping Greg Monroe, whom they signed to a max-contract as a free agent last summer, and Michael Carter-Williams, the centerpiece of the Knight deal who has struggled immensely with the Bucks, and this summer promises to be infinitely more fascinating than this debacle of a season.
The right move
If you're a faithful reader of this column, the news of Henry Ellenson's departure from Marquette University to enter the NBA after just one scintillating season hardly comes as a stunning development.
Ellenson, perhaps the greatest freshman player in Marquette's storied basketball history, simply would have been naïve, not to mention stupid, to pass on the millions of dollars that will come his way. Steve Novak, a former Golden Eagles standout and now a member of the Milwaukee Bucks, told me he fully endorses Ellenson's decision.
"He's an elite athlete,'' Novak said of 6-foot-11 Ellenson who, according to some pro scouts, will play not only power forward but center in the NBA. "For his age, his skill level is off the charts. He's ready for the NBA.''
Making a case
It's one thing if you play for a football factory like Alabama or Ohio State. It's quite another thing if you play at Alcorn State like Jordan Payne did the last four years.
Payne, the former Park High School standout, enjoyed a wonderful career at Alcorn State. As a 6-foot-2, 220-pound tight end/slot receiver last season, he led the Braves in yards per catch at 25.9 and touchdown receptions with seven. Yet, despite those impressive numbers, he wasn't invited to the recent NFL Combine in Indianapolis.
But Payne still has found his way onto the radar of some NFL teams. He performed well enough at the Alcorn State pro day to earn another audition at the Southern Mississippi pro day, where scouts from 20 teams were on hand. One was Alonzo Highsmith, the Green Bay Packers senior personnel executive.
Arthur Gamble, Payne's Los Angeles-based agent, believes his client has opened some eyes.
"He's getting a lot of traction now,'' Gamble said. "I'd be surprised if he wasn't drafted.''
Gery Woelfel is a reporter for The Journal Times. Gery can be reached by calling 262-631-1713 or by email at gery.woelfel@lee.net