GREEN BAY — Anyone who listened to Brian Gutekunst even somewhat closely when he spoke at the NFL scouting combine in Indianapolis last month knew there'd been a clear shift in the Green Bay Packers' thinking — and messaging — when it came to their four-time NFL MVP quarterback, Aaron Rodgers.
When the Packers general manager said "all options are on the table right now" regarding Rodgers' future, it signaled the organization was at least open to the idea of moving on from him and anointing 2020 first-round draft pick Jordan Love as their starter in 2023.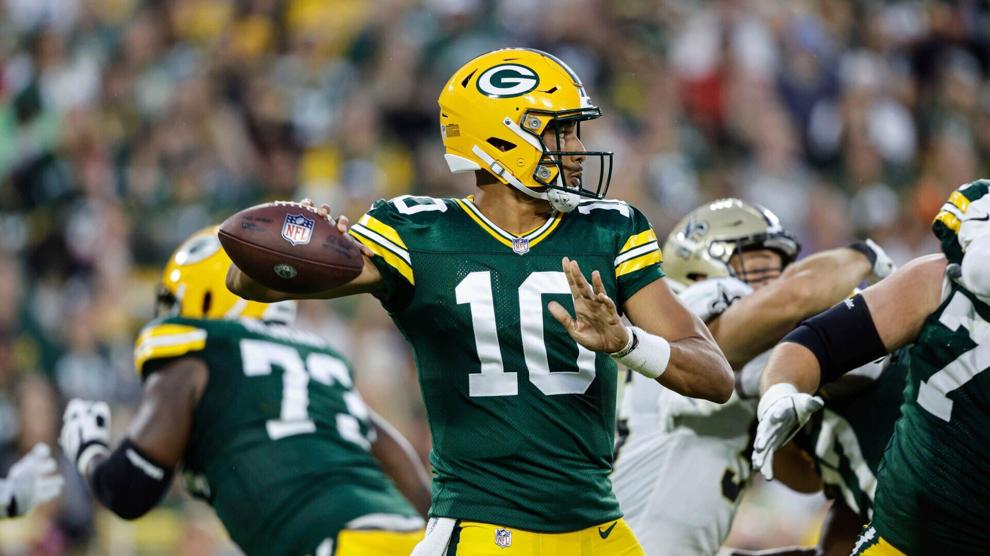 But the change in their public position on Rodgers wasn't the only message Gutekunst made sure he sent that day.
Even as he repeatedly emphasized how Love is "absolutely" ready to assume the starting role, Gutekunst also made sure he told the football world that everyone — from Love's coaches, to his teammates, to the franchise's passionate fan base — needed to be patient if (or when) Love took over for Rodgers.
"The one thing you see in this league (is), very rarely are guys shot out of a cannon, winning-wise," Gutekunst said. "There's some great play, there's instances. You see flashes. But I think it takes most of these quarterbacks a little time to learn how to win.
"It's one thing to play well and make throws and make plays. But then it's another thing to lead your team to wins. I think that takes time. But you don't get a lot of that in this league.
"Certainly, with any new quarterback that's playing for the first time, you're going to need some of that (patience)."
There's no better example than when Rodgers took over as the starter in 2008 after three years behind his Pro Football Hall of Fame predecessor, Brett Favre.
While the Packers may be trying their best to avoid the quagmire that the Favre-to-Rodgers transition became that summer, it'll be difficult for them to avoid the ups-and-downs that 2008 team experienced a year after Favre led them to an NFC Championship Game berth.
The 2008 team started 2-0 with wins over Minnesota at home and at Detroit. After a three-game losing streak, back-to-back wins at Seattle and at home over Indianapolis had the Packers at 4-3.
Then, they lost seven of their next eight, including five in a row — with all but one of those seven losses coming by four points or fewer. They finished 6-10, but they went just 1-7 in one-score games.
Statistically, the then-24-year-old Rodgers put up excellent numbers in his first year as the starter. He completed 63.6% of his passes for 4,038 yards with 28 touchdowns, 13 interceptions and 34 sacks, finishing with a passer rating of 93.8.
Although Gutekunst admitted he didn't have a particularly clear recollection of that season — as the Packers' Southeast area college scout at the time, he wasn't working in Green Bay except for a few weeks a year.
"You guys might be a little bit more familiar with that," Gutekunst told reporters when asked about 2008. "I was on the road 180 days of the year back then."
But he knew enough to recall the Packers went 6-10, and that Rodgers had a number of memorable plays and moments that seemingly confirmed what then-GM Ted Thompson had seen in Rodgers when he drafted him 24th overall in 2005 and when he stood firm and moved on from Favre three years later.
"He had really good, flashy moments," Gutekunst acknowledged. "He had some moments where we were like, 'It's just a matter of time.'
"If I remember right, we came out of the gates pretty good, where Aaron played pretty well. We won some games early, and then hit a really rough middle. But I think there was a growing confidence throughout that year that, 'Hey, we got the next guy and now just keep building.' But to compare the transitions, I think that would be hard for me to do."
Indeed, just how many of those just-a-matter-of-time moments Love will have once he takes over is hard to predict. By his own admission, he played poorly in his only NFL start, a 13-7 loss to the Kansas City Chiefs in 2021 after Rodgers tested positive for COVID-19.
But he flashed his potential during his 10-snap, nine-pass stint in a 40-33 loss at Philadelphia on Nov. 27 after Rodgers left the game with injured ribs. And both Gutekunst and coach Matt LaFleur have done everything they can to publicly emphasize how much Love has improved over his first two seasons.
"He definitely needs to play," Gutekunst said of Love. "I think that's the next step in his progression. I think he's ready for that. Not every quarterback comes into this league ready to go out there and play. I think he needed a little time, but over the last year and a half or so, we've seen that's the next step in his progression. He needs to go out and play."
Said LaFleur the day after the team's season-ending Jan. 8 loss to Detroit: "I have complete confidence (not only) in his ability but also just his approach. It's been fun to watch him mature as a football player, as a man, over the course of these last three years. The way he walks around the building, his approach, his urgency, his fundamentals, everything that goes into being a quarterback, I think we've seen significant growth from him.
"So, I'm definitely excited about where he could be. We've got a lot of confidence in him and his ability moving forward."
Rodgers, too, praised Love during his appearance on "The Pat McAfee Show" last Wednesday, and for whatever issues Rodgers has with Gutekunst and the organization, there's no evidence he was ever hostile or disrespectful to Love, especially after having such a chilly relationship with Favre during their first two years together.
"We've just got to look at the reality. They want to move on. They don't want me to come back. And that's fine," Rodgers told McAfee. "They're ready to move on with Jordan. That's awesome. And I think Jordan is going to be a great player.
"He's a (expletive) great kid. He had a really good year this year, getting better on the (scout) team. He's got a bright future in front of him. They have a good young team."
And soon, they'll find out how good their young quarterback is.
With Rodgers' impending departure, the Packers will surely now pick up the $23 million fifth-year option on Love before the May 1 deadline. That means Love will have two seasons to show just how far he's come.
In Rodgers' case, after that up-and-down first season and a 4-4 start in 2009, the Packers won seven of their final eight games, and Rodgers' stats — completion percentage (64.7%), yards (4,434), touchdowns (30), interceptions (seven) and passer rating (103.2) — all improved significantly. He was terrific in his playoff debut, too, though the team lost a gut-wrenching NFC wild card playoff game to the Arizona Cardinals in overtime.
What will Love do with his opportunity? It appears we're all about to find out together — including Love himself.
"I think my confidence has just been rising every time I step on the field," Love said during the season. "I'm able to see myself make those plays, and it's like, 'I can do this, too.' Obviously I've seen Aaron do a lot of things, and now I'm starting to do those, too. And I think, 'If he can do it, I can do it too. So, let's try it and see.'
"I think my confidence has just been building and building and building."