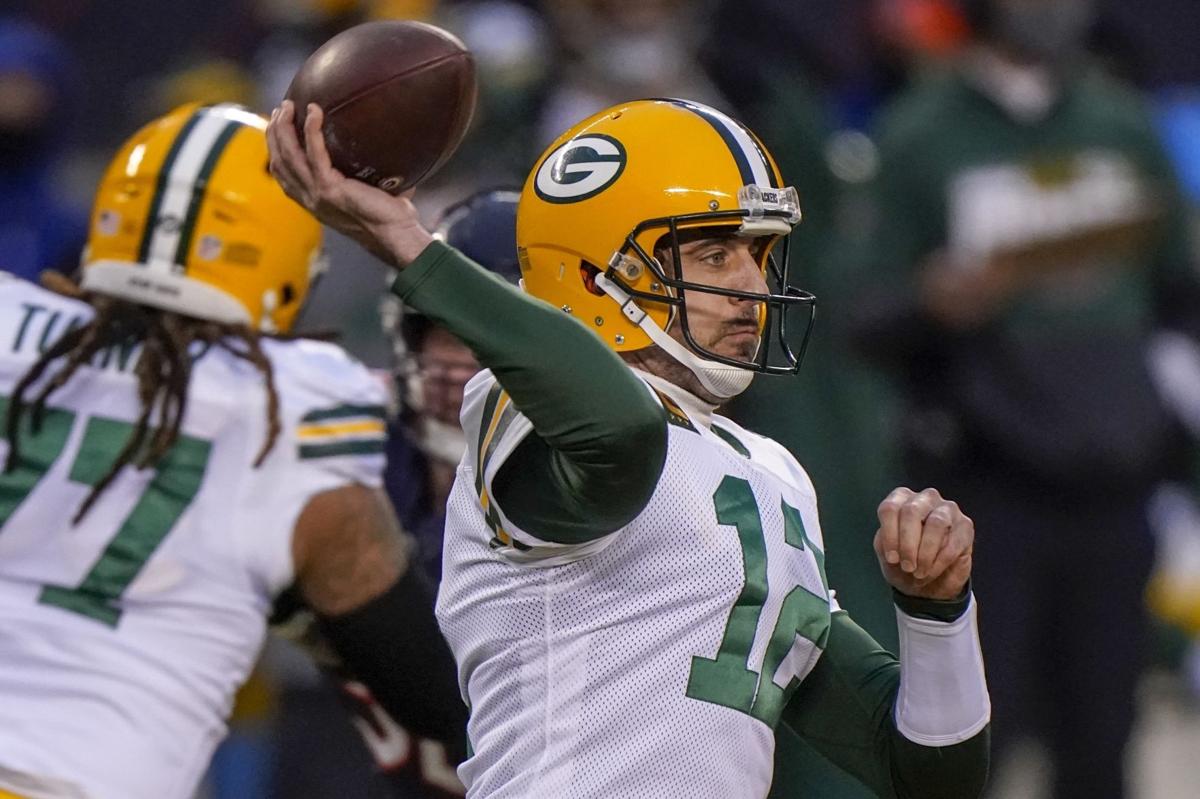 It was last April when Packers fans were up in arms.
General manager Brian Gutekunst had bypassed getting immediate help for Aaron Rodgers in a receiver-deep draft. Instead, he opted to draft Jordan Love, pegged as the aging Rodgers' eventual successor, and it was generally dismissed as a misguided move.
And Rodgers, of course, was less than pleased.
When veteran receiver Devin Funchess, signed during the offseason, decided not to play because of COVID-19, Gutekunst's decision was questioned all the more.
Let's give credit now to Gutekunst for knowing what he was doing after all.
Here we are nine months later and Rodgers has the Packers on track to the Super Bowl on the strength of one of the greatest seasons by a quarterback in NFL history. At 37, Rodgers has meshed so well with second-year coach Matt LaFleur that he's a cinch to win his third Most Valuable Player Award in February.
Gone are the days when broken-down quarterbacks like Johnny Unitas and Joe Namath went elsewhere for brief ill-fated swansongs that left indelible stains on their legendary status.
It's a new era when quarterbacks are still going strong even after the age of 40. Tom Brady is wrapping up one of his greatest seasons as the age of 43, when he broke a 12-year streak of no playoffs for the Buccaneers. Drew Brees, who turns 42 on Jan. 15, also shows no signs of letting up.
Rodgers concedes his days with the Packers are numbered after Love was brought on board, but are they really? Does anyone dare to prematurely end Rodgers' time in Green Bay with how well he's playing?
Considering Rodgers is six years younger than Brady and also is committed to taking care of his body, one has to wonder if Love will ever be his successor in Green Bay. Seriously. If Rodgers ends up producing for as long as Brady and Brees, how content will Love be sitting on the bench for that long?
Sure, things change in a hurry in the NFL. Who can forget the Packers going from 4-1 to 7-9 in 2017 after the Vikings' Anthony Barr slammed Rodgers' shoulder into the U.S. Bank Stadium turf?
But Rodgers has proven himself to be a generational talent who has started all 16 regular season games nine times during 13 years as a starter (he's had two other seasons of 15 starts in two other seasons). The Packers have to get every ounce of productivity that he has left, even if that means having to eventually trade Love, as the Patriots did with Jimmy Garappolo.
Incidentally, my favorite Rodgers stat from this year is this: He threw more touchdown passes during the regular season (48) than the number of punts by the Packers (46).
A tough decision
Running back Aaron Jones will be an unrestricted free agent after this season and the natural assumption is to prioritize re-signing him. But with him in line to receive a huge raise from his base salary of $2,133,000 this season, it's no sure thing Jones returns next season. That's especially the case after the encouraging early returns shown by rookie AJ Dillon.
While Jones has been so vital to the Packers' offense as a runner and a receiver and has averaged 5.2 yards per carry in his career, he's taken four years of hits in the NFL. And, of course, a running back has the shortest shelf life of any position.
A cautionary tale is what the Cowboys have invested into a declining Ezekiel Elliott. Elliott signed a six-year content extension of $90 million in September 2019 and he is coming off his least-productive season.
Gutekunst drafted Dillon knowing that Jones and valuable backup Jamaal Williams would be unrestricted free agents after this season. With an unrestricted-free-agent list that also includes center Corey Linsley and cornerback Kevin King, Gutekunst may feel tying up huge money into a running back, however gifted Jones is, doesn't make financial sense.
Thoughts on the Bears


Barring a major upset this Sunday, the Bears will lose a first-round playoff game to the Saints in New Orleans and finish the season 8-9.
And then they will likely fire general manager Ryan Pace.
The Bears would have to pay off Pace, who is under contract through 2021 and then pay for his successor. Given that revenue has been significantly impacted league-wide because of the COVID-19 pandemic, that will be a bitter pill for the Bears to swallow.
But what choice do they have? Six years into his time in Chicago, the Bears have gone 42-54 with one playoff appearance and Pace has made numerous poor personnel decisions.
Of course, the most egregious was signing quarterback Mike Glennon to a three-year deal worth $45 million in 2017 (Glennon was guaranteed $18.5 million) and then trading up one position in the draft for Mitchell Trubisky.
A decision will have to be made after this season whether to re-resign Trubisky or write him off as an expensive mistake and start over yet again at quarterback.
Given Pace's record with personnel decisions these last six years, should he be trusted to make that vital decision?
I don't see how he can be.