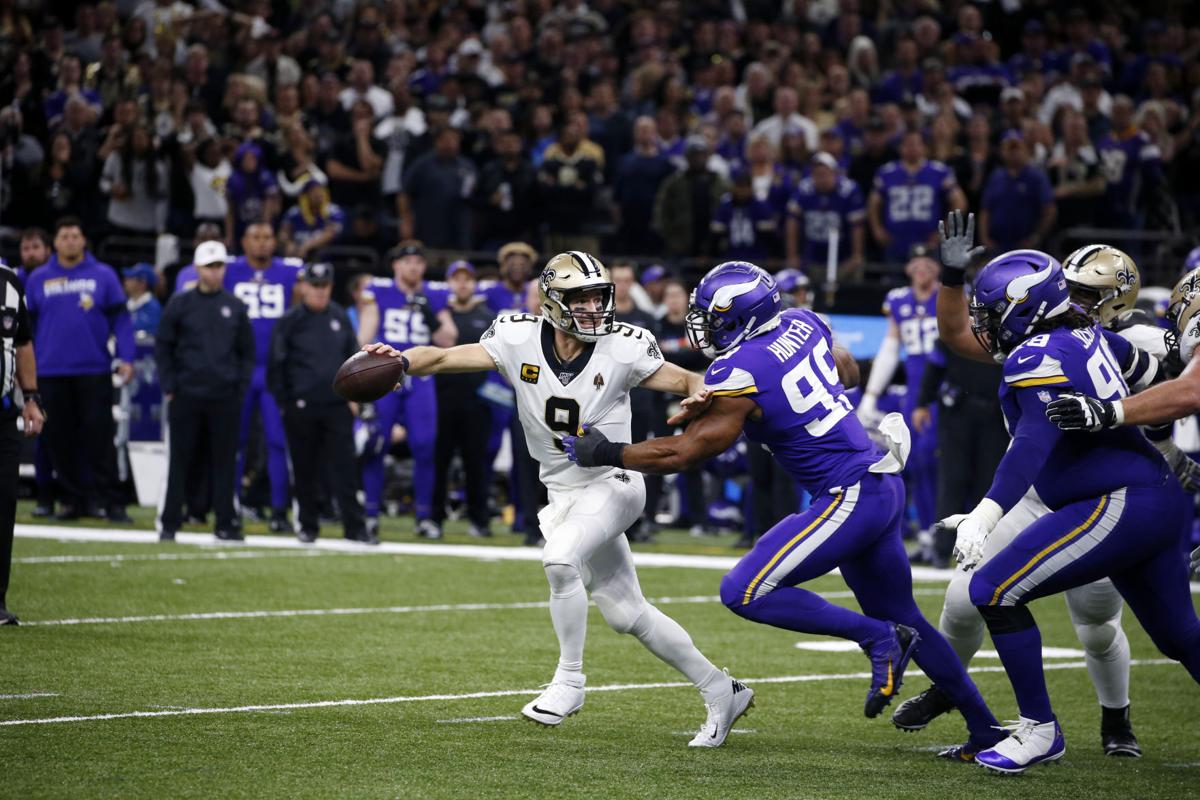 GREEN BAY – Mike Zimmer insisted Wednesday that he didn't care who starts at right tackle for the Green Bay Packers on Sunday.
Maybe that's because the Minnesota Vikings head coach had his own issues to worry about — like losing top-flight edge rusher Danielle Hunter, who was placed on injured reserve later in the day and will miss the opener.
Hunter's absence is a huge break for the Packers, whose right tackle situation is uncertain because of training-camp injuries to and uneven play from veterans Billy Turner and Ricky Wagner.
But whoever it is that the Packers trot out there – be it Turner, Wagner, Elgton Jenkins, Lane Taylor or the ghost of Forrest Gregg – he won't have to worry about Hunter, who led the Vikings in sacks (14.5) and quarterback pressures (88) last season and almost exclusively lined up over opposing right tackles while putting up those numbers. Two of Hunter's sacks last season came against the Packers.
The Vikings did acquire Yannick Ngakoue from the Jacksonville Jaguars on Aug. 30, but even Packers quarterback Aaron Rodgers was taken aback when told of Hunter's move to injured reserve moments before Rodgers' Zoom video call with reporters began.
"Thank you for breaking that news," a surprised Rodgers said. "He's a fantastic player. That's definitely a big loss for their defense."
The Vikings had been unwilling to say what exactly Hunter's injury is, although ESPN.com reported that it is a neck injury. Hunter will be eligible to return in three weeks.
Meanwhile, Packers head coach Matt LaFleur insisted he really doesn't know who his right tackle will be Sunday. He has been coy about his plans at the position in hopes of keeping the Vikings guessing. But asked Wednesday during a pre-practice Zoom video call with reporters if he knew who would start at right tackle for his team on Sunday, LaFleur at least indicated that even he isn't sure at this point in the week.
"I think that's kind of a work in progress right now," LaFleur replied. "We'll see where we're at health-wise at the end of the week and then make a decision that we feel is going to give us the best chance to win."
When they released their NFL-mandated – but technically unofficial – depth chart earlier this week, the Packers listed Turner as the starter following a training camp competition in which he, Wagner and Taylor competed for the two available starting spots on the right side of the line. Taylor had far and away the best (and healthiest) camp of the three and got the nod at right guard.
Wagner, the ex-University of Wisconsin tackle who signed a two-year, $11 million deal with the Packers after being cut by the Detroit Lions, missed a week of practice with a left elbow injury, while Turner suffered a knee injury during the team's quasi-scrimmage inside Lambeau Field on Aug. 30 and has not practiced since. Neither appeared to be having a particularly strong camp even before their injuries.
Interestingly, LaFleur stopped short of saying that Turner, a Twin Cities-area native who started all 18 games (including playoffs) at right guard during his first season with the Packers last year, would start if cleared by the medical staff.
"We're kind of in a holding pattern to see where he's at," LaFleur said when asked specifically about Turner. "Obviously, he's doing everything in his power to come back and, if he's available and ready to play, then we'll have a decision to make."
Turner has 41 career regular-season starts while Wagner has 87 over the past six seasons with the Baltimore Ravens and the Lions. Jenkins, who took over as the Packers' starting left guard after two games last season when Taylor suffered a season-ending biceps injury, could slide out to tackle with Lucas Patrick stepping into the starting lineup at guard if LaFleur wanted to go that way.
"We've got to play whoever plays," Zimmer said in his Zoom video call with Wisconsin reporters. "We'll do our best to study whoever is out there. All that stuff goes by the wayside as soon as we take the first snap, I think."
Health watch
The Packers listed five players on their first injury report of the season: Turner (knee), defensive lineman Montravius Adams (toe), inside linebacker Oren Burks (groin), safety/inside linebacker Raven Greene (quadriceps) and outside linebacker Randy Ramsey (groin). Turner and Ramsey didn't practice while the other three were listed as limited participants.
Burks' and Greene's injuries are significant because the Packers are already without rookie inside linebacker Kamal Martin, who was placed on injured reserve earlier this week with a training-camp knee injury. Martin was in line to start alongside free-agent signee and defensive play-caller Christian Kirksey before the injury.
"I have a good feel for whoever's playing next to me," Kirksey said Wednesday. "And I think it's the other way around – they've got a good feel for me as well. There's going to be times when guys are going to come in and out. We just have to know how to play off of each other."
The Vikings didn't list any players on their injury report with Hunter having been placed on IR.
Meanwhile, Packers wide receiver Davante Adams said that his injured toe is now 100% healthy but he revealed that he was only about 70% healthy last year when he returned following four games on the sideline because of the injury.
"Honestly, after the Pro Bowl, I just rested up, got my toe right," Adams said. "I know you guys (in the media) love percentages, I would probably say the way I ended the year and based on my pain – it was obviously healed up and ready to go, and the doctors released me and I was good to go – but with the discomfort and the pain, I would still put it at a 70% toe at the end of the year. So there was a lot of healing that still had to take place."
Be the first to know
Get local news delivered to your inbox!