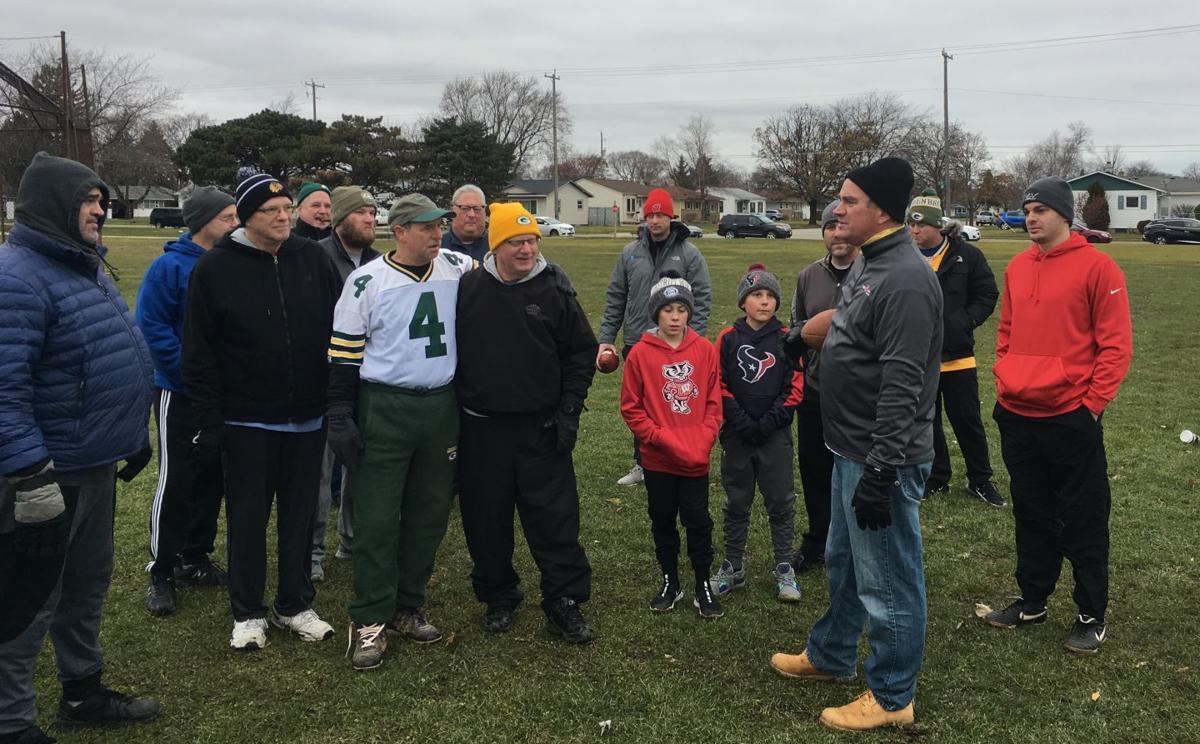 RACINE — Steve Botzau and a few others arrived first around 8:30 a.m., trudging across a squishy Gilmore Fine Arts field to set up cones to mark a playing area. He says, "gets shorter ever year," with a laugh.
Little by little on this cold, overcast Thanksgiving morning, cars pulled up on High Street and 60-something guys with diminishing spring in their steps made their way over to the accumulating group.
Were they ready for some football? That's a matter of opinion, but they were once again going to give it a try — just as several of them have been every Thanksgiving since 1969, when they were kids growing up long before the trance of video games started winning over youth.
For the core group, which include Botzau, Craig Halberstadt, Pete Nelson, Jeff Muzenski and Bobby Brown, this goes back to Nov. 27, 1969, when they were neighborhood kids who organized a Thanksgiving Day game on the unforgiving pavement of Shoop Street near Horlick High School.
That was 18,263 days earlier as of Thursday morning, and what a different world it was then. Neil Armstrong had made his giant leap for mankind just a few months earlier. A bankrupt franchise known as the Seattle Pilots was about to be reborn as the Milwaukee Brewers. An unpopular war in Vietnam raged on, seemingly without end.
But, somehow, these annual Thanksgiving Day games have carried on without a break since these aging men were kids. Their field changed from Goold Street to Gilmore when the school opened in 1974 and many participants have come and gone, but the spirit remains alive and well.
"In our neighborhood, you did every sport you could think of," said the 62-year-old Halberstadt, a retired teacher. "We played basketball, baseball, softball, football and we did it every day from the time we woke up until our parents called us in that night.
"We weren't going to be eating (on Thanksgiving) until noon or one, so let's play some football, boys!"
Back in 1969, they were kids with huge imaginations who might have pretended to be one of the heroes of the day, say Joe Namath, Dick Butkus, Leroy Kelly or Gale Sayers. Their Lambeau Field was a paved street and kids running pass patterns were sometimes stopped cold by a parked car they didn't notice.
"I just remember playing on an icy street in front of the Halberstadts' house," said the 56-year-old Nelson, a retired building supervisor for the Unified School District who is now a city bus driver. "We were competitive at that age, so that aspect of the game was fun, too.
"I remember we had one person from the neighborhood who was running a fly pattern. He was about to make the catch and ran into a parked car. I don't think he held onto the ball."
And then the years starting passing. These neighborhood kids became fathers and grandfathers. Graying hair started to recede. Their acceleration gradually declined from a turbo-charged Indy car to a Model T — or so it seems now that their get up and go has got up and left.
You have free articles remaining.
But what the heck? The actual competition is totally secondary. It's all about some old friends gathering for an hour or so, keeping a tradition alive and needling the heck out of each other during games that have ranged from lively to virtually lifeless.
As Botzau, a Racine attorney, points out, "Depending on the weather and schedules, participation in the game has ranged from eight to 28 players. Games have been played in weather ranging anywhere from two feet of snow to 50 degrees. Participants have included teachers, lawyers, accountants, X-ray technicians, basketball referees and city bus drivers. Sideline and end zone markers typically consist of empty milk jugs and cardboard boxes."
One constant has been Rosemary Romano, the mother of Botzau and Nelson, bringing donuts for the group to devour. We're talking game conditioning at its finest.
But it's the memories that matter.
"I think some of my favorite memories are the days we would show up and there would be three or four inches of snow on the ground and we would just try to make it through the game," said the 58-year-old Muzenski, a plant assistant at Great Northern in Racine and a longtime college and high school basketball official. "There's so many memories.
"Our neighborhood was so big and we had so many people the same age when we were kids. And it's just carried over all these years."
And it likely will for many more years to come. There were several kids on hand Thursday who were of ages similar to what those Goold Street kids were 50 years ago.
Will there be a 100-year celebration in 2069? Well, why not?
"If somebody would have told me 50 years ago that we would still be doing this, I would have told them they were insane because we would have thought most of us would be gone by now," Halberstadt said. "Back then, you never thought you were going to live to be 30.
"When you're 10 years old, 50 seems like nobody's that old!"
In a sense, they remain forever young because of this annual "Turkey Bowl" extravanganza.
Turkey man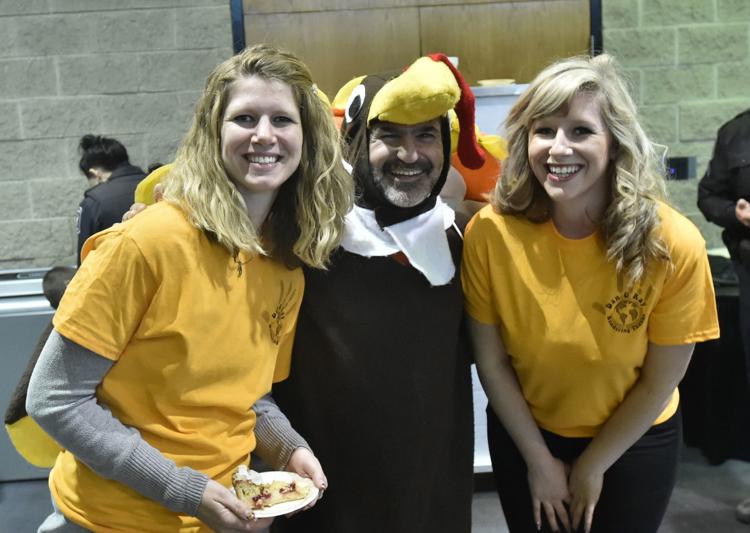 Laughter and lunch
That's one big turkey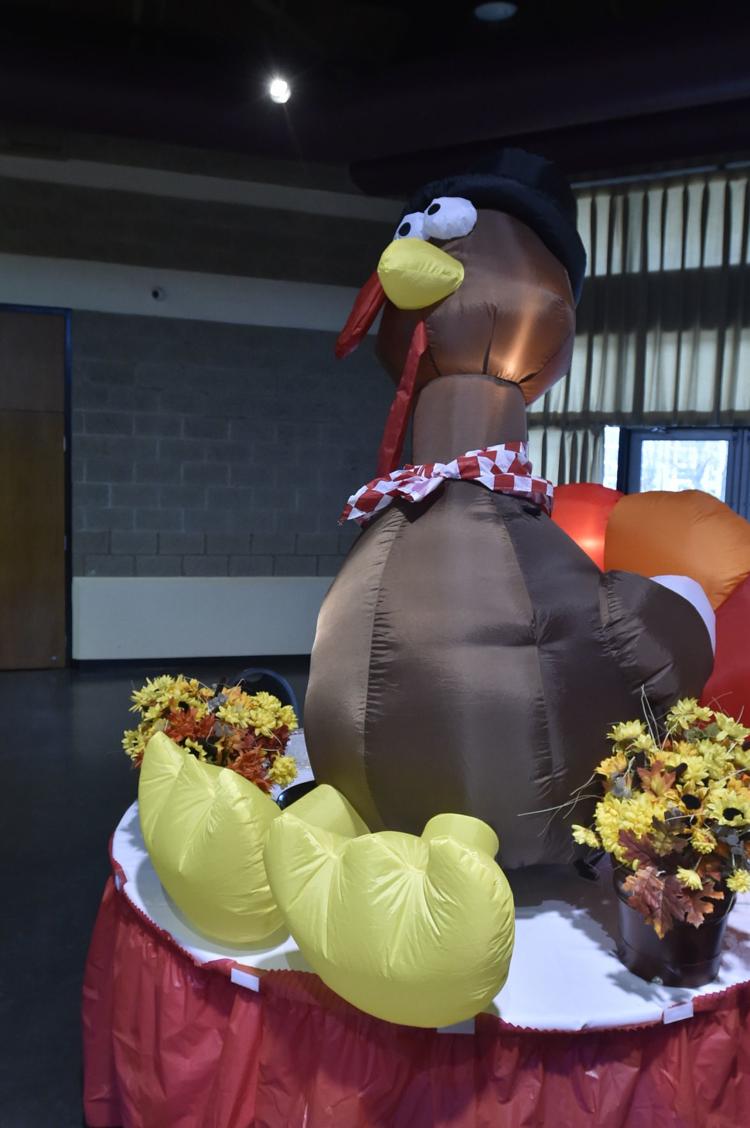 Yum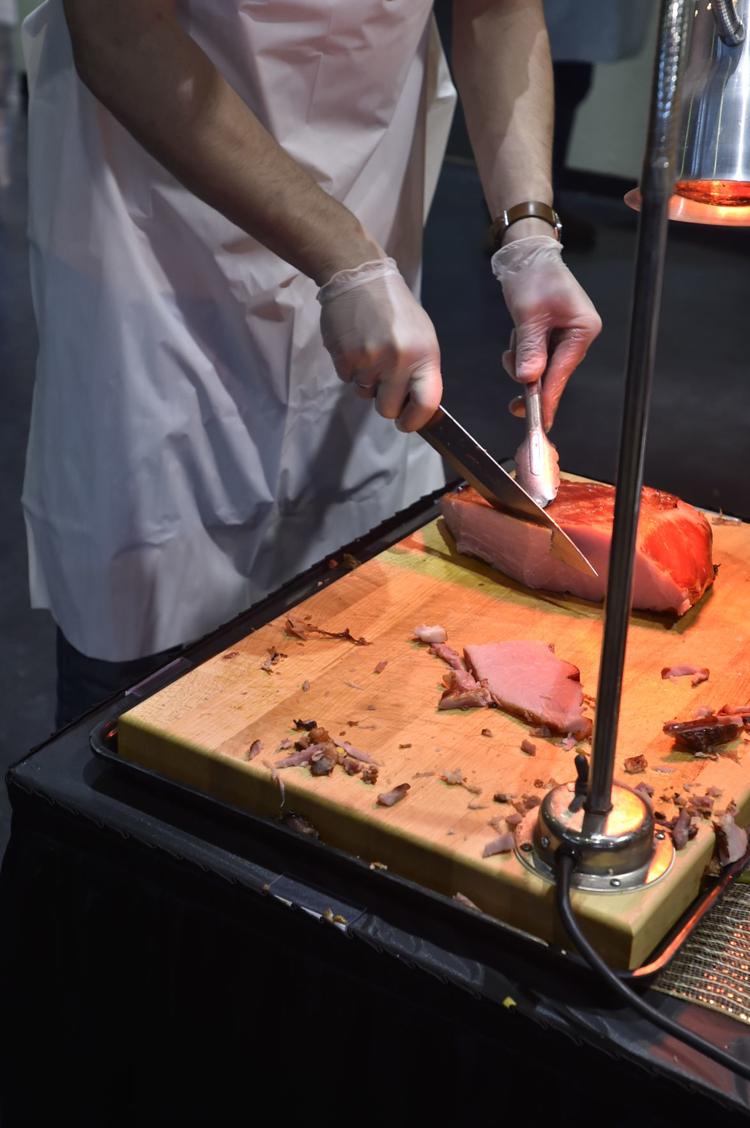 Nine years of community Thanksgiving, and it keeps growing
RACINE — For almost a decade now, the Racine community has come together for a Thanksgiving feast.
The attendance has grown each year, from 800 people nine years ago to more than 2,500 in 2017.
On Thursday at Festival Hall, Johnson's goal was to feed 3,000 people, filling their bellies with turkey, ham, corn, cranberry sauce, mashed potatoes and gravy.
"It's huge," Johnson said.
How to feed thousands
The event began at 10 a.m. and ended at 2 p.m. At 1 p.m., nearly every seat was still filled.
"It's been like this since the doors opened," Johnson said, holding a plate full of food as he took a well-deserved lunch break.
People and businesses — including InSinkErator, Visions General Contracting and Kiernan-Laitinen Heating & Air Conditioning, Inc. — paid at least $50 to sponsor one of the 40-plus tables. Johnson credited contributions and support for allowing the event to stay free.
They fund a lot of food too. More than 500 people cqme through Festival Hall's doors every hour. Across four hours, Johnson said they'll eat more than 125 turkeys, in addition to baked goods and sweets from O&H, Larsen's and Bendtsen's.
Fueling the feast were 300 volunteers, who donated their time so others could eat.
Abe Ouzounian dressed in a turkey costume for the sixth straight year, posing for photographs and entertaining kids.
"I just enjoy making people happy. It's a good time," he said.
Corey Jurkiewicz cut and served slices of ham, he said, in honor of his mother, Michelle Martin, who died on Oct. 20 when a tree fell onto the car in which she was riding. Martin volunteered at Dan and Ray's Rendering Thanks every year, and also was an employee of Danny's Meats & Catering.
Eileen Eickner, a special education teacher at Horlick High School, volunteered for the second straight year with her husband and their four kids.
"I want my kids to be thankful for what they have and to see those who maybe are less fortunate," Eickner said.
Eickner was especially proud of her 13-year-old daughter, Avril Beesley. Last year, Avril helped serve food, but this year she asked to be a face painter for kids.
"(Avril) sought out her gift," Eickner said of her artistic daughter. "She used her skills and talents, which I think is cool.
"It's a real worthy cause for anyone who wants to come down and have a good time," said volunteer Michelle Saemz.
Matt Bertling said he attends every year, alongside friends and family.
When asked why, he had a simple answer: "The food's good."
Thanks Bob!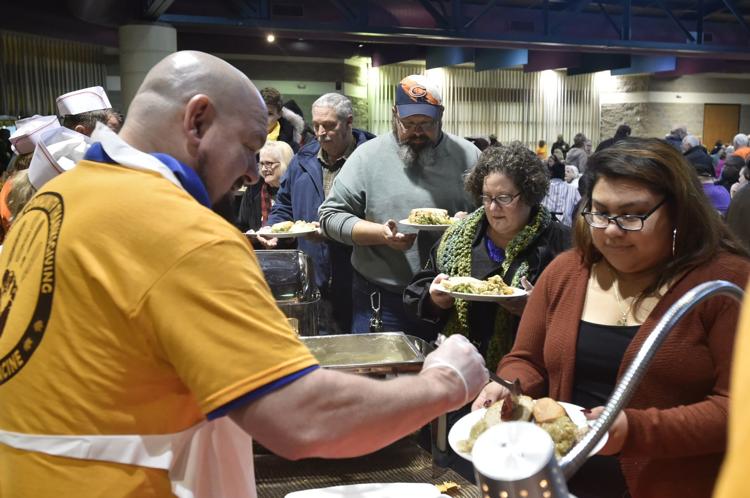 Corey & Bob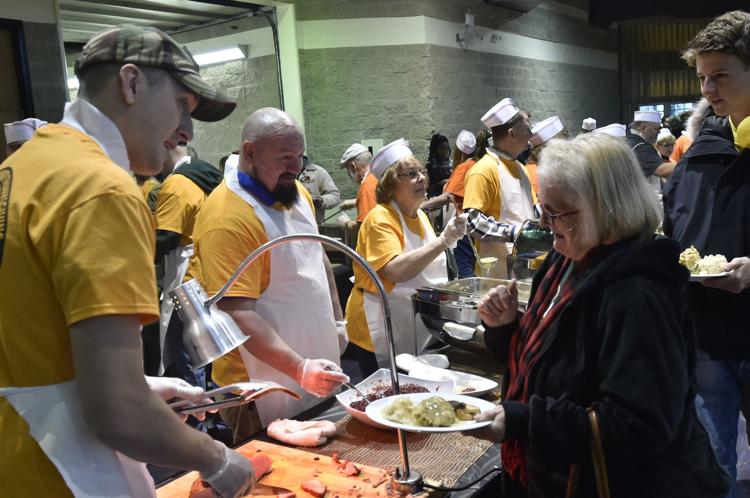 Oh my, pie!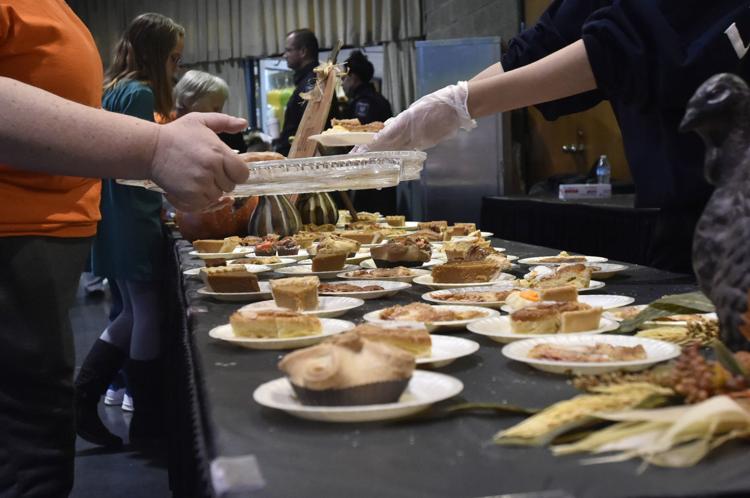 Kids activities
Something pink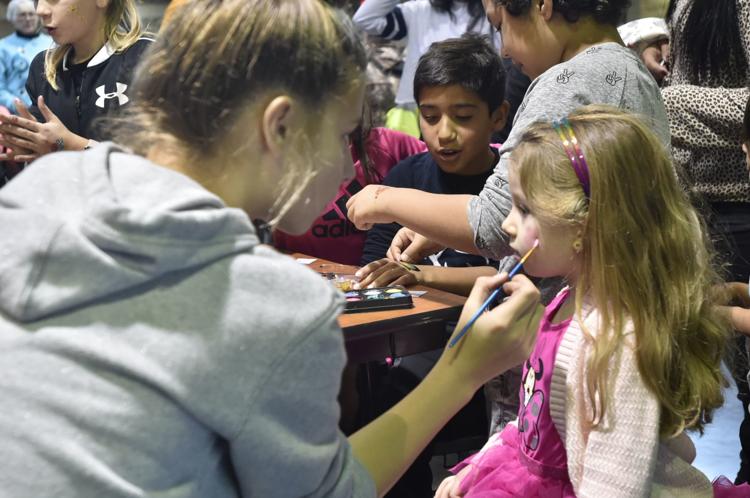 That's a lot of turkey eaters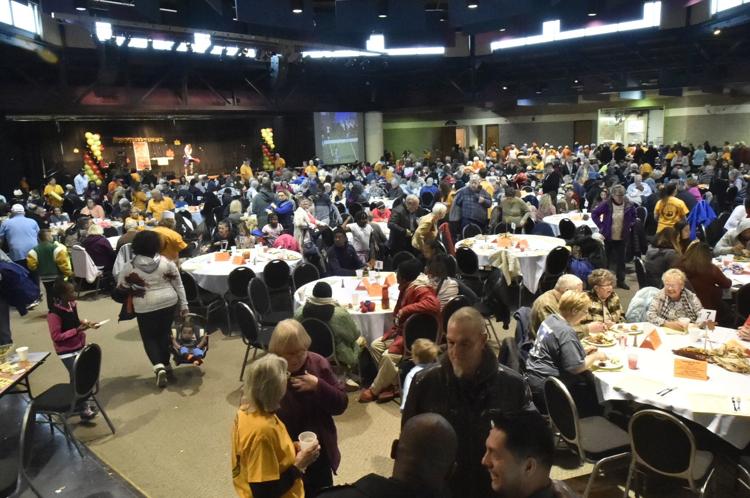 The chief's thanks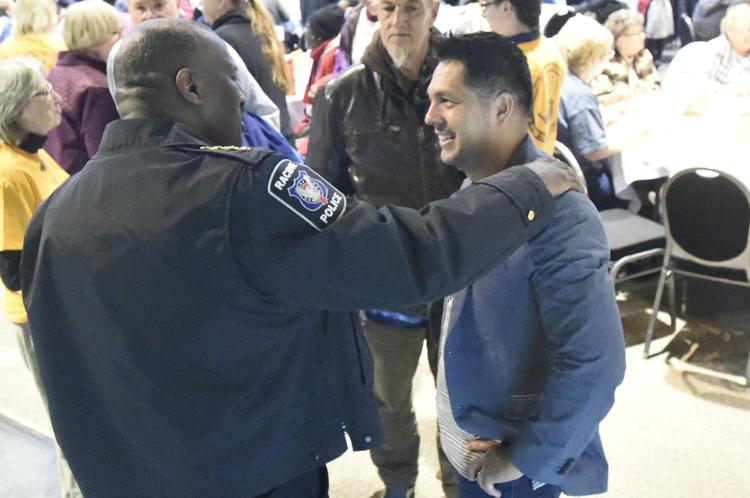 Coffee anyone?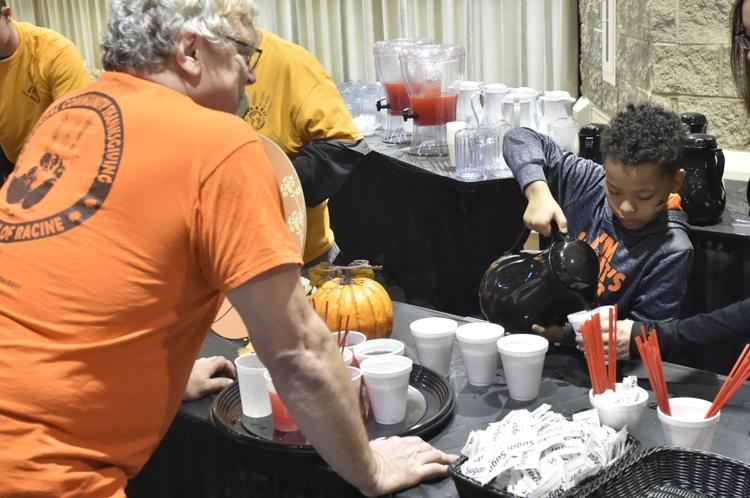 The assembly line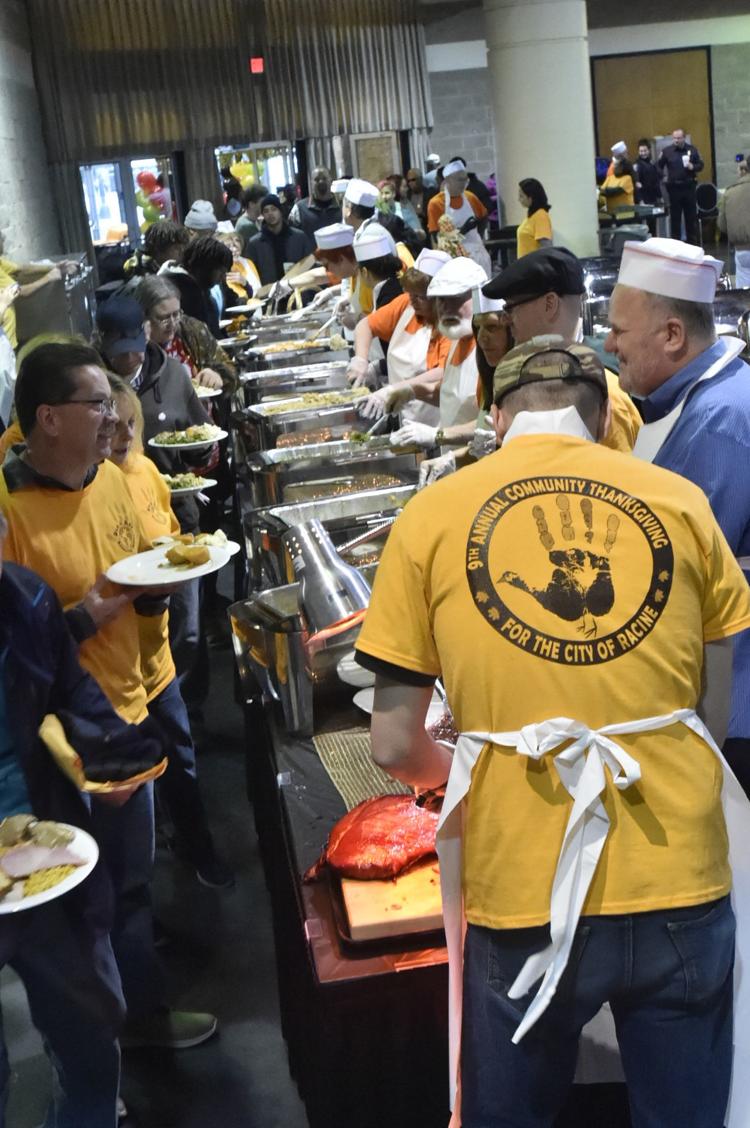 Turkey Day selfies
Partners in marriage and volunteering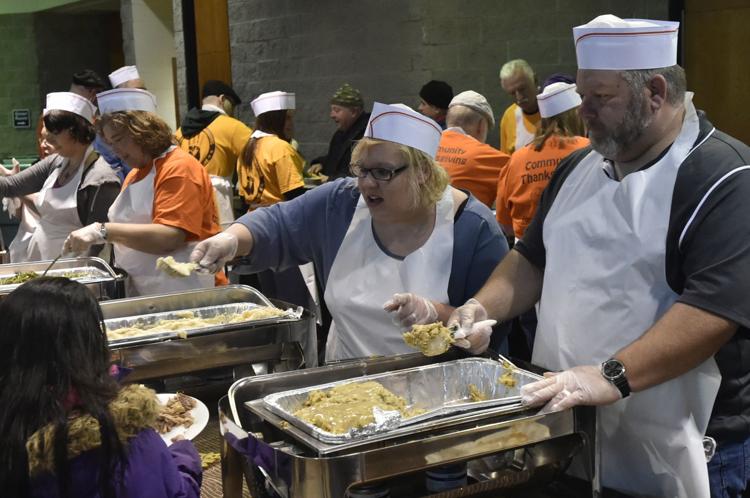 More please!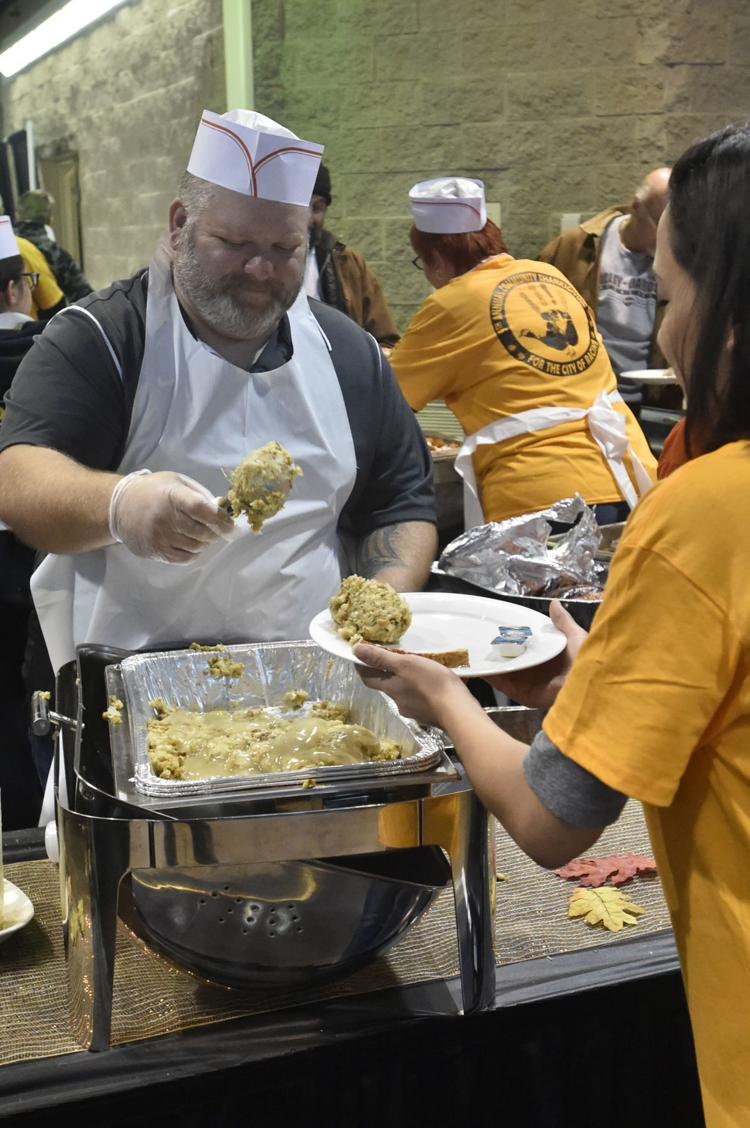 Not just turkey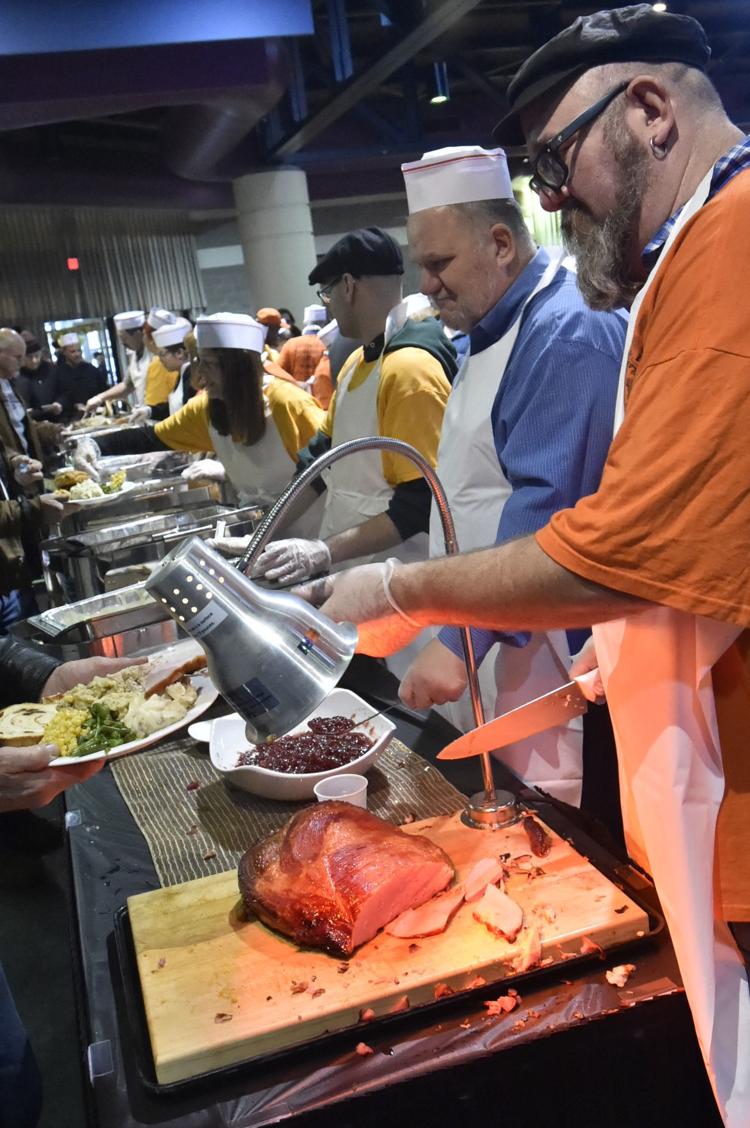 That's a lotta hungry people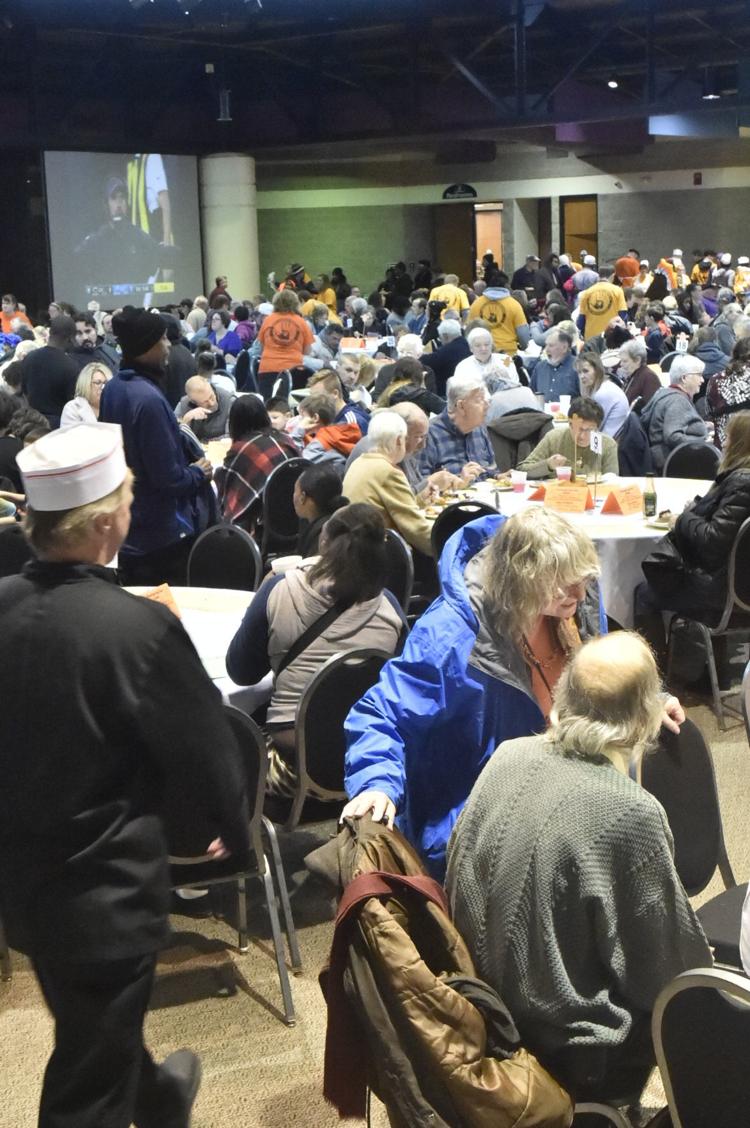 Down the line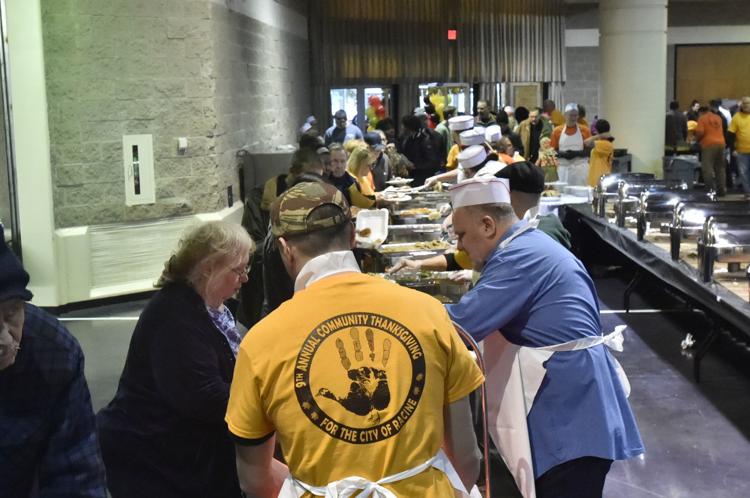 "If somebody would have told me 50 years ago that we would still be doing this, I would have told them they were insane because we would have thought most of us would be gone by now." Craig Halberstadt, original member of annual Thanksgiving Day game
"If somebody would have told me 50 years ago that we would still be doing this, I would have told them they were insane because we would have thought most of us would be gone by now."

Craig Halberstadt, original member of annual Thanksgiving Day game