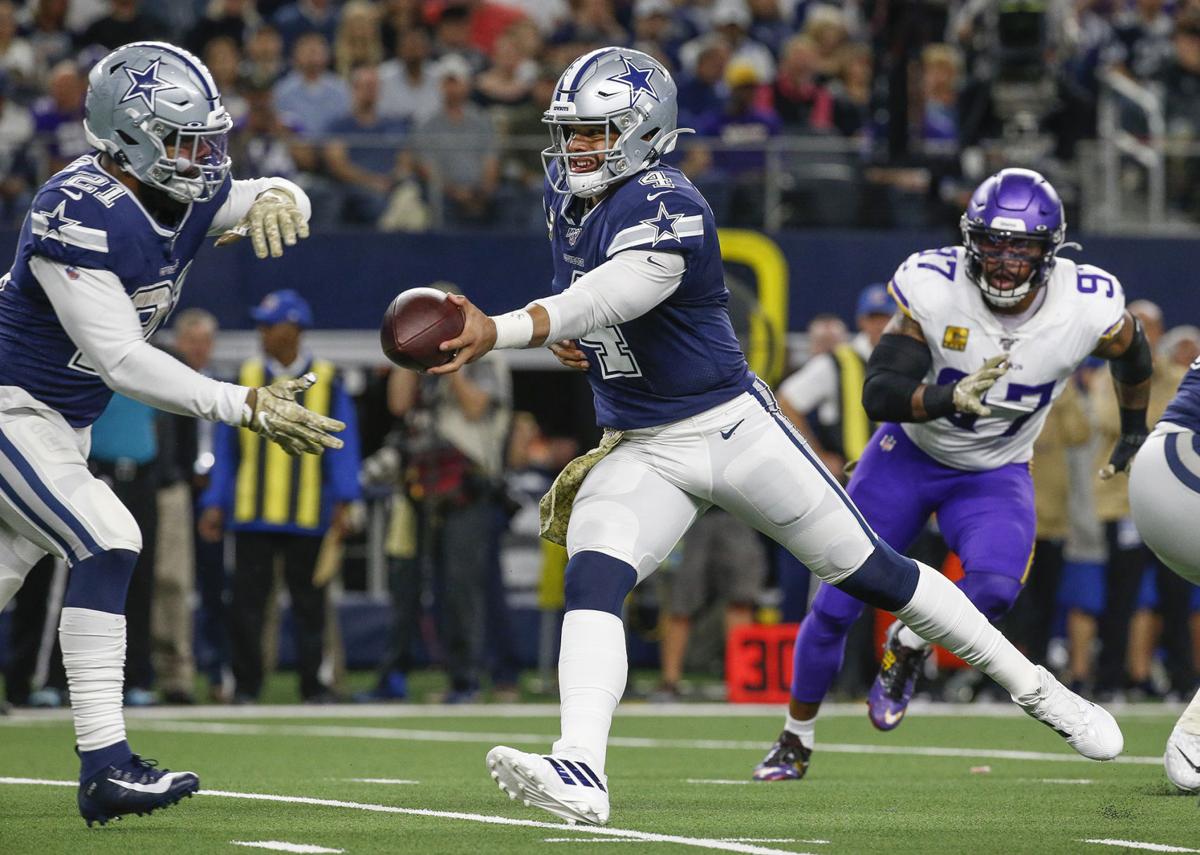 FRISCO, Texas - Dallas Cowboys' Hall of Fame receiver Michael Irvin wants one thing known about the Dak Prescott-Tom Brady rumors that he inflamed over weekend: "just cause he repeated it, doesn't mean he believes it."
Irvin, who now works for the NFL Network, not so innocently commented on a Boston radio station late last week about the possibility of the Cowboys swapping out Prescott for Brady in free agency. The contracts of both players expired at the end of the 2019 season.
"I am telling you right now, at the Super Bowl in Miami, some very significant people that I had conversations (with were) leaning in that same direction," Irvin said on WEEI. "It was shocking. I had a vodka cranberry in my hand and when they said it to me I put the drink down and said, 'Let's talk a little bit more about this.' I promise you, I had a conversation with people, I can't tell you who, about that same scenario going down.
"I just don't know if there's a real possibility of that happening."
Now, Irvin is amazed by the carnage his words have caused across the NFL, especially among Cowboys fans, considering an-unsigned Prescott is still at impasse with the Cowboys because he wants to be the highest paid quarterback in the NFL.
"I am blown away with this," Irvin said.
Again, Irvin knew what he was doing when he said "significant people."
He now calls it "a cliffhanger."
"I never said I talked to anybody with the Cowboys," Irvin said. "I made sure I said significant people involved in the process."
Irvin did not get his information from the only people that matter in Dallas, team owner Jerry Jones or vice president Stephen Jones.
The Cowboys have been very consistent in acknowledging their commitment to Prescott as their franchise quarterback.
Stephen Jones said last week that the team was urgently trying to get a deal done with Prescott and contract talks were "fixing to heat up."
The Patriots have also made it clear they don't want Brady in another uniform.
As for Irvin, he said he doesn't believe it's a move the Cowboys should make. He was only repeating what he heard.
He said Prescott is the right man for the Cowboys.
"I said what somebody said. That should no way be taken as those are my thoughts on what should happen," Irvin said. "Ain't no way in world that should happen. That would be insane. Are you kidding me? Are you out of your mind? It's over for Tom."
Brady is a declining player who will be 43 next season.
Prescott, 25, is coming his best season and surpassed Brady in every meaningful statistic in 2019, including passing yards, passing touchdowns, yards per attempt, completion percentage, quarterback rating and QBR.
But, of course, Brady has those six Super Bowl rings.
Be the first to know
Get local news delivered to your inbox!