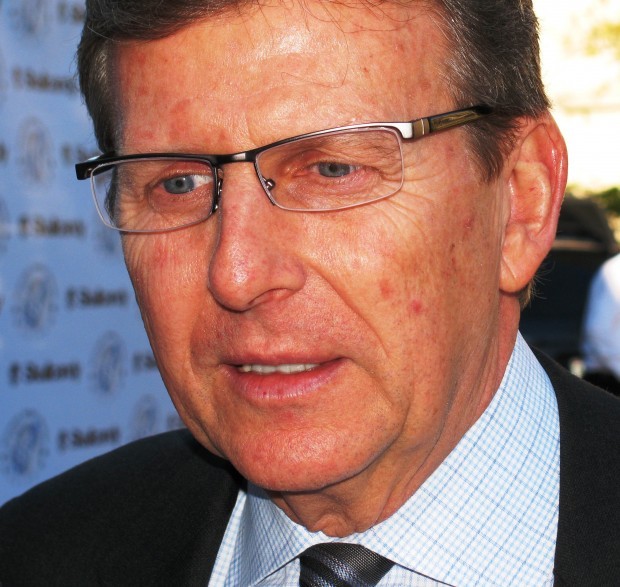 The Twitterverse is up in arms.
Well, about as up in arms as the Twitterverse ever gets over the Milwaukee Bucks.
Bucks general manager John Hammond created a minor stir Tuesday when he said he wouldn't rule out selecting a center or forward with the No. 15 pick in the NBA draft Thursday night, even though everyone knows the Bucks need guards as much as the crosstown Brewers need starting pitchers.
But in this instance, Hammond is correct. The Bucks have been stuck in NBA limbo — just good enough to contend for the playoffs, not good enough to do anything once they get there — for so long that their fans have forgotten what it takes to win, really win, in the NBA.
It takes talent. It takes great players. Usually, more than one.
Therefore, if it turns into a decision between talent and position in the first round Thursday, Hammond needs to snap up the better player, the one with more upside, the one who might develop into a star.
Of course, it's never that simple with the Bucks. Owner Herb Kohl insists on trying to make the playoffs every year by improving the roster incrementally when a sizable portion of the fan base would like to see the Bucks go back to square one, suffer through a few losing seasons and rebuild around a superstar or two acquired early in the draft.
Kohl made it clear recently that such a scenario isn't likely on his watch.
"I like to see that we put a competitive product on the floor every season," he said. "It doesn't mean, as some people have thought, that maybe I'm satisfied with mediocrity. I'm not. We want to get to 'X' number of wins, and when we get there I want more wins. And then after that, you want more wins. Teams that are winning find a way to win some more. Often times, teams that are really bad and losing find a bottom that they can't get out of. It works both ways.
"I don't have any disrespect for teams that do it in different ways, but we want to be good. There are a lot of good players in this league. They're not necessarily all All-Stars, but there are a lot of good players in this league. If you can get them to ... work together, compete together, respect each other, play the game the right way, defend and rebound, value possessions, get good shots every time down the floor, you can be really good. There are examples of that every year."
One such example is the Indiana Pacers, who reached the Eastern Conference finals before losing in seven games to the eventual champion Miami Heat earlier this month. That's all well and good, because Bucks fans would respond favorably to a team that won two playoff series. After all, the team hasn't won one since 2001.
There's one problem with that, however. History strongly suggests that a team such as the Pacers that relies on an ensemble cast instead of one or two superstars has a limited ceiling. It can be competitive in the playoffs, but only to a point.
For the most part, teams that lack true superstars don't win NBA titles. Indeed, they seldom even reach the NBA Finals. It has been that way since the NBA took its modern form for the 1949-50 season.
In 1997, the NBA chose its 50 greatest players, one for each year of the league's existence. Because there have been 17 seasons since then, I arbitrarily added 17 names to the list of all-time greats: Ray Allen, Kobe Bryant, Tim Duncan, Kevin Durant, Kevin Garnett, Dwight Howard, Allen Iverson, LeBron James, Jason Kidd, Tracy McGrady, Steve Nash, Dirk Nowitzki, Tony Parker, Chris Paul, Gary Payton, Paul Pierce and Dwyane Wade.
In the 64 seasons since the NBA consolidated two leagues into one, there have been only three championship teams that didn't have at least one of those 67 all-time greats on its roster: the 2004 Detroit Pistons, the 1979 Seattle Supersonics and the 1951 Rochester Royals. And it wasn't like they were bereft of talent. Rochester had three future Hall of Famers, Seattle had seven players who made All-Star Game appearances and Detroit had four multiple-time All-Stars.
Since the 1956-57 season, when Bill Russell joined the Boston Celtics, 47 of the 57 champions have had at least two all-time greats. During that time, only three of the teams that lost in the NBA Finals lacked a true superstar: Detroit in 2005, Indiana in 2000 and Seattle in 1978.
While teams such as Detroit and Seattle showed an ensemble cast can win big in the NBA, it happens so rarely it is not a realistic approach. You need talent to win a title, and if the Bucks aren't willing to break up their team and start over, they need to reprise what they did three years ago, when they used the No. 15 pick on center Larry Sanders, now a budding star.
More than anything, that's why Hammond shouldn't rule out any player at any position with the No. 15 pick in this year's draft.