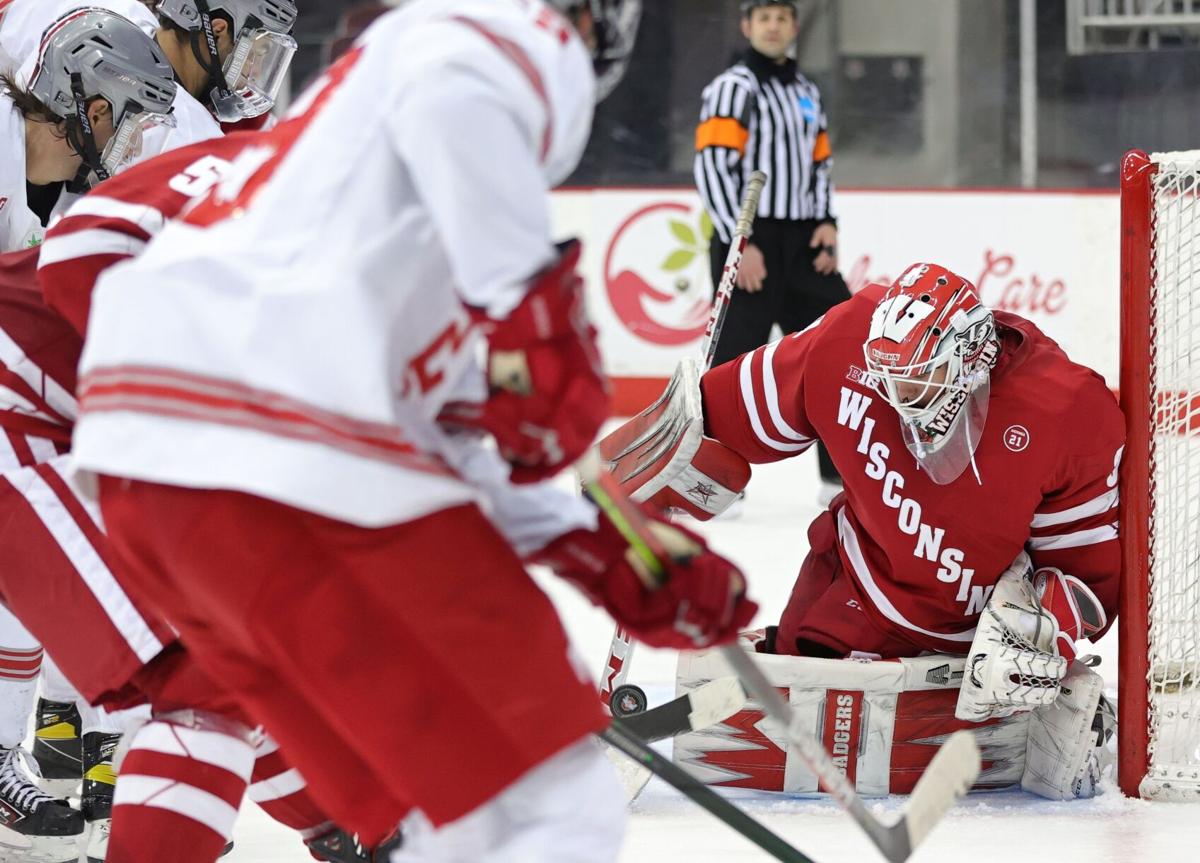 A skeleton crew of forwards for the University of Wisconsin men's hockey team was reduced even more, opening up an opportunity to swing the game against the 14th-ranked Badgers.
Ryder Donovan was ejected late in the second period Friday against No. 13 Ohio State with UW protecting a one-goal lead. Scratch a sixth forward's name off the Badgers' depth chart.
But in the five-minute penalty kill that spilled over into the final period, UW made the plays needed to hold off the Buckeyes, with goaltender Cameron Rowe playing a starring role.
Rowe made four of his 40 saves during that penalty kill and got four blocks from teammates in front of him as the Badgers ended a losing streak at three games with a 3-1 victory in Columbus, Ohio.
"That five-minute stretch, I think the difference between times in the past versus now, we looked at it as more of an opportunity to get the momentum from killing that off rather than such a burden," Rowe said. "We looked at it more as we can get a ton of momentum off of this if we do our job, and that's what happened."
The big penalty kill and three-point games from Cole Caufield and Jack Gorniak gave the Badgers a split of the series.
Donovan was tossed for hitting Ohio State's Travis Treloar from behind near the boards. The ensuing power play covered the final 3:45 of the second period and the opening 1:15 of the third.
UW got blocks from Owen Lindmark and Jason Dhooghe and two saves from Rowe on Gustaf Westlund in the first part. Ty Emberson and Jesper Peltonen got in the way of shots in the remainder of the Donovan penalty in the third period and Rowe stopped Treloar and Quinn Preston.
"One of the big focuses was just changing as soon as possible," said Gorniak, one of the penalty killers. "I think a big part of it was just being aggressive, shrinking (the formation) and getting pucks out. We didn't want them to set up. We knew they're good when they get set up so we make it hard on them and just played aggressive on them."
The Badgers improved to 2-for-2 on the power play later in the third period when three of the night's top performers executed a great triangular passing play.
Brock Caufield touched a pass to his brother Cole, who worked the puck through to Gorniak for a tap-in atop the crease and a 3-1 lead.
UW started the season 6-for-20 on the power play, with a goal in each of the first six games, but had gone 0-for-6 in the three games since.
The passing on Gorniak's goal mirrored nice movement of the puck from Gorniak to Brock Caufield for a second-period goal with the man advantage.
"The power play's all about making two passes in a row," Cole Caufield said. "On both of our goals, we did that."
With a goal and two assists, Gorniak had three points for the first time in 75 collegiate games. Cole Caufield had the same stat line, his fourth three-point game in 46 collegiate outings.
Rowe finished a memorable first start by stopping all 17 shots he faced in the third period. On one of them, he jumped in the air to track a puck that popped above his head, then landed and immediately kicked out his left leg to trap Quinn Preston's chance between his skate and the post.
"You've got to put something in front of the puck to be able to make a save," Rowe said. "At that moment, obviously, it's not a situation that you can practice. So you've got to use instinct at that point and play hockey."
A night earlier, the Badgers (5-5, 5-2-0-1 Big Ten) trailed 4-0 after the first period. They were much better in their defensive zone early Friday and went into the intermission with a 1-0 lead thanks to a long-range strike by Cole Caufield through a screen set by his brother.
Treloar beat Rowe to the stick side in the second period for Ohio State (2-4, 2-3-0-1), but UW regained the lead less than five minutes later when Gorniak dished to Brock Caufield on the power play.
After losing four forwards to COVID-19 protocols — one tested positive and three were close contacts — and then dropping three straight games, the Badgers gutted out Friday's game, coach Tony Granato said.
"This one feels really good," he said. "Obviously, every win does but this one's a special one for lots of reasons."
Get ready for Wisconsin Badgers men's hockey season with State Journal's in-depth coverage
Wisconsin State Journal reporter Todd D. Milewski breaks down everything Badgers fans need to know about the University of Wisconsin men's hockey team, the competition the Badgers face in the Big Ten, and other stories to watch during the 2020-21 season. 
First period: W — C. Caufield 6 (Peltonen, Gorniak), 5:42.
Second period: OS — Treloar 3 (Cheremeta), 8:50. W — B. Caufield 4 (Gorniak, C. Caufield), 13:09 (pp). Penalties: Singleton, OS, 6:14; Vorlicky, W, 6:14; Fadyeyev, OS, 11:29; R. Donovan, W (major, game misconduct), 16:15.
Third period: W — Gorniak 3 (C. Caufield, B. Caufield), 6:13 (pp). Penalties: Sadlocha, OS, 4:53; Gorniak, W, 10:18.
Saves: W (Rowe 10-13-17) 40; OS (Nappier 9-10-8) 27. Power plays: W 2-for-2; OS 0-for-2.