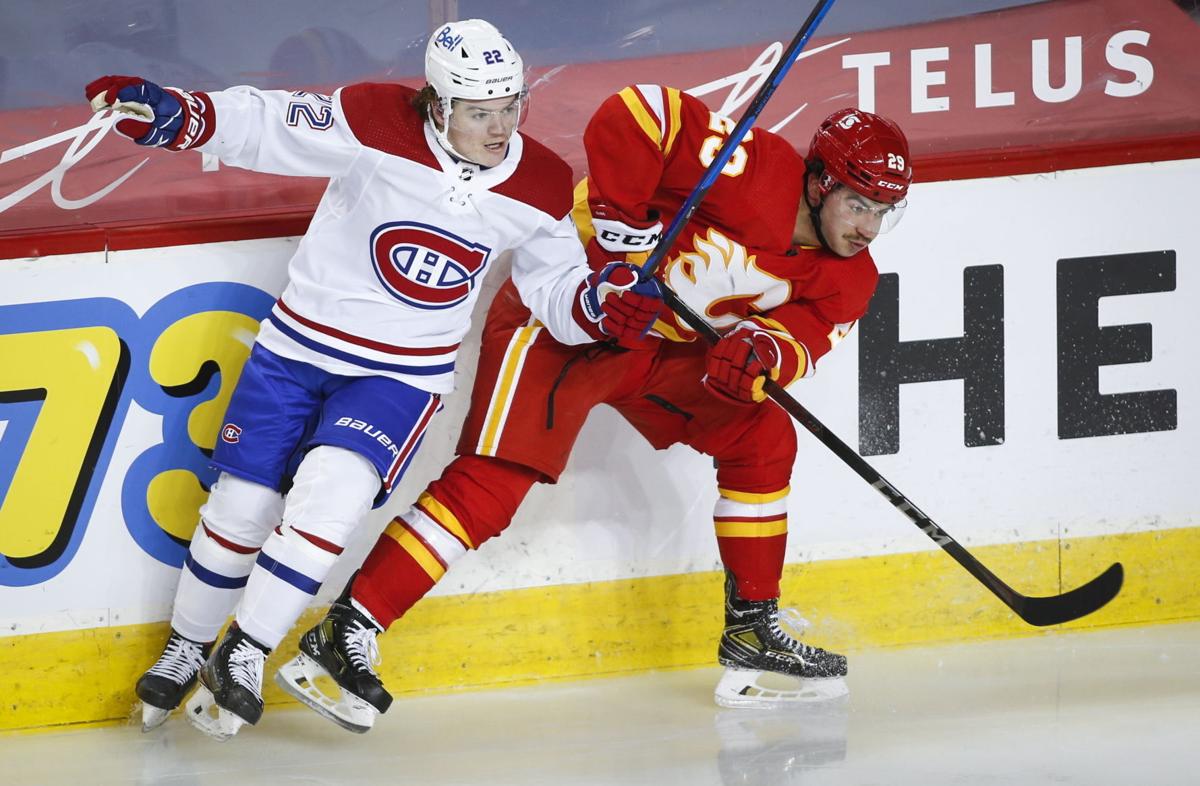 It started as a joke on Cole Caufield — a rookie prank of sorts.
When the former University of Wisconsin forward looked around the dressing room for his helmet before warmups Monday night in Calgary, he realized what was going on.
Caufield's new teammates with the Montreal Canadiens hid his lid. There's a tradition in the NHL that a player skating in his first game takes a solo lap around the ice in warmups before the rest of the team joins him, and Caufield had to let his hair blow in the wind.
"That's not going to bother him," Badgers coach Tony Granato said, laughing. "That's right up his alley. They're feeding right into making him be really comfortable really fast."
Caufield made his NHL debut in Montreal's 2-1 victory against the Flames. He didn't score like he did — twice — in his first American Hockey League game April 9 but he got to start, played regular shifts and worked on the power play.
He became the 88th Badgers alumnus to play in the NHL and the third to break through this season, joining defensemen K'Andre Miller (New York Rangers) and Wyatt Kalynuk (Chicago).
The Stevens Point native is the 40th Wisconsinite to play in the NHL, according to Hockey Reference but none of the previous 11 had also played for the Badgers.
It took Caufield less than a minute to generate his first scoring chance, a wrist shot that he fired high from the right side on a rush.
It should have surprised no one that Caufield was confident enough on his first NHL shift to try to pick a corner. He hit a lot of them in scoring 30 times in 31 games for the Badgers this season.
"He has that elite shot," said Robbie Beydoun, the former Badgers goalie who was Caufield's roommate in Madison this year. "He's comfortable ripping the puck from anywhere, as we know. And he can pick those corners. (Jacob) Markstrom made a couple nice saves on Cole's chances tonight. But it's not going to be too long before he starts picking goalies apart in the NHL for sure."
Caufield had to wait through the first four games of Montreal's five-game road trip to Alberta before he got his chance to play with the Canadiens. He signed a day after his sophomore season with UW ended, then waited out a weeklong quarantine before joining the Laval Rocket in the AHL.
Caufield finished with four shots on goal after missing his first attempt. He played 15:40, 2:02 of it on the power play.
"I thought he played really well," Granato said. "He's got to be really happy with it."
"He looked great," Beydoun said. "That's exactly how I imagined it. Helmet off, his hair flowing, him smiling. He has that infectious smile that really lights up a team."
Look back on State Journal coverage of Badgers men's hockey games in the 2020-21 season
Read stories from University of Wisconsin men's hockey games in the 2020-21 season.