It took longer than he hoped, but the lid is all the way off for Cole Caufield.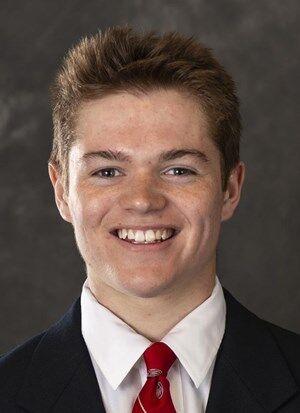 Stymied in the goal-scoring department over the first four games of the season, the University of Wisconsin men's hockey sophomore hit his stride and hit the mark against Penn State.
Caufield scored three times for his second collegiate hat trick as the Badgers completed their first Big Ten home sweep since March 2019 with a 7-3 victory Tuesday at LaBahn Arena.
"Four games isn't the longest (drought)," Caufield said. "I was getting my chances so I wasn't too frustrated. Obviously, you want to see the puck go in but they weren't. I just stuck with it."
Tarek Baker scored a key short-handed goal late in the second period and added two assists for the Badgers, who scored 13 goals in two games against the Nittany Lions despite playing without their top two centers.
"All four lines contributed and found ways to help us offensively," UW coach Tony Granato said.
Before scoring his first goal of the season in Monday's UW victory, Caufield had attempted 33 shots and got 16 of them on goal.
On Tuesday, he hit the net with three of his eight shots. Caufield scored a power-play goal in the first period for a 3-0 lead, an even-strength goal in the third to make it 6-1 and fired into an empty net for the final margin.
"I look at the video and I see every night him getting what I think are really good chances," Granato said. "So tonight was one of those nights where hopefully it's a start for him to get that rhythm going."
The first two goals showed Caufield as a playmaker as well. He hit the blue line with speed on both, forcing the defense to give him the room he needed to get off accurate shots.
"This offseason was big for my speed and strength on the puck," Caufield said. "I guess it's just kind of coming natural now."
Caufield, who also scored three goals at Notre Dame on Jan. 24, is the first Badgers player to record multiple hat tricks since Robbie Earl in 2003-04 and 2004-05.
Goals by Linus Weissbach, Dominick Mersch and Caufield staked the Badgers (4-2, 4-1-0-1 Big Ten) to a 3-0 first-period lead as UW took advantage of a Penn State team that looked like a young group playing its fourth game of a four-game road trip.
It was an important step after the Nittany Lions (0-4, 0-4-0-0) largely set the pace in the first two periods of a 6-3 Badgers victory on Monday even though they didn't spend much time with a lead.
But Penn State got a second-period goal from Alex Limoges and had two power plays late in the middle frame. The Badgers' penalty kill held strong and chipped in offensively with the team's first short-handed goal of the season.
Baker skated in by himself from the neutral zone after the puck popped out of the Badgers' end, and he snapped a shot past Liam Soulière's stick side to restore a three-goal advantage.
The UW senior took responsibility for a missed coverage on Limoges' goal.
"I gave that one up so me and my linemates were talking about how we had to go and get one back," Baker said. "Luckily enough, I was given the opportunity there and made the best of it."
Freshman Sam Stange scored his third goal of the weekend and Caufield netted his second of the game in the opening 1:19 of the third.
Robbie Beydoun made 35 saves as UW finished off its first home conference sweep since it defeated Michigan in overtime twice to end the 2018-19 regular season. And it won both games of a series against Penn State for the first time since 2013-14, the first Big Ten season.
"It's great to get a sweep any time, especially against Penn State," Baker said. "They've been a big rivalry for us over the last four or five years."
The Badgers got big offensive performances without centers Dylan Holloway (away at Canada's World Junior Championship camp) and Ty Pelton-Byce (concussion).
Weissbach scored his fourth goal of the opening six games, tying his junior season total, to put UW ahead less than seven minutes into the opening period. He added an assist and has a team-leading nine points.
Fourth-line center Mersch scored his first goal since Jan. 26, 2019.
"Guys are filling roles left and right," Caufield said. "Down the middle, we have depth. You saw that — a lot of offense for us, which was big."
---
Photos: Badgers men's hockey team defeats Penn State 6-3 to open series
First period: W — Weissbach 4 (B. Caufield, Kehrer), 6:43; Mersch 1 (Dhooghe, De St. Phalle), 9:06; C. Caufield 2 (Baker, Weissbach), 17:01 (pp). Penalties: Lamppa, PS, 16:21; Mersch, W, 17:19; Talvitie, PS, 18:01.
Second period: PS — Limoges 1 (Dowd, Sternschein), 4:21. W — Baker 1 (Gorniak), 18:56 (sh). Penalties: Talvitie, PS, 6:38; Emberson, W, 13:02; R. Donovan, W, 17:51.
Third period: W — Stange 3 (Baker, Inamoto), :26; C. Caufield 3 (Kehrer), 1:19. PS — Lamppa 1 (Westcott), 8:49; Phillips 1 (Sternschein, Limoges), 9:54 (pp). W — C. Caufield 4 (Mersch), 17:57 (en). Penalties: Baker, W, 9:23; Ahcan, W, 12:54.
Saves: PS (Soulière 12-7-1) 20; W (Beydoun 10-14-11) 35. Power plays: PS 1-for-5; W 1-for-3.