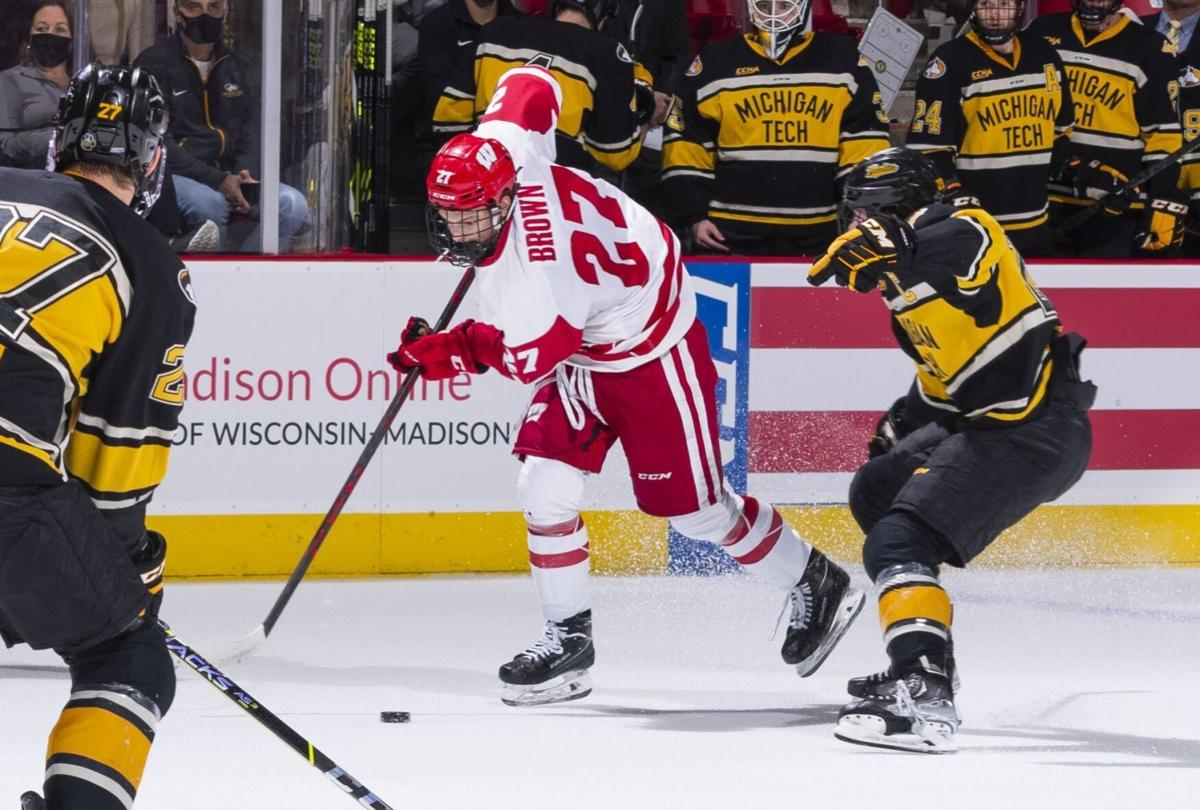 If time stopped a few minutes after the opening faceoff, Friday night's season opener would have been like a dream for Caden Brown and the University of Wisconsin men's hockey team.
Brown, a freshman forward, scored on his first collegiate shift. The Badgers had the lead and the Kohl Center, hosting hockey for the first time in more than 19 months, was buzzing.
It was largely a mess from there for No. 13 UW, particularly in the defensive zone in a woeful second period.
Michigan Tech made the Badgers look disorganized in their end of the ice in a four-goal middle frame that fueled a 5-2 Huskies victory.
Afterward, defenseman Tyler Inamoto said the Badgers left goaltender Cameron Rowe hanging out to dry. Rowe said he felt like he let the team down.
There was blame to share from a stretch where UW coach Tony Granato said his players got caught watching in their own end.
"We weren't real detailed in some of the defensive responsibilities that we have to be and that we were all last year," Granato said.
Rowe didn't get a lot of help from the players in front of him but he also didn't help his own cause by leaving rebounds. He was pulled after the Huskies took a 5-2 lead with 5:05 left in the second period.
Dating to last season, the sophomore has allowed five goals in three of his past five starts. He conceded one total in the other two. When he's on, he's on. When he's not, things can go haywire.
He appeared frustrated at times Friday, slamming his stick on the ice after failing to control a rebound that led to a goal and taking out some rage on the post at another stoppage.
"I just think it was dealing with a train running downhill a little bit," Rowe said. "You're fighting to keep the team in the game, keep yourself in the game. It's not really the way that anyone wanted it to go. I don't think I dealt with it too well tonight."
The game drew an announced crowd of 8,550 at the Kohl Center, which last hosted hockey on Feb. 22, 2020. Since then, UW had home games in the 2020-21 season closed to the public because of the pandemic, moved them to LaBahn Arena and won the Big Ten regular-season championship behind a dynamic offensive lineup.
Things changed drastically in the offseason with the loss of four key forwards but the Badgers were counting on a defensive corps that returned largely intact to provide a solid base this season.
It didn't go that way in the second period Friday. UW lacked defensive awareness too often, contributing to Michigan Tech players having time and space to make plays.
Logan Pietila scored twice and Alec Broetzman once off the Huskies' top line in the frame, when a 1-1 game turned to a 5-2 Tech advantage.
Rowe allowed a rebound and Badgers forward Mathieu De St. Phalle overskated the puck instead of clearing it. That gave Parker Saretsky a chance to feed Brian Halonen for a putaway and a 2-1 lead just 74 seconds into the middle frame.
Rowe had trouble with Broetzman's centering pass out of the left corner less than two minutes later, and Pietila outfought UW freshman forward Liam Malmquist for the puck to score.
Granato said he planned to get Jared Moe, a junior transfer from Minnesota, into a game early this season. Late in the second period of the opener couldn't have been what he had in mind.
But Moe looked solid in relief of Rowe. One of his best of nine saves was on Trenton Bliss in close after good power-play movement.
Brown might have had the best night of the six freshmen in the Badgers lineup for his goal 73 seconds into the game. He bounced a sharp-angle shot from the right of the net in off goaltender Blake Pietila.
"It was a good feeling early but that one goal isn't going to win us a game if we're not taking care of all the other areas," Brown said.
There were shaky spots through the UW lineup — from both rookies and veterans. Among freshmen, forward Zach Urdahl lost the puck twice on rushes up the left side in the first period. Defensemen Daniel Laatsch and Corson Ceulemans made ill-advised passes out of the defensive zone that got intercepted.
Fourth-year forward Roman Ahcan was called for slashing and fifth-year defenseman Inamoto went off for boarding later in the first period. Michigan Tech got even on the latter, with Brett Thorne finishing off a nice passing play with a slap shot from the high slot.
"It's definitely not the way we wanted to start the year," Inamoto said. "But we can only go up from here. We're going to be set on doing that and we're going to make sure we don't continue the season on a low note."
First period: W — Brown 1 (R. Donovan, Mersch), 1:13. MT — Thorne 1 (Bronte, Saretsky), 10:09 (pp). Penalties: Ahcan, W, 5:41; Inamoto, W, 9:00.
Second period: MT — Halonen 1 (Saretsky, Nardella), 1:14; L. Pietila 1 (Broetzman, Buckley), 2:50. W — De St. Phalle 1, 6:53. MT — L. Pietila 2 (Broetzman), 8:49; Broetzman 1 (Quercia, L. Pietila), 14:55. Penalty: Halonen, MT, 16:09.
Third period penalties: Saretsky, MT, 7:37; Baker, W, 12:06.
Saves: MT (B. Pietila 7-11-20) 38; W (Rowe 3-9-x, Moe x-4-5) 21. Power plays: MT 1-for-3; W 0-for-2. Att. — 8,550.