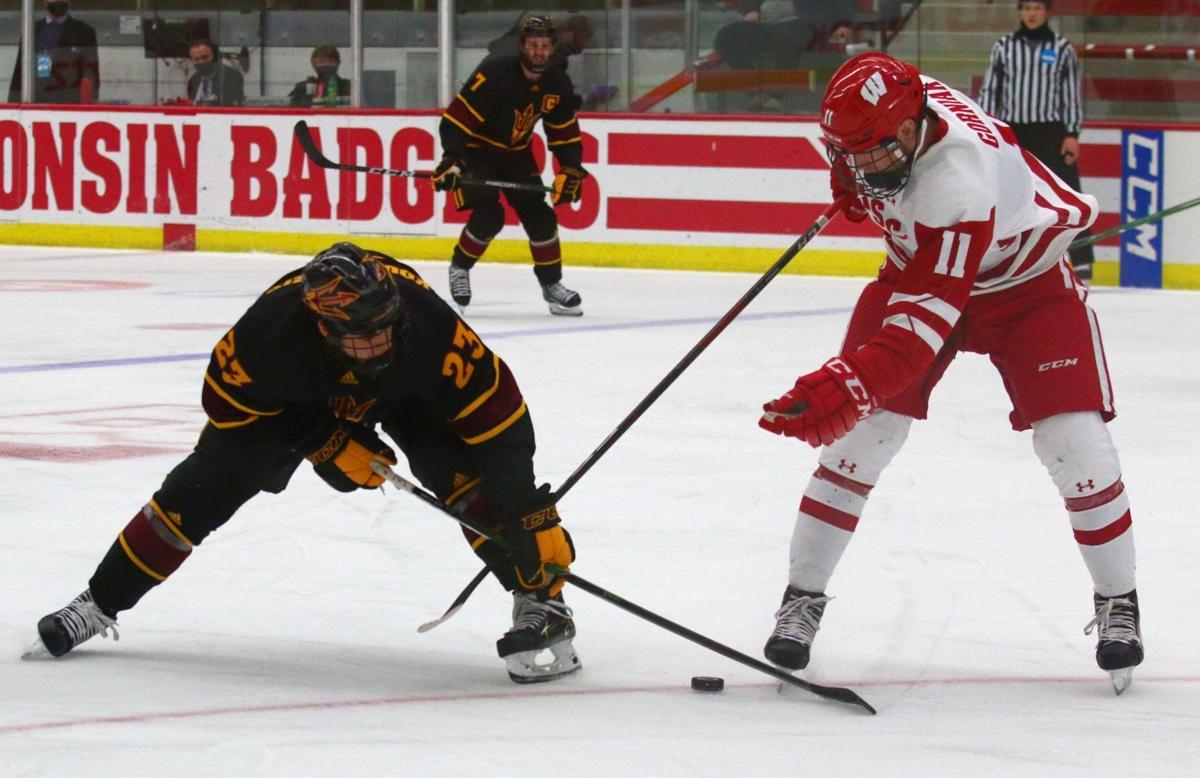 After thinking they were in complete control of the series, members of the University of Wisconsin men's hockey team had to take a deep breath and get ready for a major challenge in the third period Sunday.
An Arizona State goal and a major penalty to UW's Roman Ahcan on the same play gave the Sun Devils a five-minute power play and a chance to equalize.
"That's probably the biggest five minutes of our season so far," Badgers coach Tony Granato said. "How are we going to act in a game like that? Were we going to be able to finish the series off?"
They reacted by killing the penalty behind five Cameron Rowe saves and later scored two empty-net goals to grind out a 5-2 victory at LaBahn Arena.
In a game of odd penalty twists, the 12th-ranked Badgers completed their third sweep, one more than they had all of last season. It's the first time they've swept three of their first seven series since 2013-14, the last time they made the NCAA tournament.
Ahcan was penalized for delivering an elbow to the head of former teammate Sean Dhooghe, who transferred after last offseason.
In the seconds after the hit, Michael Mancinelli scored in close on Rowe to cut the Badgers' lead to 3-2. Referees reviewed the play and issued Ahcan a major and game misconduct.
"All of a sudden you're like, holy cow, look at the scoreboard," Granato said. "You're feeling like you're in complete control of the weekend and now they've got the momentum."
Making his third start for the Badgers, Rowe stopped everything that came his way during the power play, which was uninterrupted by whistles. The freshman also got help from a Jesper Peltonen block.
"I thought we stayed calm on the bench," said Badgers forward Linus Weissbach, who joined Cole Caufield with a goal and an assist. "We trusted each other to make the right plays and had sticks in lanes and blocked some shots."
Jason Dhooghe and Brock Caufield scored into an empty net to wrap things up late and give the Badgers (8-6) a much-needed answer to a pair of losses to the Sun Devils (5-11-2) in November.
Like UW in that series, Arizona State played short on Sunday. Leading goal-scorer Matthew Kopperud was out with a left leg injury suffered in the first period Saturday.
That added to the absences of third-leading scorer Ryan O'Reilly, a forward, and defenseman Jarrod Gourley, both of whom are out because of COVID-19 quarantines. Three others were either injured or sick.
The Badgers hadn't forgotten the sight of an Arizona State player using his stick as a broom on the ice after November's series.
"We had the goal to sweep this weekend," said Badgers senior Ty Pelton-Byce, one of five forwards who missed the November series. "When you come in and play against half our team and start making sweeping motions with your stick after the second game, that's what's going to happen."
After James Sanchez gave the Sun Devils a first-period lead on the power play, the Badgers scored power-play goals 37 seconds apart to take a 2-1 lead, even with a penalty of their own in the middle.
Confused? So were many inside the arena.
Weissbach scored on a shot from the top of the zone, using a lane created when Pelton-Byce, skating to the bench slowly after absorbing a hit, knocked away the stick of penalty killer Benji Eckerle.
UW's Tarek Baker was called for a cross-checking penalty 27 seconds later. After a TV timeout, Sanchez was called for a faceoff violation, which this season carries a bench minor penalty.
That negated the Sun Devils power play. But while officials appeared to be discussing where the faceoff should take place, Arizona State got hit with another bench minor. No explanation was given to the off-ice officials but the referee's indication made it seem that it was for some remarks coming from the bench.
"I don't think anyone realized what was going on there," Weissbach said. "I think we were all really confused about what was happening."
UW needed only nine seconds to cash in on the ensuing power play, with Cole Caufield firing home from a Dylan Holloway pass.
UW got some breathing room with defenseman Mike Vorlicky's first goal of the season later in the second. He fired between Evan DeBrouwer's pads from the left circle after taking a backhand pass from Pelton-Byce.
Rowe, who needed to make only 11 saves Saturday in a 4-0 victory, made 11 of his 23 saves Sunday in the third period.
"He's looked really calm in the games he's had here," Weissbach said. "He made some huge saves for us throughout the game. It's great when you can have a goalie step up like that during a tight game like today."
---
19 former Badgers men's hockey players in NHL training camps
19 former Badgers men's hockey players in NHL training camps
Brian Elliott, Philadelphia Flyers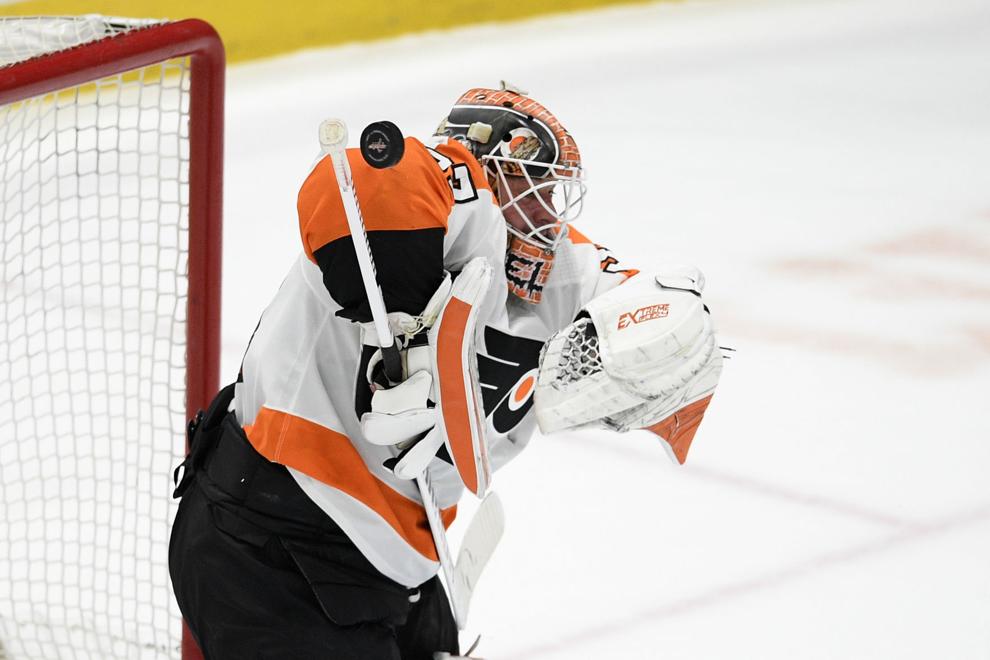 Trent Frederic, Boston Bruins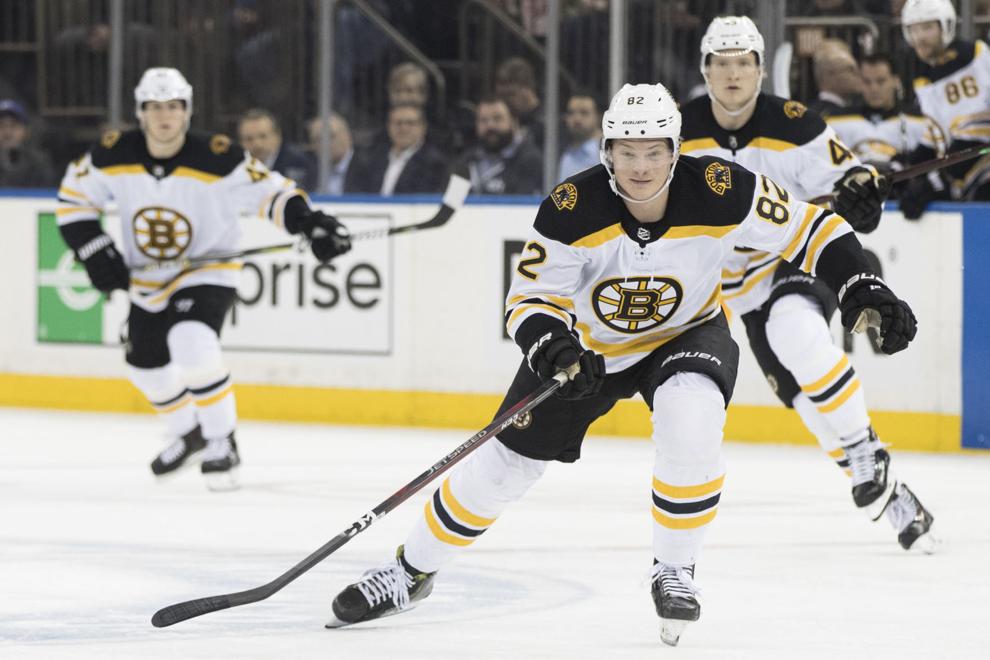 Jake Gardiner, Carolina Hurricanes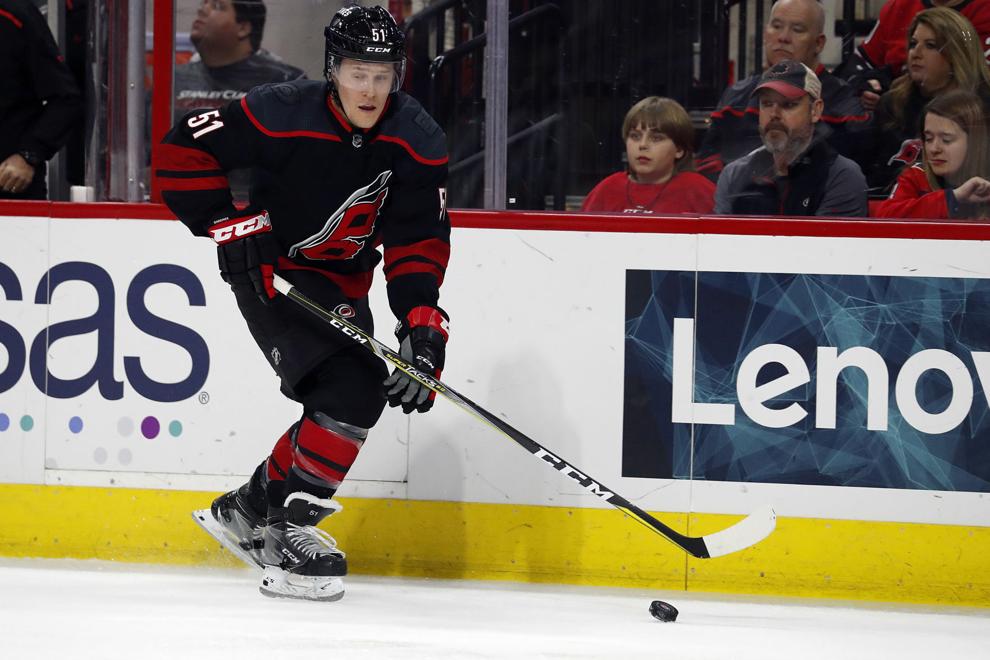 Cameron Hughes, Boston Bruins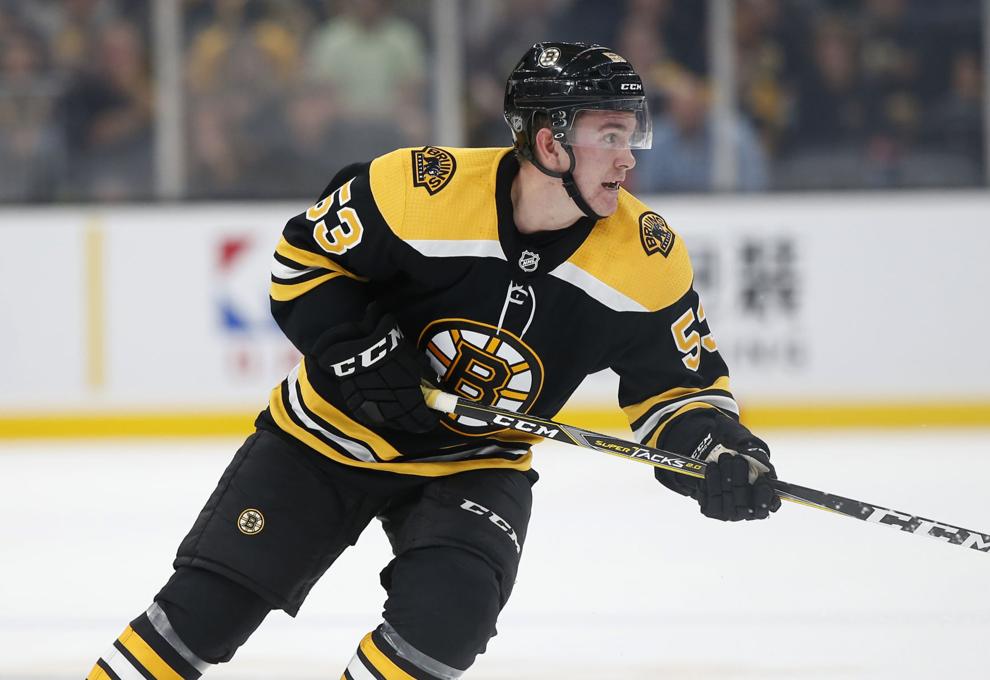 Wyatt Kalynuk, Chicago Blackhawks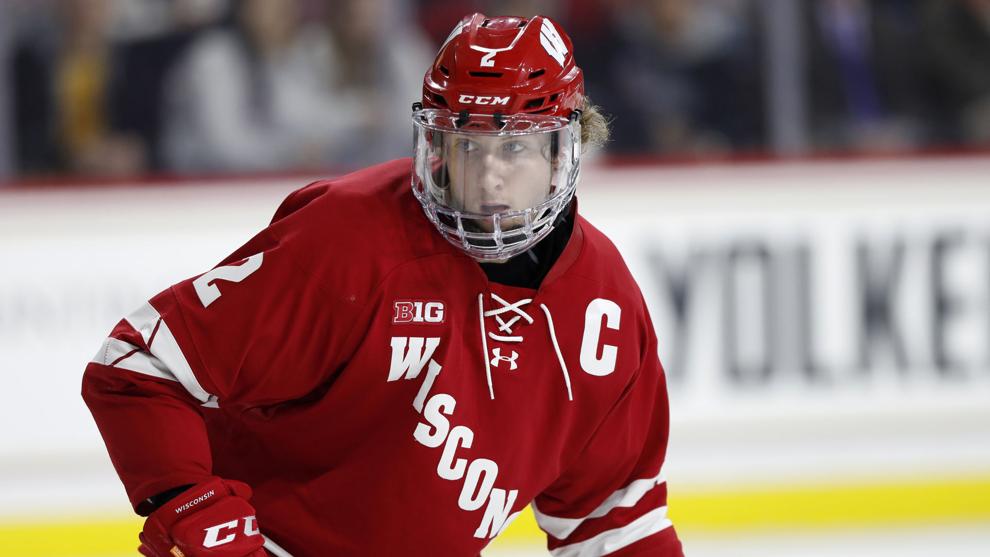 Luke Kunin, Nashville Predators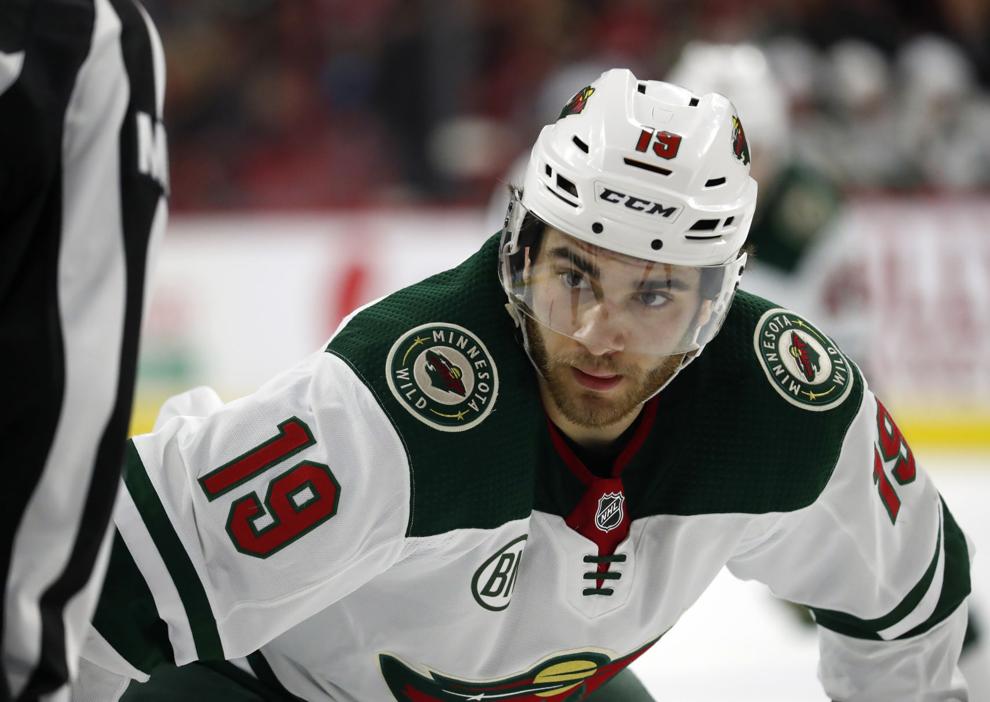 Jake McCabe, Buffalo Sabres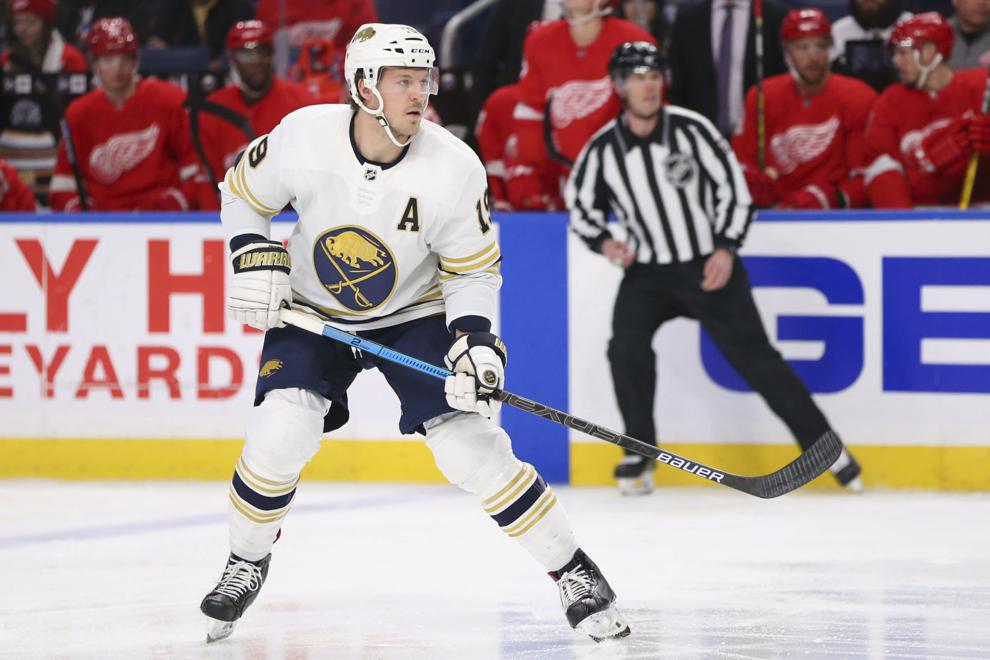 Ryan McDonagh, Tampa Bay Lightning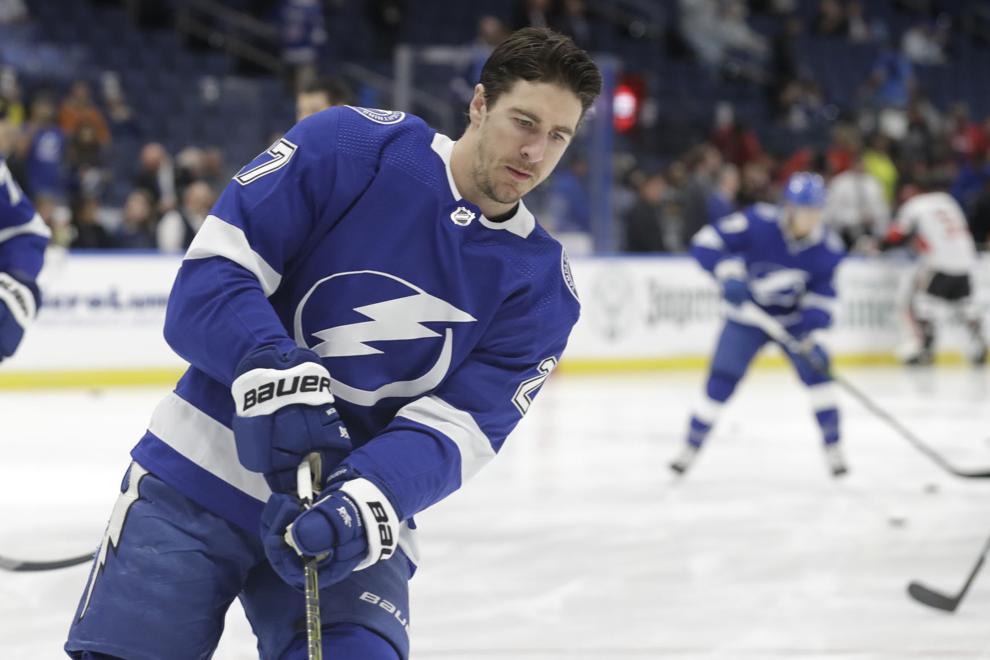 K'Andre Miller, New York Rangers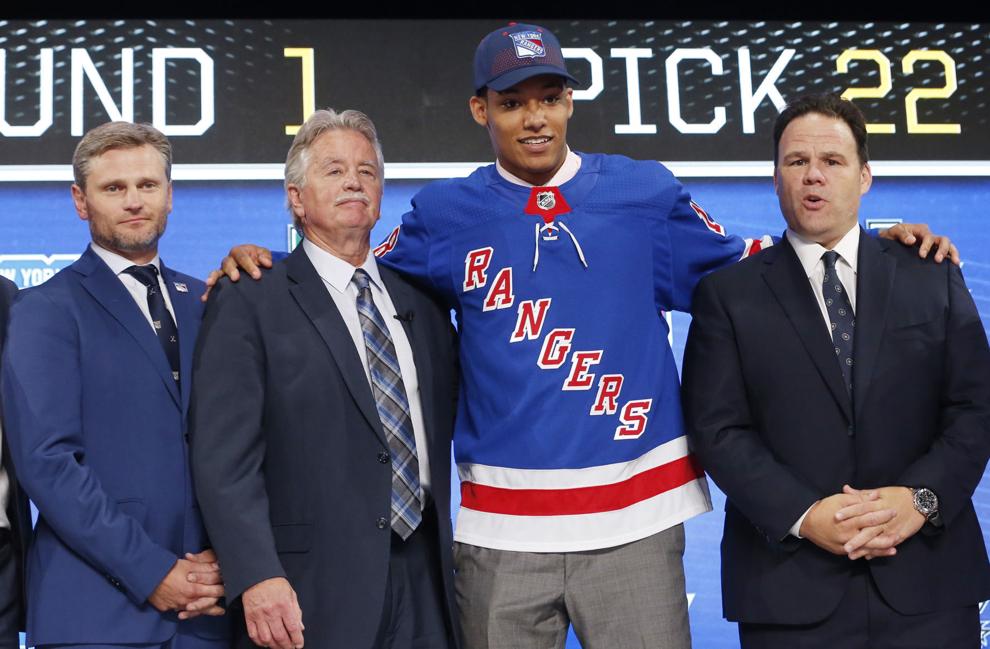 Joe Pavelski, Dallas Stars
Justin Schultz, Washington Capitals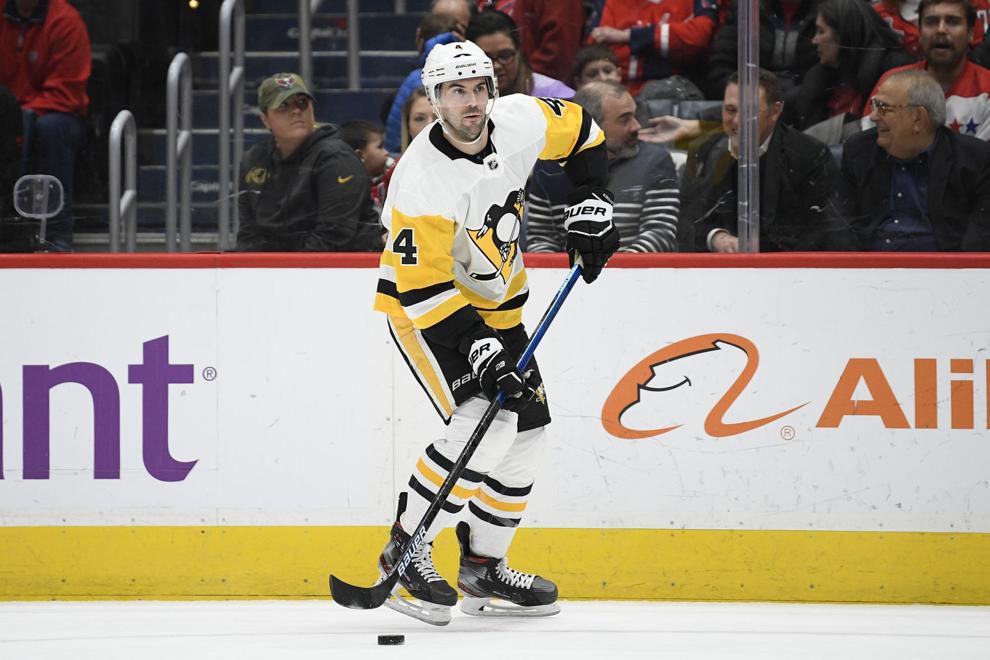 Brendan Smith, New York Rangers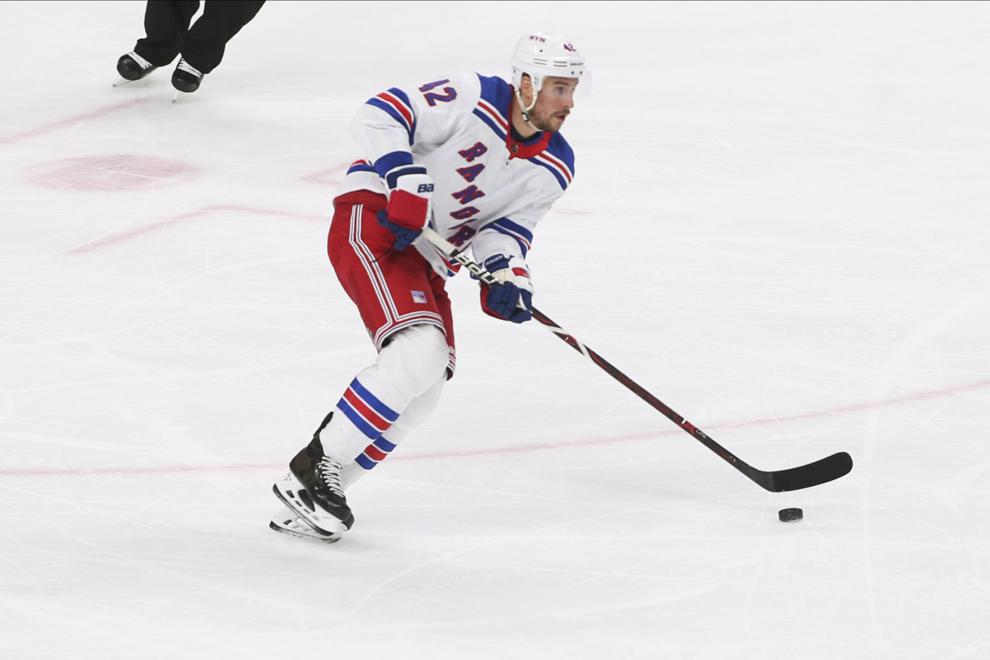 Craig Smith, Boston Bruins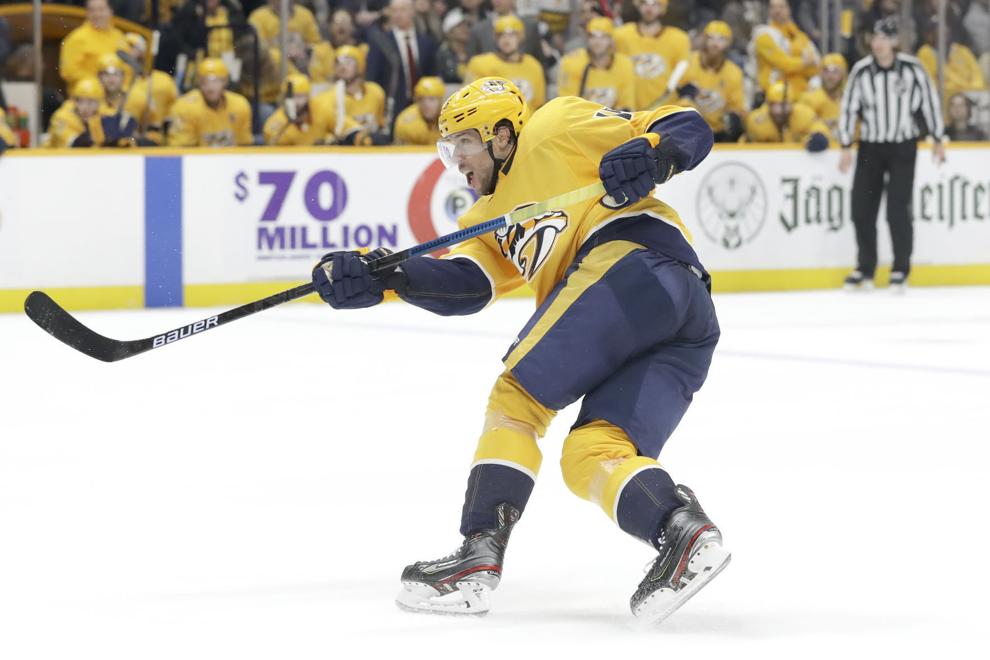 Derek Stepan, Ottawa Senators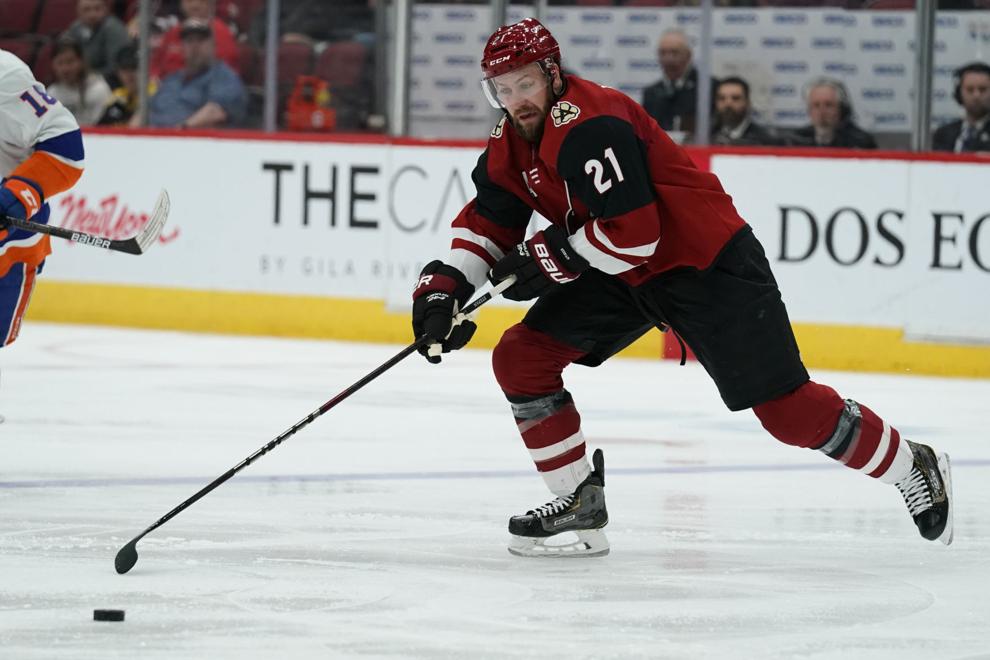 Ben Street, New Jersey Devils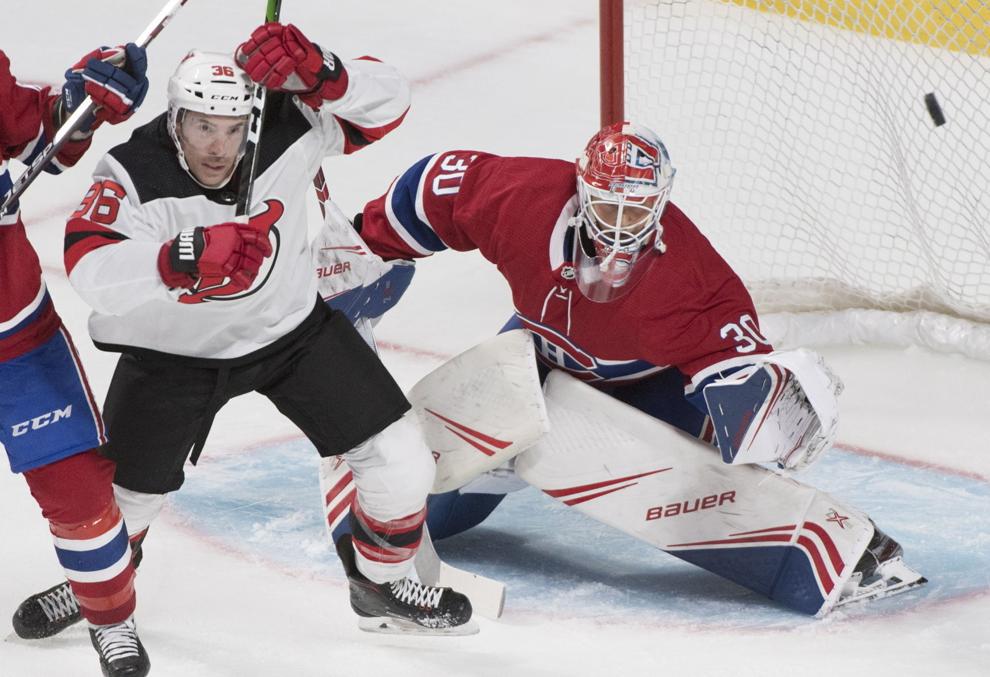 Ryan Suter, Minnesota Wild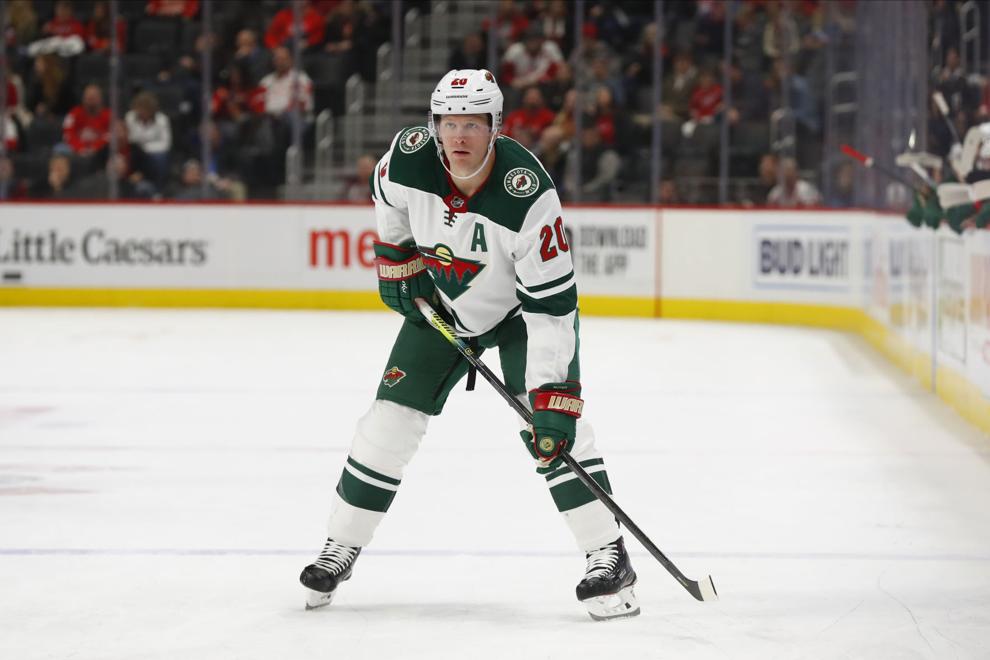 Peter Tischke, Colorado Avalanche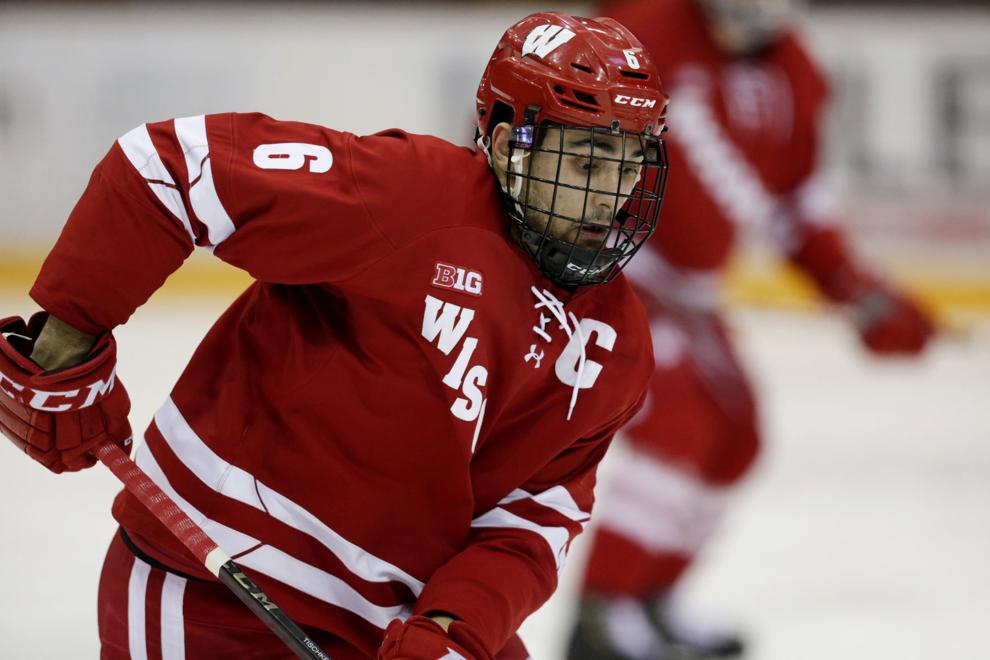 Alex Turcotte, Los Angeles Kings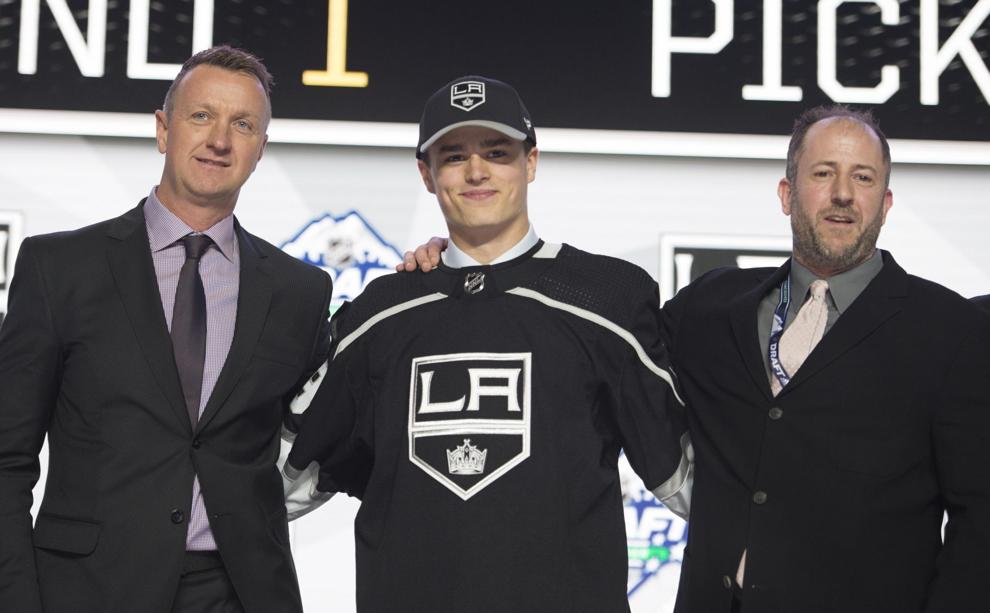 Kyle Turris, Edmonton Oilers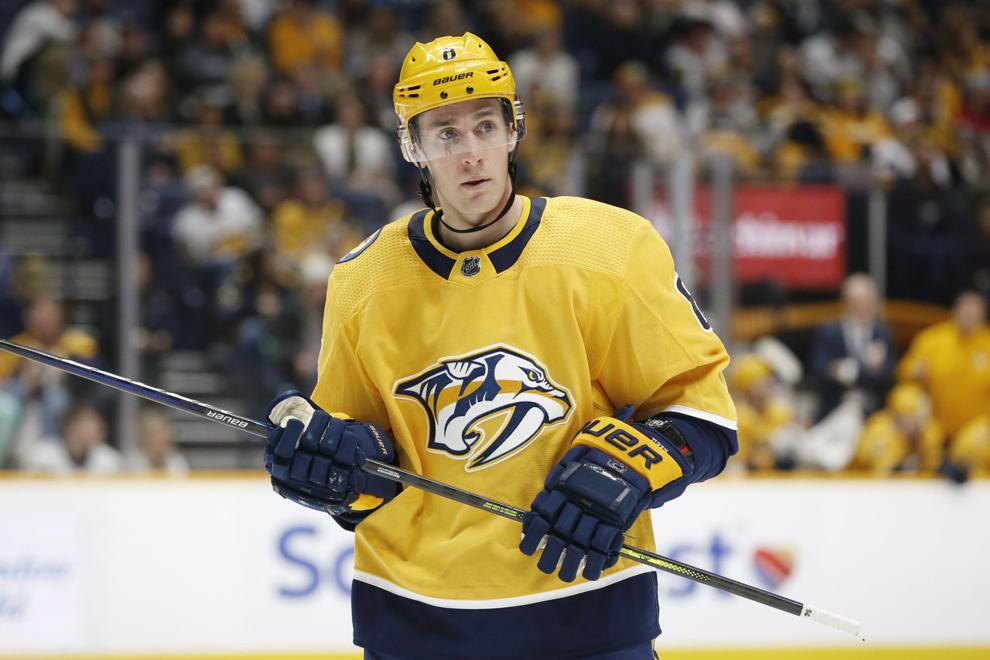 First period: AS — Sanchez 4 (Walker, Koumontzis), 7:53 (pp). W — Weissbach 7 (Holloway, Pelton-Byce), 10:12 (pp); C. Caufield 8 (Holloway, Weissbach), 10:49 (pp). Penalties: Team, W, 5:52; Baker, W, 6:06; Judson, AS, 8:29; Baker, W, 10:39; Team, AS, 10:39; Team, AS, 10:39; Ahcan, W, 19:36.
Second period: W — Vorlicky 1 (Pelton-Byce, C. Caufield), 15:41. Penalty: Mancinelli, AS, 9:13.
Third period: AS — Mancinelli 4 (Dhooghe), 7:23. W — Dhooghe 2, 18:37 (en); B. Caufield 6 (Lindmark), 19:14 (en). Penalties: Ahcan, W (major, game misconduct), 7:23.
Saves: AS (DeBrouwer 13-9-7) 29; W (Rowe 9-3-11) 23. Power plays: AS 1-for-4; W 2-for-3.