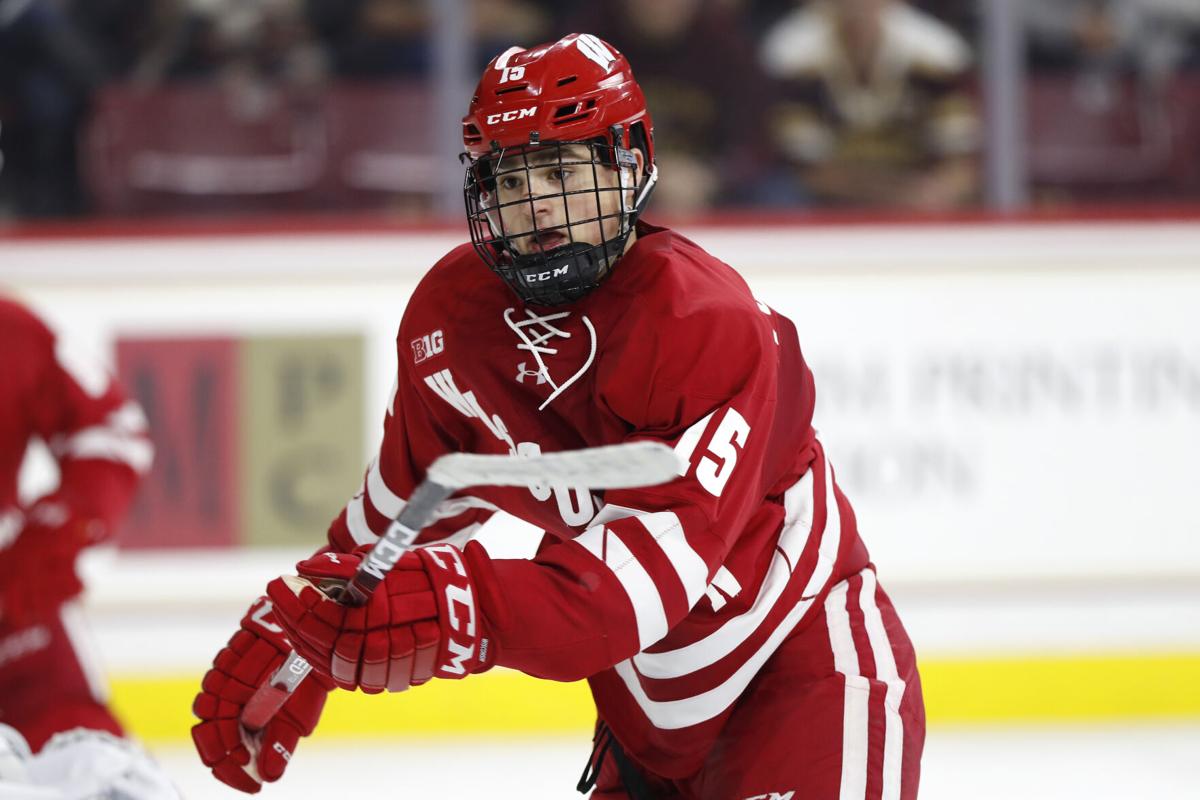 Alex Turcotte's first year with the University of Wisconsin men's hockey team also was his last.
Turcotte, the fifth overall pick in the 2019 NHL draft, agreed to terms Wednesday with the Los Angeles Kings on an entry-level contract that'll start next season.
For the rest of this season, he'll report to the Kings' American Hockey League affiliate, the Ontario Reign.
Turcotte missed seven games with injury but recorded 26 points in 29 games. He was especially productive toward the end of the season, after returning from a lower-body injury that kept him out for five contests. He scored a team-high nine points in the last eight games.
In the week before the Badgers' playoff exit at Ohio State, Turcotte was candid about the struggles of his freshman season.
"I feel like, obviously, I haven't been the best I could have been this year," he said. "I went through some ups and downs. That's pretty normal. So to be playing well and helping the team win is all I really wanted to do."
He posted 27 goals and 62 points in 37 games of an injury-shortened second season with the USA Hockey National Team program last year. But coming to college hockey and playing in the World Junior Championship, where he had two assists and was minus-1 in five games, weren't smooth transitions.
"I think this is the first time in my life where I've actually had a pretty big hurdle," Turcotte said. "And it was going to come eventually. It was hard on me, but I think I've dealt with it pretty good and I've stuck with it."
Turcotte was one of four Badgers players with eligibility remaining who were known to be considering signing a pro contract. Sophomore defenseman K'Andre Miller was in discussions with the New York Rangers, who chose him in the first round in 2018.
Freshman right wing Cole Caufield, the Badgers' leading scorer and the Big Ten scoring champion, was the No. 15 overall pick by the Montreal Canadiens last summer. And junior defenseman Wyatt Kalynuk could sign with the Philadelphia Flyers, who own his draft rights.
Caufield a finalist
Caufield was named a finalist for the Big Ten's player of the year and freshman of the year awards on Wednesday. The winners will be named Tuesday.
He led the Big Ten with 24 points in 24 conference games, becoming the first UW player in 42 years to win a league scoring title.
Overall, he led the Badgers with 19 goals and 36 points.
The other finalists for player of the year were Penn State defenseman Cole Hults and Michigan goaltender Strauss Mann. Michigan defenseman Cam York and Minnesota forward Ben Meyers joined Caufield in the top three of voting for the freshman award.