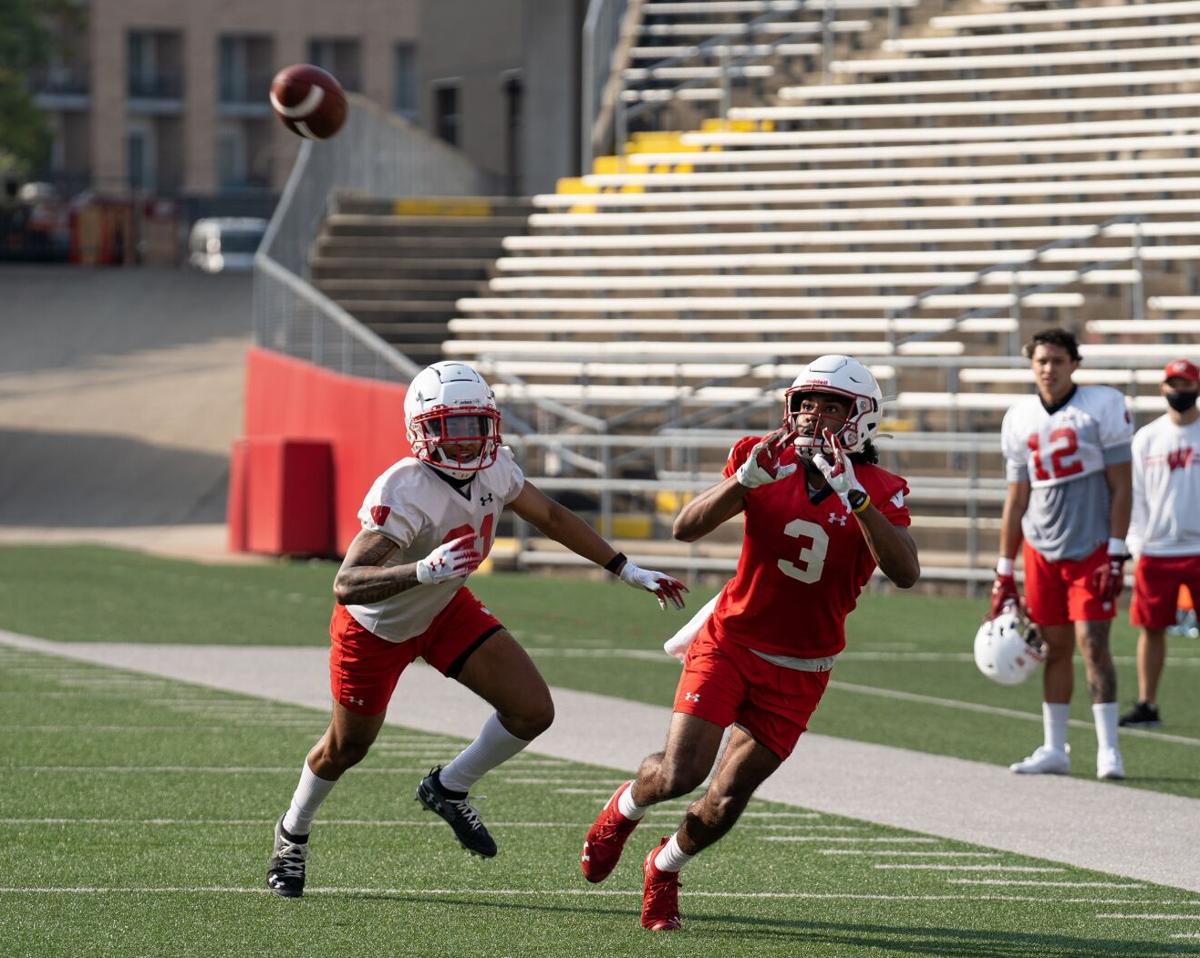 Both Danny Davis and Kendric Pryor have been in this position before.
The No. 16 University of Wisconsin football team is asking the pair of seniors to again step into starting receiver roles in the offense, as it did back in 2018. That first attempt — spurred by the dismissal of Quintez Cephus from the football program after his arrest — wasn't successful.
But with that season behind them and what they learned from an at-times frustrating year in 2019, Davis and Pryor are aiming to prove themselves as consistent, play-making receivers.
"2018, everyone knows that wasn't the best year for our team. It didn't go the way we wanted it to go. I think just going into the season last year, forgetting about that … not forgetting about that season but knowing we have to definitely be better than that," Pryor said during a Zoom teleconference with reporters.
"It's time for people to see or realize that we can do more than that. We can be, I feel, the best, top-notch receivers in this Big Ten Conference."
Going into the 2018 season, Davis was coming off a breakout freshman campaign, including catching three touchdowns in the Orange Bowl victory over Miami, and Pryor had shown promise while playing in 10 games. The transition to larger roles didn't pan out — Davis tallied 40 catches for 418 yards and five touchdowns in 11 games, while Pryor had 273 yards and three scores in 13 games.
One can't blame Pryor and Davis for the passing game's struggles that season. The quarterback issues that season with Alex Hornibrook under center are well documented, and even when Jack Coan took over, inexperience plagued that facet of the offense.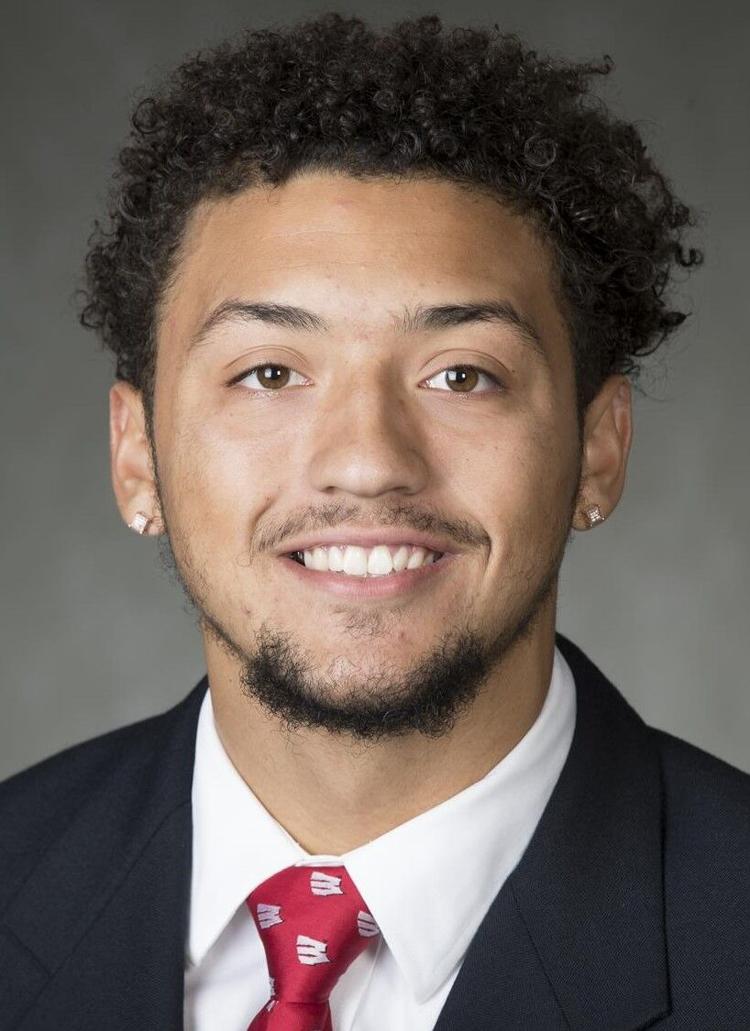 Last year, a log-jam of talented options at receiver made it difficult for Davis and Pryor to consistently get targets or produce plays. Cephus returned to the team after his acquittal and quickly became Coan's go-to target. Davis posted a career-low 250 yards and one touchdown, while Pryor had 278 yards receiving. Pryor was active in the rushing attack, gaining 180 yards and scoring two touchdowns primarily on jet-sweep handoffs.
For the first time in Davis and Pryor's careers, Jonathan Taylor won't be in the backfield drawing defenses' attention. They know that for UW to have success in the Big Ten's short season, Davis and Pryor have to consistently produce in ways they've only shown in short doses in the past.
"I think we're right where we need to be. We're ready to make plays and we're ready to show people what we can do," Davis said. "I've always played with that chip on my shoulder, and it's not going nowhere, it's even more hungry now."
New position coach Alvis Whitted — whom both Davis and Pryor praised for his energy and knowledge — has a track record of developing receivers into pros. He repeatedly told reporters how smart his group of senior receivers is and said that Davis and Pryor are leading the way.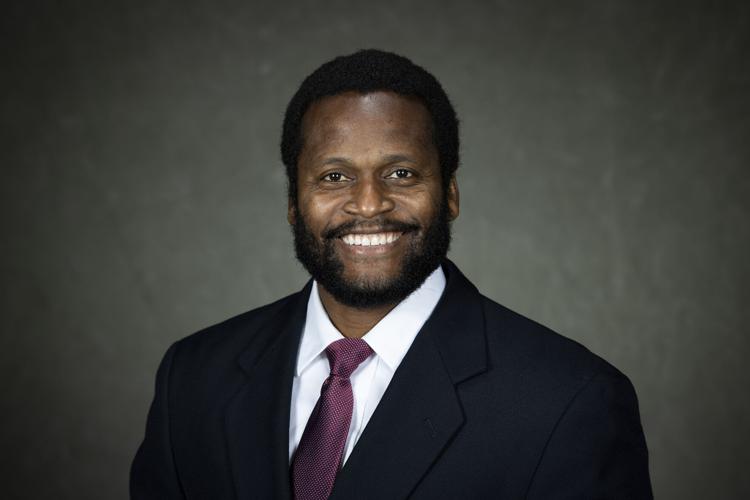 "What I see is a little bit of maturity on both of their parts in regards to just embracing this new environment, this new challenge and this new opportunity for themselves," Whitted said. "They've played a lot of football together, and they're doing a really good job with the young guys. Just taking them under their wings, showing them the ropes, setting the standard in the room in regards to what the expectations are. I'm real excited about those guys."
Roles for Davis and Pryor will be a bit different than in past years.
If footage UW has released from practices is any indication, Davis is starting to build a connection with expected starting quarterback Graham Mertz on deep routes. Davis averaged 16.1 yards per catch in 2017, but that metric dropped to 10.5 in 2018 and 8.3 last season.
UW ranked 11th in the Big Ten last season at 11.4 yards per catch as a team, so Davis becoming a consistent big-play threat would help lift the offense.
"I feel like we've got to keep the defense on their toes. They're going to be filling the run, so (we've) got to be able to take shots and connect on them," Davis said. "It's not only deep balls, we need to know the short range, the slants and stuff too, but it'll be a big factor."
Pryor has been working more in the slot in preseason practices, and UW coach Paul Chryst said this spring he envisioned Pryor filling the role of A.J. Taylor in that spot. Playing in the slot should allow Pryor to get favorable matchups and use his speed to create separation.
"I haven't been in the slot too much (before this), so just getting that experience. It's a little different from being split out wide or being the boundary receiver. It's probably got a little bit more space," Pryor said. "It was just good to get out there during camp. It would've been a big help if we had spring ball where I could've got some more work in spring, but that didn't happen. This camp, though, it's been pretty good in the slot."
---
Badgers in the NFL: Week 5
Tyler Biadasz — Cowboys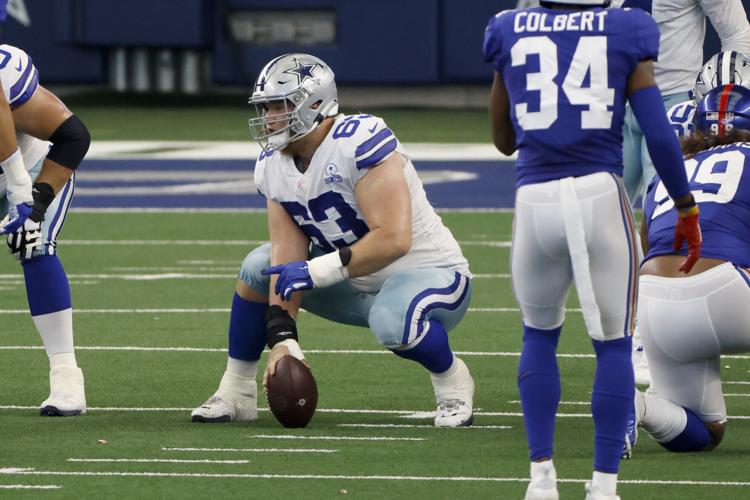 Tyler Biadasz made his first career start for the Cowboys, whose offensive line injuries are mounting. But Biadasz and the Dallas line did enough to help win a shootout against the visiting Giants, with a field goal as time expired lifting them to a 37-34 win. Dallas tallied 402 yards of offense, including 276 in the air. Biadasz had to deal with multiple quarterbacks after starter Dak Prescott was injured on a scramble.
Alec Ingold — Raiders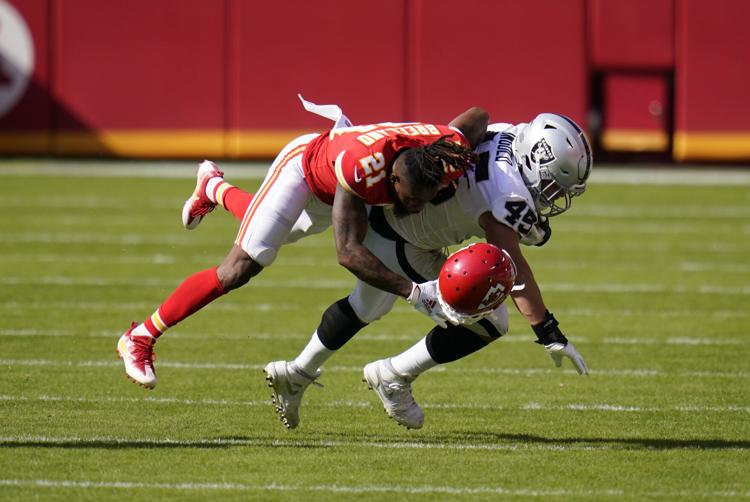 Alec Ingold and the Raiders pulled off the biggest upset of the weekend, toppling defending Super Bowl champions Kansas City 40-32 at Arrowhead Stadium. Ingold caught two passes from quarterback Derek Carr, and gained 25 yards receiving. He was also a key factor in opening up holes in the running game that amassed 144 yards on the day.
Andrew Van Ginkel — Dolphins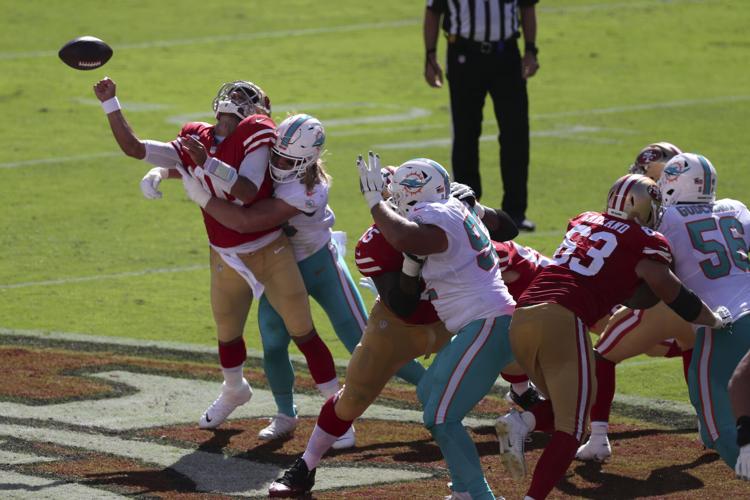 Andrew Van Ginkel added to a dominant day for the Dolphins, who ran through the visiting 49ers 43-17. Van Ginkel had six total tackles, including a strip sack of San Francisco quarterback Jimmy Garoppolo. It was his first forced fumble in the NFL. He finished with 1½ tackles for loss.
J.J. Watt — Texans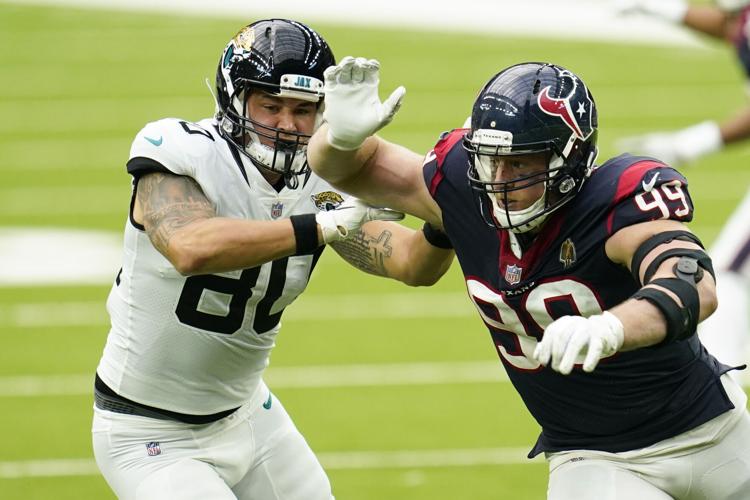 After a tumultuous week in which the Texans fired general manager/coach Bill O'Brien, they were able to throttle the Jaguars 30-14. J.J. Watt recorded two tackles, defended a pass and recovered a fumble in the victory. Watt and O'Brien reportedly argued earlier this season, and the team's players were in favor of O'Brien's dismissal.
T.J. Watt — Steelers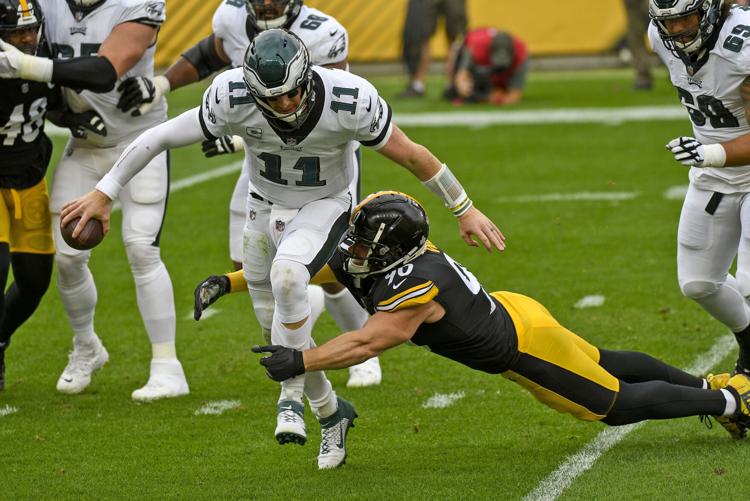 The volume may not have been what we've come to expect from T.J. Watt, but each play he made Sunday against Philadelphia was impactful. Watt had three tackles, all for loss, and a sack of Philadelphia's Carson Wentz, helping the Steelers to a 38-29 win. He's tied for the league lead with nine tackles for loss.
Russell Wilson — Seahawks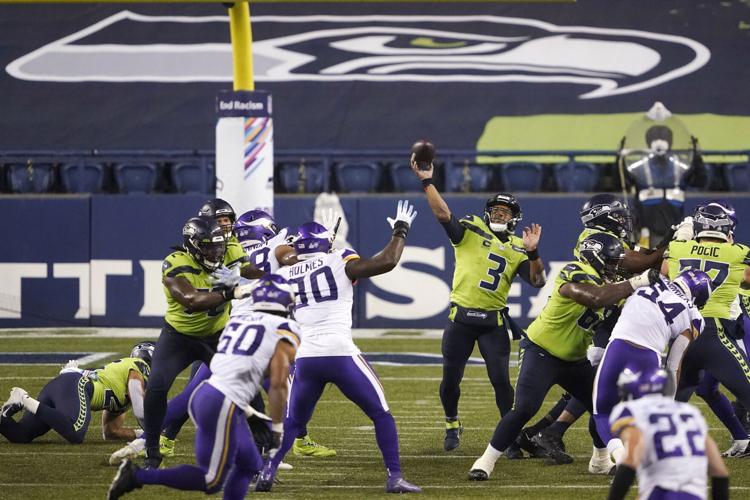 Russell Wilson posted a signature comeback victory on Sunday Night Football, converting two fourth downs on the final drive to win 27-26. Wilson engineered a 13-play, 94-yard drive in 1 minute, 42 seconds to put his Seahawks ahead, connecting with receiver DK Metcalf on both fourth downs, one to extend the drive and the other to score the winning touchdown. Wilson tallied 217 yards and three touchdowns, and he leads the league with 19 touchdowns thrown.
Be the first to know
Get local news delivered to your inbox!