Joe Thomas looks back fondly over many stretches of his life as an athlete.
His years as a stellar three-sport athlete at Brookfield Central High School, his years of All-American line play at the University of Wisconsin and the years he spent building a sure-fire, Hall of Fame resume with the Cleveland Browns all are worthy of admiration.
As he recalls the moments of one nearly four-month span, the aggravation in his voice raises and the laughs come quickly as he discusses what he called "a colossal waste of time." Thomas' memories of the time between his final collegiate game and the night he was drafted by the Browns range from general annoyance to flat-out disdain.
"I would say, in general, I hated the combine, the pro day, the draft, because I thought most of it was pretty silly," Thomas told the State Journal earlier this month.
The NFL draft season likely will be quiet for former Badgers this year, with just a few players expected to be selected. Thomas, whom Cleveland picked with the third overall pick in 2007, is the only UW product to be chosen in the top three of the draft since the AFL-NFL merger in 1966.
Thomas' experience 14 years ago is a glimpse into the strange world of the draft, where even a player as universally agreed upon as Thomas gets challenged one way or another.
Would you rather be, a dog or a cat?
Thomas likely would've been a high pick if he left UW after his junior season, but he tore his ACL in the Capital One Bowl against Auburn — Barry Alvarez's last game as the Badgers' full-time coach — and decided to return.
He dominated as a senior, winning the Outland Trophy as the best lineman in the country and earning unanimous All-American honors. He helped UW go 12-1 and win the Capital One Bowl for the second consecutive year.
Thomas' recovery from the knee injury and stellar play solidified him as a top-five pick, but he still had to take part in the pre-draft proceedings of the NFL scouting combine, a pro day and visits to teams' facilities. Thomas, who works as an analyst for the NFL Network, said that teams' evaluations of players come 95% from game film. Thus, the emphasis on what prospects can do in workouts during the build-up to the draft confuses him.
"That stuff should just reinforce what they saw on film. Or if it was much better than what they saw on film, maybe it'll have them go back and revisit some of your game film to try to figure out maybe where the discrepancy was," Thomas said.
"But it does feel like, 'Why am I spending so much time and stressing out so much about something that a team typically doesn't put as much stock into? Let's just get this over with so we can kind of move on to what's important, which is getting ready for a football season where I'm actually going to put some shoulder pads on and go play a game.'"
Even though he wasn't thrilled to participate, Thomas put together an impressive combine performance. He finished in the top five among offensive tackles in the vertical jump (33 inches, first), broad jump (9 feet, 2 inches, third), 40-yard dash (4.94 seconds, fourth) and the bench press (28 reps, fifth).
However, Thomas said the meetings and evaluations at the combine were strange experiences, including psychology tests that posed strange scenarios. One of the peculiar questions asked in these sessions had been in use for some time. Thomas' agent, Peter Schaffer, actually prepped him for it.
"I'll never forget, there was one question and it was, 'Would you rather be a dog or a cat?'" Thomas said. "(Schaffer) was like, 'All right, when they ask you this question, you can't say cat, right? Because cats typically are conniving and they'll go behind your back, and they're not subservient to their masters. And so this team does not want to hear that you would be a cat, you have to say you're a dog and the reasons why are because you would be willing to listen, you want to please your master.'
"He made this big thing and I just thought to myself, 'This is the dumbest thing on Earth. How is this going to help me block Dwight Freeney? Or Von Miller when he's coming off the edge?' It's not. It's such a waste of time. And by the end of it … like I'm a person that hates inefficiency and hates wasting time. And it just felt like the whole thing was such a colossal waste of time."
Thomas said he understands that teams are trying to learn as much as they can about a player before investing in him with a high draft pick, but the process seemed exploitative.
"They're just intentionally putting you in compromising situations, trying to make you mentally uncomfortable and agitated just to see how you react in stressful situations," he said. "And that's not a lot of fun. They're just trying to mess with you. It's like, wait a second, just because you're in a position of power and you can do this to me, doesn't mean you should. Especially if we're not gaining anything from this."
A day on the lake
Thomas was over the draft process as the day approached. The draft was still a two-day event then, starting on Saturday, April 28.
ESPN, which televised the draft, was stunned when Thomas said he wasn't interested in attending the spectacle in New York. Network executives tried to appeal to Thomas' ego, describing how he'd get his moment to be in the spotlight and center of attention, but he saw through it.
"I kind of saw the whole draft day thing as a waste of time," Thomas said. "Wait a second, so you want me to show up so that you guys can make millions of dollars? I get that, you want money. So you're going to try to trick me as a college kid who doesn't understand the business of football yet? And then you're going to try to sell it to me as like, 'Oh, this is a great experience for you so you can brand yourself.' OK, I'm an offensive lineman, I don't care about branding. I'm not going to make a cent on marketing anyway."
When that tactic didn't work, Thomas said ESPN reps tried warning him that not attending the draft could hurt his stock and make teams think the former Badger was "a prima donna."
Thomas was also leery of how the telecast handles a player falling in the draft. The 2005 draft saw Aaron Rodgers drop and the broadcast often featured him. Thomas' draft had a similar situation with Notre Dame's Brady Quinn.
"If I do drop … now my misery becomes the story of the draft and having cameras in my face becomes the reason that the draft is getting eyeballs," Thomas said. "I don't want to do that."
Gil Brandt, a UW product who was a longtime Dallas Cowboys scout and served in the NFL front office for decades, tried to convince Thomas to attend the draft as a final push. But Thomas' mind was made up.
"They started trying to play bad cop," Thomas said. "And it was only after the fact that my agent kind of let me know, they have millions of dollars on the line making sure that they try to get all you guys there. I'm like, that's even more reason why I wouldn't want to go because they're trying to make money and be deceitful about it to me when they don't want to just share it with the rookies.
"Then I got like, 'OK, that's how you think about it?' I almost became like, 'No, I'm going to prove (I won't fall) and I'm definitely not going now.'
Instead of Radio City Music Hall, Thomas spent the day fishing with his father, Eric, and close friends. They got onto Lake Michigan in Port Washington, about 45 minutes north of his hometown of Brookfield, and — at the demand of Schaffer — stayed close enough to shore to get cell-phone reception and a clear enough radio signal to hear the draft broadcast.
An ESPN camera crew was on the shore that morning as well, documenting Thomas' trip.
One of the anglers in Thomas' party that day was Joe Panos, a former UW lineman who played in the league and a friend of the Thomas family. He had a hunch that Thomas was going to Cleveland, which he did after Oakland selected LSU quarterback JaMarcus Russell and Detroit picked Georgia Tech wide out Calvin Johnson.
A Cleveland scout called a few minutes before the Browns submitted their draft card, ensuring Thomas hadn't been injured or arrested since they'd last spoke — a customary safeguard teams employ.
Panos offered words of encouragement to Thomas, who knew he'd like Cleveland after visiting family in Toledo, Ohio, throughout his life.
"(Panos) was like, 'Hey, one of my best friends in the world is Tarek Saleh, played with him at Wisconsin. He played in Cleveland with the Browns. … He just called me and he said this is going to be a perfect situation for you,'" Thomas recalled.
"People in Cleveland are one of the few fan bases that understand and respect offensive line play. If nearly any other franchise drafted a left tackle No. 3 overall when they needed a quarterback, they would have hated it, they would have hated you. But he's like, 'Cleveland, they're going to love you. So congratulations.' And so I'll never forget that little tidbit that they gave me and it was true."
Thomas had done as he said — he stayed in the top three of the draft despite not attending the event. More importantly, and fittingly, he caught a brown trout that afternoon.
"At the time, it was probably 10 pounds. But in memory, it's grown a little over the years, now it's like 15," Thomas said. "If you talk to me next year it's probably 20."
A Packers' dozen: 12 possibilities for Green Bay with 29th pick in NFL draft
1. Rashod Bateman, WR, Minnesota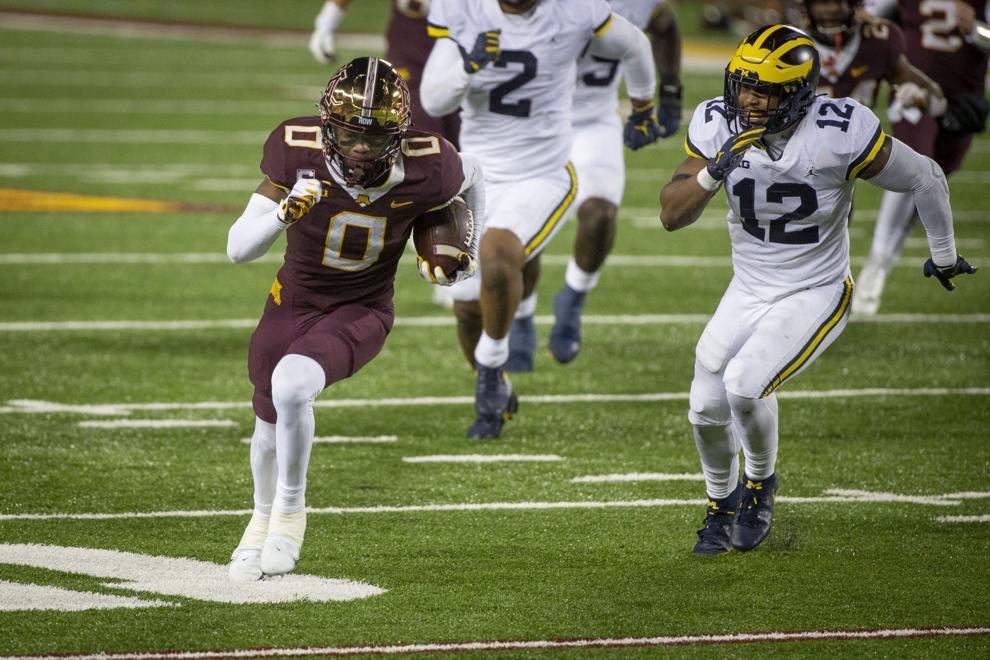 After Packers GM Brian Gutekunst punted on the deepest wide receiver draft in NFL history a year ago, when 36 receivers went overall (and six went in the first round) — but none went to the Packers, could this be the year that they add a wideout in Round 1? If they do, it'd mark the first time since Florida State's Javon Walker was the team's first-round pick in 2002. And Rashod Bateman (above), who initially opted out of the 2020 season, then chose to play (36 receptions, 472 yards, two touchdowns in five games) before opting out again, would be a worthwhile selection to break the streak.
2. Kadarius Toney, WR, Florida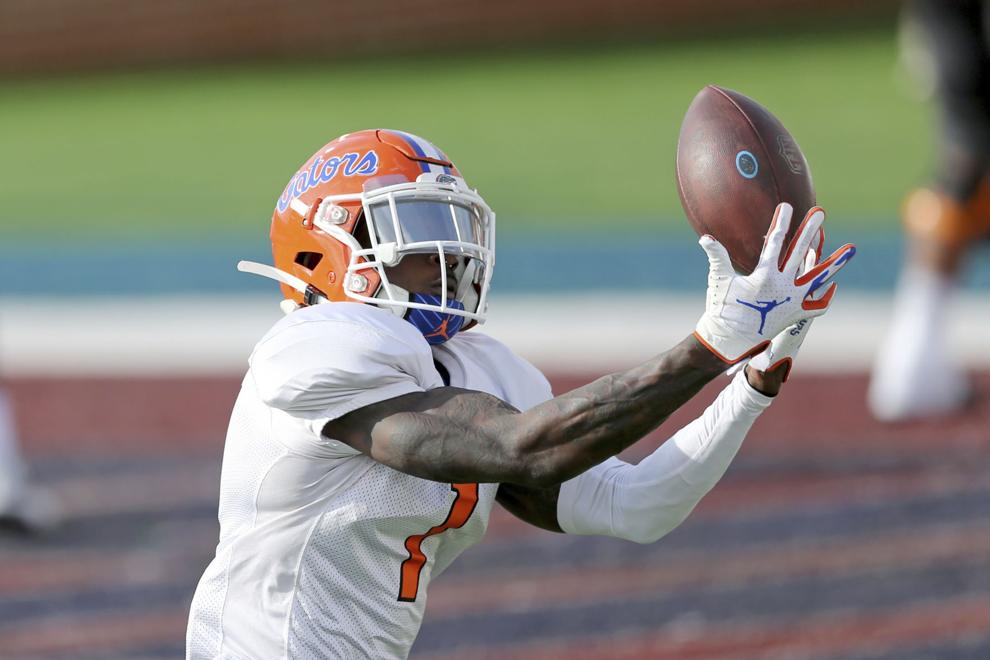 The 5-foot-11, 193-pound Kadarius Toney (above) could be a great fit for head coach Matt LaFleur's system and would give the offense that versatile do-it-all player that LaFleur has coveted. The Packers tried Tyler Ervin in that role last year, but his lack of durability caused problems. In Toney, the Packers would get a player who lined up everywhere for the Gators, from the backfield to the slot to out wide. A second-team all-American last year in his only season as a starter, he caught 70 passes and scored 11 touchdowns. Can also be a primary return man.
3. Elijah Moore, WR, Mississippi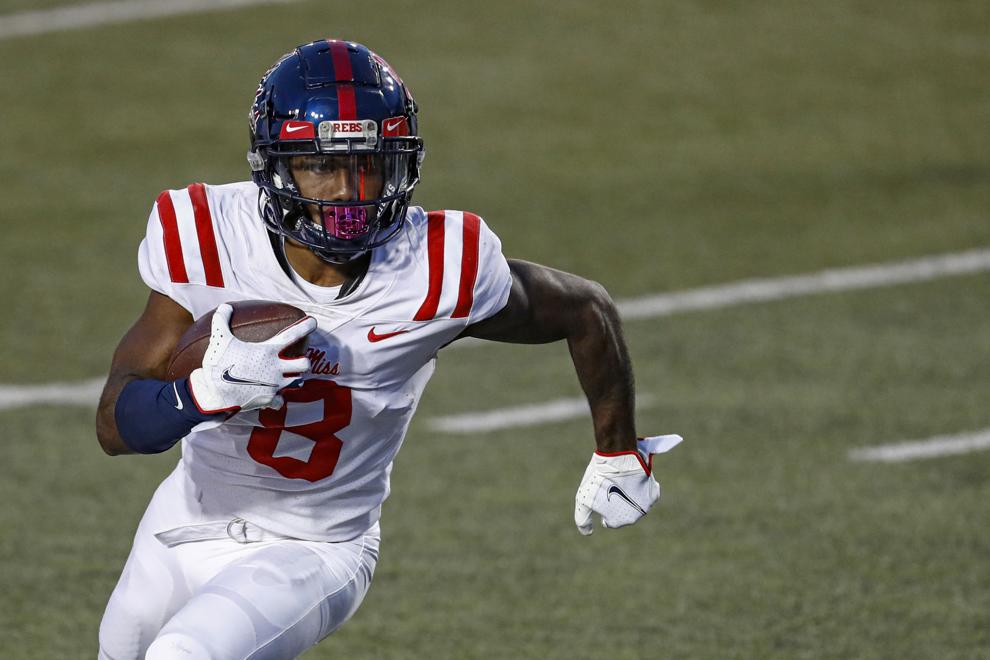 Another versatile receiver who could give the Packers their first true slot receiver since Randall Cobb, Elijah Moore (above) is undersized (5-foot-9, 178 pounds) and is rough around the edges, needing polish at the next level. But with a 4.35-second 40-yard dash and play-making ability, he's an intriguing possibility. Should he fall out of the first round, Moore would be a player worth considering a trade up for in Round 2 as well.
4. Terrace Marshall Jr., WR, LSU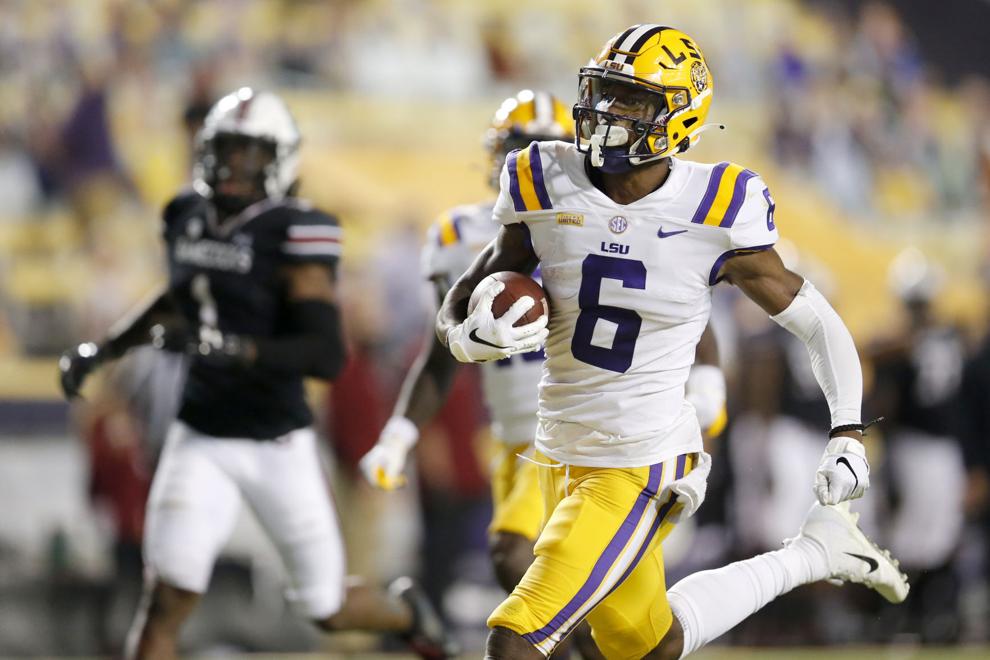 The 6-foot-2, 204-pound Terrace Marshall Jr. (above) is the kind of big receiver Gutekunst likes, and his humble personality would make him a good fit in the locker room — something Gutekunst talks frequently about valuing. Despite opting out of the season after seven games, Marshall still set career highs for receptions (48) and receiving yards (731) in his abbreviated season while scoring 10 touchdowns. Having spent much of his career in the shadow of Ja'Marr Chase (a possible top-10 pick) and Justin Jefferson (last year's No. 22 overall pick who had an outstanding rookie year with the Minnesota Vikings), Marshall has the tools to develop into another top NFL wideout from LSU.
5. Teven Jenkins, OT, Oklahoma State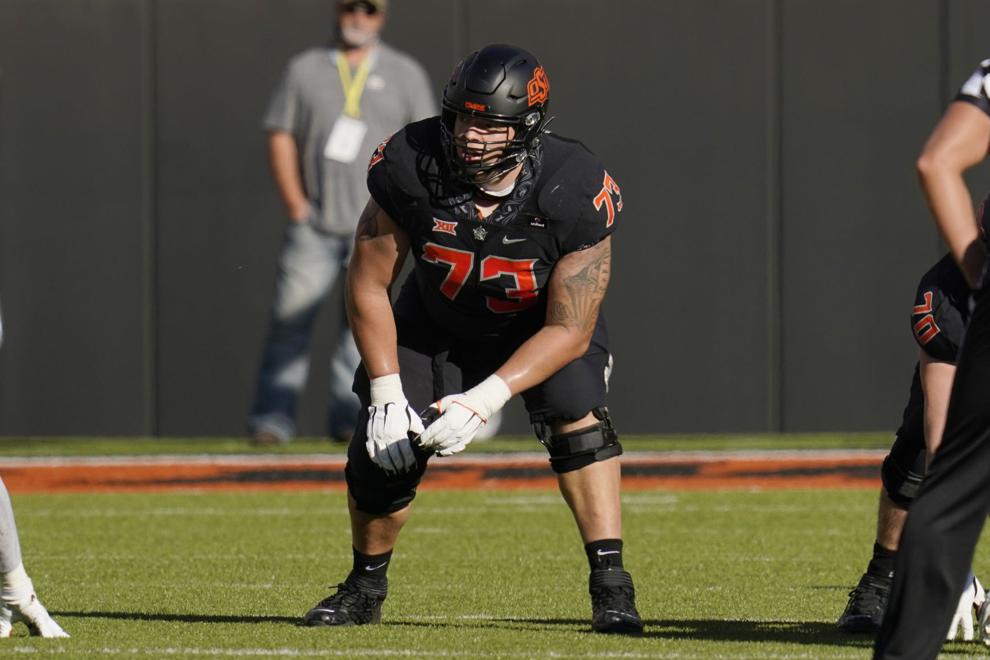 The 6-foot-6, 317-pound Teven Jenkins (above) is big, powerful and athletic. He doesn't have ideal arm length for a tackle (33 1/2 inches), but neither did Bryan Bulaga, and he turned out to be a very good player in Green Bay as the Packers' 2010 first-round pick. Jenkins projects as a tackle or a guard, and given the Packers' offensive line uncertainties after left tackle David Bakhtiari's torn ACL and the free-agent departures of all-pro center Corey Linsley and experienced guard Lane Taylor, augmenting the depth up front is a primary need.
6. Alijah Vera-Tucker, OT/G, USC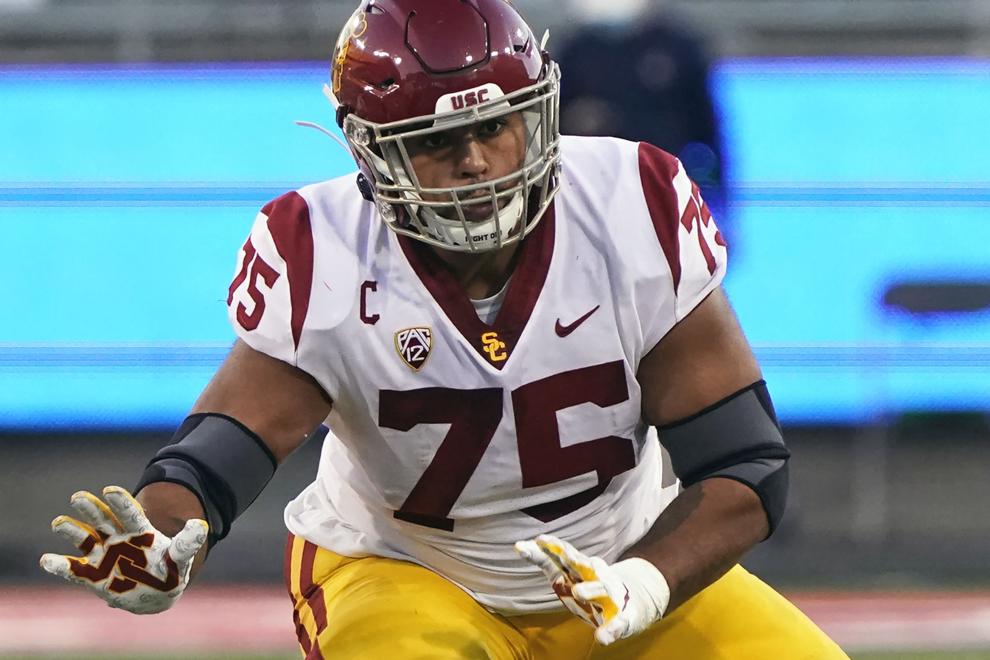 The 6-foot-4, 308-pound Alijah Vera-Tucker (above) was a left tackle for the Trojans in ex-Packers backup QB Graham Harrell's offense, and the Packers have historically taken college left tackles and converted them to guards with much success. An excellent pass blocker with terrific balance, feet and hands, he needs to get stronger but has just scratched the surface of his talent and has significant upside with only 19 games of college experience.
7. Christian Barmore, DT, Alabama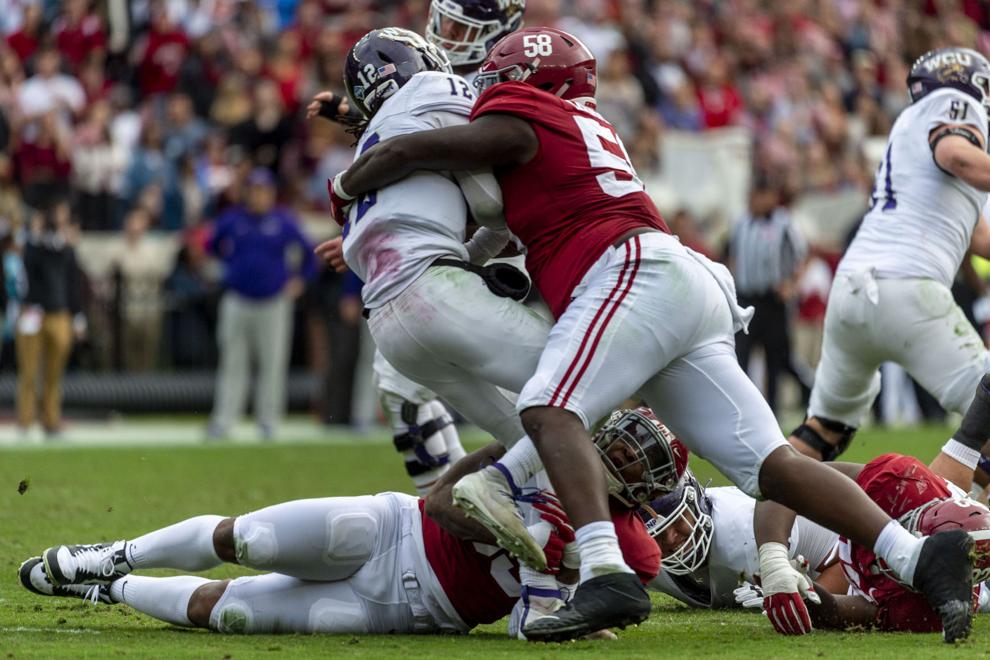 It's a weak defensive tackle draft — something Gutekunst himself acknowledged — but adding Christian Barmore (above) and lining him up alongside Kenny Clark would make for quite the intriguing duo in the middle of the Packers defense. Although the 6-foot-4, 310-pound Barmore was a one-year wonder at Alabama, his eight sacks last season add productivity to his tantalizing potential.
8. Jamin Davis, linebacker, Kentucky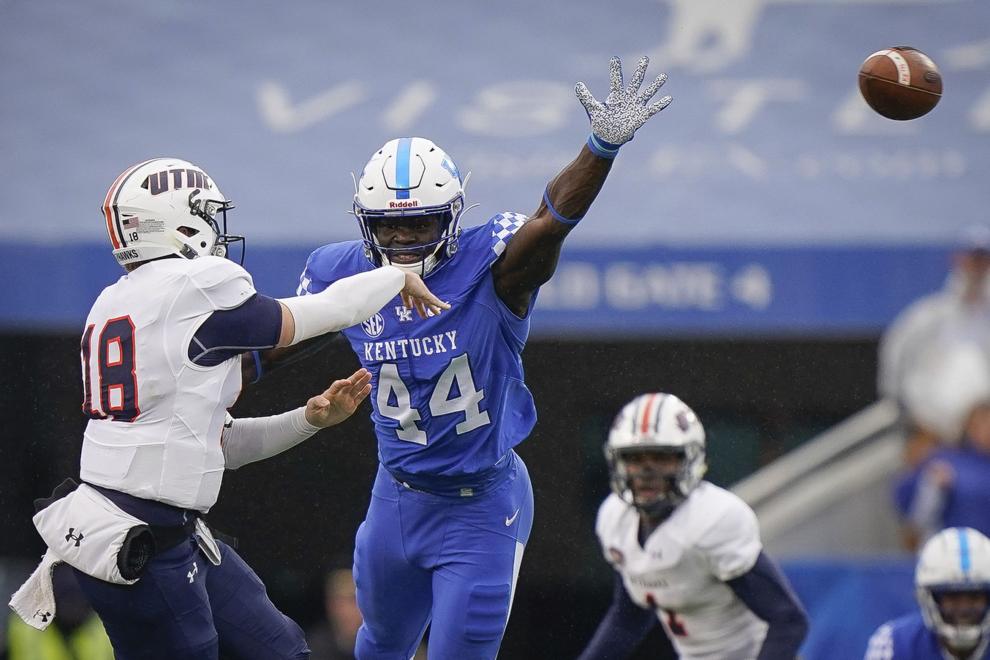 The Packers haven't historically put much value on inside linebackers, but Jamin Davis' potential might make him worth the investment. Only a one-year starter for the Wildcats after a redshirt year and two years as a backup, he exploded as a junior in 2020, recording a team-high 102 tackles, 1.5 sacks and an interception he returned for a touchdown in the 10 games he played.
9. Jeremiah Owusu-Koramoah, LB, Notre Dame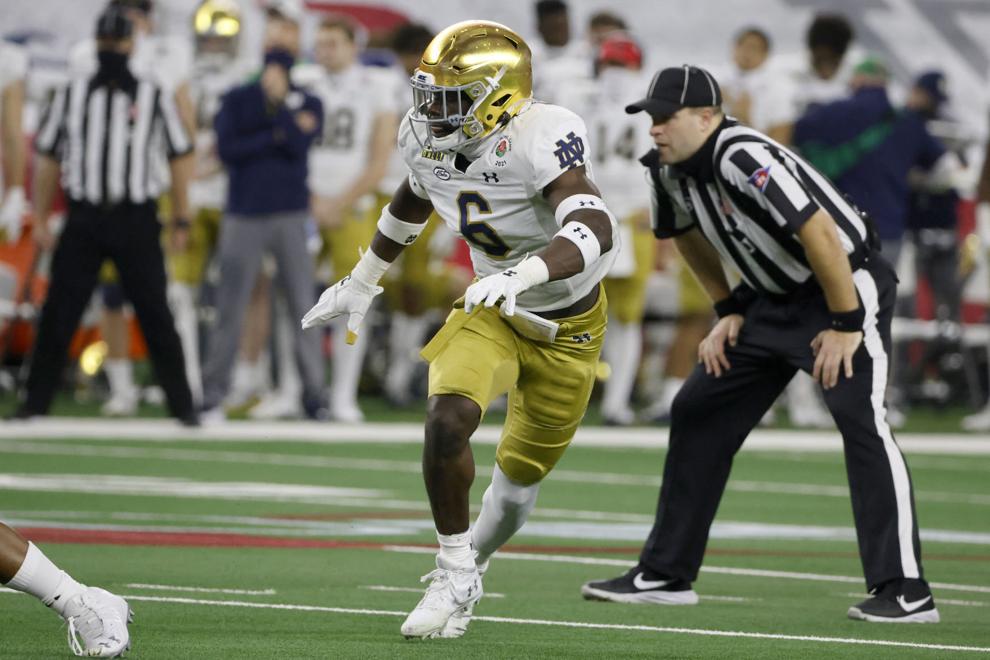 Jeremiah Owusu-Koramoah (above) likely will be gone by the time the Packers go on the clock at No. 29, but given Gutekunst's willingness to trade up for players he likes, this could be an instance he deems worth the trade cost. Gutekunst attended the Fighting Irish's pro day on campus, and he had to like what he saw from the 6-foot-1, 221-pound Owusu-Koramoah, who recorded seven sacks, 24.5 tackles for loss, one interception, five forced fumbles and 142 tackles over 25 games the past two seasons and won the Butkus Award as college football's best linebacker.
10. Zaven Collins, LB, Tulsa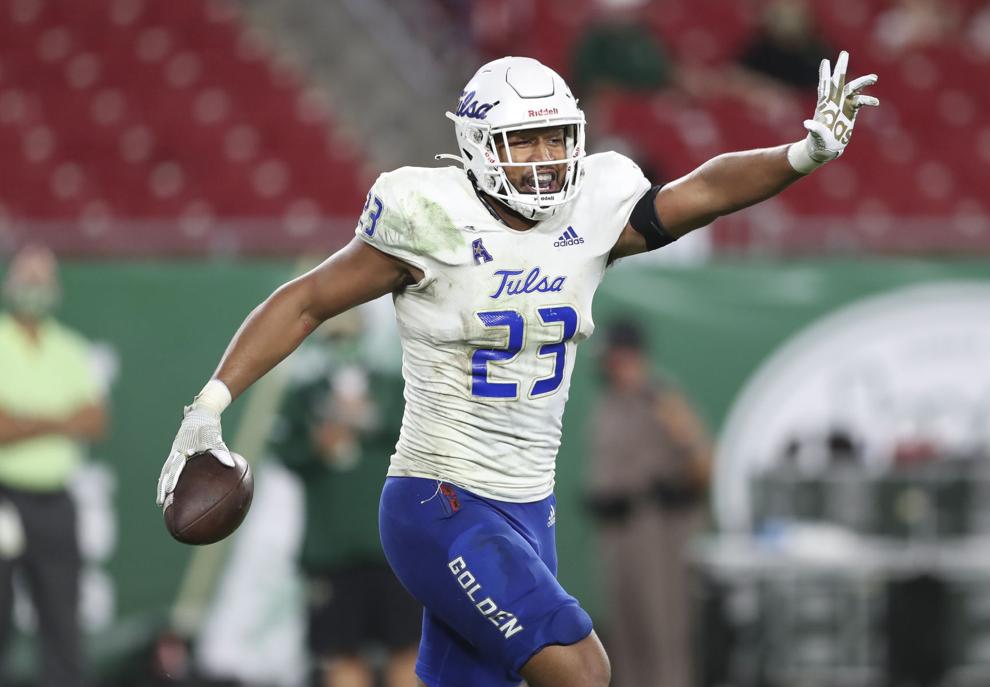 Another fascinating option should the Packers decide to reverse course and use a premium pick on a position all-too-frequently neglected in past years, Zaven Collins (above) was a tackling machine as an every-down linebacker for Tulsa, finishing his three-year career with 244 tackles, 30 tackles for loss, 7.5 sacks and five interceptions. He has the size, speed, range and versatility to be a decade-long starter in the NFL.
11. Trevon Moehrig, S, TCU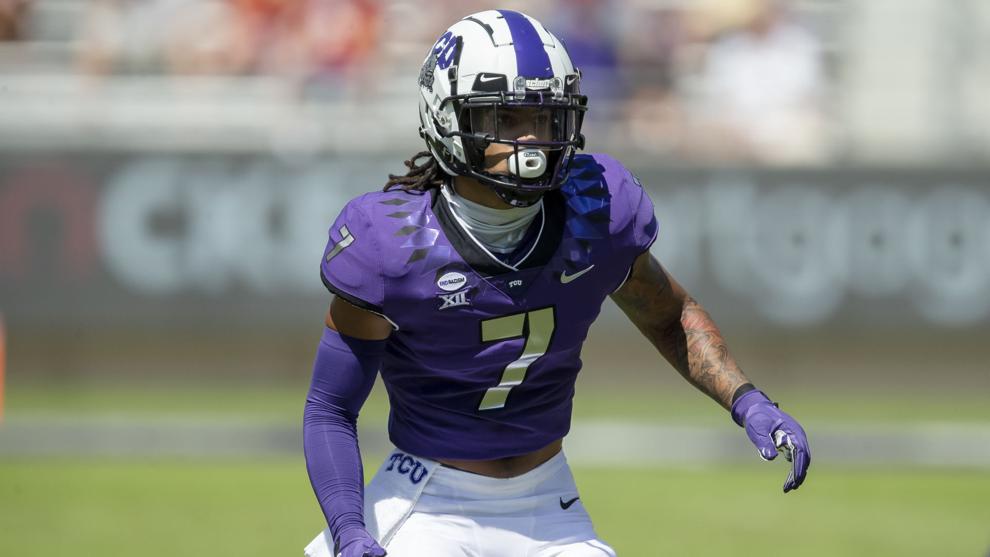 With 28 pass break-ups and seven interceptions in three seasons, the versatile, athletic, ball-hawking Trevon Moehrig (above) could step in as a Day 1 starter and allow 2019 first-round pick Darnell Savage to move into the so-called "Star" position in new defensive coordinator Joe Barry's system as more of a coverage player. The Packers have been enamored of late with TCU players, and Moehrig, who was last year's Jim Thorpe Award winner as the nation's top defensive back, would be a terrific best-player-available pick.
12. Caleb Farley, CB, Virginia Tech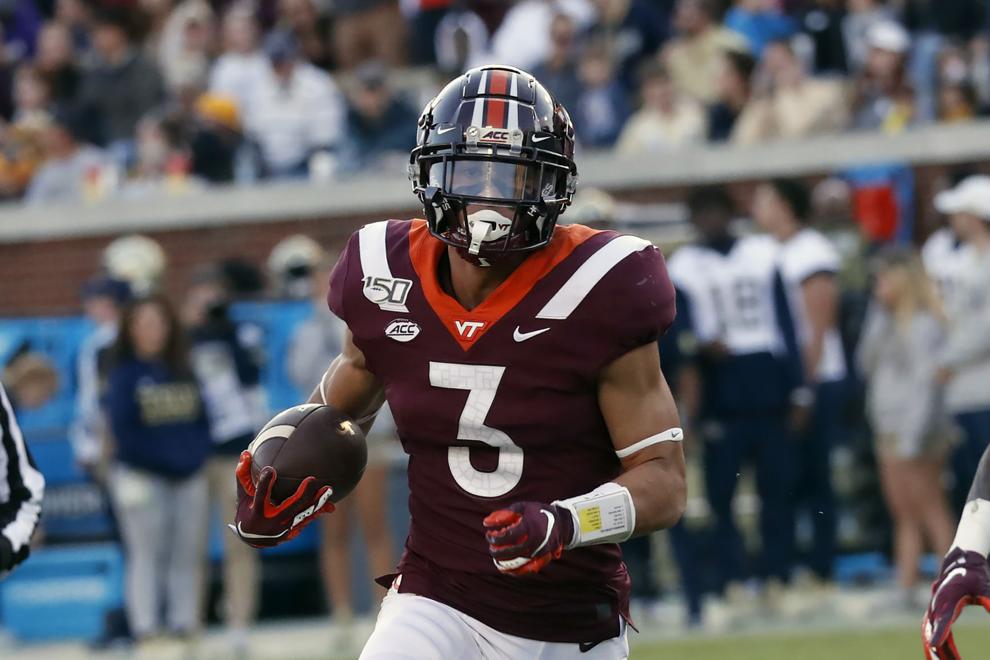 The first major NFL prospect to opt out of the 2021 season, having decided last July, Caleb Farley (above) hasn't played in a football game since Nov. 23, 2019. He was a two-year starter for the Hokies, redshirting as a true freshman after suffering a torn ACL in his knee. He ended up intercepting six passes in 23 career games, and teams like his prototypical size, speed and football instincts.