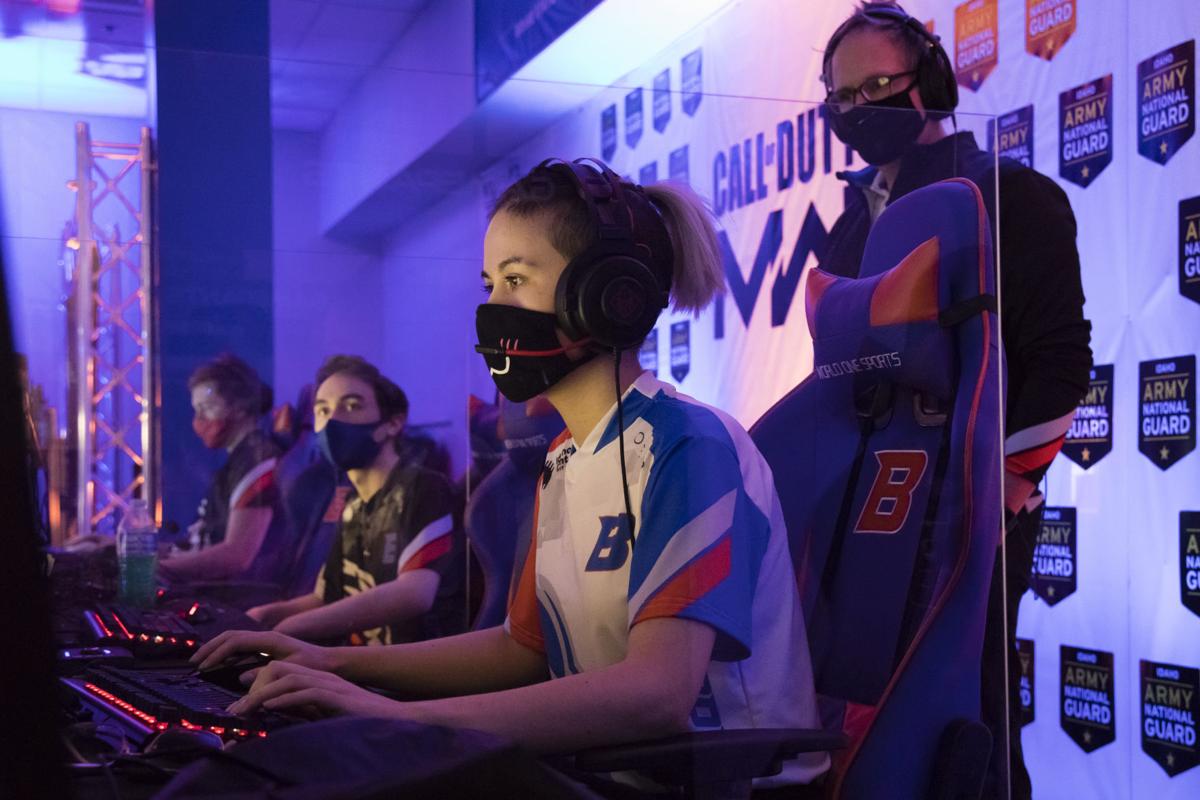 Golfers lower their handicap by spending hours at the driving range. Baseball players take hundreds of reps in the batting cages to polish their swing. And if esports athletes are to perform at their best, they also need equipment, space and most importantly, an opportunity to practice their craft.
That's exactly what Carthage College in Kenosha will provide, as the school announced earlier this month that it adopted esports as a varsity sport and will begin competitive match play this fall.
"I think a lot of people might be misinformed on what exactly esports is," Carthage Director of Athletics Nathan Stewart said. "Sure, it's playing video games, but it's also involving communication, teamwork, practices and all the other things that go into training for competitions and ultimately, to win."
The program marks the first coed varsity sport at Carthage and the 28th overall for the Firebirds, an opportunity that Stewart said is as innovative as it is exciting.
"It's about improving the Carthage College student experience," Stewart said. "And part of it is also keeping up with the changing market demand."
That demand for esports, the official term for competitive gaming, has created a billion-dollar industry. Now, Carthage joins hundreds of colleges and universities across the country that are creating environments where these unique student-athletes can participate.
Space in Carthage's Todd Wehr Center will be converted to a gaming studio for the Firebirds' practices and competitions. Carthage is raising funds to help cover the cost of renovations and hopes to secure corporate sponsors. The coming renovations will also set aside classroom space for related courses.
"We're really excited to show off what we've been working on," Stewart said. "There's a renovation process going on that will turn a space on our campus into a state-of-the-art esports center, which will be filled with gaming machines and an area where fans can watch these student athletes play on drop-down screens."
While there are hundreds of video games, most that are played competitively are categorized into one of four main types: strategy games, first-person shooter games, sports games and fighting games. Popular video game titles such as League of Legends, Call of Duty, Madden NFL and Super Smash Bros. are chosen frequently for competitions.
"For a lot of these games, players rely on teamwork and communication to win," Stewart said. "These are the things that are also important within normalized sports programs."
To compete, an esports player needs a few basic items like a keyboard, computer, mouse or a gaming system. Most players use special gaming headsets and equipment while wearing custom team jerseys.
Like other college athletes, players will attend team meetings, practices and official matches. But unlike many sports, esports can be played remotely, which reduces travel time. So, the regular season for a college esports program will feature plenty of weekly matches and practices, then this schedule will narrow down to a playoff season.
Since the NCAA does not sanction esports, Carthage also plans to join the National Association of Collegiate Esports (NACE), the lone governing body for varsity college programs in North America.
"I want us to be excellent," Stewart said. "I want us to be able to provide an excellent opportunity for our student-athletes because not only will they receive an excellent education, they will be able to compete at a high level.
"Our esports student athletes are also going to have access to the athletic training staff and they'll be practicing probably 20 hours a week," Stewart said. "They're going to be treated just like any other regular athlete."
Finding esports athletes won't be difficult. Approximately 40 percent of Wisconsin's registered high school esports teams are located within an hour's drive of the Carthage campus.
"In terms of recruiting, we're going to start and build our base locally, then work and build nationally if there's opportunities for us to do so," Stewart said. "It's very intriguing to see that we could build a student pipeline due to the number of local high schools that have kids interested in esports. Racine Unified is the first that comes to mind because of everything they've done, but there's a lot of other nearby districts that have also added esports opportunities because the student demand is there."
Student demand was a driving force in the formation of a college-wide Esports Task Force in fall 2019. Faculty members consulted with industry experts and peer programs to develop a plan to launch esports as a varsity sport.
Adopting esports is a great opportunity for both students and the school, said professional esports team founder Paul Gagliardi.
"For the most part, esports levels the playing field and really broadens the base of participation for what it means to be a varsity athlete on campus, across campus life and for students," Gagliardi said. "You definitely need esports as a recruiting tool today and when you pair that with the necessary curriculum, it's also going to prepare students to enter into the esports industry workforce."
For example, faculty members expect students who pursue the college's new undergraduate minor in game development — and computer science majors who add the optional concentration in it — to consult with team members when creating and refining original games.
"The benefits of an esports program extend well beyond the Athletic Department," says Abigail Hanna, vice president for administrative planning and innovation. "Besides further diversifying Carthage's menu of extracurricular activities, we're confident it will build new bridges to academic offerings."
As Carthage continues to prepare for its incoming esports program, Stewart said he is excited for changes that will be felt across campus.
"If you look at it rather simply, this program is all about keeping up with the changing market demands so we can provide more opportunities for our students," Stewart said. "We've been working with the computer science faculty to improve processes, will be introducing a minor in video game design and continuing to develop the esports component in our sports management masters program. A lot of synergies have come together to make this happen and it's going to be really neat."
"Sure, it's playing video games, but it's also involving communication, teamwork, practices and all the other things that go into training for competitions and ultimately, to win." 

Nathan Stewart, Carthage Director of Athletics