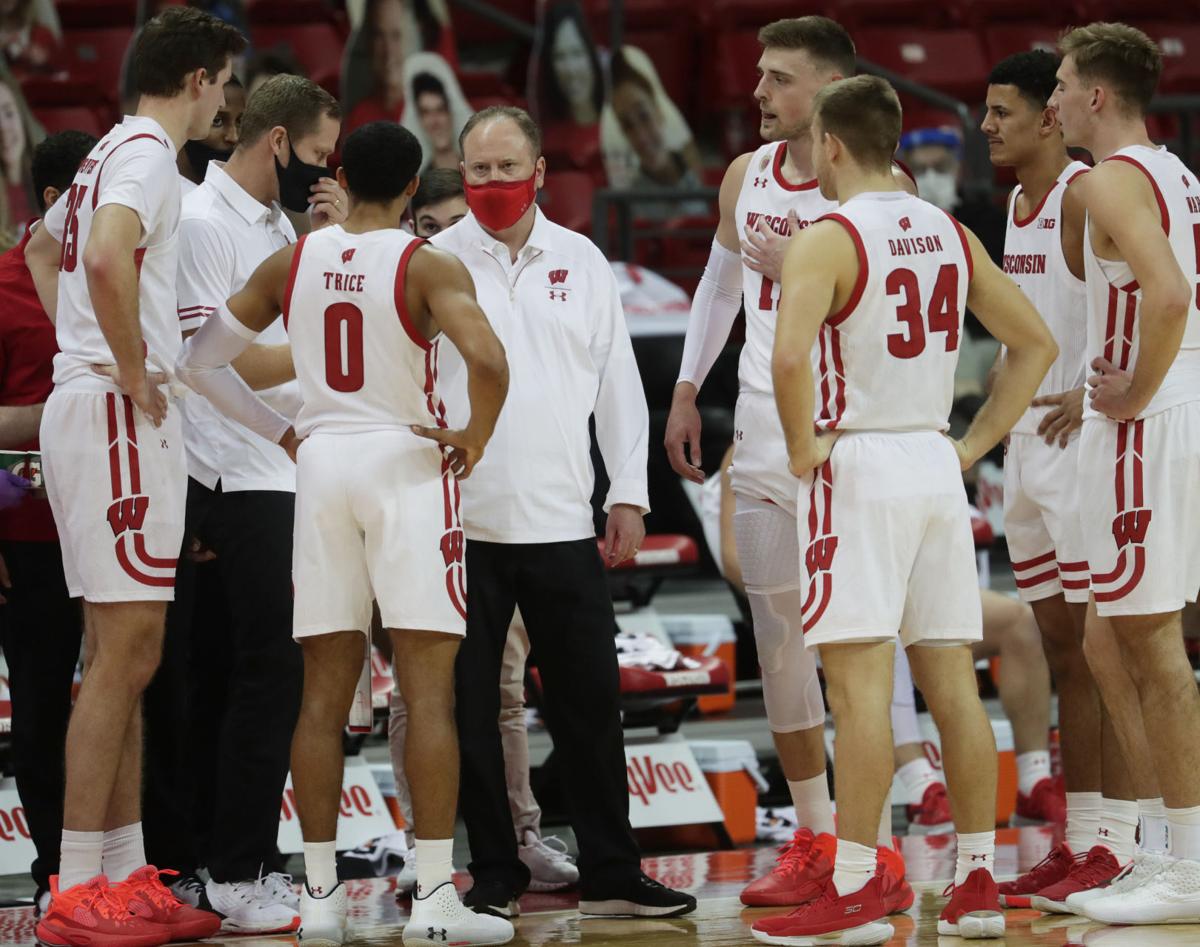 D'Mitrik Trice was expecting a lot of downtime during a long stay in Indiana, and the senior point guard for the University of Wisconsin men's basketball team decided to plan accordingly.
"I've got my video games all set up," he said. "I'm ready for this quarantine, I'm ready for this long week."
So is senior guard Brad Davison, who's more of a reader than a gamer. He packed extra books and has another important item on his to-do list when he's not watching film of North Carolina, the Badgers' first-round opponent in the NCAA tournament.
"Got some homework to catch up on that I didn't do," Davison said.
The Badgers arrived in Indiana last Wednesday for the Big Ten Conference tournament and will remain in the same hotel in downtown Indianapolis until they're eliminated from the NCAA tournament. They'll venture outside the city this week to West Lafayette for practices and a game at Mackey Arena, where UW (17-12) and the Tar Heels (18-10) will tip off at 6:10 p.m. Friday.
UW was sent to sunny California for a first-round matchup with Oregon in San Jose two years ago, when Trice and Davison were sophomores. The weather was nice and the Badgers could venture outside and catch some rays.
This NCAA tournament experience will be much different for UW and the other 67 teams navigating the oddities of life in a bubble during the COVID-19 pandemic.
"It's very important to stay healthy," Trice said, "and that's the No. 1 thing that we're really focusing on right now."
Life in the bubble
UW cleared testing protocol Monday afternoon and could resume team activities after a 48-hour stretch of what the NCAA calls living in a "controlled environment." Badgers coach Greg Gard used another term to describe it: lockdown.
The Badgers gathered to watch the Selection Show on Sunday evening and went through two rounds of COVID-19 PCR testing, one Sunday and another Monday.
Other than that, Trice and his teammates basically were confined to their hotel rooms. Meals were delivered to their rooms to avoid large group gatherings.
"I'm stuck in my room until sometime (Monday), but I just follow the rules and our team's done a great job this whole year with following the rules and staying healthy and not putting us in positions to be shut down for any reason," Trice said. "I trust the guys. I know we're just looking at this as another opportunity to do something different, go down in the history books for something different, and this is the year to do it. It's been pretty crazy."
After clearing NCAA protocol, the Badgers finally could gather in a designated meeting room to go through video review of their 62-57 loss to Iowa in the Big Ten tournament. After that, they were scheduled to practice at one of 12 courts set up in the Indiana Convention Center, which is adjacent to the team hotel.
Gard repeatedly has given his players credit for doing what they needed to do to reach this point of the season without any pauses related to the pandemic.
There were 353 college men's basketball teams that played games this season, and UW was one of 21 to complete a 27-game regular season. The Badgers were one of 10 teams from major conferences to do so and one team from that group, Kansas, had to drop out of the Big 12 Conference tournament due to a positive COVID-19 test.
Positive tests in the Penn State program led to a scheduled game in early January between the Nittany Lions and Badgers being pushed back to later in the month. There were some dicey moments during the non-conference schedule as well, with a game against Louisville having to be postponed due to COVID-19 issues for the Cardinals.
Northern Iowa had to drop out of a game and UW quickly filled its schedule with Loyola Chicago, which turned out to be a crucial replacement on the fly because it counted as a Quad 1 victory for the Badgers.
"These guys have had to go through a lot since September," Gard said. "Obviously the discipline they've had to show to get to this point without any major issues, any pauses, any shutdowns, is a credit to them and the path that our medical people laid out for us. Huge credit to our (athletic) trainer, Henry Perez-Guerra, our doctors, they've all had a major, major hand in making this work."
Perez-Guerra believes the players deserve most of the credit for following the guidelines established by the CDC and UW. He said Monday the Badgers "needed reminding on a few things every once in a while, but overall did an excellent job" when it came to wearing masks and limiting interactions with people outside the Kohl Center.
"That was asking a lot of them," Perez-Guerra said. "They wanted to play basketball and the way to accomplish that was through following our guidelines.
"I think it's really turned out well. We can't stop doing what we have been doing if we want to continue. These guys want to play basketball, so what we have to do is provide the best and safest environment for them to allow this to occur. I think between UW, the Big Ten and the NCAA, we're doing a pretty good job of it and we anticipate going forward without complications."
'Enjoy this'
Gard had a message for the team as the Badgers made the transition from the Big Ten tournament to the NCAA tournament: Don't forget to have fun.
"I want them to enjoy this, embrace it, because it's not easy to get here and I want them to enjoy this week and attack it full-on," Gard said.
But that begs the question: Is that possible in this bubble environment?
Most years, the days leading up to the start of the NCAA tournament are full of excitement as a team travels to a place where it typically never has played previously.
This year, along with the restrictions in place, UW will be in the same city for more than a week and make a 66-mile trek via bus for a game at a venue where it played earlier this month.
So, Trice was asked, will this even be fun for the Badgers?
"Definitely," he said, noting that an even worse alternative is the tournament being canceled like it was a year ago. "Everything happens for a reason and I think that we're put in this position for a reason. We're just fortunate to play and everything was cut short last year, so we could be in the same situation as we were last year, so we're just fortunate to play.
"We're definitely going to go out there and have fun with it. We're going to enjoy this week that we have together with the guys and we're just going to make every moment count."
---
5 things to know about North Carolina, UW's first NCAA tournament opponent