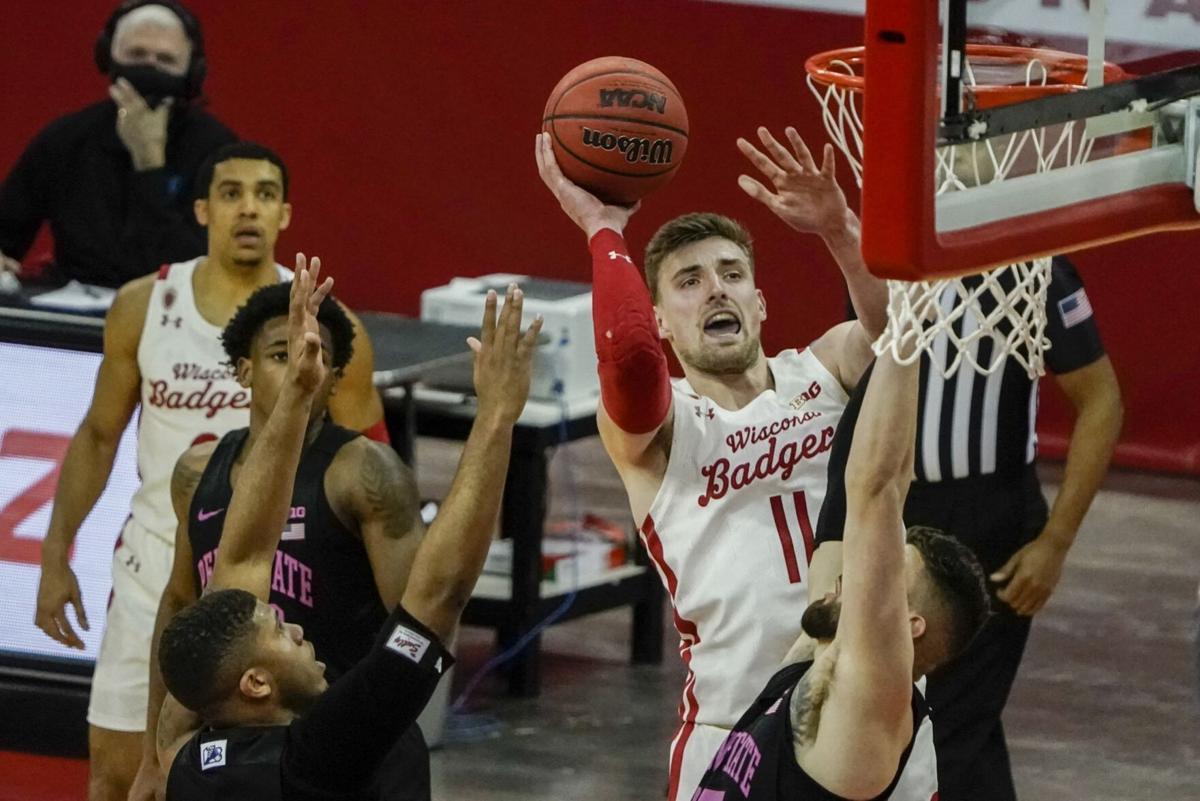 It already had been a long day for Micah Potter when the bus carrying the University of Wisconsin men's basketball team finally returned to the Kohl Center on Saturday night.
Potter, frustrated by his play in the 75-60 loss at Illinois, decided to stick around and work on his shooting. He was about 2½ hours into that process when the shooting machine, which serves as both a rebounder and a passer, stopped working around midnight.
"I figured that was God telling me to take a break," Potter said, "and go home and get some sleep."
The good news for Potter was, after a 4-for-12 shooting performance against the Fighting Illini, he felt like he got his rhythm back during his late-night practice session. Whether that carries over to the next game — the No. 21 Badgers (14-6, 8-5 Big Ten Conference) take on Nebraska (4-10, 0-7) on Wednesday night at Pinnacle Bank Arena in Lincoln — remains to be seen.
While Potter went 0 of 5 from 3-point range at Illinois, he had plenty of company in the poor-shooting department. UW went 4 of 24 from beyond the arc, the latest in a growing list of ugly shooting displays during an uneven showing in conference play.
The Badgers are ninth in the Big Ten in offensive efficiency during conference play in large part because they're also ninth in 3-point shooting at 32.9%.
When asked Saturday if he thought his players were pressing a bit, UW coach Greg Gard said that question was better suited for them to answer. So, senior guard Brad Davison was asked Tuesday, does he think the Badgers are pressing?
"I don't know if pressing is the word, we're just trying to find a rhythm," Davison said. "I think finding a rhythm is key for us down the stretch here."
UW has shot 27.1% from 3-point range (35 of 129) in its five conference defeats. Prior to the Illinois game, the low points were 7-for-28 showings at home to Ohio State and on the road against Penn State.
Again, the issue is widespread, with UW's five-highest volume shooters all shooting worse from long distance than they did when the Badgers earned a share of the Big Ten title in 2019-20.
The two biggest drops are from Potter (46.9% to 27.9%) and senior forward Nate Reuvers (35.7% to 16.7%). The 3-point shooting percentages for Davison, senior point guard D'Mitrik Trice and senior forward Aleem Ford have decreased as well, though not as drastically as the team's top two returning scorers.
The Badgers got hot down the stretch last season and almost seemed to be feeding off each other's made baskets. Contagious shooting can work the other way as well, Potter believes.
"Shooting is 90-percent mental," Potter said. "I mean that with full honesty. It's 90 percent mental. Seeing one go in from another teammate, if it gets the team going a little bit, the next one has a better chance of going in. I believe that 100 percent."
The 3-point shots weren't the only ones that weren't falling at Illinois for UW, which went 6 of 11 from the line and missed some decent looks from inside the arc. The Badgers' most frustrating drought came in the first half during a stretch in which they could have tightened up the game.
The bookends of a run of five consecutive empty possessions were misses by Potter on wide-open looks off pick-and-pop situations.
But in between those missed shots were missed 2-pointers by Trice, Davison and sophomore forward Tyler Wahl. All three were good looks, especially the one by Davison; he was alone in the paint and missed a 10-foot jumper, dropping him to 1 of 17 on 2-point shots over a span of seven games and a woeful 24.2% inside the arc on the season.
Wahl ended the drought with a three-point play, but even that trip down the floor ended up being disappointing. While Wahl made his first free throw, he missed the next two that were awarded after a technical foul was assessed to Da'Monte Williams. UW retained possession after those misses, but Ford turned the ball over before the Badgers could get off another shot.
What could have been windfall possession of seven or eight points ended with only three being scored, and the Badgers still trailed 20-15 at the end of it.
"We're definitely leaving a lot of points out there that we know we can knock down and know that we'll eventually get," Davison said.
The Badgers went 0 of 9 from 3-point range in the first half and trailed by 11 points heading into the break. Had they gone even a modest 33% from long distance, that deficit would have been much more manageable.
Making it even more frustrating for Potter, who was 0 of 4 from beyond the arc in the first half, was all of his attempts were great looks. That's why he decided to work overtime Saturday night.
"I was frustrated after that game because I know I'm a much better shooter than that," Potter said. "But it's just one of those things. It's good to be upset about, because it can motivate you for the next game. But it's also not good to dwell on it because mentally that can take you down a really long and bad path."
---