Carter Gilmore spent a lot of time watching from the sidelines a season ago.
The 6-foot-7 forward from Hartland had joined the University of Wisconsin men's basketball team as a preferred walk-on despite multiple Division I offers from smaller schools. He knew he wasn't likely to get playing time, so he tried to find other ways to stand out during a season in which he appeared in just eight games for a total of 16 minutes.
This included helping his teammates from where he was on the bench.
Gilmore said one of his biggest assets is his observation skills. He noticed something off about Tyler Wahl's game when the Badgers were playing Penn State last season.
So when Wahl sat down next to Gilmore after twice kicking the ball out to teammates instead of driving to the basket, Gilmore encouraged him to be more aggressive and get into the paint.
"I remember he went in there two possessions later, did the move and got a bucket," Gilmore said. "That was just when we kind of looked at each other and gave each other a smile."
Gilmore has been one of the Badgers' biggest surprises this season.
The sophomore earned a scholarship in the spring and is averaging 10.3 minutes per game. He's only missed one game this season when he was out against Ohio State due to the flu.
The Badgers play the Buckeyes again at 6 p.m. Thursday at the Kohl Center.
Gilmore is averaging 1.2 points and 1.2 rebounds per game, but his teammates and coaches have called him one of their most important players off the bench this season.
"There's a lot more I can do, but I'm definitely more confident," Gilmore said. "I know all the guys kind of say it to me each game to look for my shot more, be more aggressive in practice, I'm one of the best players they say they have to guard on the scout team. So I give myself maybe about a C. I can work a little harder, play a little harder, and then just play more confidently and look for my shot more. And I think that'll help my team."
The Badgers split into two units during practices — the scout team and first team. The scout team typically is composed of players who have walked on to the program, redshirt players and anyone who isn't typically in the rotation for a game. Their task is to emulate the upcoming opponent's plays to prepare the first team for what it will face in the game.
The first team is made up of players who are key rotational pieces. It focuses on learning plays and getting ready for the upcoming opponent by playing against the scout team.
Gilmore has been the first player off the bench at least twice this season but still is splitting time between scout team and first team during practice.
"On the scout team, it helps me get more confidence on the offense and being able to do more than I would on the first team," Gilmore said. "It's pretty tough to go over there and they're running plays and putting in new plays. When you're over on the scout team, you don't get to learn that as well. So having to keep up with the new plays that they're putting in and learning the opponents' plays as well gets pretty tough."
While his other rotational teammates focus on learning new schemes and tightening up areas, Gilmore has to split time learning both the scheme of the opposition and the Badgers. That balance has been one of the most challenging parts of the season. He gets thrown into games a little less prepared than his teammates but is expected to be just as consistent.
"It's all about being good at the little things," UW coach Greg Gard said. "Carter has understood that. His body has improved over the offseason. It can still take another jump, but he's just solid, he understands what we want. He's juggling a lot, but he's learning and growing and trying to get better."
Gilmore played 19 minutes in the Badgers' upset of then-No. 3 Purdue last week and defended center Zach Edey and forward Trevion Williams during the last few minutes of the game after Wahl, Steven Crowl and Chris Vogt fouled out for the Badgers.
"He's always had a chip on his shoulder," Wahl said. "He's a hard worker. To see him get out there and play some meaningful minutes was really, really impressive from a kid who (was) looked at as just a walk-on last year. I'm really happy for him this year."
Gilmore's transition from seldom-used walk-on to consistent minutes off the bench has helped the Badgers win 13 of their first 15 games.
"I know I can help the team," he said. "I didn't really know the situation I would be in walking on. It was really just coming here and seeing if I was even good enough to play here. Getting here and then doing it every day in practice has helped me kind of realize more and more each day that I belong here, that I can play with the best of the best."
Badgers Bracketology: Where experts see Wisconsin men's basketball's standing in the NCAA Tournament
Joe Lunardi, ESPN
Lunardi has eight Big Ten teams making his 2022 bracket, and the Badgers would be in the East bracket with Duke as the top seed.
His projection hasn't been updated since Friday morning, so it doesn't include UW's win over Maryland into its formula. Ohio State is a five-seed in Lunardi's projection, so UW could help itself by defending its home court this week against the Buckeyes.
Jerry Palm, CBS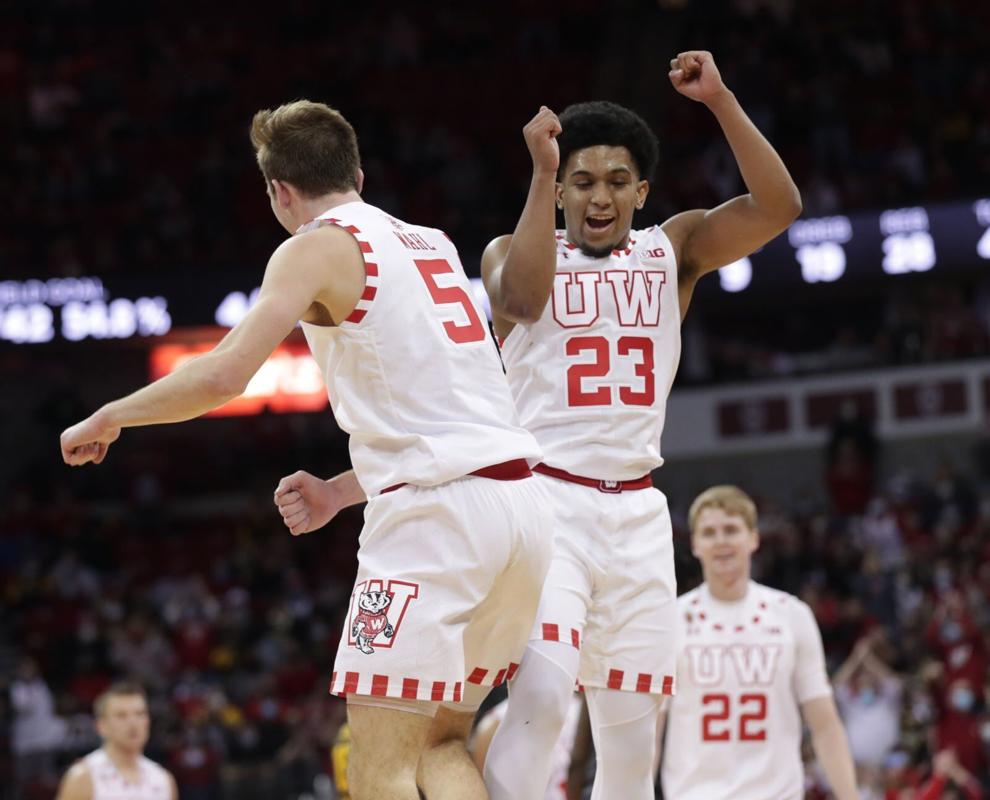 Palm is as high on the Badgers as any national analyst, and UW ranks seventh in CBS' Top 25. UW's win at Purdue knocked the Boilermakers off the No. 1 line in Palm's projections, which were updated Friday.
UW was a four seed in Palm's first projection this season.
Mike DeCourcy, Sporting News
Current: Five seed, facing Memphis/Louisville
UW is on the five line along with Illinois. Only three Big Ten teams are higher than the Badgers and Illini in DeCourcy's projection.
NET Rankings, Quadrant wins
UW was No. 24 in the NET rankings Monday, down two spots from last week.
The NET rankings replaced RPI as the key evaluator for teams during the season and the tournament selection process.
Here's a primer on how the NET Rankings are calculated: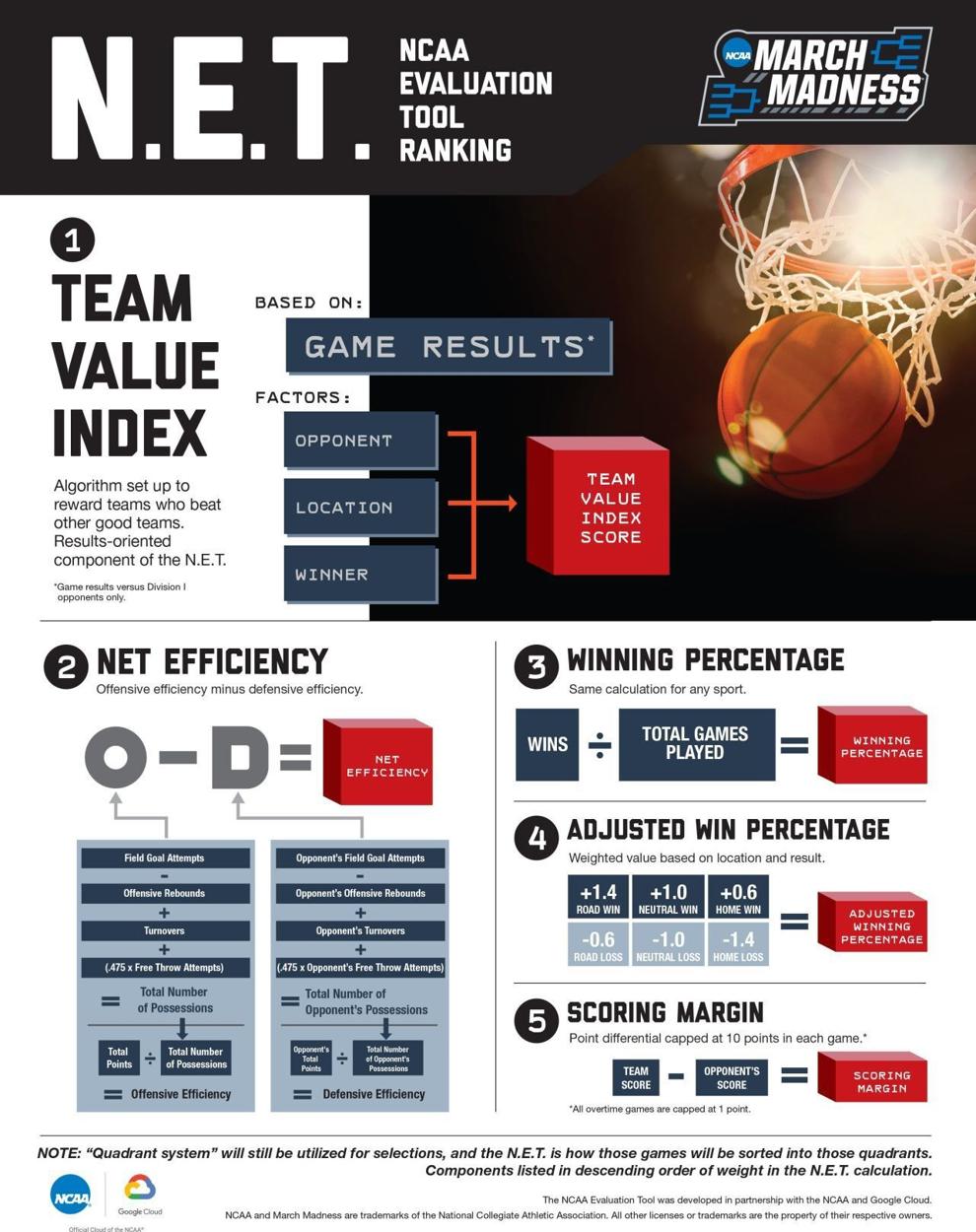 The NET Rankings are used to determine in which quadrant a game falls for a team. This gives teams credit for playing, and beating, strong opponents, especially on the road. The breakdown is as follows:
Quadrant 1: Home 1-30, Neutral 1-50, Away 1-75
Quadrant 2: Home 31-75, Neutral 51-100, Away 76-135
Quadrant 3: Home 76-160, Neutral 101-200, Away 135-240
Quadrant 4: Home 161-353, Neutral 201-353, Away 241-353
UW is 4-1 in Quadrant 1 games, 4-1 in Quadrant 2 games, and 5-0 combined in Quadrant 3 and 4 games. The Badgers' game against Ohio State this week is a Quadrant 1 game for both teams; OSU is No. 25 in the NET rankings.